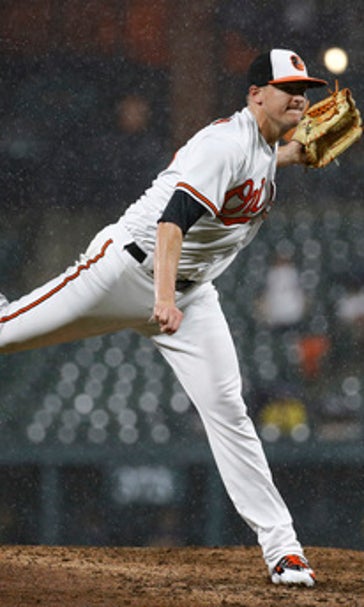 LEADING OFF: Newcomb faces fallout after offensive tweets
July 30, 2018
A look at what's happening around the majors today:
TWEET TROUBLE
Atlanta pitcher Sean Newcomb and Washington shortstop Trea Turner will face the fallout from their tweets, a day after they apologized for offensive posts from 2011 and 2012.
The 25-year-old Newcomb came within one strike of a no-hitter Sunday at SunTrust Park against the Dodgers. Less than an hour later, after the racist, homophobic and sexist tweets came to light, he said he regretted his actions. Major League Baseball, which dealt with a similar situation involving Milwaukee reliever Josh Hader on the night he pitched in the All-Star Game, said it will determine a course of diversity training for Newcomb.
Homophobic and racially insensitive tweets by Turner surfaced Sunday night. The 25-year-old Turner apologized in a statement released by the team.
The Braves are home Monday night against Miami. The Nationals begin a home series against the New York Mets on Tuesday night.
GROUNDED
The World Series champion Astros have lost a season-high four in a row, getting swept for the first time this year when Texas took three straight at Minute Maid Park over the weekend. Houston also is minus its star middle infielders - second baseman Jose Altuve has a sore knee and is on the disabled list for the first time in his career and shortstop Carlos Correa has a back problem.
Leading the AL West by four games over the Mariners, the Astros begin a three-game series at Seattle with Gerrit Cole (10-2) pitching against James Paxton (8-4).
WHO'S NEXT?
More deals could come as teams approach the Tuesday afternoon deadline for making trades without waivers. The Braves added an arm for their bullpen on Sunday, getting right-hander Brad Brach from Baltimore for $250,000 of international signing bonus allotment. Brach was the latest Orioles player to get traded after star third baseman Manny Machado went to the Dodgers and relief ace Zach Britton was sent to the Yankees.
FIRST THIRST
A pair of division leaders meet at Fenway Park when All-Star Aaron Nola (12-3) and Phillies visit David Price (11-6) and the Red Sox to start a two-game series. Philadelphia tops the NL East despite losing three in a row for the first time in more than a month. Boston owns the best record in the majors, winning 18 of its last 22 to stay atop the AL East.
CHECK THEM
The Giants will see how Andrew McCutchen and Pablo Sandoval are feeling after they got jarred in a win over Milwaukee.
Sandoval ran out his first triple in more than three years, but strained his right hamstring diving home and is set for an MRI. McCutchen was pulled for a pinch-hitter after fouling multiple pitches off his left foot. The team also is waiting test results after Johnny Cueto met with doctors regarding his sore elbow - he's winless in four starts since coming off a two-month stay on the disabled list.
---
---