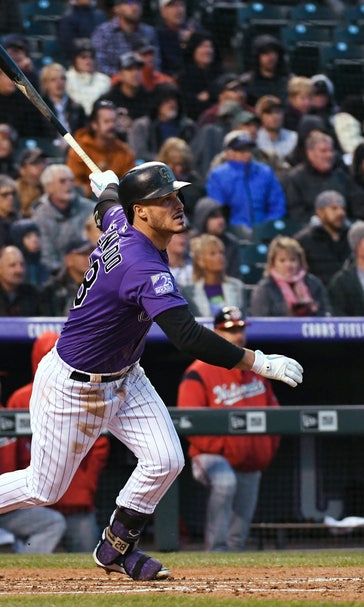 Elevating Rockies' game? Coors seems to factor in awards
October 2, 2018
DENVER (AP) — The Colorado Rockies would like to air a little grievance: They're thin on MVP winners in their history. Even lighter on Cy Young candidates.
They wouldn't mind a little altitude adjustment when it comes to conventional thinking at Coors Field. As it stands, sometimes they feel like hitters get penalized for hitting at higher elevation half the time and the pitchers don't get rewarded highly enough.
It's a scale that doesn't seem balanced.
"Hopefully, that will start to go away a little bit more," Rockies outfielder Matt Holliday said. "Because there are lots of good hitting parks around the league. For people to just single out Coors Field and write it off is unfair."
The Rockies have had 11 batting champions in their past and one MVP winner — Larry Walker in 1997. They've had one pitcher finish in the top-three in the NL Cy Young race, Ubaldo Jimenez in 2010.
Part of the reason may be this: "It's a challenge to evaluate the numbers in Denver," Phillies manager Gabe Kapler explained.
And that's the mile-high rub for a field situated at 5,200 feet and viewed as a hitter-friendly venue.
Take, for instance, last season, when Charlie Blackmon won the NL batting title with a .331 average and set an MLB record with 102 RBIs from the leadoff spot. He finished fifth in the award earned by Giancarlo Stanton, who had 59 homers.
This season, it will be hard to upstage Christian Yelich after the Milwaukee Brewers outfielder won the NL batting title (.326), drove in 110 runs and hit 36 homers. Rockies third baseman Nolan Arenado had quite a season with an NL-leading 38 homers, while Trevor Story became the first major league shortstop to ever finish with at least 40 doubles, 30 homers and 25 stolen bases. They figure to at least be in the running for the MVP.
In Colorado's history, dating to 1993, only five times has a player finished in the top-three in MVP voting. The last was Holliday in 2007, when he hit .340 with 36 homers and 137 RBIs. Holliday was edged out by Jimmy Rollins of Philadelphia.
"For me, it shouldn't matter — a guy's got to go out and perform no matter where he's at," Nationals manager Dave Martinez said. "It's not his fault where he plays. It shouldn't matter what field you play on, or if your home field is Coors Field. A lot of good players have played here and went elsewhere and did well.
"If an MVP comes out of here, more power to them."
As for how much power is generated inside Coors Field? That remains a lively debate. The team installed a humidor room in 2002 to control the moisture level in baseballs, which helps keep them from becoming dried out and more hitter-friendly in Denver's thin air.
For all their power and pop through the years, the Rockies have never led the majors as a team in homers (although they've led the NL several times). And maybe because of the spacious gaps in the outfielder, they've had six batting champions in the last 12 seasons.
"To knock a guy just because he plays in a little bit thinner of air, I don't believe is right," Rockies left-hander and Denver native Kyle Freeland said. "In my eyes, I'd love to see everything be an even playing field through and through, no matter what park you're playing at."
Or if it punishes hitters, reward pitchers accordingly.
"I think context is always important," Kapler said. "But I don't think that there should be anybody eliminated from a postseason award based on where they play. I don't think that's fair or reasonable."
Freeland finished with a 2.40 ERA at Coors Field — the best mark ever by a Colorado starting pitcher. He could be in the mix for the Cy Young, which figures to go to New York Mets standout Jacob deGrom after posting a 1.70 ERA.
Only Jimenez and Marvin Freeman (fourth, 1994) have finished in the top five for Colorado.
"That's kind of been what a lot of people have been saying this year, that if you're going to be docking hitters, why aren't pitchers being elevated?" Freeland said. "I don't know if it's because throughout the course of the Rockies history, we've had more dominant hitters than dominant pitching? I believe with this young core of pitching we have, we're starting to turn that page, and have people recognize that just because it's Coors Field, doesn't mean anything."
---
---