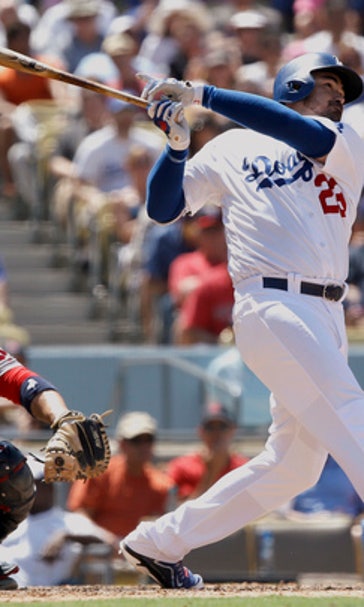 Dodgers' Gonzalez takes hitting break to heal tennis elbow
February 17, 2017

GLENDALE, Ariz. (AP) Adrian Gonzalez is taking a two-week break from hitting to heal tendinitis in the Los Angeles Dodgers first baseman's right elbow.
Gonzalez still hopes to play for Mexico in the World Baseball Classic next month, he said Friday after reporting to camp.
Gonzalez said he pursued his usual varied offseason workout program, including weightlifting and boxing exercises. It left him with a case of tennis elbow, or inflammation on the outside of the elbow after forearm tendons are overused.
''I don't play tennis,'' Gonzalez said with a laugh.
The hitting break is purely a precaution, and Gonzalez said the injury isn't thought to be serious by the Dodgers. He initially felt the pain in December, but kept working out until the brink of spring training.
''There's no pain when I'm just doing normal things, but I just feel it when I squeeze something - the bat or the glove,'' said Gonzalez, who throws with his left hand. ''I'd say it's about 90 percent (healthy), but you want to get that last 10 percent.''
The 34-year-old Gonzalez is already five days into his two-week hitting break, but he will test the elbow before getting back in the cage. He is running and doing core-building exercises in the meantime.
He remains optimistic about his chances to join Team Mexico, which will be managed by his brother, former big-leaguer Edgar Gonzalez. He is slated to play with Dodgers teammates Sergio Romo and Vidal Nuno on the Mexican team, which will be wildly popular if it can reach the tournament semifinals at Dodger Stadium.
Gonzalez is scheduled to report to his brother's team on March 4, shortly after the point at which he could begin swinging again.
''Hope so, but I don't know,'' he said. ''These (injuries), they tell you when they're ready.''
Gonzalez has been exceptionally durable in his big league career, making at least 600 plate appearances and appearing in at least 156 games in 11 consecutive seasons.
He batted .285 with 18 homers and 90 RBIs last season, and he played every postseason game during the Dodgers' run to the NL Championship Series.
Scott Van Slyke, Chase Utley, Rob Segedin and even 21-year-old top prospect Cody Bellinger could appear at first base for the Dodgers in Gonzalez's absence. Bellinger was invited to big-league camp for the second time this spring.
NOTES: Darin Ruf is off the Dodgers' 40-man roster after agreeing to a $1.1 million, one-year deal with Samsung Lions of the Korean Baseball Organization. The power-hitting Ruf is likely to play mostly first base with the Lions. Los Angeles acquired him from Philadelphia in November along with Darnell Sweeney in a deal for Howie Kendrick. The Dodgers had to clear a spot on their roster before they can announce the re-signing of veteran Chase Utley, although president of baseball operations Andrew Friedman has already acknowledged Utley will return. ... Cuban infielder Jose Miguel Fernandez agreed to a minor-league contract and reported to camp as a non-roster invitee. The 28-year-old defected in late 2015 after playing several seasons in Cuba's top league. He also played for Cuba in the 2013 World Baseball Classic. He resumed his career in the Dominican Winter League last fall, attracting the Dodgers' interest. ... Dodgers manager Dave Roberts doesn't plan to employ a platoon at catcher. Yasmani Grandal will be the everyday starter, he said.
---
---