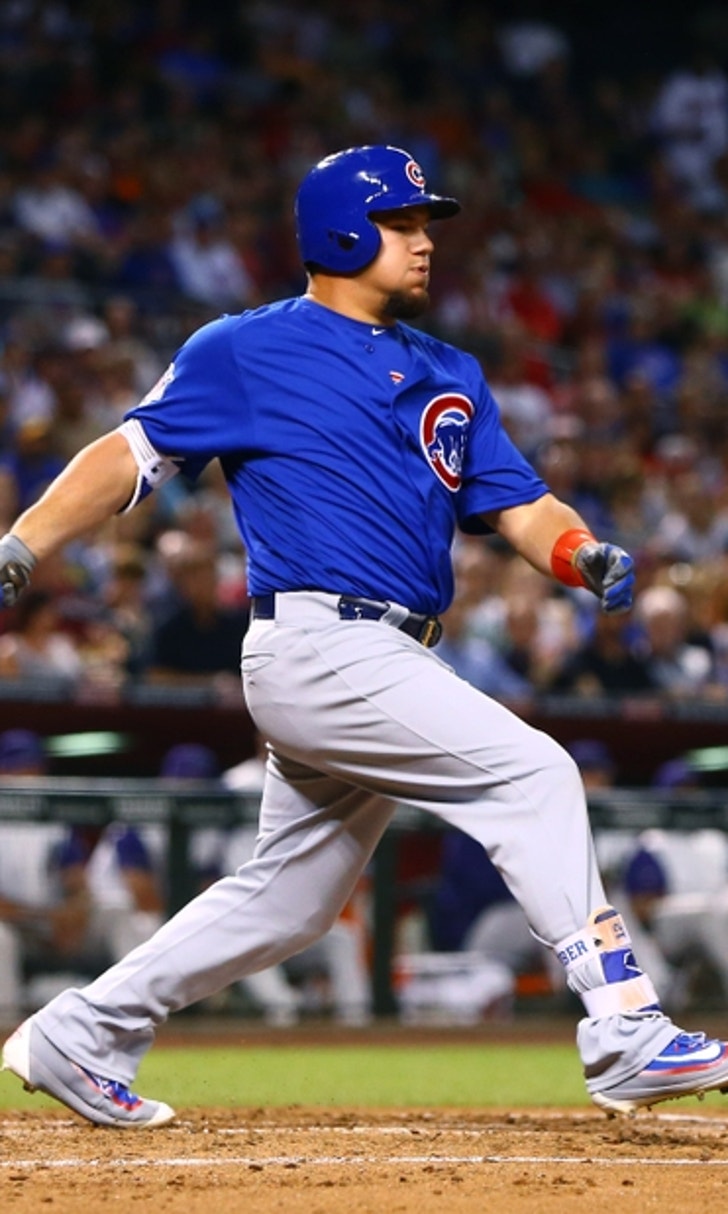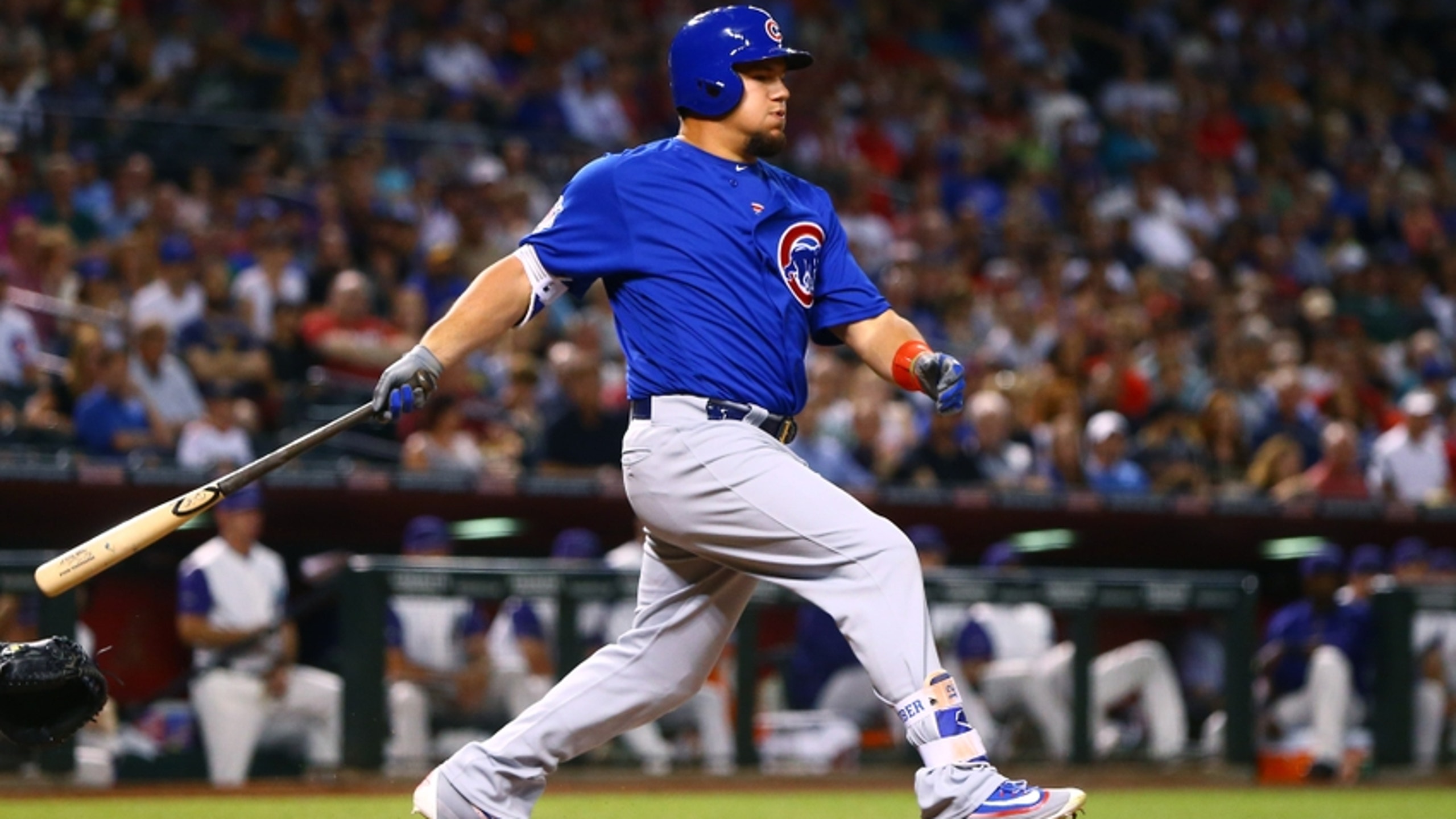 Chicago Cubs Kyle Schwarber Treats Young Fan to a Very Special Day
BY Fansided and Bobby Mueller/FanSided via Call to the Pen • December 14, 2016
With the help of HopeKids Arizona, Chicago Cubs outfielder Kyle Schwarber treated a young fan to a very special day.
At the end of the 2016 regular season, Kyle Schwarber was a hero to Chicago Cubs fans with his impressive hitting in the World Series after missing almost the entire season with a serious knee injury. In the offseason recently, he was a different kind of hero to a 10-year-old boy named Campbell Faulkner. Campbell is battling a rare form of mitochondrial disease and was given the opportunity to be Batman for the day by HopeKids Arizona. Campbell met Schwarber before the 2015 season when they spent time together at Spring Training. They've since exchanged emails.
With the help of HopeKids Arizona, Schwarber appeared at a party for Campbell and was able to drive Campbell and his family around the block in the Batmobile. It was a thrill for the 10-year-old and Schwarber himself. He said, "He's just a good kid. He's got a really good heart and that's all you can say about the kid. He's a person you can look up to because he's faced a lot of adversity in his life and he's only 10 years old. He's faced it with a big smile on his face." Schwarber posted pictures of the event on his Twitter account:
HopeKids Arizona is the Arizona chapter of a larger organization that has a vision to "restore hope and transform the lives of children with life-threatening medical conditions, their families and the communities in which" they serve. They provide ongoing events and a support community for families that have children with life-threatening medical conditions.
More from Call to the Pen
Schwarber is not the only major league baseball player to spend time with a young baseball fan this season. The recently-retired David Ortiz made a friend earlier this year thanks to former Red Sox player Kevin Millar. The young boy, six-year-old Maverick Schutte, had already been through 30 surgeries and had another one scheduled. Millar got together with David "Big Papi" Ortiz to make a video especially for Maverick and Big Papi promised to hit a home run for the boy. He came through in a game against the Yankees and Maverick was ecstatic.
About two weeks later, Maverick came to Fenway Park to attend his first Red Sox game and meet David Ortiz. They spent a ton of time together. Maverick got a foul ball during the game, a bat from Ortiz, and was selected to throw out the first pitch.
Kevin Millar, the former player who arranged the meeting between Ortiz and Maverick, did so through the Children's Miracle Network Hospitals. The organization raises funds and awareness for 170 hospitals across the U.S. and Canada. There's a Facebook page set up for Maverick that allows people to follow his journey.
Big league players hitting home runs for children has been a story as far back as the days of Babe Ruth. The Babe Ruth legend was referenced in an episode of Seinfeld in which Kramer promises a boy in the hospital that Yankees outfielder Paul O'Neill would hit two home runs in a game. When Kramer told O'Neill about the promise, O'Neill was upset that Kramer promised he would hit two home runs. He even said Babe Ruth wasn't stupid enough to promise to hit two home runs.
O'Neill might want to check his facts. According Charlie Poekel, author of Babe and the Kid, Babe Ruth actually hit three home runs in a World Series game for a young boy who was in the hospital. The boy was named Johnny Sylvester and he had been thrown from a horse late in the summer of 1926. He suffered inflammation near his brain. As the story goes, while he was in the hospital, Johnny told his dad that he wanted a baseball from the World Series between the Yankees and Cardinals. Through a well-connected friend, Johnny's father received a baseball with a message on it from Ruth: "I'll knock a homer for you in Wednesday's game."
In Game 4 of the 1926 World Series, Ruth fulfilled his promise with a three-homer game. Of course, die-hard baseball fans will remember that this series ended with the Yankees losing Game 7 when Babe Ruth was thrown out stealing with two outs in the bottom of the ninth and the Yankees down 3-2. Despite being the goat of Game 7, Ruth and his business manager visited Johnny at his home after the series. The Daily News ran the headline and a legend was born.
---
---