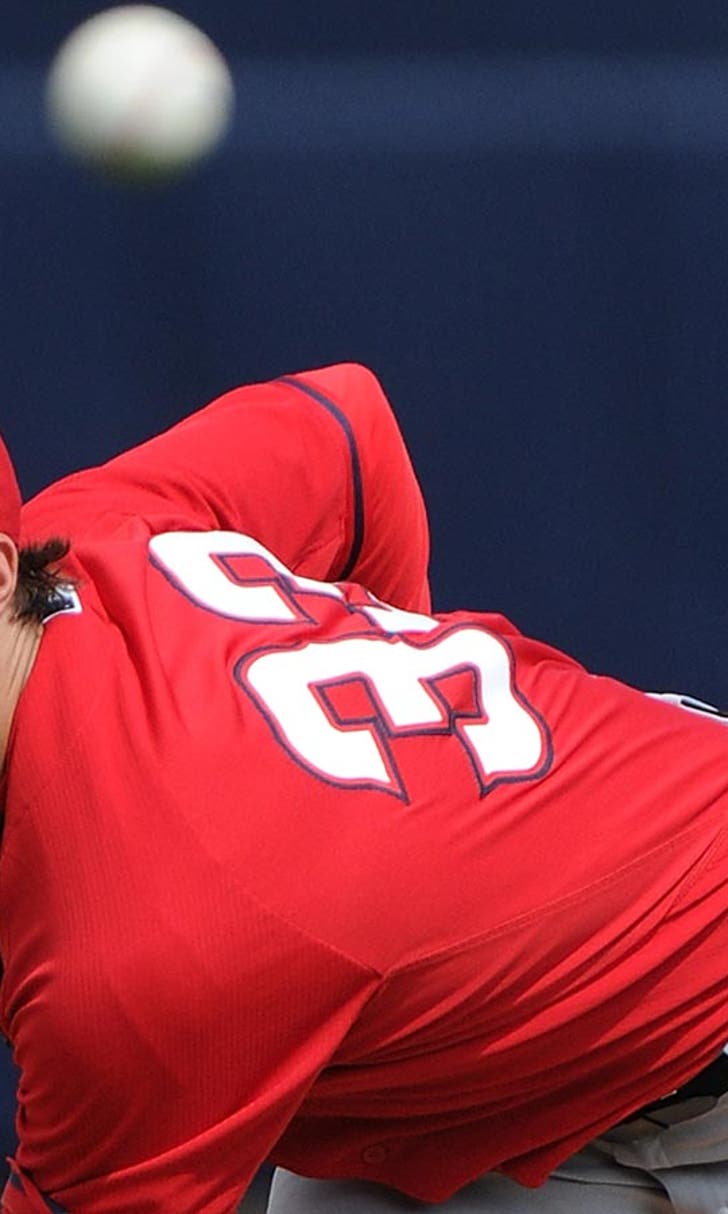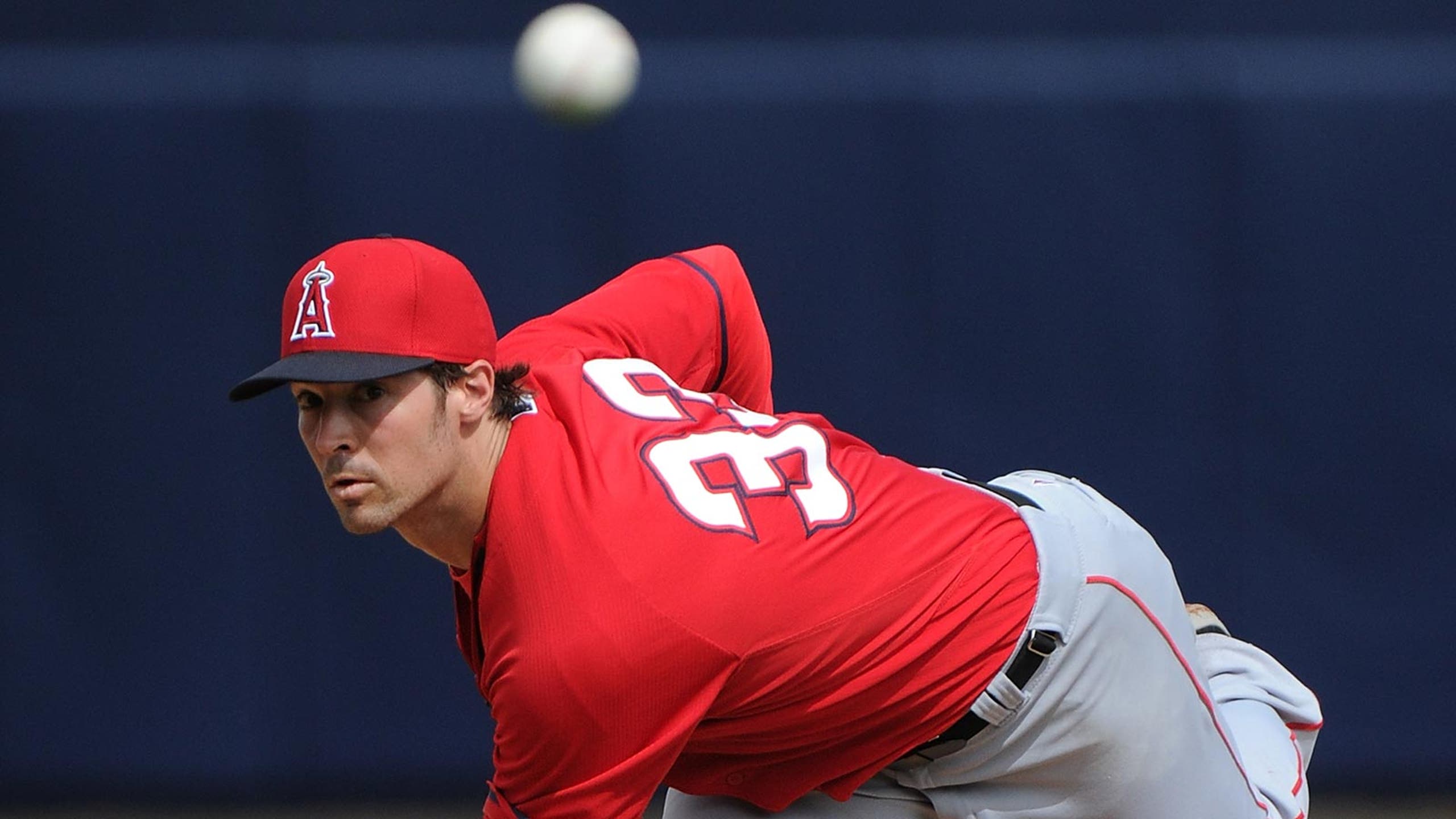 Angels have big bats, fresh energy, but one nagging problem remains
BY Ken Rosenthal • March 17, 2014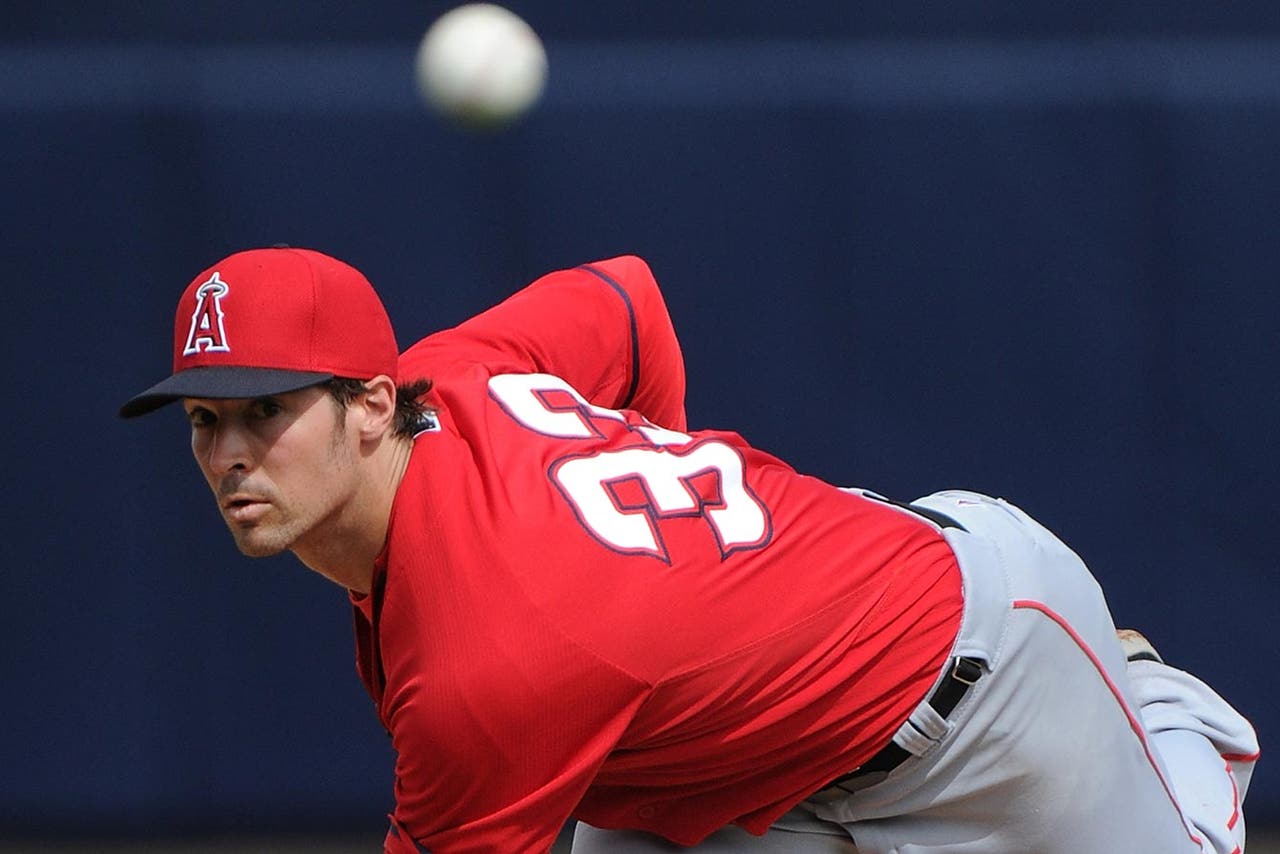 TEMPE, Ariz. -- First catcher Chris Iannetta said it, unsolicited. Then right-hander Jered Weaver repeated it, unsolicited.
"There's a good vibe in here," Weaver said.
A better vibe, perhaps, than in years past.
Iannetta cited the Angels' new coaches and adjusted workout regimen. Weaver cited the influence of veteran additions Raul Ibanez, John McDonald, Chad Tracy and Carlos Pena.
It all sounds encouraging, especially when you consider the improved health of first baseman Albert Pujols and expected revival of right fielder Josh Hamilton, who made his Cactus League debut on Monday after missing time with a calf strain.
But the question with the Angels is the same as it was this time a year ago:
Starting pitching.
The issue is not so much the quality of the five projected starters. Weaver and left-hander C.J. Wilson are accomplished veterans. Righty Garrett Richards appears on the verge of a breakthrough. And the two left-handed additions, Hector Santiago and Tyler Skaggs, are reasonable back-of-the-rotation alternatives, if largely unproven.
No, the issue is depth -- the No. 6 starter is lefty Wade LeBlanc, who twice cleared waivers after getting designated for assignment by the Astros last season, and the No. 7 is righty Matt Shoemaker, who is 27 and has pitched a total of five major-league innings.
Lefty Mark Mulder's comeback ended when he ruptured his left Achilles tendon early in camp. Free-agent righty Matt Garza signed with the Brewers after declining to accept the Angels' take-it-or-leave-it offer at the winter meetings.
Right-hander Joe Blanton? Don't count on it.
Blanton has put together two strong starts since moving to the third-base side of the rubber but likely will be traded if the other starters finish the spring healthy; the Angels do not view him as an option in the bullpen.
"We're just like 30 teams. We need more," general manager Jerry Dipoto said of his starting pitching. "There is not a single team in the league that is going to look at you and say, 'Yeah, we're good.' "
Such words ring particularly true as one starting pitcher after another gets hurt this spring. But a year ago, Dipoto was talking up Blanton, righty Tommy Hanson and lefty Jason Vargas, and Vargas was the only one who did not disappoint.
The Angels essentially are operating under the same theory that they were then -- that their offense, led by the incomparable Mike Trout, will compensate for any deficiencies in their rotation.
Could happen. Ibanez is coming off a 29-homer season for the Mariners, Hamilton had an .801 OPS after the All-Star Game and Pujols seems fully recovered from a partial tear of the plantar fascia in his left foot.
New third baseman David Freese, Pujols' former teammate with the Cardinals, said the difference in Pujols actually is less noticeable in the batter's box than at first base, where he is more mobile and "diving around."
Good news, for sure, and the Angels also made adjustments to their spring program with the goal of starting better than they did in 2012, when they went 8-15 in April, and 2013, when they were 9-17.
Their hitters are taking more swings. Their pitchers threw more innings early in camp. The club even hired a dietitian to prepare healthier food for the players.
Manager Mike Scioscia said the team is paying particular attention to double plays -- the club tied for next-to-last in the American League in that department last season, and Scioscia expects that with expanded replay, umpires will enforce the glove-to-hand transfer more rigidly.
The Angels also are doing more work on cutoffs and relays because of their anticipated increase in defensive shifts -- they ranked 15th in the majors in shifts last season, and advanced metrics show that second baseman Howie Kendrick and shortstop Erick Aybar are regressing defensively.
It's a brave new world in Anaheim, all right: Former Nationals hitting instructor Rick Eckstein is the Angels' new major-league player information coach, Nick Francona the new coordinator of major-league information, Jeremy Zoll the new coordinator of advance scouting.
The Angels are catching up to the rest of baseball, making greater use of information. Those around the club say that Scioscia is embracing change, and that his relationship with Dipoto is in a better place.
The arrivals of the new coaches -- hitting instructor Don Baylor, assistant hitting instructor Dave Hansen and third-base coach Gary DiSarcina -- contribute to the fresh energy. Then there are Ibanez and the other new veterans, adding their own professionalism.
Not that Trout needs any guidance, but it's not by accident that the Angels placed his locker between Ibanez's and McDonald's.
"The support unit, the mentoring player to player, is terrific," Scioscia said. "We have some really good high-character veteran baseball players in camp.
"It's fun to watch. We're doing right-side defense, they're diving for the baseball. They practice the way they play the game. It's inspiring to all of us."
Inspiration is nice. Starting pitching is better.
For the Angels to return to prominence, they cannot again finish 11th in the AL in rotation ERA.
---
---