College Football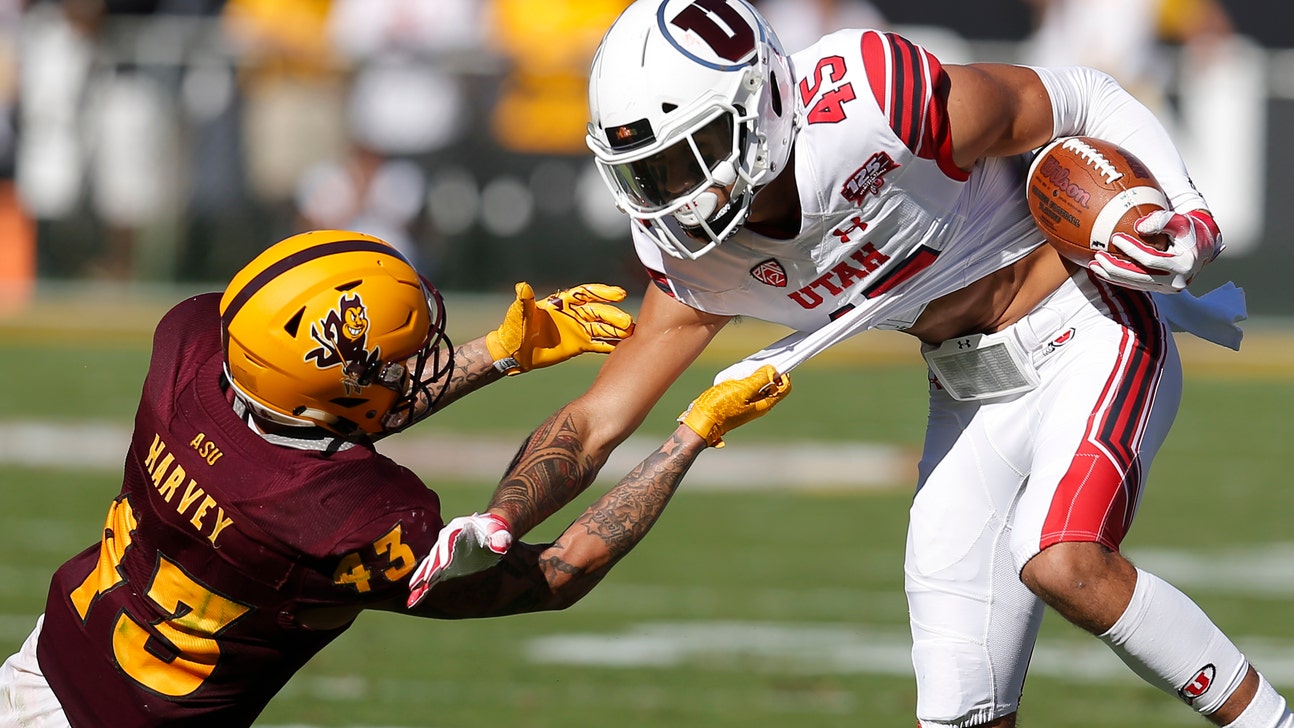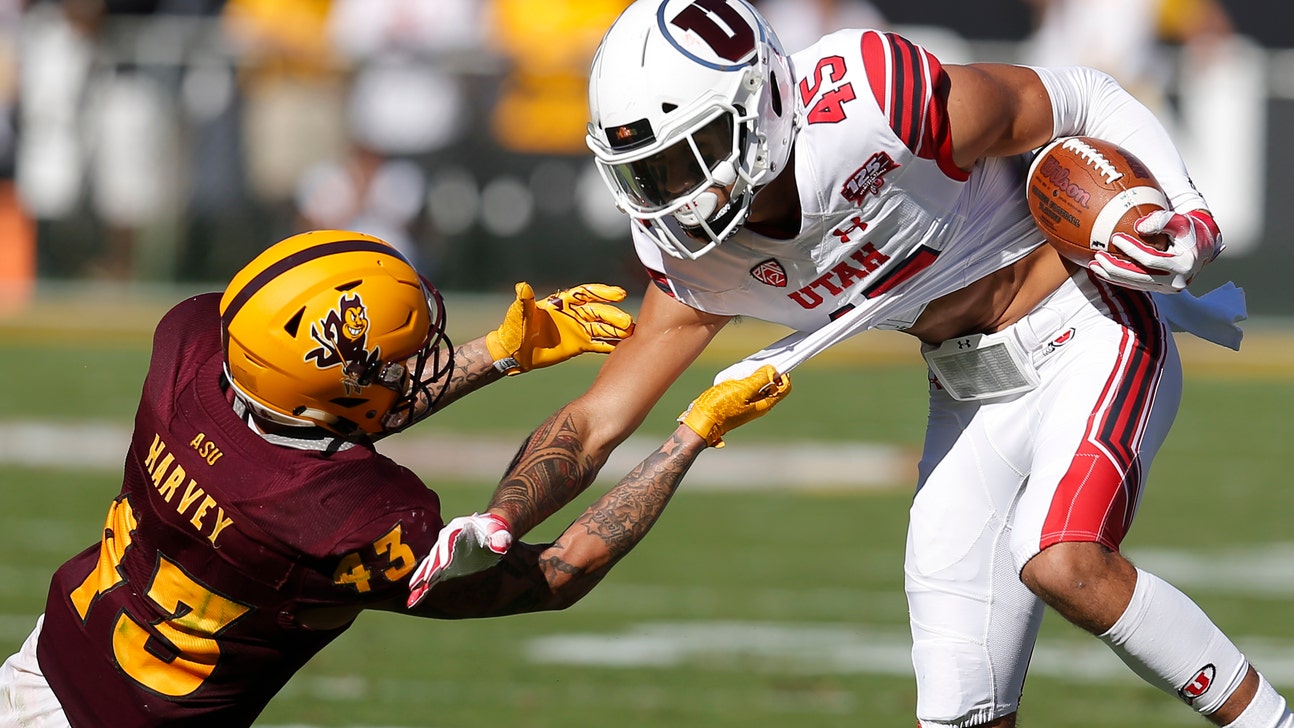 College Football
Wilkins, Harry lead Sun Devils past No. 16 Utah 38-20
Updated
Mar. 4, 2020 6:53 p.m. ET
TEMPE, Ariz. (AP) — Arizona State's Manny Wilkins, N'Keal Harry and Eno Benjamin shredded the No. 1-ranked defense in the Pac-12 and in the process threw the Pac-12 South race into a free-for-all.
On an awful Saturday afternoon in the desert, No. 16 Utah lost sole possession of first place in the Pac-12 South and, worse yet, lost starting quarterback Tyler Huntley with a broken collarbone.
Wilkins and Harry connected for three touchdowns and Benjamin ran for two more in Arizona State's 38-20 victory.
The loss snapped Utah's four-game winning streak and dropped the Utes (6-3, 4-3 Pac-12) into a first-place tie with Arizona in the clogged Pac-12 South. USC was a half-game back and played Oregon State later Saturday. Arizona State (5-4, 3-3), with consecutive victories over USC and Utah, also is a half-game out.
"The dominoes (have started) to fall in the right place a little bit but we can't be too high off of this," Wilkins said. "We have to come back to work this next week with the same attitude that we had this past week, that mindset. Just stay the course."
Huntley was injured when he was hit while forcing a throw with 5:33 left in the third quarter. Freshman Jason Shelly replaced him and the offense struggled after that.
"Jason Shelly is our quarterback," coach Kyle Whittingham said.
Harry, considered one of the top receivers in the country, caught nine passes for 161 yards, including TD catches of three, 23 and 61 yards. His three TD catches were a career high.
Wilkins completed 19 of 24 for 285 yards and three scores with one interception. Eno Benjamin rushed for 175 yards, including a 44-yard TD run that sealed the victory with 4:12 to play.
Arizona State gained 536 yards against a Utah defense that had been ranked No. 1 in the Pac-12.
Coach Herm Edwards said the Sun Devils had the right mix of passing and running
"When you can run the ball enough it slows those rushers down and they get tired," he said. "Then when you pass, it becomes more efficient when you can run it because it slows those guys down some because they're always constantly trying to play the run."
It was by far the most yards allowed by Utah in a game this season.
"First time in a long time we got pushed around the line of scrimmage," Whittingham said. "Their o-line pushed our defensive line around. ... After four weeks of playing very well in all three phases we didn't play particularly well in any phase this afternoon."
The Sun Devils took a quick 14-0 lead before Utah reeled off 17 consecutive points to take the lead. The Utes went 80 yards in 11 plays for the go-ahead score, Huntley throwing a five-yard TD pass to Samson Nacua to put Utah up 17-14 with 2:15 left in the half.
But the advantage was short-lived.
Wilkins gained 16 yards on the ground and threw a 19-yard pass to Brandon Aijuk to set up a 23-yard touchdown pass to Harry and the Sun Devils were back on top 21-17 with 1:01 left in the half. The six-play, 77-yard drive used up just 1:14.
After Matt Gay's 31-yard field goal cut the Arizona State lead to 21-20 in the third quarter, Wilkins teamed with Harry for his biggest gain of the day. Harry broke open over the middle of the field, caught the pass and raced downfield, tackled just as the ball crossed the goal line and the Sun Devils lead 28-20.
Harry took a short pass and reversed the field for a 35-yard gain moments later to set up Brandon Ruiz's 21-yard field goal that made it 31-20 with 10:27 to play.
Harry came back after a big hit in the first half.
"I was going through a little bit of pain but I knew in the second half I had to be tough," he said. "On that last touchdown Manny did a great job of staying in the pocket and he took a hit while he threw it so it was just a great all-around performance by our offense and our defense tonight."
THE TAKEAWAY
Utah came in as the team to beat in the Pac-12 South and is in trouble from here on out, especially with its quarterback lost for the season.
Arizona State, with big-play offensive players Harry, Benjamin and Wilkins, can put together a late-season push for that Pac-12 South title that someone has to win.
UP NEXT
Utah: Hosts Oregon next Saturday
Arizona State: Hosts UCLA next Saturday.
---
---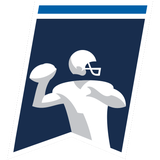 Get more from College Football
Follow your favorites to get information about games, news and more
---