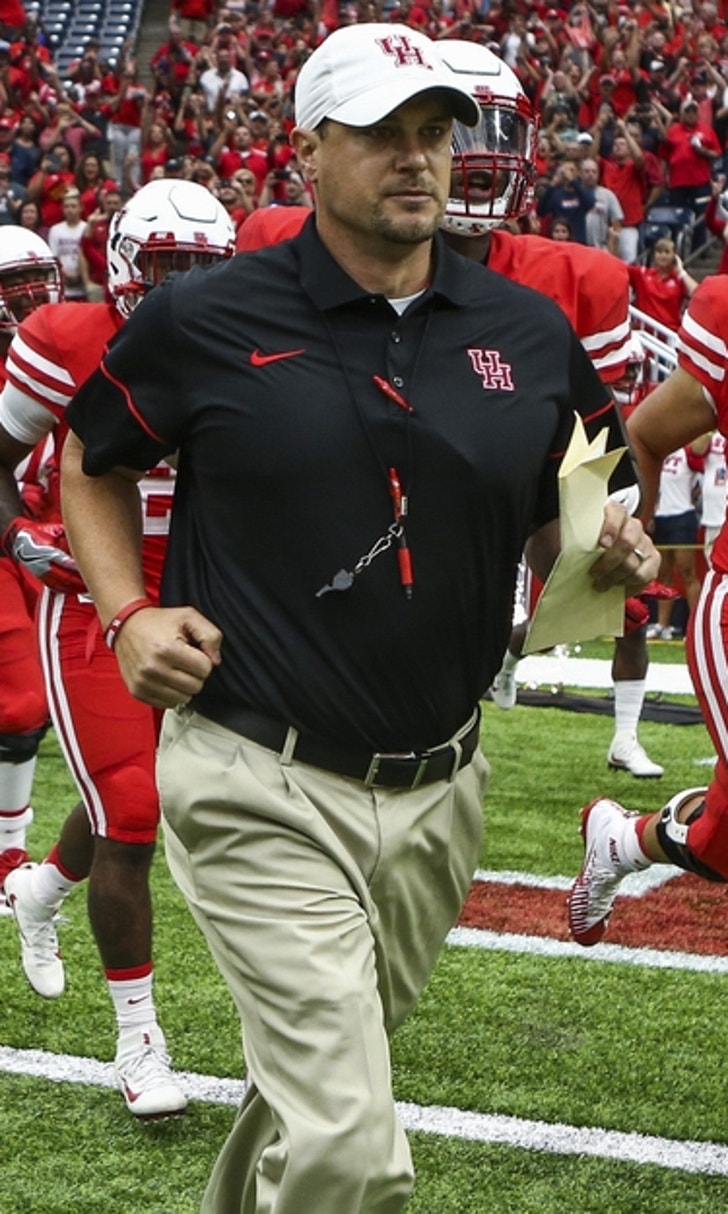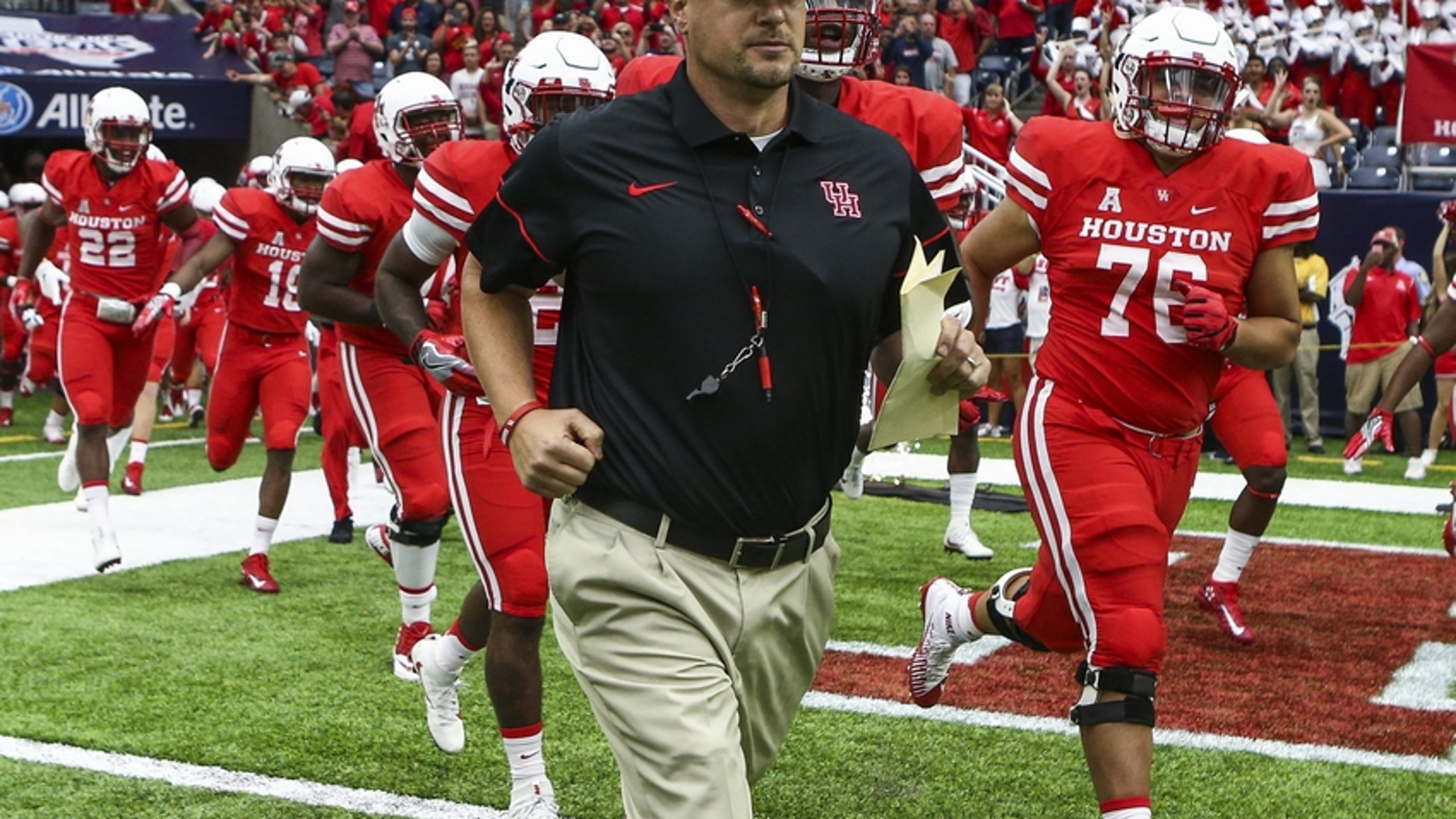 Texas Football: 5 Ways Tom Herman Can Succeed in 2017
BY Fansided and Rob Wolkenbrod/FanSided via Hook'em Headlines • December 17, 2016
How can Tom Herman turn his first year as the Texas football coach a success?
In late November, Tom Herman took over as head coach for Texas' football program. He replaced Charlie Strong, who went 16-21 in three seasons at the helm. This includes back-to-back seasons without making a bowl game.
Heading into Year 1, expectations will be high for Herman as he looks to bring this program to national prominence. It has been quite a few years since that happened, which arguably last took place during the 2010 National Championship game appearance. This saw the Longhorns get beaten by Alabama, 37-21.
A National Championship probably won't be in the cards for the 41-year-old in 2017, but there are ways he can have a successful opening campaign, though. What could he do to achieve this?
Nov 5, 2016; Lubbock, TX, USA; A University of Texas Longhorns helmet sits on the bench during the game against the Texas Tech Red Raiders at Jones AT&T Stadium. Mandatory Credit: Michael C. Johnson-USA TODAY Sports
5. Developing His First Recruiting Class
Tom Herman already has inherited a handful of recruits from the Charlie Strong era, but will still have to get his own for the 2017 season. By 2018, though, he'll have a class of new talent that are all his guys. This will be his chance to pitch to prospects about coming to the most noteworthy college in Texas and not Houston, the former of which may sell itself.
As of December 17, Herman does not have anyone committed for the 2018 class. Few high school athletes have announced their intention to join other schools either, but by early 2017, the ball should get rolling.
According to 247 Sports, four five-star recruits have already visited Texas: defensive end Xavier Thomas, defensive tackle Taron Vincent, safety BJ Foster, and cornerback Anthony Cook. The best bet from this group may be Foster, who 247 Sports is predicting to have a 100-percent chance of committing to Herman's squad. Acquiring the Angleton, TX native would be a start at rebuilding the secondary that needs fresh faces badly. More importantly, Foster could anchor the 2018 class and potentially lead Herman to one of the best recruiting classes. Going after four-star recruits like wide receiver Joshua Moore, cornerback Jalen Green, and defensive end Max Wright could help fill out the class as well.
These players may be the building blocks toward Herman cranking out a noteworthy recruiting class. It will all be about getting his own players in and establishing this program as nationally relevant.
Oct 29, 2016; Austin, TX, USA; Texas Longhorns "Hellraisers" celebrate after a touchdown against the Baylor Bears at Darrell K Royal-Texas Memorial Stadium. Texas beat Baylor 35-34. Mandatory Credit: Erich Schlegel-USA TODAY Sports
4. Inspire Confidence Early
Texas closed the 2016 season in brutal fashion. They lost their final three games of the season, all of which had them going to a bowl game on the line. So, this left the Longhorns at 5-7, out of the postseason, and at home regrouping for 2017. Factor in the firing of Charlie Strong and the hiring of Tom Herman, making the last six weeks an up and down one for the Burnt Orange.
To wash out the bad taste of the end of 2016, Texas needs to start the season strong and inspire some hope within the fanbase that this team is going to be competitive. This begins with beating Maryland and San Jose State, both of which are at home. Then, putting up a fight against USC, who will likely go onto next season ranked. The Trojans may be favored to win this, but if the final score is close in a loss, it could carry some momentum into the Big 12 schedule. This will include two very winnable games against Iowa State and Kansas State, before the Red River Rivalry game with Oklahoma.
A potential scenario for Herman would be to finish 4-2 through his first six games of the season. This is only one game better than how Texas started in 2016, but the 3-3 start got marred by three consecutive losses that dampened any expectations. The Longhorns would then be on pace for an 8-4 record, getting them to a bowl game for the first time since 2014.
Nov 26, 2016; Los Angeles, CA, USA; USC Trojans head coach Clay Helton leads his players onto the field for the game against the Notre Dame Fighting Irish at the Los Angeles Memorial Coliseum. Mandatory Credit: Matt Cashore-USA TODAY Sports
3. Upset USC
As noted, USC is potentially going to be favored to beat Texas in their late September game. After the way the Trojans have performed in 2016, they seem set for a high ranking in the opening 2017 AP Poll as well. A close score in a loss may be somewhat of a positive for Tom Herman, but what about actually winning in Southern California?
By beating USC on the road, the already mounting hype on Texas' 2017 football season will increase. They'll get national attention and probably move into the polls, which would give them the opportunity to make some noise if a winning streak heading into Big 12 play can begin.Beating USC likely means limiting quarterback Sam Darnold or trying to outscore them in a shootout. Texas doesn't have a strong secondary as they ranked 102nd in the nation in passing yards allowed (3,102). They have experienced defensive backs like Kris Boyd and Davante Davis coming back, though, so maybe an extra year and
Beating USC likely means limiting quarterback Sam Darnold or trying to outscore them in a shootout. Texas doesn't have a strong secondary as they ranked 102nd in the nation in passing yards allowed (3,102). They have experienced defensive backs like Kris Boyd and Davante Davis coming back, though, so maybe an extra year and spring practice under theirs and other's belts will benefit them.
On the other hand, Texas quarterback Shane Buechele has shown some ability to stay on par in shootout games. He put up 280 yards and two touchdowns in the 50-47 win over Notre Dame, and a season-high 318 yards in a 24-20 loss to West Virginia. Buechele may be pushed away by Kyle Allen, though, who has been speculated to be following Herman to Austin after transferring from Texas A&M to Houston just one year ago. If so, can Allen keep up with USC's offense?
A win at USC would likely skyrocket expectations in Austin, including speculation on if Texas can make the Big 12 Championship game in December. This victory on September 16 would be a stepping stone toward this and making sure Herman's first year is a success.
Dec 3, 2016; Norman, OK, USA; Oklahoma Sooners running back Joe Mixon (25) runs for a touchdown during the second half against the Oklahoma State Cowboys at Gaylord Family – Oklahoma Memorial Stadium. Mandatory Credit: Kevin Jairaj-USA TODAY Sports
2. Beat Oklahoma
The 2017 edition of the Red River Rivalry game between Texas and Oklahoma will take place on Saturday, October 14. It's arguably the biggest game of the year for both teams given their 100-plus year rivalry, which first began in 1900.
Along with upsetting USC, if Tom Herman really wants to win some supporters, he would do that by beating Oklahoma in his first time in the Red River Rivalry series.
Charlie Strong had won this game for Texas in 2015 and seemingly brought himself some momentum. However, the Longhorns still finished 5-7 and had another down year in 2016.
Herman beating Oklahoma would earn himself his first big accolade at Texas, even more than defeating a potential quality and ranked team in USC. It would require yet another shootout, which Baker Mayfield and Co. have proven that they can do (and did so throughout the season), we will just have to see if Buechele or another quarterback can match them with the usual high scores.
Nov 19, 2016; Waco, TX, USA; The Big 12 logo on the chains during a game between the Baylor Bears and Kansas State Wildcats at McLane Stadium. Kansas State won 42-21. Mandatory Credit: Ray Carlin-USA TODAY Sports
1. Make the Big 12 Championship Game
For the first time since the Big 12 lost teams to conference expansion, there will be a conference championship game to close the season. This will take place on Saturday, December 2 at AT&T Stadium. It means two of the Big 12's teams are going to get the chance to play one extra game, which may help them get into the 2017 College Football Playoff.
Of course, this would mean Texas has a greater chance of making the conference title game since two teams will vie to reign supreme. If they can at least make it to Arlington, TX, then Tom Herman's 2017 season would definitely be called a success.
Expectations are going to be high for Herman as he heads into his first season. While a National Championship may not be needed imminently, achieving something positive that carries momentum into 2018 should be a goal. This would then bridge the gap to potentially competing for a title, which the Longhorns brass thought Charlie Strong would bring.
It's going to be a difficult road to get to the Big 12 Championship game, though. Schools like Oklahoma, Oklahoma State, and West Virginia were at the top of the class in 2016, so Herman and Texas would have to leapfrog at least two of them. That's not including quality teams like TCU and Kansas State, who will linger next year too.
If Herman can make the Big 12 Championship game, his first season in Austin will certainly be deemed a success. There's going to be a journey to get there, though, which will likely have to go through Oklahoma.
More from Hook'em Headlines
This article originally appeared on
---
---