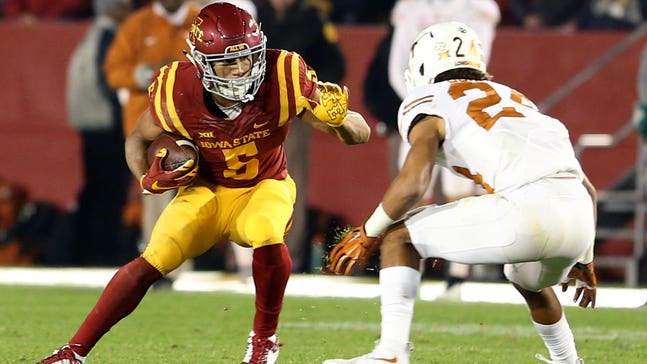 Road kill: Texas keeps stinking it up away from home
Published
Nov. 2, 2015 9:19 a.m. ET

Texas has talked a lot about the development of its physical rushing attack. That brand of football is simple and is supposed to be full-proof regardless of location and weather and any other forces that might try to destroy it.
But for these up-and-down Texas Longhorns nothing is full-proof. Well, unless you count getting blown out on the road. Because each time Texas hits the road this season -- save its stunning neutral-site victory over Oklahoma at the Cotton Bowl -- it has been an humiliating experience.
Saturday's 24-0 whitewash at Iowa State, a team a power program like Texas should discard in its sleep, was the latest piece of evidence that Texas still really has no identity under coach Charlie Strong, and only on occasion does it appear ready to play.
And none of those occasions have been Texas' three true road games.
"I would've thought we were taking steps forward, and then this is just a step backward," Strong said afterward, a paraphrase of other postgame press conferences in which Texas has suffered inexplicable losses following encouraging wins. "I always say to (the players), I just want to see the same team I saw in Dallas that day."
The Longhorns (3-5, 2-3 Big 12) were feeling good about themselves again with wins over Oklahoma and Kansas State. Saturday's trip to Ames, Iowa, was supposed to get them to .500 and closer to a bowl game. Now Texas is dangerously close to a losing record and no bowl berth, which takes six wins to attain.
Here's how bad it's been on the road: Texas has been outscored by Notre Dame, TCU and Iowa State by a combined 112-10. It's almost unfathomable. If not for a late touchdown against the Horned Frogs, it might be two shutouts, and if not for a measly field goal against the Irish it could have been a triple doughnut. Unimaginable.
Iowa State outgained Texas by 222 yards. In the three road games, Texas has been outgained 1,557 yards to 680. After the Notre Dame debacle, Strong changed quarterbacks, promoting redshirt freshman Jerrod Heard. 
"When you look at it, it's not only at the quarterback position. It's across the board," Strong said of his Jekyll-and-Hyde offense that rolled up 313 rushing yards against the Sooners.
Texas has a real chance of finishing the season winless on the road. After playing doormat Kansas at home -- a must-win for Strong if ever there was one -- the Longhorns go to sure-to-be chilly West Virginia (Nov. 14) and end the season at juggernaut Baylor (Dec. 5).
---
---