San Francisco 49ers
San Francisco 49ers
Monday's Sports In Brief
Published
Aug. 15, 2017 3:03 a.m. ET

BASEBALL
DENVER (AP) Chad Bettis drew a standing ovation when he took the mound for the first time since cancer treatment, then threw seven impressive innings Monday night as the Colorado Rockies beat the Atlanta Braves 3-0.
Bettis scattered six hits, walked none and struck out two. He hadn't pitched in the majors since being diagnosed with testicular cancer in November.
Bettis had surgery for the condition, but tests in March showed the cancer had spread to his lymph nodes. He later underwent chemotherapy.
The crowd at Coors Field gave Bettis a big cheer as he went out to pitch the first inning. The Braves' best chance to score against him came when Ender Inciarte led off with a triple, but he was thrown out trying to stretch it to an inside-the-park home run.
The 28-year-old Bettis led Colorado in starts (32), wins (14) and innings (186) last season. He left for a pinch-hitter in the seventh with the game still scoreless.
MIAMI (AP) - Given Giancarlo Stanton's recent home run binge, Derek Jeter may decide baseball's biggest contract is a bargain.
Stanton signed a record $325 million, 13-year deal in 2014 with the Miami Marlins, and they still owe him about $300 million - an eye-popping number even to a former All-Star shortstop for the New York Yankees.
Jeter's investment group agreed last week to buy the Marlins from Jeffrey Loria, and given the franchise's history of low revenue and attendance, there's already speculation the incoming regime may deem Stanton unaffordable.
But lately, he looks like a keeper at any price. Stanton's knack for moonshots has long made him the sport's most prodigious slugger, and now he's also the most prolific.
He homered against the San Francisco Giants in the first inning Monday night to increase his season total to 43, most in the majors and a franchise record. He has homered in his past five games, another team record, and in 22 of his past 34.
He would finish the season with 72 homers - one shy of Barry Bonds' 2001 record - if he continues his pace of the past five weeks.
COLLEGE BASKETBALL
Top high school prospect Marvin Bagley III has committed to Duke and is eligible to play in the 2017-18 season, immediately making the Blue Devils a top national-title contender.
Bagley made his announcement on ESPN's SportsCenter.
The 6-foot-11 Bagley is widely considered the top recruit of the 2018 recruiting class, but last month petitioned the NCAA to reclassify and become college eligible for the upcoming season.
Bagley went on campus visits in July to Duke and USC, with UCLA also in the mix.
Bagley started his high school career at Tempe Corona del Sol High School and ended up at Southern California's Chatsworth Sierra Canyon High School.
The long, athletic big man will likely be in the mix to be the No. 1 overall pick in the NBA draft whenever he decides to leave college.
FAYETTEVILLE, Ark. (AP) - Frank Broyles, who guided the University of Arkansas to its lone national football championship and later molded the overall program as its athletic director, died Monday at the age of 92.
Broyles died from complications of Alzheimer's disease, according to a statement from his family. ''He passed peacefully in his home surrounded by his loved ones,'' the statement said.
Broyles won almost 71 percent of his games as head football coach with the Razorbacks for 19 years. He became the school's athletic director in 1974 while still the football coach, eventually retiring from the gridiron to focus on administrative duties following the 1976 season.
As athletic director, Broyles led an overhaul and upgrade of Arkansas' facilities - as well as leading the school in its move to the Southeastern Conference.
PRO FOOTBALL
SANTA CLARA, Calif. (AP) - The San Francisco 49ers made a big-time acquisition at wide receiver - at least for one practice.
Hall of Famer Jerry Rice put on the cleats and took part in practice with the 49ers, running patterns and doing stretches in individual drills, dishing out tips to young receivers and even shadowing the wideouts during team drills.
Rice has plenty of knowledge from a 20-year career that featured NFL records with 1,549 catches, 22,895 yards receiving, 208 total touchdowns and three Super Bowl titles.
He even showed he still has some moves at age 54, nearly 13 years removed from his final game, with the way he ran patterns during individual drills.
The 49ers are making a more concerted effort this season to highlight their rich history and bring former players back into the fold under new general manager John Lynch and coach Kyle Shanahan, whose father Mike was offensive coordinator when Steve Young and Rice helped the team win the Super Bowl following the 1994 season.
EAST RUTHERFORD, N.J. (AP) - After a miserable end to the 2016 season and the brouhaha about his desire to be the NFL's highest-paid player, Odell Beckham Jr. is having a great time at training camp with the New York Giants.
The 24-year-old wide receiver, social rock star and fan favorite is putting on a show every time he steps on the field.
The entertainment this week has been either a couple of one-handed catches, dancing to the music between segments of practice or playing up to the fans running down the sideline after a catch.
His smile is as bright as his gold cleats and his mood reflects that. Walking in the team's indoor field house after practice, Beckham leap-frogged a stunned reporter, jumped over an upside-down garbage can and then turned to safety Landon Collins and quipped `that something was you,' referring to the can.
Entering his fourth season, Beckham said he is very comfortable in coach Ben McAdoo's offense.
TENNIS
MASON, Ohio (AP) - Wimbledon champion Roger Federer withdrew from the Western & Southern Open on Monday because of a back injury. He has won the Masters series tournament seven times.
The move was announced on the first full day of matches. This U.S. Open warmup has now lost five of the top six players in the men's rankings.
Federer, a 19-time major champion, said in a statement he ''tweaked'' his back last week at the Rogers Cup in Montreal, where he lost Sunday's final to Alexander Zverev.
The Swiss star, ranked No. 3, is sidelined along with No. 1 Andy Murray, No. 4 Stan Wawrinka, No. 5 Novak Djokovic and No. 6 Marin Cilic, the defending champion. Only No. 2 Rafael Nadal, the top-seeded player, remains in the draw.
SOCCER
BARCELONA, Spain (AP) - Cristiano Ronaldo lost his cool, and now Real Madrid has lost its main man for five matches at the start of the Spanish season.
Ronaldo was banned for five games on Monday after shoving a referee who sent him off for diving in Madrid's 3-1 win over Barcelona in the Spanish Super Cup.
Ronaldo was suspended for one game for the red card in Sunday's Super Cup first leg at Barcelona, and four games for pushing referee Ricardo de Burgos Bengoetxea in the back, the Spanish football federation said.
Ronaldo will miss Wednesday's return leg of the Super Cup in Madrid plus the first four matches of Real Madrid's league title defense. Zinedine Zidane's Madrid opens the league on Sunday at Deportivo La Coruna. Its next three matches after that are against Valencia, promoted Levante, and at Real Sociedad.
Ronaldo and Madrid have 10 days to appeal the federation's ruling.
Still regaining peak fitness after an extended summer vacation, Ronaldo began the Super Cup match on the bench, and came on in the 58th minute.
He scored with a long-range strike to put Madrid 2-1 up in the 80th minute, moments after Lionel Messi had equalized for Barcelona from the penalty spot.
But Ronaldo's goal celebration - when he took his shirt off and flexed his muscles - earned him a yellow card.
Two minutes later, he charged into the area and collided with Barcelona defender Samuel Umtiti. Ronaldo went down hoping for a penalty. Instead, referee De Burgos showed him a second yellow for diving and sent him off.
Ronaldo raised his arms in disbelief, then stepped up to De Burgos and shoved him in the back with his right hand.
GOLF
ATLANTA (AP) - The Georgia company that owns Augusta National Golf Club and the Masters golf tournament on Monday asked a judge to stop a golf memorabilia company from auctioning off a Masters champion's green jacket and other items it says were never supposed to have left the club's grounds.
Augusta National Inc. filed the federal lawsuit against Florida-based Green Jacket Auctions Inc. seeking to stop the company from selling a champion's green jacket and two member green jackets, as well as silverware and a belt buckle bearing Augusta National's map and flag logo.
The champion's green jacket is awarded each year to the winner of the Masters tournament, ''and is, probably, the most coveted award in the golfing world,'' the lawsuit says.
The jacket may not be removed from the Augusta National grounds except during the first year after it is presented, according to the lawsuit. After that first year, the jacket must be stored on Augusta National premises and can only be used on the grounds and during the annual tournament. Augusta National said it owns the jackets, and the champions have ''possessory rights'' when they're on Augusta National grounds.
The same rules apply to the member green jackets, except they may never leave Augusta National grounds, the lawsuit says. Each jacket is marked for identification and authenticity.
---
---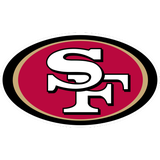 Get more from San Francisco 49ers
Follow your favorites to get information about games, news and more
---