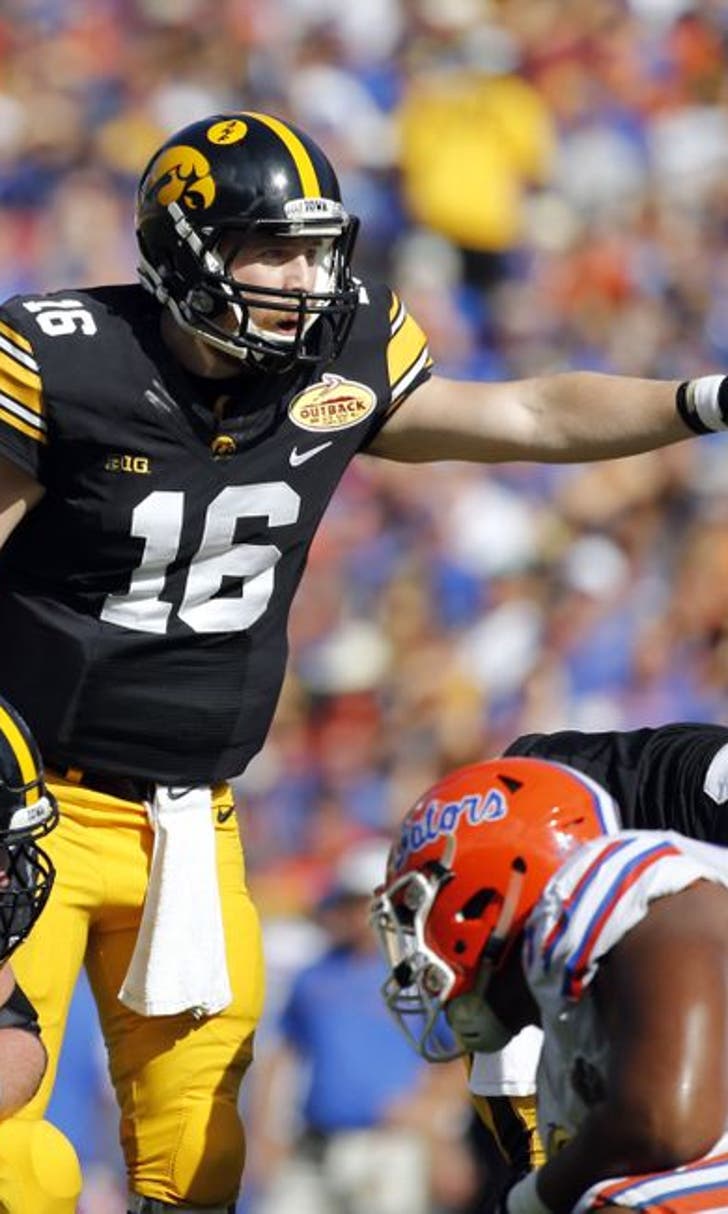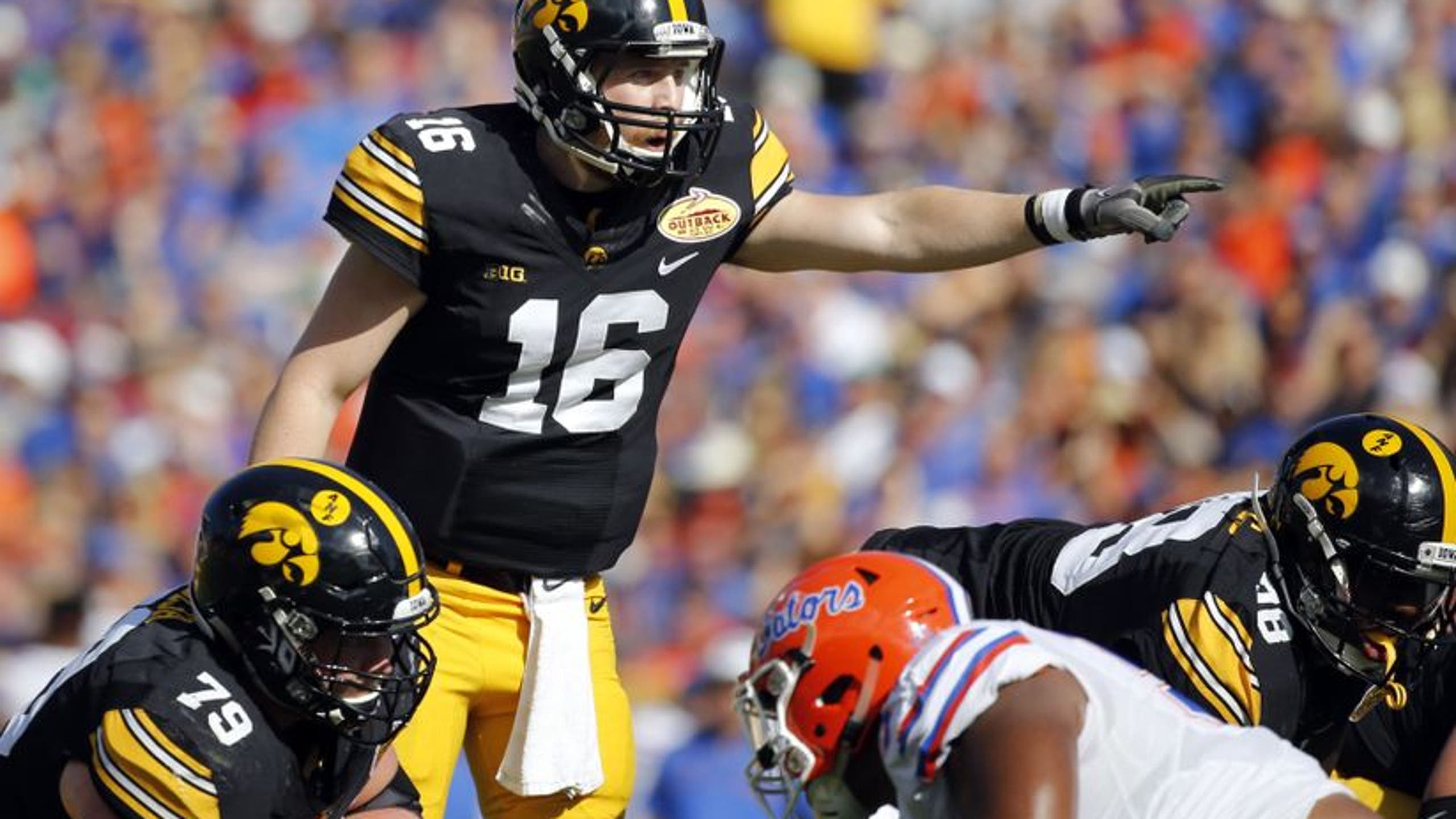 Iowa Football: Nothing Goes Right For Hawkeyes In Outback Bowl
BY Fansided and Jeremy Karll/FanSided via Dear Old Gold • January 2, 2017
A 30-3 loss to Florida in the Outback Bowl extends Iowa's bowl losing streak to five games
Low-scoring, close and defensive battle are how many imagined the Outback Bowl between Iowa football and the Florida Gators would go. For the first half that's what it was, but then Florida rattled off 20 points in the second half to beat Iowa 30-3 in a game that rivals the embarrassment of last year's Rose Bowl.
Florida came into the game ranked 17th in the nation and as a three-point favorite. Plus, the game is in Tampa, Florida, therefore, even though Iowa's fans travels well, Florida still had the obvious home field advantage.
Evidently, it wasn't just the home field advantage that stopped Iowa. The Hawkeyes simply didn't come to play. From the coaches to the players, Iowa was out-played and made people wonder where the team that ended the regular season with three straight wins went.
Iowa's defense could not have started any better. They intercepted Austin Appleby on each of Florida's first two offensive possessions.
A tipped pass by Joshua Jackson led to a Brandon Snyder interception and Desmond King leaped over a Florida receiver to make an acrobatic interception and give Iowa starting field position at the 27-yard line.
Iowa only gained nine yards on four plays, though, which led to their only points of the game — a Keith Duncan 36-yard field-goal.
Despite their hot start to the game, their defense still let receivers get behind them and gave up a 16-yard pass to Tyrie Cleveland on Florida's first drive. Even though Appleby had two interceptions in the first five minutes of the game, he didn't look terrible.
Poor coverage led to Florida converting key third downs and then Iowa forgetting how to tackle. Four missed tackles led to an 85-yard screen pass touchdown to Mark Thompson to give Florida a 10-3 lead late in the first half.
In what gave everyone flashbacks of Christian McCaffrey running over an Iowa defense last year, Florida did the same thing.
Iowa continued to miss tackles all game and it led to Florida gaining 109 rushing yards and Jordan Scarlett averaging 6.7 yards per carry. Iowa's run defense started out strong but continued to give up bigger and bigger runs as the afternoon continued.
Iowa had their chances to get back in the game, though. Outside of two interceptions early in the game, they also had a fourth and goal on Florida's one-yard line. Instead of trying to run a bootleg or calling a QB sneak, Greg Davis called what everyone was thinking — LeShun Daniels Jr run up the middle.
Florida sniffed it out and loaded the box. At the time, it kept the game tied 3-3, but the momentum shifted on both sides of the ball after that play.
Iowa also held the ball for 7:25 to start the half. They drove 63 yards on 13 plays and looked like they found rhythm on offense. Florida ended up stopping Iowa but a missed 30-yard field goal by Keith Duncan kept the game at 10-3.
Florida then went on to score another touchdown on third and goal from the six, despite two penalties that pushed Florida back 10 yards. Although, just like the rest of the game, Iowa didn't capitalize on opportunities.
C.J. Beathard ended his Iowa career with a pick-six and two more interceptions that led to two field goals. Beathard, who suffered a hamstring injury in the first half, started the game well but it quickly turned south when he wasn't as mobile. He finished the game on the sidelines watching Nathan Stanley take the final offensive snap for Iowa.
Beathard ended his Iowa career completing just 7-of-23 passes for 55 yards and three interceptions. He earned an atrocious 8.8 QBR.
The game was summed up when Ron Coluzzi had a 15-yard punt in the second half. After a stellar year from the senior punter, nothing could even go right for him.
Despite all the bad, Akrum Wadley still played well. He gained 115 yards on 22 carries and caught four passes for 21 yards. He and Daniels also became the first duo in Iowa history to each record a 1,000 rushing yard season in the same year. Daniels gained 45 yards on 15 carries.
For a year that started with disappointment but got a lot better at the end, it seems fitting that Iowa ends their season just like almost every other year — a blowout loss in a bowl game.
No one expected Florida to win 30-3, but Iowa didn't have any of their momentum from the end of the season and didn't play well from the get-go. They had their chances to put Florida away early or at least make it a game, but they didn't take advantage.
As disappointing as it is, the score indicates how poorly Iowa played. Florida figured out how to beat Iowa early, and the Hawkeyes didn't make adjustments.
More from Dear Old Gold
This article originally appeared on
---
---