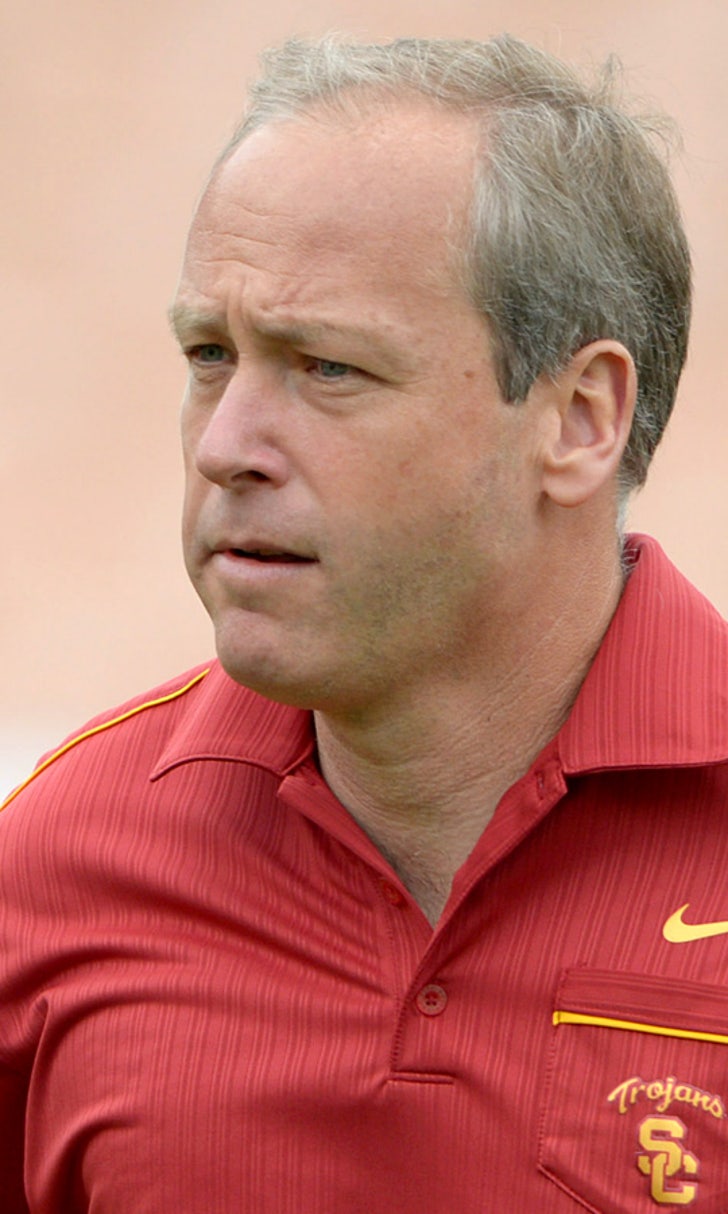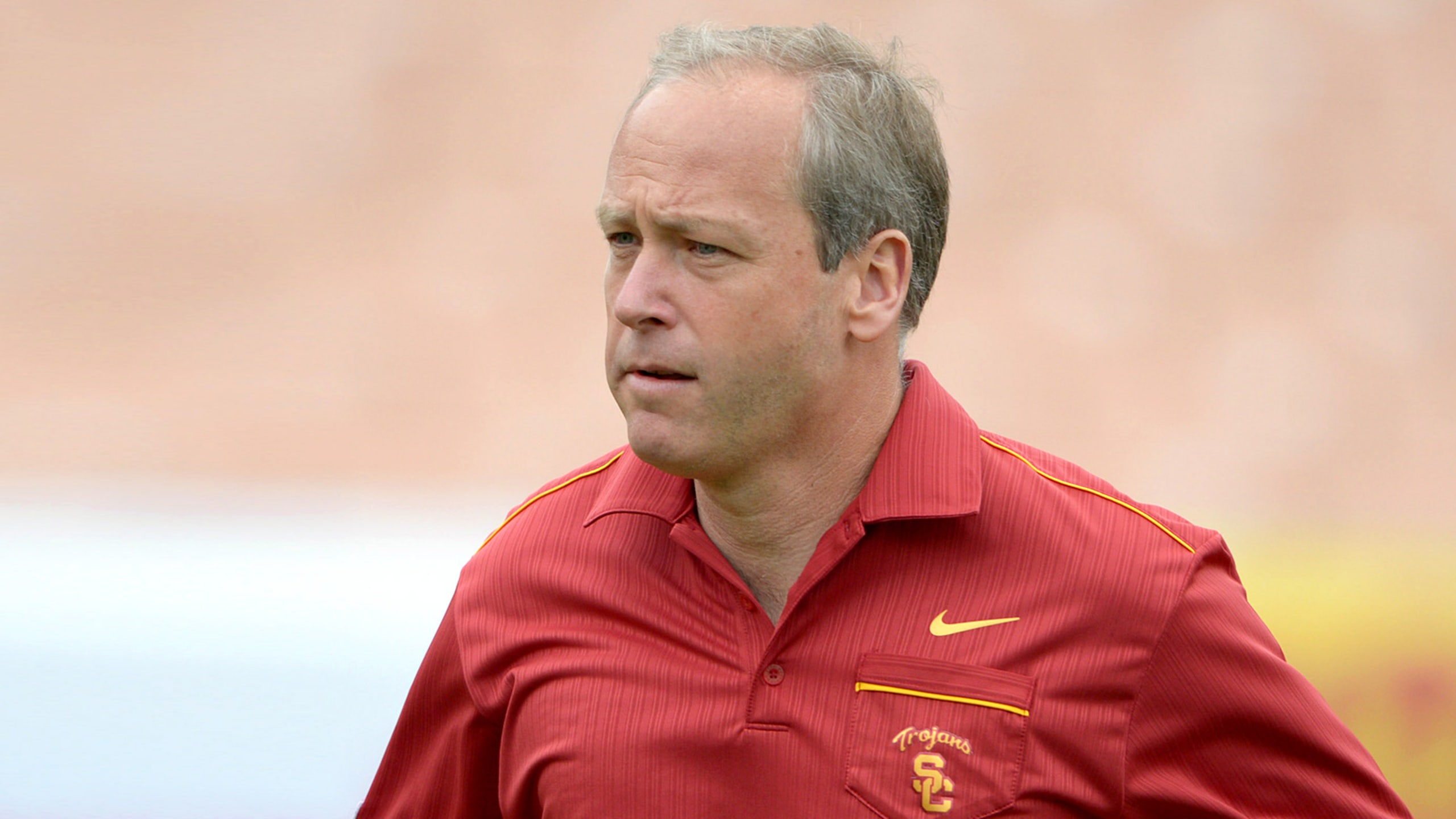 Ex-USC DC Clancy Pendergast is fired up to build his next dominant D
BY Bruce Feldman • December 9, 2014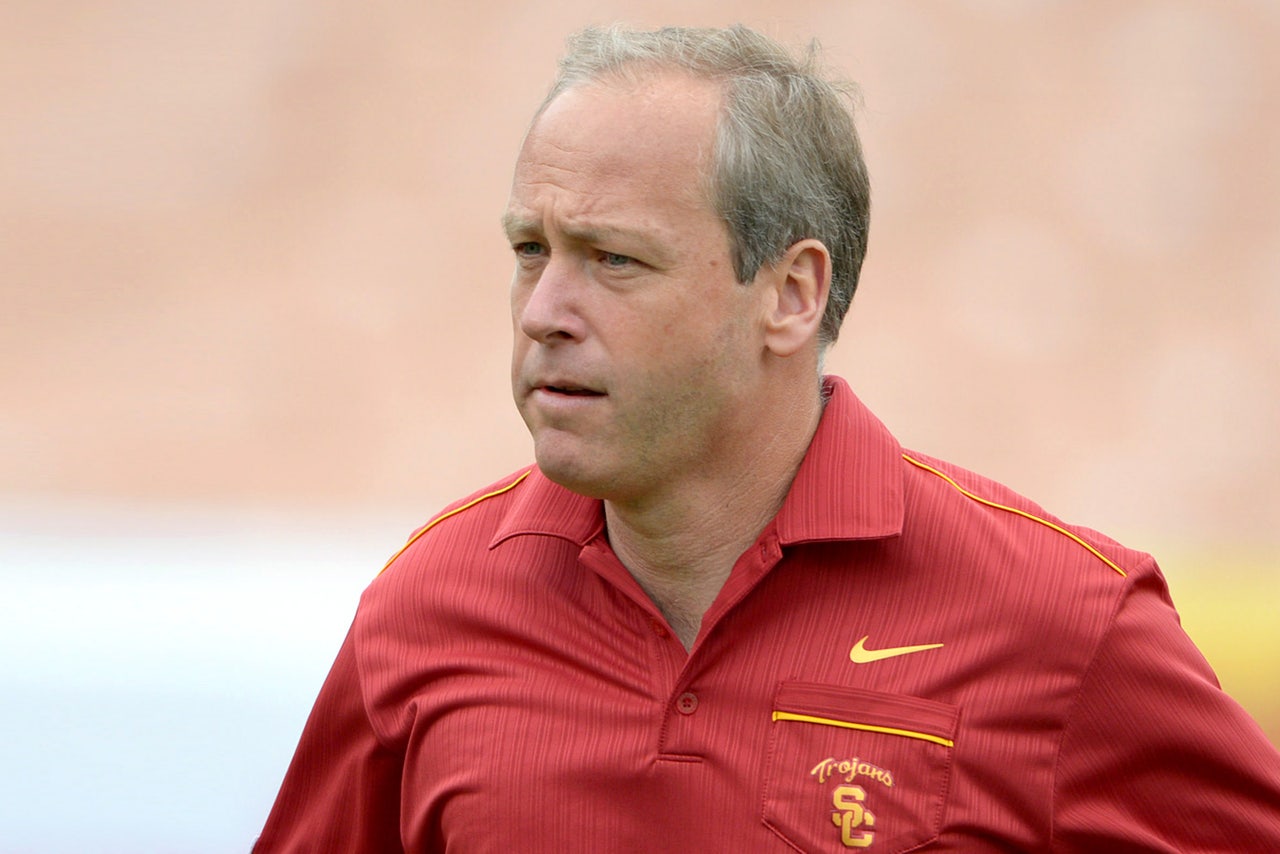 For the first time in decades, Clancy Pendergast got to spend Thanksgiving with his family. Months ago -- heck, weeks ago -- he never thought about that part of his year out of coaching, when after he had transformed a mediocre USC D into the Pac-12's best in 2013, the career defensive coordinator was somehow left without any coaching job. 
It was surprising that the 45-year-old coach ended up getting spun off the coaching carousel amid the Trojans' coaching search last winter after Steve Sarkisian was hired, bringing his own DC from Washington. Surely, someone else would've snapped up Pendergast. Last season, he turned the Trojans from a unit that ranked No. 7 in the Pac-12 to No. 1. A few years earlier, he sparked as dramatic a turnaround when he took over Cal's defense and made it the conference's top-rated D and gained a rep in coaching circles for having a handle on containing the spread after his 2010 Bears slowed down Chip Kelly's prolific offense, holding them to 40 points below their average.
Prior to returning to the college game, Pendergast also helped lead the Arizona Cardinals to a Super Bowl. Yet, this fall, he has spent most of his weekends in his native Arizona, studying college and NFL games, often watching on his TV with the sound off, while trying to keep his mind sharp and get better as a coach. It's been a challenging fall for a guy who has spent the last two decades poring over film and drawing up defenses aimed at keeping offenses and QBs off-balance.
Pendergast is the quintessential coaching grinder. Twenty-hour days focused solely on shutting down someone's offense weren't uncommon. He broke into the NFL as a quality control assistant, where his job was breaking down tape. He impressed coach John Robinson when he volunteered at USC, who recommended Pendergast to Jeff Fisher with the then-Houston Oilers. "I learned a lot from Jeff," Pendergast said. "I really learned to think outside the box."
It was a good in for a guy who never played college football. Instead, while as a University of Arizona student, Pendergast spent a year coaching at a local high school football program. He was fascinated by the Xs and Os side enough that after he graduated and returned home to Phoenix, he took another high school coaching job there. And one year later, after sending out dozens of resumes, he was hired as a grad assistant by Jackie Sherrill at Mississippi State.
Pendergast has since gone from Houston to the Dallas Cowboys to the Arizona Cardinals before he returned to the college game. Along the way, there were stints -- like the time he spent one month at UAB (before getting hired by Fisher) -- that didn't even make his bio.
In many ways, Pendergast epitomizes the often transient world of big-time football coaching due to its unforgiving long hours and shaky job security. From 1995-2009, he coached for five NFL teams. 
"I've been fired after a Super Bowl -- nothing surprises me in this business," he said over lunch while back in Southern California to visit some friends on a sunny Wednesday afternoon in November. In that Super Bowl XLIII loss in 2009, Pendergast's defense gave up just 292 yards to the Steelers, marking the third time in four playoff games that year Arizona held an opponent under 300 yards. "It's just part of the business," he said. "You know it when you sign up for it."
Pendergast is single. He's been married once, but that lasted only a year. He has no kids. He's rented a lot of houses. The washer and dryer he owns is actually one Barry Switzer got him. Pendergast coached for Switzer with the Cowboys and was just getting settled in at work. One day, he was in the defensive coordinator's office and Switzer walked by and asked him if he got moved in yet. Pendergast said he had, but that he still had to go buy a washer and dryer.
"You need a washer and dryer?" Switzer asked. "Give my secretary your address." 
One day later, a truck pulled up to Pendergast's house with a new washer-dryer that apparently came from some Oklahoma alum Switzer knew. 
He still has a soft spot for the Cowboys. Dallas is the place where he had the longest stint in his coaching career. "I really enjoyed my seven years in Dallas," he said. "Jerry Jones afforded me the opportunity to move up within the organization every year or two as I went from a quality control assistant to a position coach. I was able to survive through three head coaches and Stephen Jones (Jerry's son) is a good friend of mine."
That's why when Pendergast, his mom, sister and cousin went out to have Thanksgiving dinner, he made sure they finished eating in time to watch the Cowboys' game against the Eagles.
Because Pendergast has access to NFL All-22 coaches film, he's been able to study the pro game more than college. He's curious to see whatever nuances coaches come up with for answers to the latest offensive wrinkles. He's especially interested to see how teams try to defend Chip Kelly's Eagles. Last July, the Washington Redskins brought him in to spend two days with defensive coordinator Jim Haslett to help cope with the zone read and Kelly's attack. 
"Jon Gruden had recommended me to Jay," said Pendergast, who gave Haslett some pointers for handling the tempo and a whole bunch of other Xs and Os suggestions that the DC would rather not disclose in print.
The two-day tutorial seemed to help Washington against Philly. The Redskins limited the Eagles to just 54 yards rushing on 25 carries in a 37-34 loss. "Jim was happy," said Pendergast. "He called me right after the game." Pendergast also help school the Tennessee Volunteers defensive staff on a few things last June. Pendergast was meeting with Vols defensive coaches while Jon Gruden was there to speak to the UT offensive staff. A year earlier Pendergast spent two days with the Atlanta Falcons' entire defensive staff, helping them defend the Pistol and spread offense. It's all part of the business. Pendergast can learn a few things from them, too.
Whatever the scheme, Pendergast says the most important thing to being a good defensive coordinator is being able to adjust your system and understanding your own strengths and weaknesses. "And," he says, "being able to fit your players in it and knowing how to make adjustments during the course of a game depending on how someone's trying to attack you."
Pendergast also believes it's vital to get pressure on the opposing QB. "Whether it's a running quarterback or a passing quarterback, you always try to get them off their spot and give them different looks," he said. "You don't want to be vanilla."
At USC in 2013, he took a unit that ran a 4-3 and changed it to a 5-2 with some 3-4 principles, and despite having almost no depth, the Trojans put a fierce D on the field. They won 10 games despite having all sorts of off-field drama with three different head coaches.
"Clancy was fantastic," said Ed Orgeron, who went 6-2 as the Trojans' interim head coach last season. "His strength is game-day calling. He knows how to attack the no-huddle and really can adjust to what the other team's trying to do. He doesn't panic on the sidelines and the guy really has no ego. 
"Look at what he's done as a defensive coordinator at SC, at Cal and in the NFL. He gets results, and he gets them quick."
Orgeron also praised Pendergast's attention to detail in practice working with USC's DBs. "Our DBs tackled about as well as they had in all the time I was at SC," Orgeron said.
Since Pendergast left USC, the Trojans defense, which returned eight starters, has dropped to No. 68 nationally, down from No. 13 in 2013. Pendergast is pulling for his old players. This has been a challenging year for him. Financially, he's still being paid by USC as part of his contract, but he really misses drawing up defenses and working with players.
"I just try to stay busy," he says. "It is what it is."
He has come to appreciate his time back home in Arizona. His parents are both 86. His father, Clarence, who was a dairy farmer, suffers from Alzheimer's and has been battling it since 2006. Clancy gets to see him a few times a week, which is bittersweet. "Now, he barely recognizes you." 
Because of his health condition, his father doesn't leave the house, Pendergast said, adding that he's grateful for all these moments that he's gotten to spend with his mom.
"It's really been time well spent, and I know it'll always be something I remember," he said.
Pendergast is optimistic that he'll get back to work this winter. College or NFL, he's open to either, especially since he's had great success at both levels.
"I'm just looking for the best situation," he said. "Coaching is coaching and teaching is teaching. Whether it's college or the NFL, I've always enjoyed developing the younger players. And I can't wait to get back to it."
Bruce Feldman is a senior college football reporter and columnist for FOXSports.com and FOX Sports 1. He is also a New York Times best-selling author. His new book, The QB: The Making of Modern Quarterbacks, came out in October, 2014. Follow him on Twitter @BruceFeldmanCFB.
---