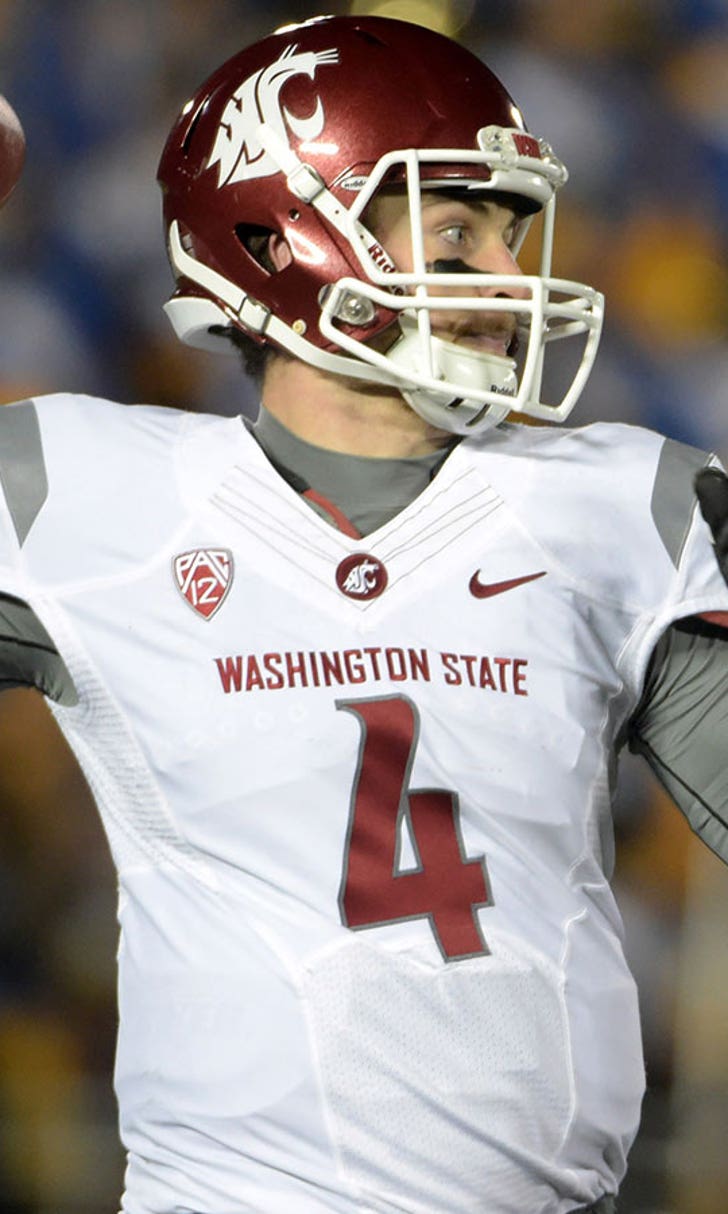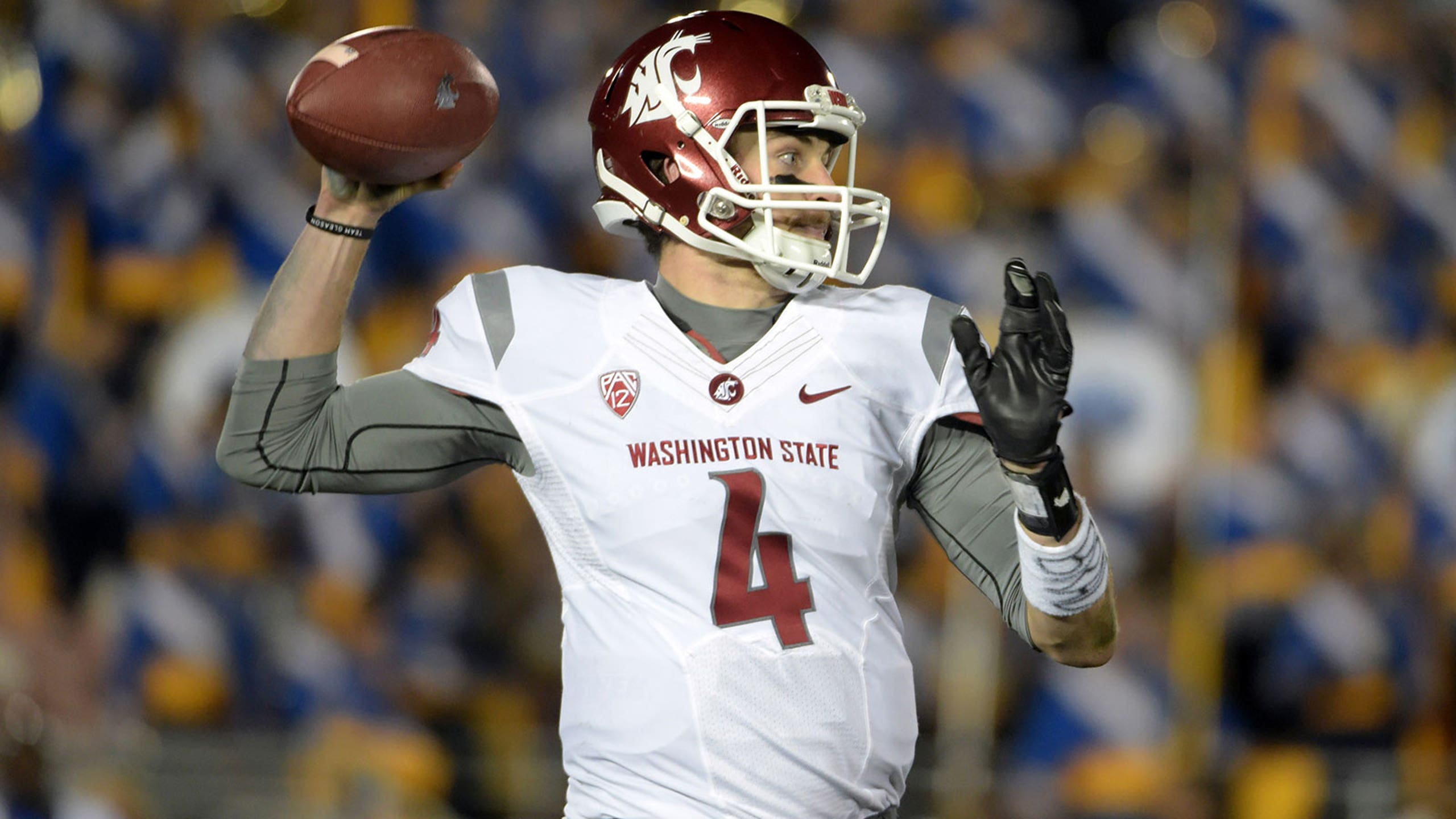 Colorado-Washington St. Preview
BY foxsports • November 17, 2015
Washington State's Luke Falk leads the nation in passing yards and has the nation's second-most touchdown passes, with his coach believing he should win the Heisman Trophy.
Colorado will counter with quarterback Cade Apsay making his first start.
The Cougars are ranked for the first time in nine years, and the 24th-ranked club will be favored to hand the visiting Buffaloes a 22nd straight loss to a Top 25 opponent Saturday night.
Washington State (7-3, 5-2 Pac-12) is ranked for the first time since 2006, though coach Mike Leach isn't concerned about that.
"It's just something that we have to avoid the noise on," he said. "Just focus on the next practice and the next play. I mean all that will take care of itself."
The coach was more willing to discuss the Heisman chances of Falk, who has thrown for 4,067 yards with 35 TDs and eight interceptions. Falk threw a winning 21-yard touchdown pass to Gabe Marks with three seconds left in last Saturday's 31-27 victory at then-No. 18 UCLA.
Leach said that he believes the Heisman Trophy should be awarded to a player who wins the national championship right after the title game. But under the current system, he thinks Falk is most deserving.
"I think you ought to go back to the original definition which is who's made the greatest contribution to his individual team," Leach said. "If that's the case, virtually everyone needs to vote for Luke Falk and anybody that doesn't needs to re-examine why they're voting for the Heisman to begin with."
Falk has been sacked 35 times for the nation's second-highest total.
Colorado (4-7, 1-6) presents a wounded opponent after quarterback Sefo Liufau suffered a season-ending foot injury in Friday's 27-24 loss to Southern California. Liufau had started 29 of the last 30 games for the Buffaloes and played in 31 straight.
Apsay saw his most extensive action in relief and completed 18 of 23 passes for 128 yards and two scores, though he was sacked five times.
"He's taken a lot of reps in practice, he'll be even sharper next week and he'll be ready to go," coach Mike MacIntyre said.
The coach also suggested that Jordan Gehrke, who has thrown four passes all year, may get some snaps even though Apsay figures to get the bulk of the work.
"I was always studying film and asking questions in meetings," Apsay said. "Now it'll definitely be more film, more questions, just much more focus. But I'm a lot more confident in myself and in the playbook now."
Apsay will be targeting Nelson Spruce, who is fifth in the Pac-12 with 822 receiving yards. The duo hooked up for a nine-yard TD last weekend which marked just the third scoring reception for Spruce, who had 12 a season ago.
Marks is second in the conference with 957 receiving yards and leads the Pac-12 with 13 TD receptions. Teammate Dom Williams is fourth in the league with 879 yards to go with nine scores.
The Cougars won last weekend despite yielding a season-worst 554 yards. They have allowed 12 passing touchdowns for the conference's second-lowest total, including none in the last three games.
"I'm hoping these teams are learning that we're not just irrelevant like they've seen us in the past," linebacker Peyton Pelluer said. "That we will punch you in the mouth and outplay you. We continue to show that and we've been showing that all season."
The Buffaloes have not beaten a ranked foe since a 34-30 win over then-No. 17 Kansas on Oct. 17, 2009. They have dropped 25 straight on the road to Top 25 opponents since beating then-No. 20 UCLA 31-17 on Sept. 21, 2002.
Three of Colorado's last four losses have been by a touchdown or less.
"A lot of these games have kind of been by an eyelash, but they have been close on the same people we've been close on," Leach said.
These teams haven't met since the Buffaloes won 35-34 on the road Sept. 22, 2012.
---
---