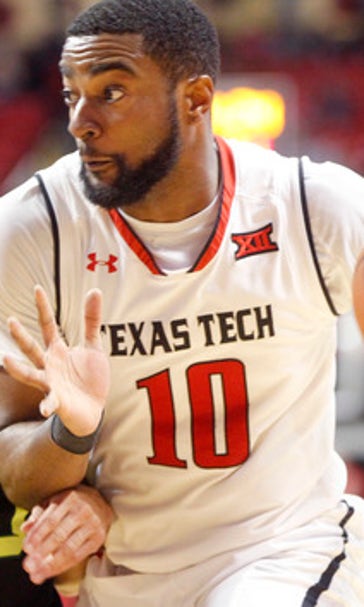 Texas Tech starts fast, rallies to beat No. 4 Baylor 84-78 (Feb 13, 2017)
February 13, 2017

LUBBOCK, Texas (AP) Keenan Evans and Texas Tech didn't have to wait long for another chance against a top-five team at home.
This time, the Red Raiders came out on top with a late rally after blowing a big early lead.
Evans scored 23 points, Niem Stevenson had 21 and Texas Tech toppled fourth-ranked Baylor 84-78 on Monday night, two days after a one-point loss at home to Big 12-leading and third-ranked Kansas.
''We've known the whole time that we can beat these teams,'' Evans said. ''Especially Kansas, we let that one slip away. But, we knew coming in it was going to be a battle. We knew that we could come out with a win.''
Texas Tech (17-9, 5-8 Big 12) rallied in the second half after squandering an early 12-point lead. The Red Raiders opened the game with an 11-0 run and used an identical spurt late in the game to go ahead to stay.
''People look at a number and they see (No. 4) and they see non-ranked and they think there's a big difference,'' Baylor coach Scott Drew said. ''Coaches know there's not a big difference. These are one-possession games. A one-possession league.''
Justin Gray added 13 points and 10 rebounds, and Zach Smith scored 11 for the Red Raiders, who before their 80-79 home loss to Kansas on Saturday had a one-point loss at TCU last Wednesday.
Terry Maston led Baylor (22-4, 9-4) with a career-high 22 points. Manu Lecomte, who fouled out after a technical in the second half, finished with 16.
Jo Lual-Acuil Jr. and Johnathan Motley had 11 points apiece for the Bears. Motley, who entered the game leading Baylor and ranked fourth in the Big 12 with an average of 16.9 points per game, didn't score until after halftime.
''They doubled him really hard, so it opened up lanes for me and spacing was pretty good,'' Maston said.
Devon Thomas converted a tying three-point play with 7:09 left, his only points of the game coming after he was originally whistled for charging while making a layup. Officials reviewed the play and the call was overturned after it was determined Jake Lindsey was in the restricted area when he drew contact, and he instead was given the foul.
Aaron Ross then hit a 3-pointer, and his layup with five minutes left put Texas Tech up 69-61.
Ross, a reserve forward, scored eight points after being held to two in each of Texas Tech's previous two games.
''He cares. It was within 30 minutes of the Kansas game and he was back in the gym,'' Red Raiders coach Chris Beard said. ''I think he made 700 shots Saturday night after the game. That's a little bit of a glimpse behind Aaron Ross and who he is.''
Ross hit both free throws after Lecomte was called for a technical, which immediately followed his fourth personal foul with 8:28 left. Maston then hit a jumper before the Red Raiders went on their decisive 11-0 run.
Lecomte scored 12 of the final 14 points for the Bears in the first half, when they recovered from a 14-2 deficit to go ahead 36-32 at the break.
BIG PICTURE
Baylor: Just days after being listed as a preliminary No. 1 seed by the NCAA Tournament selection committee, the Bears lost for the third time in five games. Baylor didn't have enough to rally late with Motley struggling and Lecomte on the bench the last 8 1/2 minutes. The Bears do get a chance to regain their momentum with three of their next four games at home, but two of those are against the Big 12's other Top 10 teams (Kansas and West Virginia).
Texas Tech: The Red Raiders got their third win at home this season over a Top 25 team (the others came against then-No. 7 West Virginia and then-No. 25 Kansas State in early January) in Beard's first season. They had lost five of their previous six Big 12 games, the last four of those losses by four points or fewer. That included one-point losses last week to Kansas and TCU.
UP NEXT
Baylor: Home on Saturday against Big 12-leading and No. 3 Kansas. The Jayhawks won 73-68 at home over Baylor on Feb. 1.
Texas Tech: On the road to play its third consecutive Top 10 opponent, at No. 9 West Virginia on Saturday. Texas Tech won at home against the Mountaineers on Jan. 3.
---
More AP college basketball: www.collegebasketball.ap.org and https://twitter.com/AP-Top25
---
---