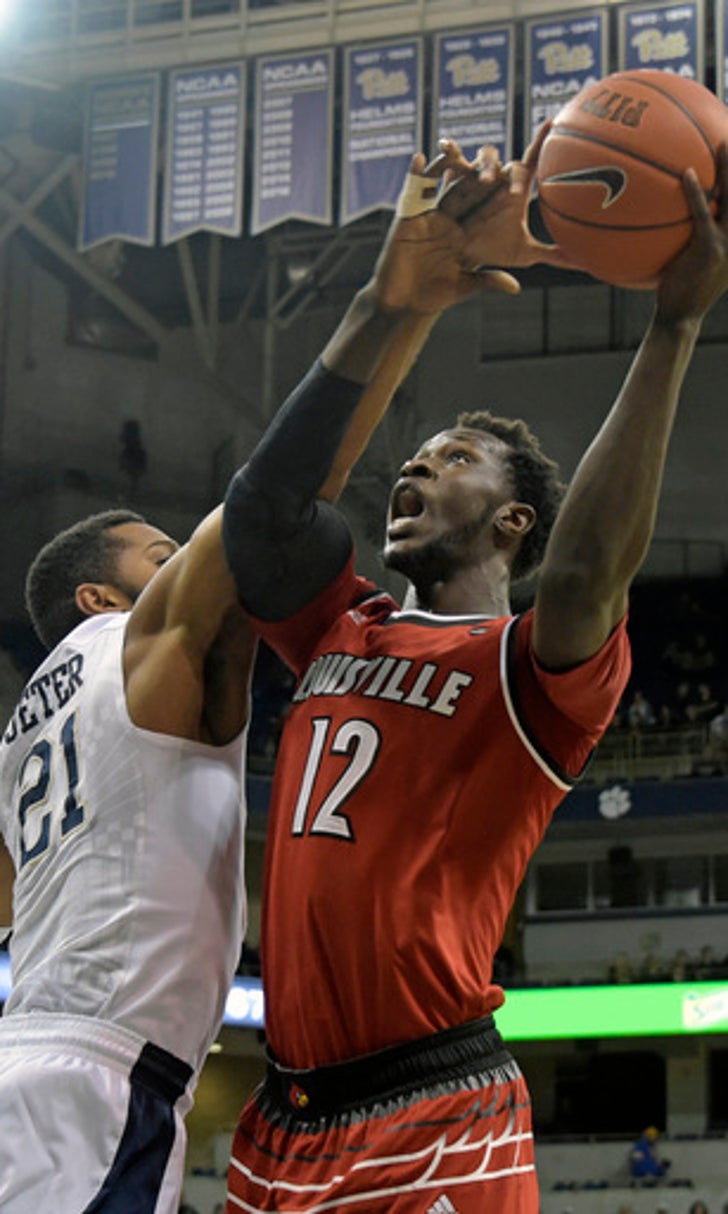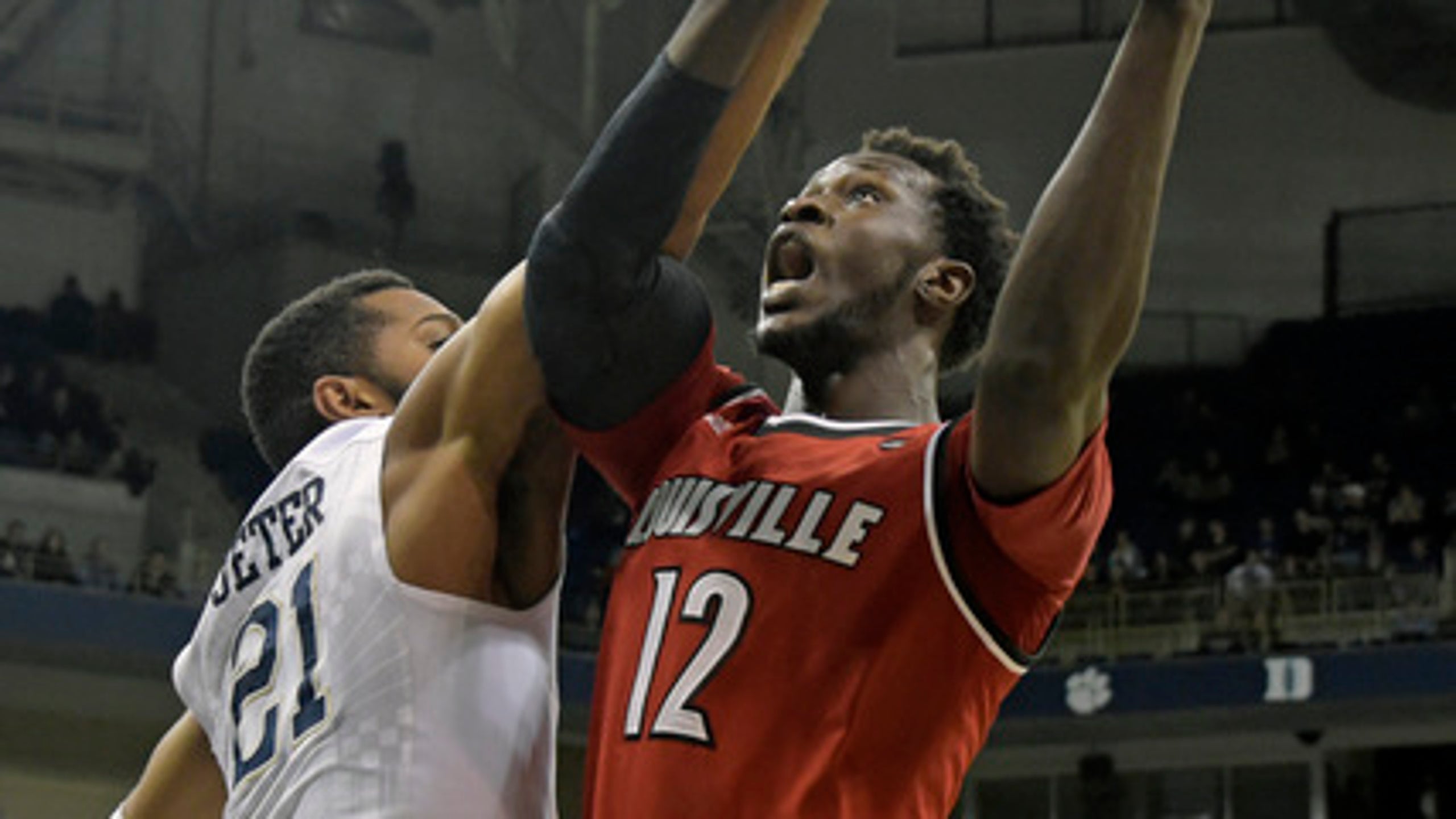 No. 13 Louisville crushes Pittsburgh 106-51 (Jan 24, 2017)
BY AP • January 24, 2017
PITTSBURGH (AP) The last time No. 13 Louisville saw Pittsburgh's Jamel Artis, the senior forward put up 43 points and gamely led a second-half comeback that made a potential blowout compelling in the final moments.
Two weeks later, the rematch was equally compelling. For entirely different reasons.
Dominant from the opening tip, the Cardinals shut down Artis and the rest of the Panthers in a 106-51 hammering on Tuesday night that set records and provided a stark contrast of teams sprinting in opposite directions.
Louisville (17-4, 5-3 Atlantic Coast Conference) seems to have steadied itself despite missing guard Quentin Snider, who remains out with a strained hip flexor. Donovan Mitchell scored a career-high 29 points for the Cardinals and Anas Mahmoud added 14 while making all seven of his shots as Louisville emphatically bounced back from a tough loss on the road at then-No. 10 Florida State on Saturday by handing Pitt the second-worst loss in the program's history.
Standing on the sideline watching, even Louisville coach Rick Pitino wasn't sure how to process it.
''Is this the biggest shock, the way we're moving and shooting?'' Pitino said when asked what it was like to watch his team's 10th straight win against the Panthers. ''We just played a great game.''
The 55-point margin was the largest every by a road team in ACC play. Louisville held Pitt (12-8, 1-6) to 25 percent shooting (13 of 51) and never let the Panthers in it, something the Cardinals failed to do earlier this month when they led by 24 early in the second half before an Artis-led charge forced Louisville to hold on for an 85-80 victory.
There was no such drama this time around.
Pitt went without a basket for more than 12 minutes during the first half as the Cardinals built a 37-13 lead and kept pouring it on. Artis finished with a season-low nine points (13 below his average) on 3-of-11 shooting.
Michael Young led Pitt with 12 points but the Panthers showed little life despite having a week to prepare. Coach Kevin Stallings didn't stick around to watch the carnage. The longtime Vanderbilt coach in the middle of a difficult first season at Pitt was ejected with just under 15 minutes to go after arguing with officials.
''It's about as disappointing a performance as I could possibly imagine,'' Stallings said after the Panthers lost for the sixth time in seven games.
Maybe, though the disappointments are piling up quickly. The Panthers suffered their worst loss in the 13-year history of the Petersen Events Center when Miami topped them by 26 on Jan. 14. The mark stood for just 10 days, though it came nowhere close to a 106-13 defeat to Westminster College in 1906 at the end of the program's inaugural season.
BIG PICTURE
Louisville: When Mahmoud stays out of foul trouble, he can be effective. Limited to just 5 minutes because of foul trouble against Florida State, the 7-foot junior still picked up three fouls in 16 minutes against the Panthers but by then he had already done all the damage necessary against Pitt's undersized front court.
Pitt: Stallings questioned the leadership of his four senior starters in the run-up to the game, and the Panthers responded by flat lining. Just as troubling? The sea of empty seats at the usually packed Petersen Events Center, something that never would have happened when the programs traded haymakers in the old Big East.
Asked if his team could turn it around, Stallings offered a blunt assessment.
''It doesn't look good, it doesn't feel good right now,'' Stallings said. ''It won't get changed, it won't get turned around unless the guys wearing uniforms come together and fight a lot harder than they did tonight.''
ANATOMY OF A BLOWOUT
The Cardinals shot 58 percent (39 of 67) from the field, including 12 of 22 from 3-point range. Louisville outscored Pitt in the paint 52-12 and outrebounded the Panthers 48-26. Twelve of the 13 Louisville players to get into the game scored. Every Cardinal saw at least 5 minutes of action. The Panthers missed their first 12 3-point attempts and went 3 of 22 from 3.
Louisville's biggest lead was 58 points following two free throws by seldom used guard Jay Henderson with 3:27 remaining. Guard Ryan McMahon had 15 of Louisville's 36 bench points. The redshirt freshman had scored 18 points across 10 appearances since Dec. 10.
UP NEXT
Louisville: returns home to welcome N.C. State on Sunday.
Pitt: hosts Clemson on Saturday before a three-game trip that includes visits to No. 9 North Carolina and No. 17 Duke.
---
More AP college basketball: http://collegebasketball.ap.org and http://www.twitter.com/AP-Top25
---
---