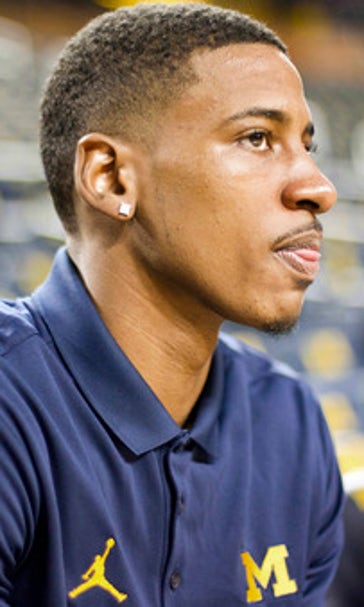 Michigan hopes for boost from pair of transfers
October 25, 2017

ANN ARBOR, Mich. (AP) After a decade as Michigan's coach, John Beilein is used to dealing with roster turnover. Players graduate or leave early for the NBA, and it's up to the veteran coach to figure out how much his newcomers are capable of helping.
This year, Beliein has a bit of a luxury: Two of his top additions already have Division I experience.
Jaaron Simmons and Charles Matthews are ready to take the court for a Michigan team that reached the Sweet 16 last season but must replace standouts Derrick Walton and D.J. Wilson. The 6-foot-1 Simmons is a graduate transfer from Ohio, and the 6-foot-6 Matthews sat out last season after transferring from Kentucky.
The two of them are roommates, having gotten along well when Simmons visited Michigan.
''You kind of know who you're going to connect right away with, and on my visit he was real cool - similar type of background I came from,'' Simmons said at Michigan's media day Wednesday. ''It was kind of an easy mesh.''
The Wolverines hope Simmons and Matthews will fit in just as well on the court with the rest of the team. Walton, the point guard who spearheaded Michigan's impressive run late last season, was a senior. Beilein knew replacing him would be crucial.
''We said, `We've got a pretty good front line, I think, coming back here. Let's make sure we have that quarterback,''' Beilein said.
Simmons comes to the Wolverines with plenty of experience, even if it's from two seasons at Ohio and one at Houston. He averaged 17.2 points and 6.5 assists a game last season at Ohio. As a grad transfer, he's eligible to play immediately for Beilein.
Simmons says he liked what he saw from Michigan on film.
''They score. They win,'' he said. ''I like winning, and that was a big thing for me coming here. (Beilein) gives his players more freedom than what people actually think, and that's what I'm trying to learn right now is my spots where I can be me and play my game, and also the spots where I have to run the team and run his offense and do what I'm supposed to do.''
Matthews played 10 minutes a game as a freshman at Kentucky before leaving for Michigan. He doesn't have as much size as Wilson, who left early for the NBA after last season, but he can replace some of Wilson's athleticism while helping the Wolverines defensively.
''He can jump and he can run. He can do everything from an athletic standpoint. Now he's got to get down to the fundamentals,'' Beilein said. ''He's got a tremendous attitude. He's worked so hard.''
Unlike Simmons, Matthews has already had a season with the Wolverines, although he wasn't allowed to play in games because of transfer restrictions. Matthews said sitting out wasn't too frustrating.
''I got a lot better, though. I was able to learn a lot of stuff. It wasn't as tough as I imagined it to be,'' he said. ''It was a year for me to sit back and reflect.''
NOTES: Beilein was asked his thoughts on the 2013 NCAA championship game, in which Michigan lost to Louisville. The NCAA placed Louisville on probation and has ordered the vacation of up to 123 victories - including its 2013 national title - as a result of a scandal . The school is appealing. Beilein wasn't about to try to claim that championship for Michigan.
''I don't think that's ever happened where they were saying, `OK, there was a violation somewhere else, we're the champion.' No, you're not,'' he said. ''You didn't win the game.''
---
More AP college basketball: www.collegebasketball.ap.org and https://twitter.com/AP-Top25 .
---
Follow Noah Trister at www.Twitter.com/noahtrister
---
---