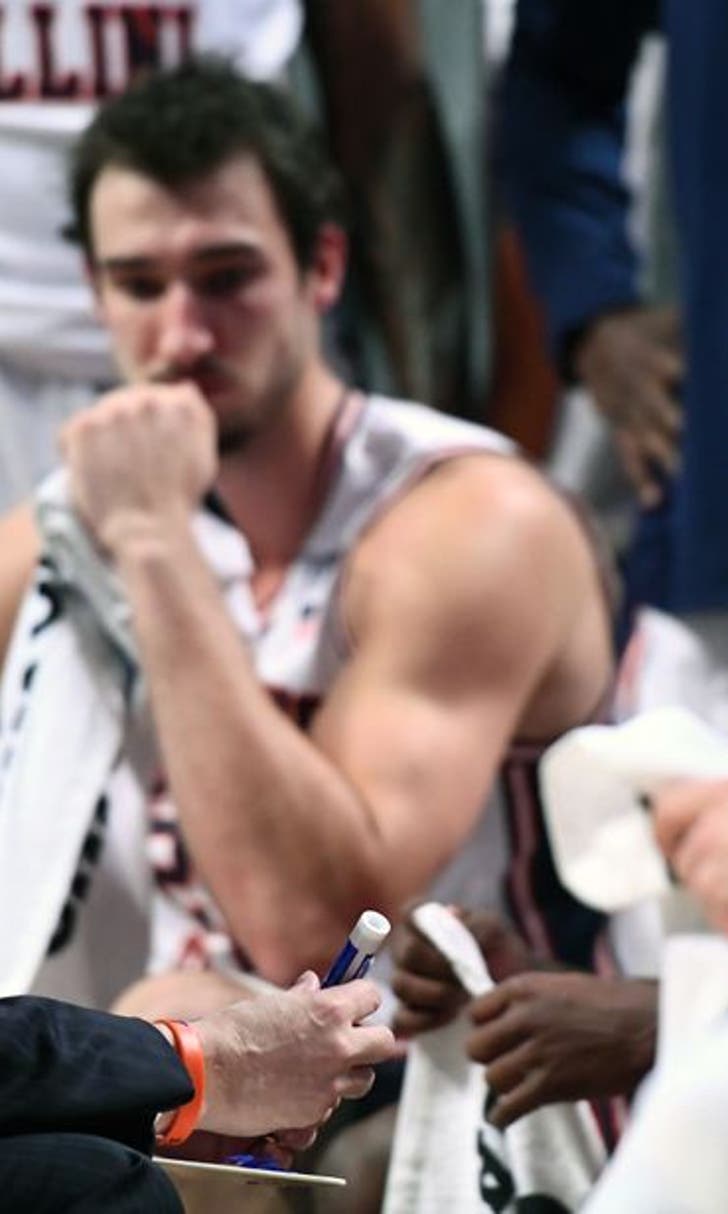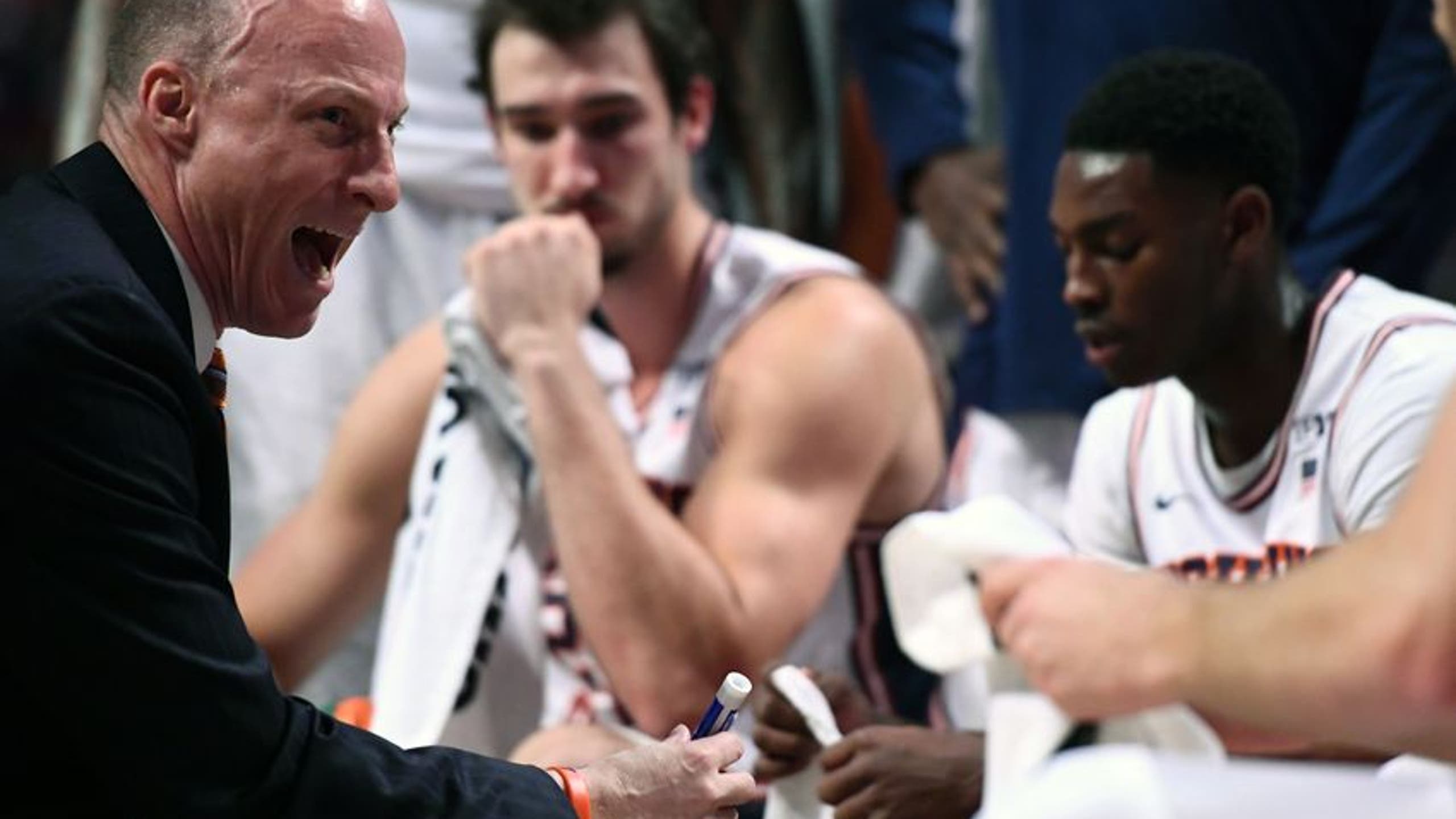 Illinois Basketball: 3 Observations From the BYU Victory
BY Fansided and Rees Woodcock/FanSided via Writing Illini • December 18, 2016
Dec 17, 2016; Chicago, IL, USA; Illinois Fighting Illini head coach John Groce talks to his players during a timeout against the Brigham Young Cougars during the second half at the United Center. Illinois defeats Brigham Young 75-73. Mandatory Credit: Mike DiNovo-USA TODAY Sports
The Illinois basketball team needed a big win last night and they pulled it off.
Illinois met the BYU Cougars up in Chicago and came away with a 75-73 victory to move to 9-3 on the season.
Here are the three observations from the BYU victory.
Scoring Distribution
In prior games, the Illinois basketball team had scoring from only a few players.
Malcolm Hill usually is the leading scorer on this team.  He has somewhere around 20 points per game and that is a high percentage of points for the Illini in each contest.
Last night, Hill only had 10 points.  He also contributed 5 rebounds, 4 assists, and 3 steals as well.
Tracy Abrams has been hot lately.  He was coming off a 31-point performance the game before against Central Michigan.
Abrams continued his solid scoring last night by putting up 15 points for the Illini.  He also added 4 rebounds and 4 assists.
The other main scorer this season has been Leron Black.  But, sometimes he has mental lapses and gets into foul trouble early on in games.  Illinois fans are used to this, though.
Black's foul trouble enabled someone else to step up.   In this case, it was multiple players.
Jalen Coleman-Lands came in with 12 points last night on 40-percent shooting from the three-point line.  That is a contribution from a player who has struggled this season.
Michael Finke and Maverick Morgan contributed 10 points and 14 points off the bench, respectively.
In previous posts, I have mentioned Illinois needs scoring from at least one more source to be successful this season.  Having Finke and Morgan both in double-digit points is exactly what I am talking about.
All of these players were huge last night and the scoring distribution was amazing.  If Illinois can get this type of production the entire season then I have no doubts they will make the NCAA Tournament.
Dec 17, 2016; Chicago, IL, USA; Brigham Young Cougars forward Eric Mika (12) fouls Illinois Fighting Illini guard Malcolm Hill (21) during the first half at the United Center. Mandatory Credit: Mike DiNovo-USA TODAY Sports
Move Baby Move
Through the first 16 minutes of the game last night, Illinois was moving the ball so well.  They were running the plays and having every player touch the ball almost every time before a shot.
This is the type of offense that will be successful this season.  Illinois can't just pound the rock at the top of the key and then eventually take a sloppy shot.
I was extremely impressed through the first 16 minutes last night, but then at about the 4:24 mark left in the first half things changed.
I noticed that the Illini stopped moving as much and they were not moving the ball to get the big man open down low.
At that point in the game, Illinois was up 41-25.  But, the lack of ball movement continued the rest of the half and BYU finished on a 12-2 run.
I was really impressed by the Illini in the second half, though.  This team didn't fold despite a big lead getting dwindled down to one point with 56-seconds left in the game.
But, to continue winning big games like this in the future, Illinois needs to not get into these lulls and they need to continue moving the ball around to find the open man.
Dec 17, 2016; Chicago, IL, USA; Illinois Fighting Illini guard Jaylon Tate (1) reacts after the second half at the United Center. Illinois defeats Brigham Young 75-73. Mandatory Credit: Mike DiNovo-USA TODAY Sports
Groce Cut Down His Rotation
This observation can have its pros and cons.  Last night, John Groce cut down his rotation to essentially eight players.
These eight players were Black, Thorne, Hill, Coleman-Lands, Abrams, Finke, Morgan, and Tate.
Throughout the entire season, the rotation has been more players than what we saw last night.  Let's just take a look at the North Carolina State game.
In this game, Groce had the five starters and then four players on the bench had at least 16 minutes in this game.  He also played two other players some minutes for a total of 11 players.
Now, Groce cutting down rotations has some positives and negatives.
The negatives to the situation are that some players fail to see minutes that need them to prepare for the Big Ten season.
The main player I am talking about here is Te'Jon Lucas.  He might be needed come Big Ten play and as a true freshman he needs minutes to continue to progress.
I also think Aaron Jordan needs to see some minutes to keep him warm as well.  He hasn't really played in the last few games and that could hurt him down the road.
Cutting rotations could have some positives effects as well.
All season long I have been complaining that Groce takes players out and rotates them too much.  He needs to leave players on the court more than five minutes at a time.
Last night, Groce left players out there and really let them gel on the court.  I think this actually helped the team and it led them to a victory.
So, while I want a few players to see more playing time, I can't complain that Groce cut his rotation down.  I have wanted that all season and it finally happened.
More from Writing Illini
This article originally appeared on
---
---