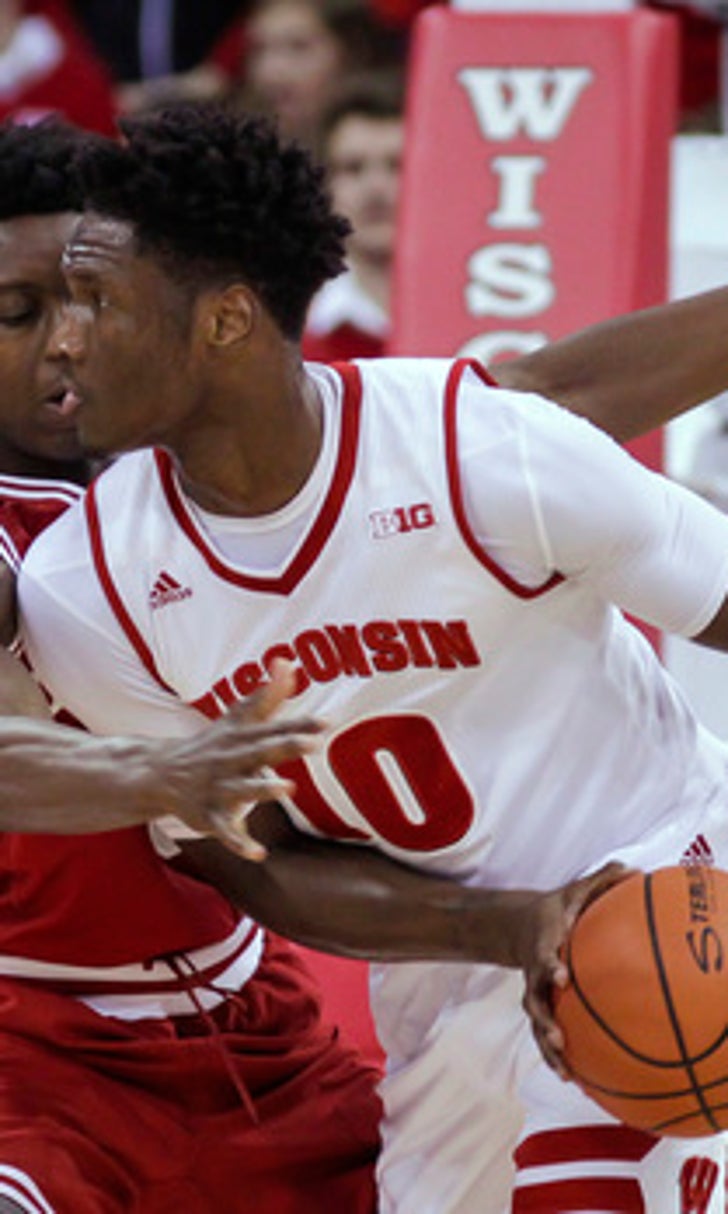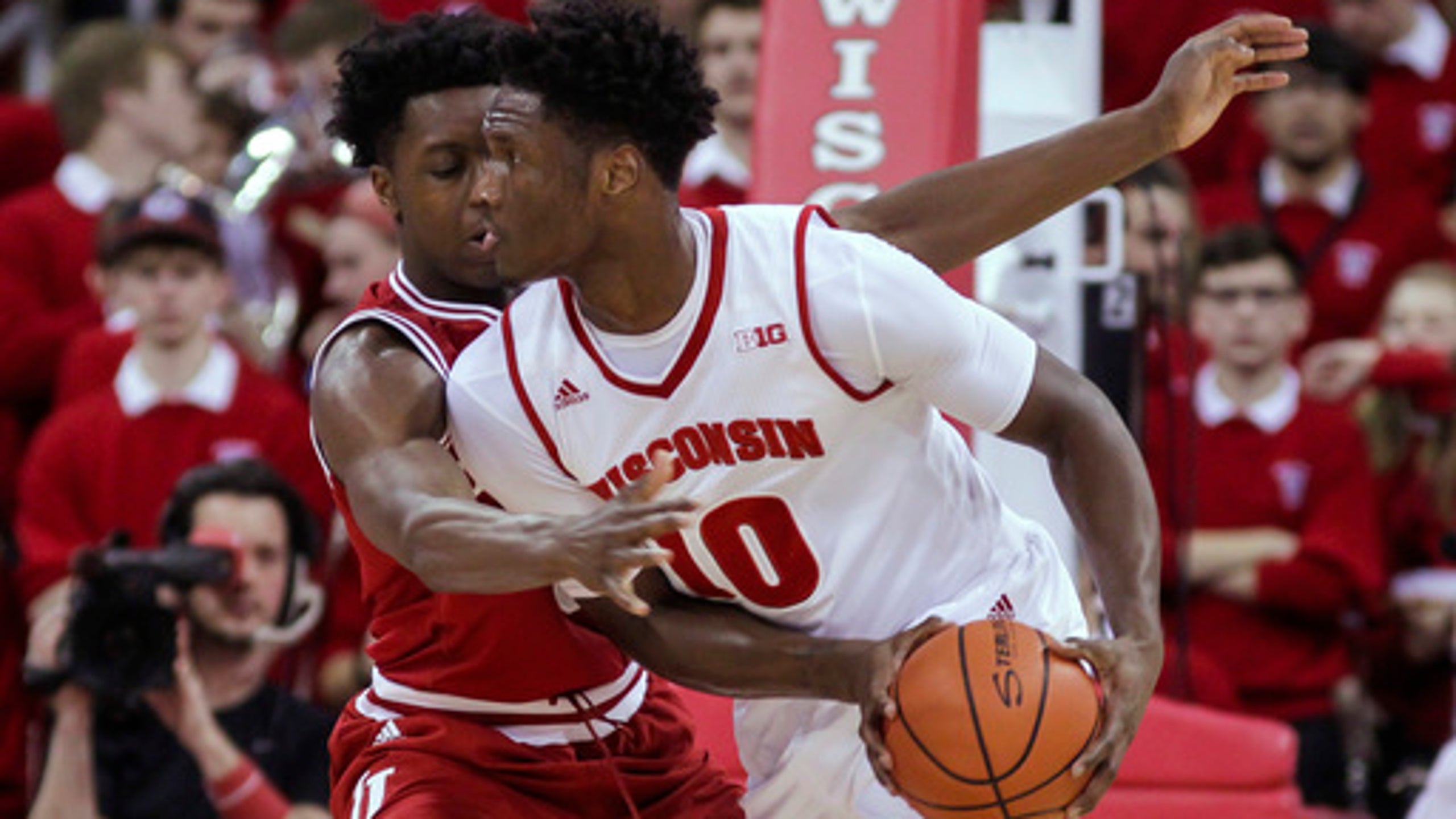 10 sneaky-good college hoops teams that could be dangerous in March
BY foxsports • February 3, 2016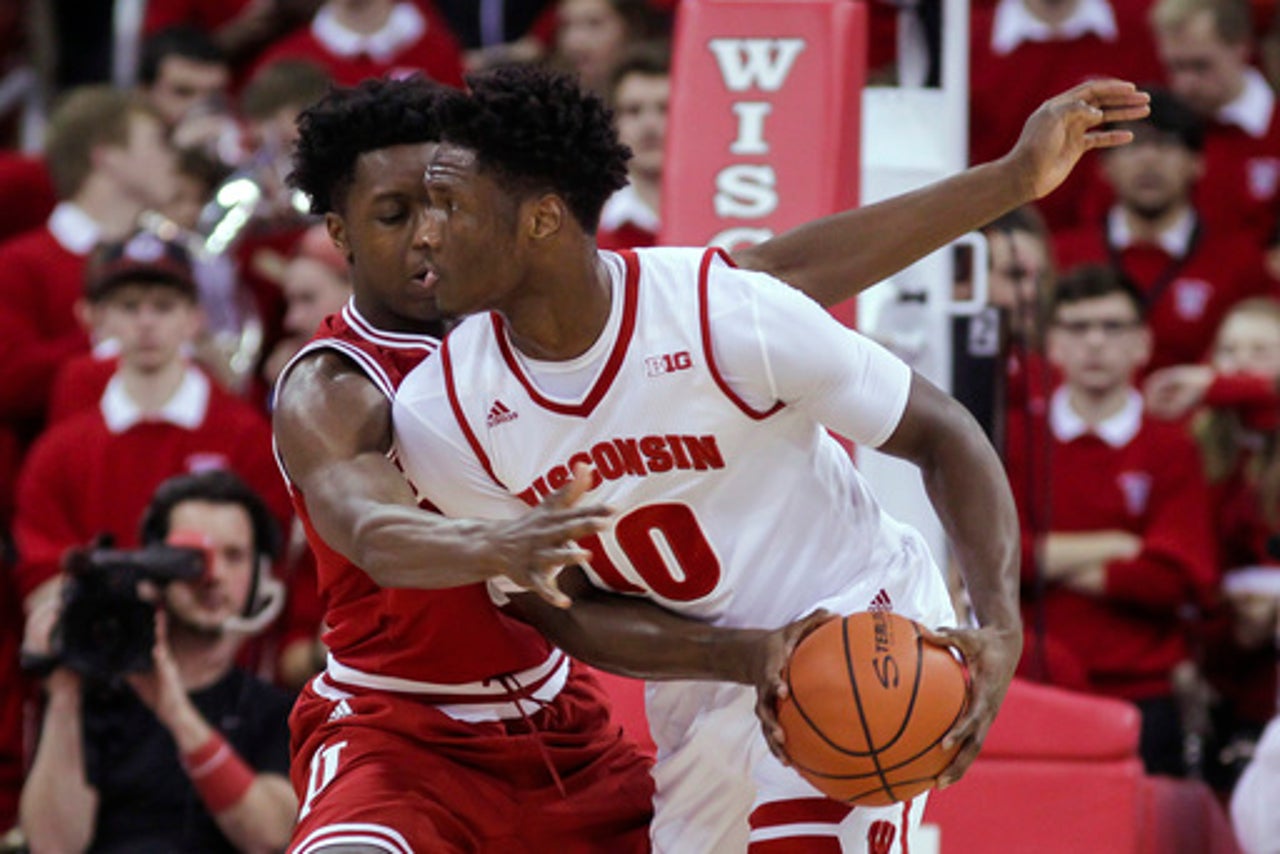 If you've paid attention to any of this college basketball season, you know one thing about the hierarchy: There is no hierarchy.
Going into last season, there was a pretty clear top tier. There was Kentucky, Duke, Wisconsin and Arizona, and then there was everyone else. Sure enough, three of those teams made the Final Four, and the fourth got edged out in the Elite Eight.
This year? A big, giant, enormous blob of a cluster.
We've already had six teams occupy the No. 1 spot in the AP Poll. Blueblood Duke is out of the AP Poll for the first time in nearly a decade; blueblood Kentucky is close behind.
It's the sort of parity at the top that ought to make for a March Madness that's even more mad than usual, with upsets on top of upsets on top of upsets.
Here are 10 teams you may not be paying much attention to now but could be very, very dangerous come March:
10. Wisconsin. The Badgers' season seemed a train wreck from the opening tip, when it lost to Western Illinois in its first game since losing the national title game to Duke last season. Then Bo Ryan retired midseason, and Greg Gard was handed the oars to what seemed like a sinking ship that started Big Ten play 1-4. Don't look now, but the Badgers are winners of four straight, and Gard has reimplemented Bo Ryan's old swing offense. Things look like they are clicking. Wisconsin is still on the outside looking in now, but circle two dates on your calendar: Feb. 13 and Feb. 18. If Wisconsin can win long-shot back-to-back road games at Maryland and Michigan State – hell, if it can win one of those games – the Badgers will officially be back on track.
9. Florida. Looked at one way, the final season of Billy Donovan's Florida career last year was a disaster: At 16-17, it was his first losing season since his second year at Florida. Looked at a different way, there were a bunch of coin-flip games that didn't go Donovan's way. After all, Florida ranked 347th in the country in a KenPom.com stat called "luck," with seven losses determined by four or fewer points. So we shouldn't be so surprised that there's been a regression to the mean, and Florida looks like a solid NCAA Tournament team in Mike White's first season, with one of the nation's best defenses against a schedule that's been ranked as one of the nation's most difficult. People started to finally notice after the Gators throttled West Virginia at home over the weekend. I expect a few more eye-opening victories to come.
8. Texas. Which two Big 12 teams have the conference's best record over their past seven games? It's No. 1 Oklahoma (6-1 over the past seven), and Texas (6-1 over the past seven). This is not to say Texas is on par with an Oklahoma team that really could win it all. But this team that stumbled out of the Big 12 gate with losses to Texas Tech and TCU (yikes) has the same big-time talent of the past several years while playing with an uncommon energy under first-year head coach Shaka Smart. According to Stats LLC, Texas has played the nation's second-toughest schedule, and it has big-time wins over North Carolina, Iowa State and Baylor. Watch out as Isaiah Taylor, Javan Felix, Kerwin Roach and Co. gain momentum – especially once big man Cameron Ridley returns from injury.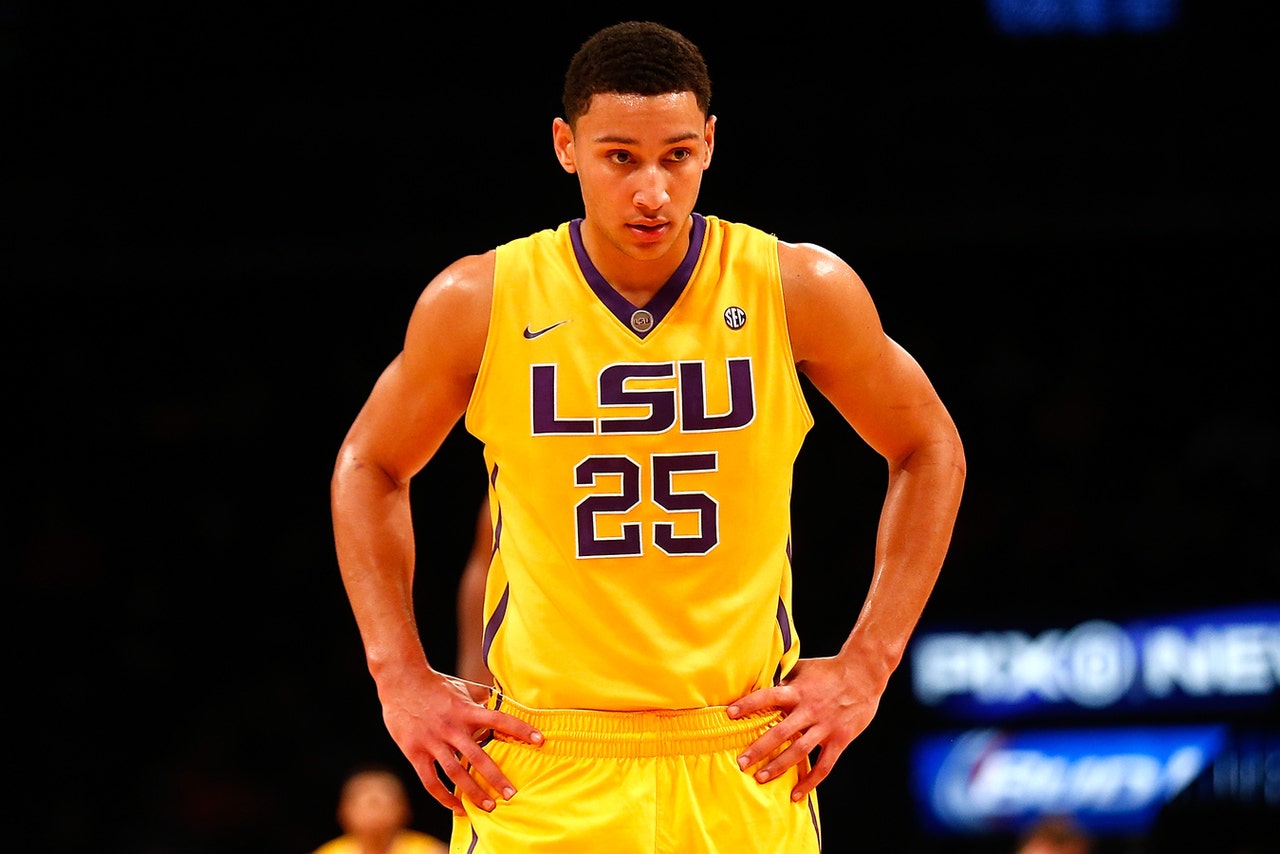 Ben Simmons makes LSU a threat to beat anyone.

7. LSU. I made the mistake of tweeting something pro-LSU in the middle of its near-upset of No. 1 Oklahoma over the weekend. And man oh man – the anti-Johnny Jones vitriol that came back at me was intense. Yet I still believe this team – which started the season 4-4 with Craig Victor and Keith Hornsby not playing (Victor because he'd transferred, Hornsby because of injury) – could do something crazy come March. That is, if it makes it into the NCAA Tournament. It's easy (and true) to say this team doesn't have the resume of an NCAA Tournament team right now. It's a bit harder to look at its defeats (half of its eight losses were in one-possession games) and its talent (one of the most talented teams in the country) and project how these guys could look with more time, more chemistry and more luck. Look: When you have the best player in the country in Ben Simmons, and when you have two other NBA prospects on the floor in Tim Quarterman and a still-raw Antonio Blakeney, crazy things can happen. You want to be the team that draws an 11th-seeded, barely-sneaked-into-the-tournament LSU team in the first weekend? I didn't think so.
6. UConn. It's not a certainty that UConn will even make the NCAA Tournament. Its best win is at Texas, and there are some not-great losses, like at home against Temple (94th in KenPom.com's rankings). But shot-blocking machine Amida Brimah is back after missing more than a month after having surgery on a broken finger, and Rodney Purvis and Sterling Gibbs are shooting threes at nearly a 40 percent clip. This backcourt is so good.
5. Kentucky. OK, fine. You have been paying attention to Kentucky -- because this is Kentucky, and he is John Calipari, and no matter whether the Wildcats are undefeated or NIT-bound, you always pay attention to Kentucky and Calipari. And this year's team is a fascinating bunch: good wins, like over Duke in November and over Louisville right after Christmas. Perplexing losses, to a bubble team like UCLA (62nd in KenPom) and to teams that won't be in the NCAA Tournament like Ohio State (68th in KenPom), Tennessee (98th in KenPom) and Auburn (171st in KenPom). The inconsistency of this team is maddening. Perhaps the best the Wildcats have looked all season was in last weekend's overtime loss to Kansas in a road environment that makes it nearly impossible to win – and they followed that up by blowing a 21-point lead and losing at Tennessee. Sophomore point guard Tyler Ulis has been the only reliable player for Calipari this year. The other freshmen? Jamal Murray might be the streakiest shooter in the country. Isaiah Briscoe has been one of the worst-shooting big-time college guards in recent memory (15.4 percent on 3-pointers, 40.3 percent on free throws). And Skal Labissiere, who some experts thought before the season started would be the only player who could challenge LSU's Ben Simmons for the No. 1 overall slot in the 2016 NBA Draft? Ugh. He's lost his coach's confidence as he's lost his own confidence. All these things said, haven't we learned to trust Calipari's five-month process of turning raw talents into March warriors?
4. Valparaiso. Quick: What program has the nation's top-ranked defensive efficiency on KenPom.com? I guess I gave it away by asking the question here: It's Bryce Drew's Valparaiso Crusaders. The Horizon League power is also the top mid-major program in KenPom.com's rankings (and no, I don't count Wichita State as a mid-major program, thank you very much). Led on offense by 6-foot-9 junior star Alec Peters and his 45.9 percent three-point shooting, Valpo simply swallows up opponents on defense, forcing tough shots (with an effective field-goal percentage on defense that ranks eighth in the country) and simply not allowing opponents to grab their own rebounds (only two teams in the country are better on the defensive glass). The definition of reliability.
3. Virginia. The story of Virginia's up-and-down year is different than in Tony Bennett's past two seasons, when his team won back-to-back ACC titles. This season, the Cavs have lost four road games, two of them to teams that will miss the NCAA Tournament in Virginia Tech and Georgia Tech. Those simply are games Virginia hasn't lost the past two years, when Bennett's teams won close games with the nation's most cohesive defense. This season the defense has been less reliable (only 26th in defensive efficiency on KenPom.com), but the offense has been one of the nation's most efficient (seventh on KenPom.com). I picked Virginia to make the Final Four in the preseason. After the Cavaliers manhandled Louisville on the road this week, I feel a lot more confident in that pick than I did a couple weeks ago. This program knows its identity better than any in the country.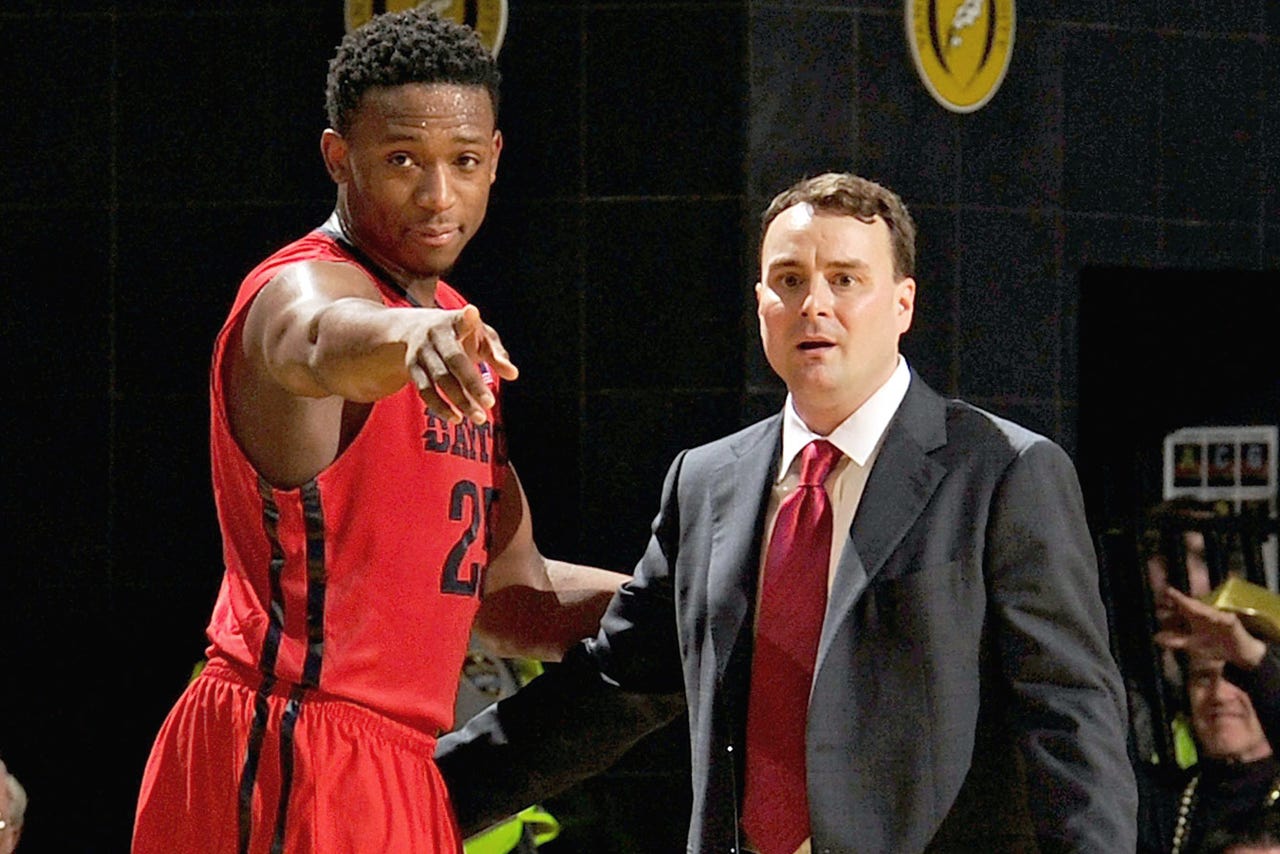 Kendall Pollard could help make this Archie Miller's best Dayton team yet.

2. Dayton. This week marks the first time in Archie Miller's tenure that the Flyers have been ranked in the AP poll twice in one season. Dayton has won six in a row and looks like a deep, talented, well-coached team that'll make March miserable for whomever gets that draw. Dyshawn Pierre is reinstated from a semester-long suspension and is fully back in the mix. Kendall Pollard is healthy and has been a reliable interior presence. Charles Cooke, the James Madison transfer, has been a revelation, shooting 44.7 percent from three-point range and leading this team in scoring. Dynamic point guard Scoochie Smith (best name in college basketball!) has a 2.5 assist-to-turnover ratio. Freshman center Steve McElvene is the huge, skilled near-7-footer you rarely see in the Atlantic 10. This could be Miller's best team yet.
1. Wichita State. The Shockers looked to be in dire trouble right before Christmas, when a loss to Seton Hall put them at 5-5 and appearing to need a Missouri Valley tournament title to even make the NCAA Tournament. Guess what? The Shockers have won 11 in a row and are once again running through the Valley. Plus, the tournament selection committee will look at two giant asterisks next to that early slump. Point guard Fred VanVleet – a player I named the most important in the country to his team in the preseason – missed four November games with an injury, and the Shockers went 1-3. And big man transfer Anton Grady, the team's best rebounder, missed some nonconference games too with a scary spinal injury. Now, the Shockers have arguably the best senior backcourt duo in the country in NBA-bound Ron Baker and VanVleet, who has been his typically adept team-leader self while shooting a career-high 44.1 percent from three-point range. The Shockers are all the way up to 12th in KenPom.com's rankings, hanging their hat on the tenacious defense that is Gregg Marshall's calling card. If there's a recipe for March success, this is it: elite senior backcourt, a defense that travels and a coach who has been there before.
Follow Reid Forgrave on Twitter @reidforgrave or email him at ReidForgrave@gmail.com
---
---