PSG sends UEFA list of bad calls made by referee in collapse against Barcelona
Paris Saint-Germain are not happy with the performance of referee Deniz Aytekin in their stunning collapse against Barcelona in last week's Champions League round of 16. Now, they want to make sure UEFA knows just how upset they are, sending the governing body a list of all the calls they believe Aytekin got wrong in the second leg, where they blew a 4-0 aggregate late and gave up three goals in the last seven minutes to go out.
PSG's list includes (via Marca):
Javier Mascherano not being called for a handball when the ball clearly hit his arm in the box, although it was tough to say it was deliberate.
Gerard Pique's shirt pull on Edinson Cavani, for which he was whistled, but did not receive a yellow card. He was already carrying a card and would have seen red.
A foul awarded to Neymar when PSG thought he dove.
Neymar apparent stamp on Marquinhos, which went unseen.
Luis Suarez's dive in the box, which Aytekin did not give him a yellow card for and instead waved play on.
Pique's handball in the box, when a cross from a couple yards away hit the hand that was against his body.
Mascherano's tackle on Angel Di Maria, which Aytekin said was fair.
Suarez going down in the box and receiving a penalty kick, which was the second of the three late goals Barcelona scored to come back.
Now, in PSG's defense, some of these calls were missed and, as is always the case, they impact the match. However, some of these are marginal, at best, and the list looks a lot more egregious when you only name every time your team had a call go against you and not the times the referee made calls in your favor.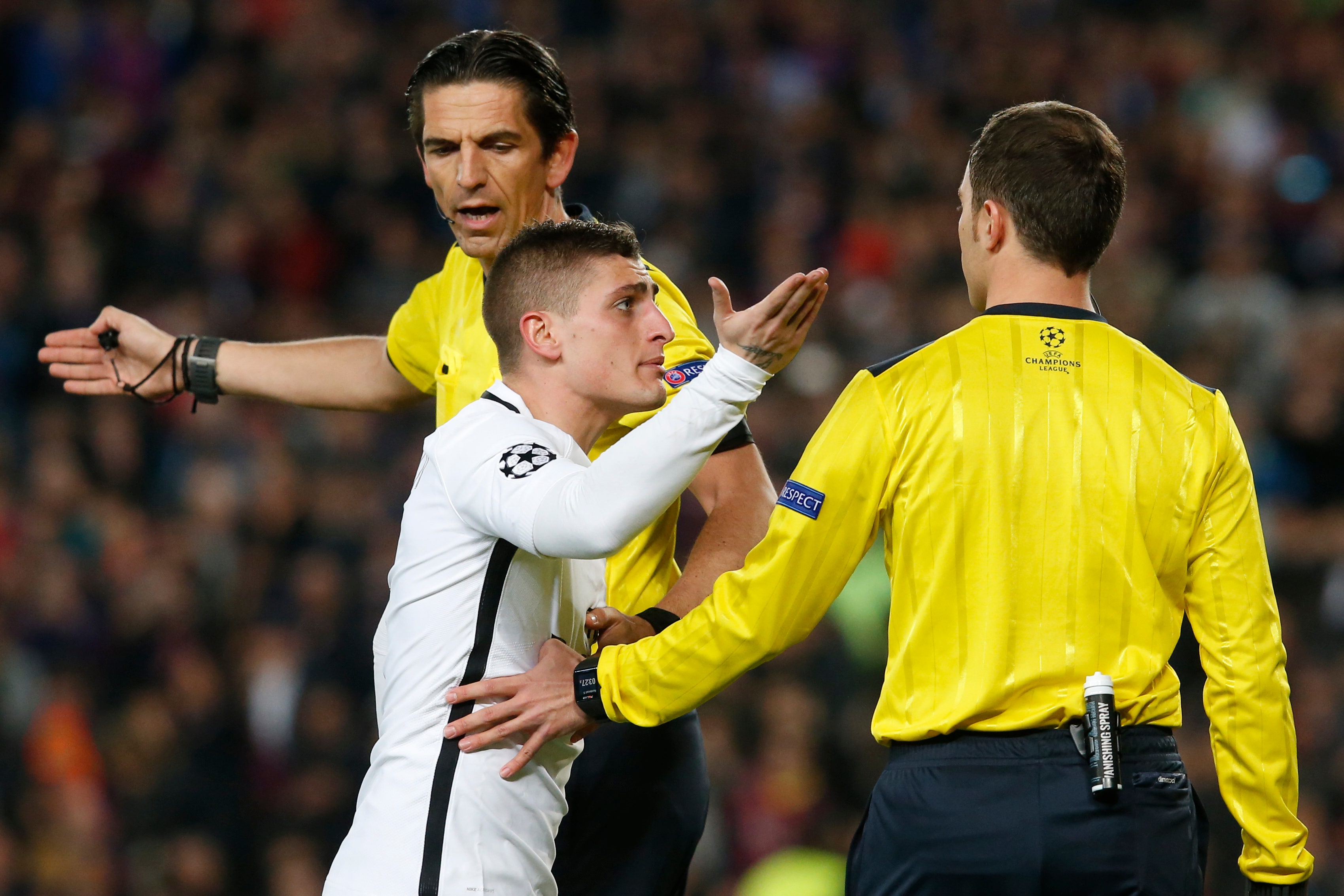 There is another list that may better explain how PSG blew their lead and allowed Barcelona to make the greatest comeback in Champions League history, though.
All of the things PSG manager Unai Emery got wrong in the second leg:
Abandoning the high press that destroyed Barcelona in the midfield.
Sitting deep from the very start of the match.
Letting the Barcelona defenders get the ball to the midfield with ease so they didn't have to initiate the attack.
Not prioritizing the center of the pitch so it was easy for Barcelona to cut in.
Not starting Di Maria.
So basically, PSG throttled Barcelona in the first leg because of some very aggressive tactics that pitted their extreme athleticism against Barcelona's minimal athleticism, but decided to abandon it all in the second leg and do the opposite. That might have something to do with losing 6-1 at the Camp Nou. Maybe even more than the referee.