Philadelphia 76ers Should Look Into Mario Hezonja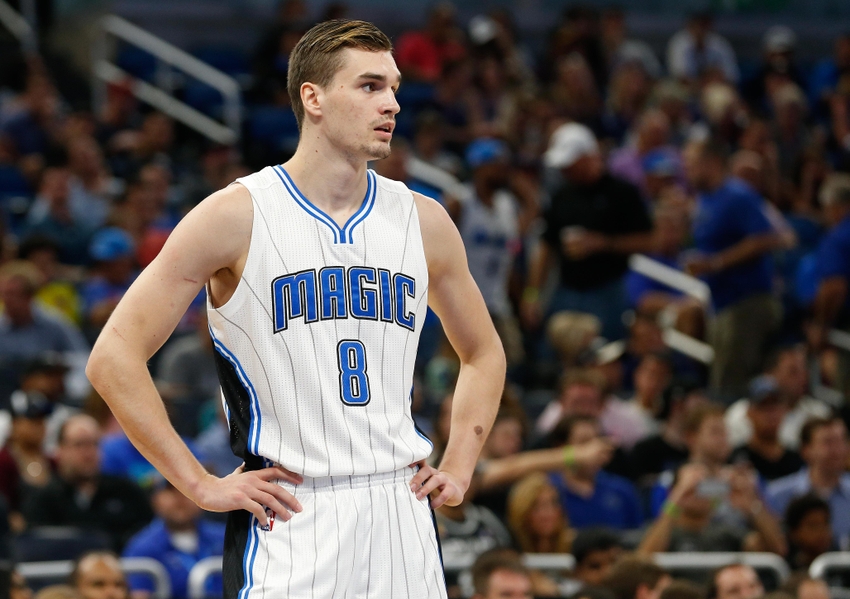 The Orlando Magic seem perfectly willing to part ways with Mario Hezonja, and the Philadelphia 76ers should be taking interest.
The Philadelphia 76ers should look into the Orlando Magic's handling of second year guard Mario Hezonja, with several signs pointing towards a potential willingness for them to trade the Croatian stud. Playing sparsely over the past few games, Hezonja has been largely pushed to the periphery of the Magic's rotation –– to the extent that they're considering assigning him to the D-League.
Magic coach Frank Vogel said the club has discussed sending swingman Mario Hezonja to D-League. Will monitor his situation.

— Brian K. Schmitz (@MagicInsider) December 9, 2016
As the 5th pick in the 2015 draft, Hezonja was considered an elite perimeter prospect from the foreign ranks. Standing at 6-8, he's an extremely fluid athlete, and came into the league as one of the more confident shooters available.
Hezonja averaged 6.1 points per game in just under 18 minutes per contest last season, good enough for an appearance in the Rising Stars Game. This season, however, Hezonja is experiencing a noticeable drop-off. He's getting just 11 minutes per contest, and averaging 3.9 points on 38.6 percent shooting — an 11.8 percent decrease from his rookie campaign.
Hezonja, whose calling card is outside shooting, is also shooting a mere 19.4 percent from 3-point range. His streaky shooting has been a massive concern, and thus Frank Vogel has shown little hesitancy in pushing his playing time elsewhere.
With all that aside, however, Hezonja still possesses a great deal of potential at the NBA level. He's an exceptional athlete on the wing, with excellent length on the outside and displays fluid motion in nearly every aspect of the game.
The Sixers are a team in need of perimeter shooting long term, and Hezonja could be a cheap route towards attaining that.
Where he fits into the rotation
In terms of where Hezonja fits into the rotation, that largely depends on a handful of things. The team would likely need to part way with one of their current wing players, which could determine just where he fits into things. How well he's able to break out of his current slump will also have a massive impact on his playing time.
The upside with Hezonja, regardless, is extremely high. He's a far better athlete in transition than the likes of Nik Stauskas or Hollis Thompson, and is capable of scoring at a much higher clip when he gets hot with the basketball.
Both Stauskas and Thompson are in the midst of career-best seasons in a way, but their play still hasn't inspired immense confidence from a long term perspective. Stauskas is cooling off a bit, and Thompson's consistency still isn't at a desirable level on a nightly basis.
Hezonja, if he can get his perimeter shooting percentage back into that 35 percent range, could very well be the better option between the three. He does have more to prove in a sense, but given his immense upside as a pure scorer, it's a risk that Brett Brown could be willing to take.
Hezonja's ability to get the rim, as well as his ability to create space on his own isn't something Philadelphia has on the perimeter yet. If Brett Brown can put him in a comfortable position, something he's not currently in, then improvement seems highly likely.
The long-term view and regaining confidence
This is a Sixers team that is still building for the future, and Hezonja fills that mold. Bryan Colangelo has placed great emphasis on veteran leadership and immediate improvements, but the core of the rotation is still unfinished. Philadelphia is a team that is trending towards competitiveness, not experiencing it — making youngsters, like Hezonja, a worthwhile investment.
Hezonja has played with Dario Saric on Anadolu Efes and the Croatian national team, which is promising from a chemistry perspective as well. With Saric beginning to emerge as a major piece of the Sixers' rotation, adding a player who's comfortable alongside him is a bonus moving forward.
Another thing worth mentioning is the environment in which Hezonja is playing. A legitimate concern with Hezonja coming into the league was his arrogance in a sense. He gets emotionally invested in the flow of games at times, which means a rough situation — or a rough stretch of games — can put him off his game.
While the Sixers wouldn't put him in position to win more games, the veteran leadership of guys like Gerald Henderson and Sergio Rodriguez on the perimeter could be a nice boost for his confidence. He's somebody who thrives on an uber-confident style of play. Getting him into a more accepting system could help spark that once again.
Who to give up and why it's worth it
In terms of who the Sixers give up, it's a relatively fluid situation. Hezonja's lack of involvement as of late means there's much less leverage on Orlando's side, opening up more options for Philadelphia's front office.
Future picks, whether a first rounder or a handful of second round selections, seem like a likely conclusion. Players like Hollis Thompson, T.J. McConnell, and Timothe Luwawu-Cabarrot aren't unreasonable pieces to float, but the need for additional pieces in a deal is fairly obvious.
If the Sixers want to throw Robert Covington into the conversation, the Magic might need to throw in additional pieces in their own right. While Hezonja could easily be considered a better prospect long term, Covington's production — as inconsistent as it has been — is a more proven entity for the time being.
Hezonja was the fifth pick in last year's draft for a reason — he's a special talent. There are a lot of factors to consider, from his attitude to his consistency. With all the considered though, the upside remains without question. It's difficult to find swingmen with the combination of athleticism, physical tools, and scoring touch Hezonja boasts, and the Sixers could quietly benefit in a massive way by sliding him into the rotation while his trade stock is down.
More from The Sixer Sense
This article originally appeared on