NBA: Seven Teams That Nearly Traded For James Harden In 2012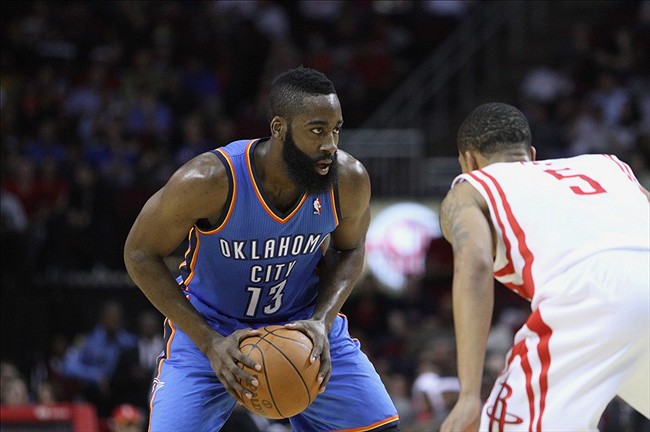 As we once again reach the anniversary of the infamous James Harden trade, we look at the seven NBA teams that nearly landed The Beard back in 2012.
On October 27, 2012, reigning NBA Sixth Man of the Year James Harden was traded from the Oklahoma City Thunder to the Houston Rockets. Cole Aldrich, Daequan Cook and Lazar Hayward joined him. In return, the Thunder obtained Kevin Martin, Jeremy Lamb, two first-round picks and a second-round pick.
Whilst two of the draft picks (Steven Adams and Alex Abrines) have ended up on the current Thunder roster (with Adams looking to be a potential top-10 center in the NBA), both Martin and Lamb are no longer with the organisation.
Meanwhile, in Houston, Harden has enjoyed four consecutive all-star appearances, two All-NBA First Team selections, one All-NBA Third Team selection, a trip to the Western Conference Finals and a second place finish in MVP voting in 2014-15.
It's safe to say now, more than ever, that this trade was a total and complete bust for the Thunder. On the other side, the Rockets got a heist of a deal. Time has only made this trade seem worse and worse for the Thunder. They lost another part of their former Big 3 when Kevin Durant bolted for Golden State in the offseason.
But what if I told you that the Rockets weren't the only team close to a deal for Harden? There were seven other teams that had Oklahoma City's interest and that maybe could've changed not only their own team's fortunes but the Thunder's too.
So, as we approach another NBA season in which Harden is no longer in a Thunder uniform, let's take a look at the seven other uniforms he could've been wearing instead of Houston's.
(If you're interested in this type of article, feel free to check out my piece on Kevin Garnett and the teams he almost joined in 2007)
Golden State Warriors
Although deemed an unrealistic trade for luxury tax reasons, the Warriors were actually (allegedly) Thunder GM Sam Presti's first call when he started shopping Harden. The trade was supposed to yield the Thunder future all-star Klay Thompson and a draft pick.
Of all the seven teams here, Golden State was the least likely to obtain Harden. Nevertheless, they were involved in discussions.
Yes, this was actually discussed. Can you imagine what the Warriors would've looked like with James Harden instead of Klay Thompson?
Of course, we'll never know if Harden replacing Thompson would be to the benefit or detriment of the Warriors success because the deal never happened. To be honest, however, I don't think the Warriors are losing any sleep over it at the moment.
Charlotte Hornets
In 2011-2012, the then-Charlotte Bobcats went an atrocious 7-59 in the lockout-shortened season. In the process, they broke the record for the worst winning percentage in a season with a .106 winning percentage.
However, in a draft with Anthony Davis as the prize, the lottery balls didn't fall their way and they were to pick second overall.
When Charlotte realised that they had lost the opportunity to pick AD number 1 overall, they immediately started shopping the No. 2 pick.
The Bobcats coveted an "established player" so they set their sights on James Harden with the hopes of sending their pick to OKC. Obviously, it didn't work out in the end and Charlotte kept the pick, settling for Michael Kidd-Gilchrist second overall instead of pushing harder for Harden.
Phoenix Suns
They may have never actually submitted a trade offer but it was widely believed that the Phoenix Suns had the appropriate assets required to poach James Harden from the Oklahoma City Thunder.
SB Nation reported that "When it came down to it, the Suns were not willing to part with the pieces required to get Harden at this time."
I'm sure, looking back at it, that the Suns would've been more than happy to part with whatever assets necessary to bring Harden to the desert. Especially considering that we now know what Harden would eventually turn into.
Phoenix fans – you are free to express your frustration, sadness and anger without judgement
Utah Jazz
Like Phoenix, Utah never actually offered anything but according to Zach Lowe, Sam Presti had semi-serious conversations with the Utah Jazz.
Many different players were discussed in these conversations including Gordon Hayward, Derrick Favors, Alec Burks and Enes Kanter.
Ironically, Kanter (still) eventually ended up in Oklahoma City in a separate trade years later. However, Harden never set foot on the floor in Utah sporting a Jazz uniform.
Boston Celtics
Many of you will remember the 2011 trade that sent Kendrick Perkins and Nate Robinson to Oklahoma City in exchange for Jeff Green and Nenad Krstic. It was the trade that helped the Thunder reach the NBA Finals a year later under the veteran tutelage of Perkins.
Now would you believe me if I told you that that very same deal centered around Jeff Green was originally centered around James Harden?
According to Bill Simmons, the Harden for Perkins swap was in the works until Presti convinced Boston GM Danny Ainge to accept Green instead. Ainge was desperate to move Perkins so he agreed.
Since Brad Stevens has arrived in town, everyone's been talking about how the Celtics are just one superstar away from contention. Just imagine if Harden was on this current Boston roster….
You can stop drooling now Celtics fans.
Washington Wizards
Earlier, I stated that it was believed that the Warriors were Presti's first call when he started shopping Harden. Well, the Wizards were second. Unfortunately, the owner being unwilling to commit to a five-year, roughly $80 million contract, the deal never went through.
Instead, the Wizards rejected the Thunder's proposal of James Harden in exchange for Bradley Beal and Chris Singleton.
For reference, Beal has been injured every season of his career so far and Singleton is out of the league.
I bet that owner Ted Leonsis would be more than willing to pay a mere $80 million (bargain in the current financial landscape) to pair Harden alongside All-Star John Wall right about now.
Who knows, maybe the two could've even convinced Kevin Durant to come home to Washington this past offseason.
Toronto Raptors
Finally, we come to the team that I personally find very intriguing when it comes to why they didn't make the deal for Harden.
According to Chris Broussard and Bill Simmons, Toronto was actually Presti's first call and he proposed a trade centered around young big man Jonas Valanciunas. Valanciunas would be shipped to OKC along with Jose Calderon. One of either DeMar Derozan and Terrence Ross would also be traded away in exchange for Harden.
More from Sir Charles In Charge
Surprisingly, Toronto quickly dismissed the proposal and it had nothing to do with the contract they would have to have paid him.
In actual fact, it was the common belief amongst the organisation and some media members that the long-term health of the organization was in much better hands now by keeping Valanciunas.
Looking back, it is almost laughable that the Raptors valued Valanciunas over James Harden. They could've had Harden at $80 million from 2012-13 till 2016-17.
But many things never happen how you expect them to so it's hard to really blame the Raptors
I mean just take the Thunder for example – many predicted them to have won multiple championships by now. Instead, they haven't even reached the Finals since 2012, in partial thanks to the departure of James Harden.
James Harden changed the fortune of a lot of teams in one offseason. By joining the Rockets, he increased their fortunes but dashed the future hopes and dreams of eight other franchises, including Oklahoma City's.
Which trade do you think would have benefited one of the seven mentioned teams the most? Which trade do you think the Thunder would have favored in hindsight?
This article originally appeared on