Wyoming Football: Is Josh Allen a sure-fire franchise quarterback?
In a recent piece for NFL.com, Bucky Brooks declared that there are no sure-fire franchise QBs in the 2018 class. Will Wyoming's Josh Allen prove him wrong?
Franchise quarterbacks are hard to find.
Having one could very well be the difference between playing in January and taking an early vacation. The only problem? There simply are not enough franchise-caliber QBs.
Every year a number of young signal-callers enter the NFL with dreams of becoming the next great superstar, yet year after year numerous teams find themselves picking toward the top of the NFL Draft dreaming of selecting a player to turn their franchise around.
Players like Tom Brady, Aaron Rodgers and Drew Brees have led their respective teams to countless playoff berths over their decade spanning careers and returned home as Super Bowl champions.
There is no definitive definition of what exactly makes up a franchise quarterback, but it is fairly well accepted that at any given time there are only a dozen or so franchise quarterbacks in the NFL.
When a team invests a first-round draft pick in a quarterback, they want a player who can lead their team for years to come, and one whom they can build their squad, staff and playbook around. However, based on recent data, there are teams who would be happy just to get a consistent starter as a return on their investment.
Since 2012, there have been 18 QBs taken in the first round alone and 21 in the first 60 picks. These players have had very different careers, careers that can help to set up a basis for us to compare future prospects to.
While teams like the Seahawks and the Cowboys have found starting quarterbacks in the 3rd day of the NFL draft, these are the exception not the rule. If a team truly wants to optimize their chances of drafting a starting QB, they will typically be looking for one in the first round.
There are currently four quarterbacks that are getting early consideration to be first round caliber players. This piece will evaluate Josh Allen, Wyoming's redshirt sophomore signal-caller, against his peers, past and present, to see if he truly deserves to be a team's future starting quarterback.
Meet the Player
Josh Allen may be one of the least likely top-ranked quarterbacks of all time.
In his four years at Firebaugh High School, Josh only started 23 games on the varsity football team. During the two seasons he spent as the Eagles' starting quarterback, Allen threw for 5,269 yards and 59 touchdowns on 599 passes.
Allen's lack of production led to him going predominantly unrecruited, earning a 0-star rating.
While other quarterbacks spent their developmental years on the recruiting circuit, going to quarterback camps and showing off their skills for college scouts, Allen was playing basketball, baseball and working with his parents in a very small town.
After graduating from high school, Josh chose to attend Reedley Community College after receiving no football scholarship offers. In his one season leading the Tigers' football team, Josh threw for 2,055 yards 26 touchdowns in 10 games. That season helped raise Allen's stock as a prospect, now ranked a two-star recruit by Scout.com.
Still, there was very little interest in Allen's services after the 2015 season. Allen only got one scholarship offer after his JUCO season, from the University of Wyoming.
Allen was set to serve as the primary backup for Cameron Coffman, but got his first taste of action in Wyoming's first game of the year against North Dakota State, going 1-2 for 19 yards. He then received his first start of his Division 1 career, an afternoon start against Eastern Michigan. Unfortunately for Josh his season would be short lived. Allen suffered a season-ending collarbone injury after going 3-of-4 for 32 yards and rushing for 40 yards on three attempts.
While his freshman season was largely a disappointment, his sophomore was anything but.
Allen put the Cowboys on his back, throwing for 3,254 yards and 28 touchdowns while starting every game. Not only was Josh extremely successful from a statistical perspective, but he also took the team to height they hadn't reached in years.
After going 2-10 in their previous season, Wyoming quadrupled its win total, going 8-6 and making it to the Mountain West Championship game, and the Poinsettia Bowl.
Even though Allen would have potentially heard his name called on the first day of the 2017 NFL draft, he and his family decided that the best decision for his future was to return to Wyoming for his junior season.
While there is no way of knowing if Josh made the right decision, the national spotlight will be firmly fixed on Laramie, Wyoming.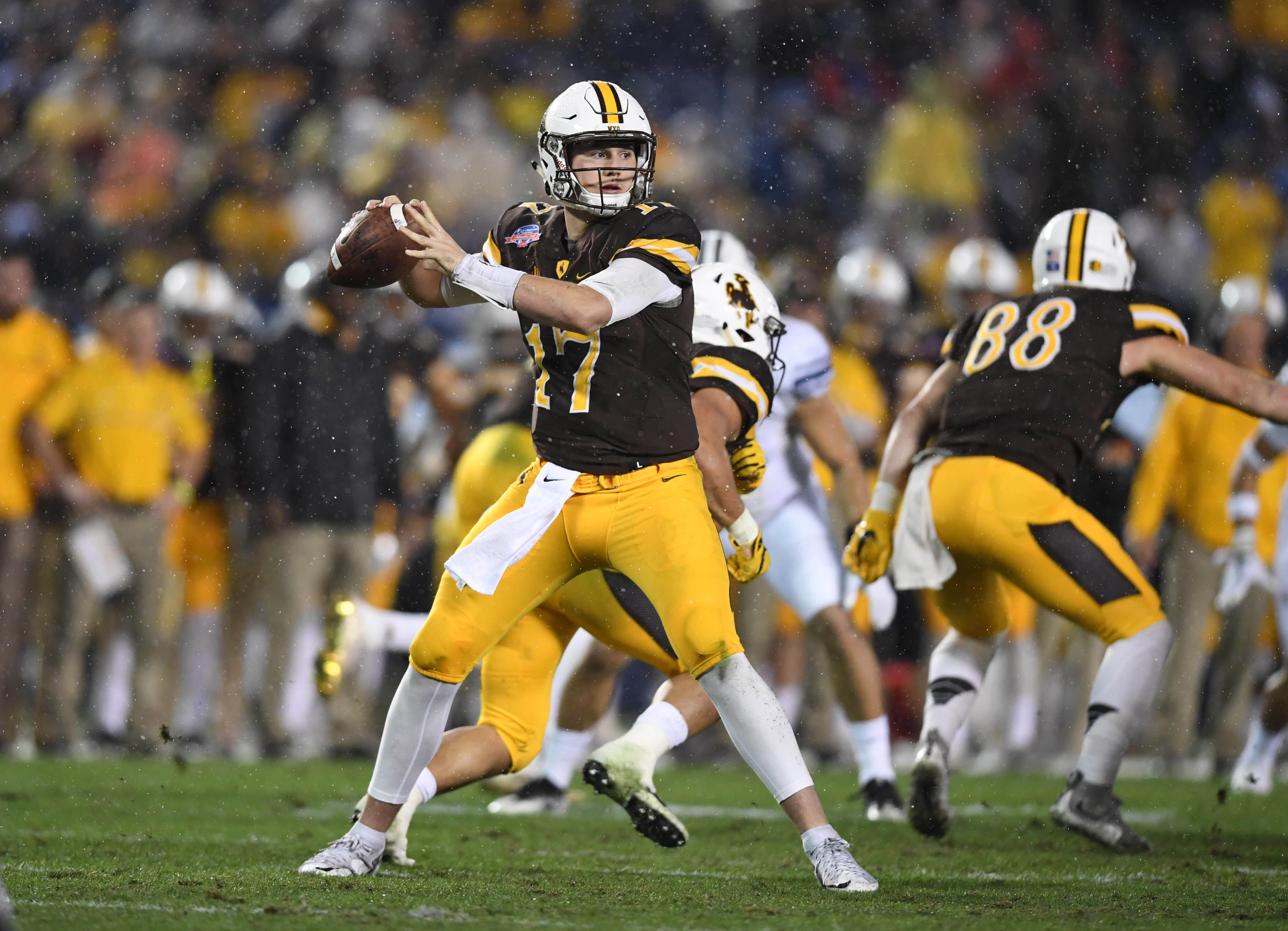 Measurables
Josh Allen is listed at 6-foot-5 and 222 pounds.
Of the 21 quarterbacks taken in the top 60 picks of the NFL draft since 2012 only four have measured in at 6-foot-5 or taller.
Allen's height is an distinct advantage for a quarterback operating in a pro style offense, ensuring that he will be able to survey the field with ease and accuracy in a crowded pocket.
However, since 2012 none of the profiled quarterbacks taller than 6-foot-5 (including Allen) have completed 65 percent or more of their passes in college. While the additional height doesn't seem to have an impact on accuracy, it does appear to have an impact on interception totals.
Of the four quarterbacks standing 6-foot-5 or taller, three averaged less than 20 interceptions in their college careers, only Paxton Lynch threw more than 20 (23). However, when Allen is finished with his college career this average is sure to change.
Allen has already thrown 15 interceptions in his 15 starts as the Wyoming Cowboys' starting quarterback. While it's impossible to determine exactly how accurate Josh will be next season, his accuracy is worth consideration when evaluating his future potential.
While Josh Allen's height is ideal for a starting quarterback, his weight is another story.
Allen only weighs 222 pounds, putting him in roughly the 50th percentile of our sample quarterbacks. On tape, Josh looks fairly lanky, with long arms and a slender torso.
As a starting quarterback in the NFL, Allen will be facing off against defensive lineman and linebackers who will all outweigh him every week, with the express intention of hitting him on every down. If Josh is to become a franchise quarterback he will more likely than not be asked to gain some weight, and additional muscle mass.
This is especially important with Allen's playing style.
Josh does not shy away from contact, and at time holds the ball too long in the pocket. In his 15 NCAA starts Josh ran the ball 146 times and was sacked 27 times.
Allen has already missed almost the entirety of his first season at Wyoming with a broken collarbone, so teams will need to make sure that he can remain healthy for a full 16-game season if they are going to select him in the first round.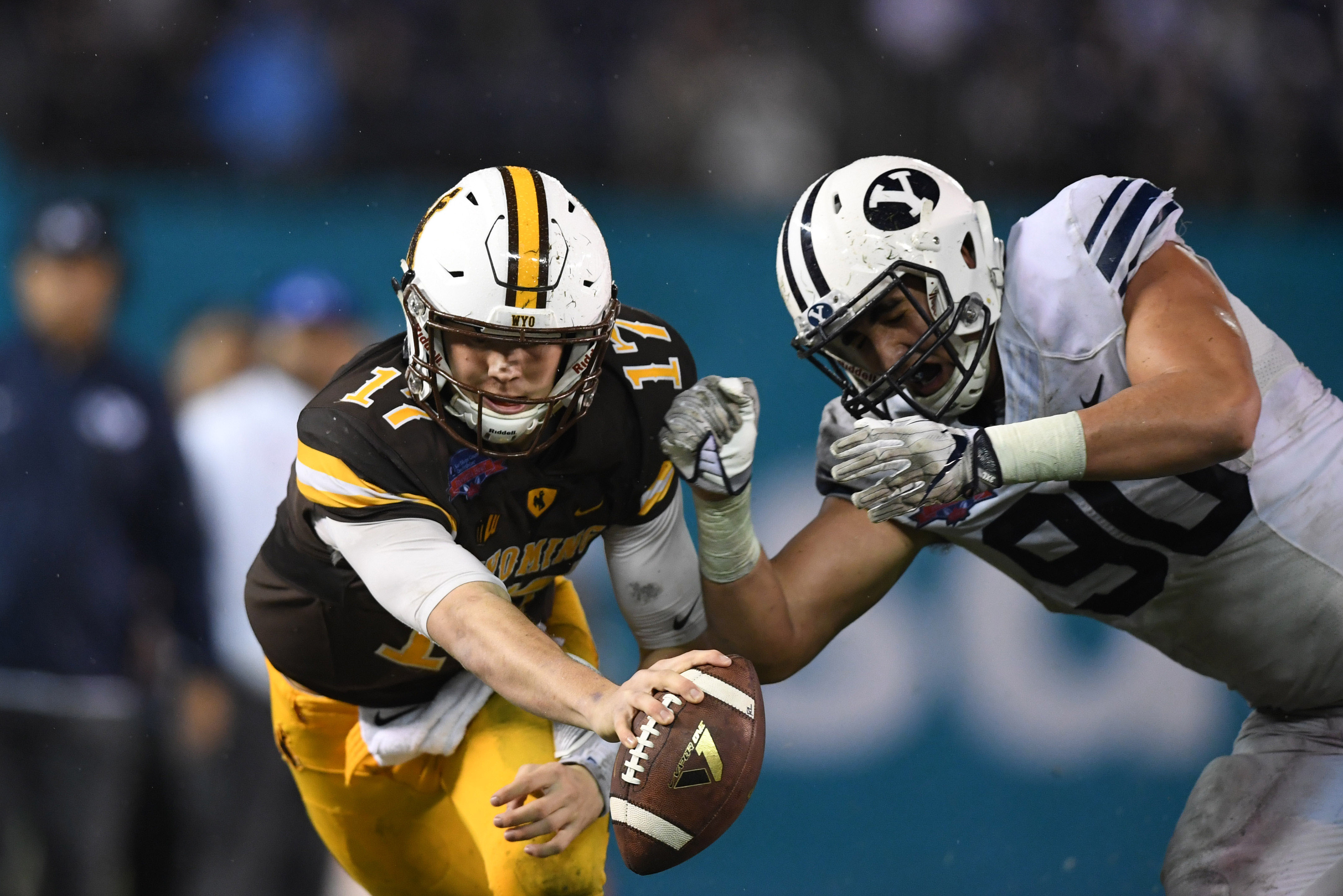 College Production
While Josh Allen has only started 15 FBS college football games, he is considered by many to be one of the most pro-ready players in the 2018 class.
Unlike most college football teams that are obsessed with up-tempo, spread offenses based around run pass option plays and zone reads, Wyoming instead chooses to deploy a pro-style offense, that includes plays under center, and even a fullback. Yes, a fullback.
When reading any scouting report on Josh Allen, the one name that will always come up is Carson Wentz, and with good reason.
Both Allen and Wentz were recruited to their respective schools by coach Craig Bohl, both stand 6-foot-5 and both enter the NFL with experience in a pro-style offense.
Many top college offenses design plays to scheme open receivers and artificially inflate passing yards, but Wyoming incorporates three, five and seven-step drops with more traditional passing concepts. Having experience in Bohl's offense helped to elevate Carson's status from a Division II quarterback with only 23 career starts to the second player selected in the 2016 NFL Draft, an experience I'm sure Josh Allen would like to emulate.
Unlike many of his peers, Josh Allen has actually called plays in a huddle. While most up-tempo offenses use large signs on the sideline to inform players what their individual responsibilities are on any given play, in Wyoming this responsibility is placed on Josh's shoulders. While it does limit just how fast Wyoming is able to play on any given play, it does force Allen into a leadership role on the team, a role he has excelled in.
Not only do Allen's teammates respect him as a leader, but so do his coaches.
Coach Bohl allows Josh to make adjustments at the line of scrimmage and put his team in the best position to succeed on any given play, based on the formation presented by the opposing defense. This skill is becoming increasingly rarer in NFL prospects, and greatly increases a player's draft stock.
Simply put, college football doesn't prepare players for the NFL like it used to.
Instead of teaching players the fundamentals of the game, college coaches are often using their players like chess pieces, putting them in the correct position to succeed and preventing them from having to think too much. Developing the ability to read and dissect a defense quickly is essential to be a modern-day NFL quarterback, and if a player can't show that they have that skill upon being drafted, they may never develop the skill. Recent selections of players like Carson Wentz, Jared Goff, DeShone Keizer and Jameis Winston prove just how highly scouts value this skillset.
Since Josh Allen has already proven to scouts that he can read defenses, call plays and perform three, five and seven-step drops, he is leagues ahead of his peers, and is ultimately a much safer bet to have a successful pro career.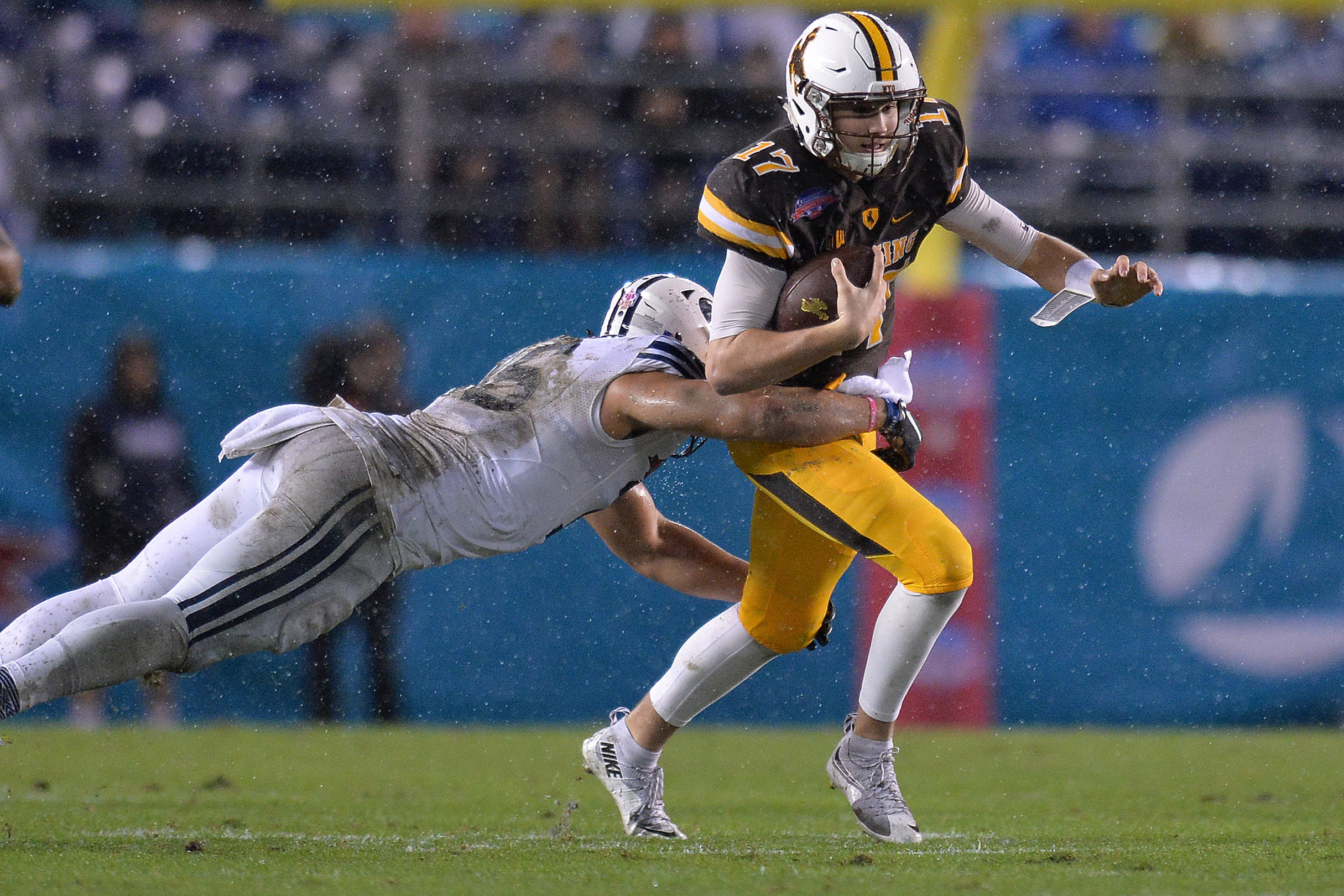 Scouting Report
Josh Allen is a gunslinger.
And according to ESPN's Adam Schefter, he will be the No. 1 player selected in the 2018 NFL Draft — "put it in the books."
When evaluating Allen's tape it becomes incredibly evident that he wants to make the big play on ever play, regardless of overages, blitzes or field position.
On this play we can see exactly why so many scouts are absolutely enthralled with this kid.
After receiving the snap from the shotgun formation, Allen is met almost immediately by a blitzing linebacker. Josh evades the first would-be tacker, but again finds himself facing pressure with no lineman to defend him. Instead of taking off and attempting to run for the first down on third-and-12 with 57 seconds to go in the half, Allen instead keeps his eyes down field and throws a 50-yard bomb to the corner of the end-zone for a touchdown.
While this play shows his elusiveness and vision, the most impressive part of this play is that Josh makes the throw without the luxury of planting his feet. This throw is pure arm talent.
While this isn't an in-game highlight, it still has merit in his evaluation. While working out at Wyoming's spring practice, Allen launched on a 78-yard (yes, seriously) pass. While very rarely will a player have to sail the ball 78 yards in the air, it does show his A+ arm strength and give Aaron Rodgers a run for his money as the best Hail Mary passer in the NFL.
This series of plays gives foresight into how Allen would operate in a professional offense fairly well. The first play show's Allen's ability to perform a three-step drop. After receiving the ball from the center, Allen takes three steps back, sets his feet and throws a 30-yard touchdown to his open outside receiver. While the front shoulder throw is fairly standard, the footwork displayed on the pass is NFL caliber.
The second play, however, shows both positive and negative aspects of Allen's game. Josh is rolled out on the play and is immediately met with pressure from the right side of the line. Allen continues to keeps his eyes down the field (which could help to explain why he sustains so many sacks) and launches a 30-yard pass right into the hands of his receiver for a touchdown.
While the play does show off Allen's impressive vision and elusiveness, it also shows off the negative side of his gunslinger mentality. Josh throws the ball off of his back foot. Even though this play ended with a big play, back foot throws often result in under-thrown balls, and more interceptions. Josh's commitment to making a play should be commended, but this commitment can lead to plays that ultimately hurt his team in the end.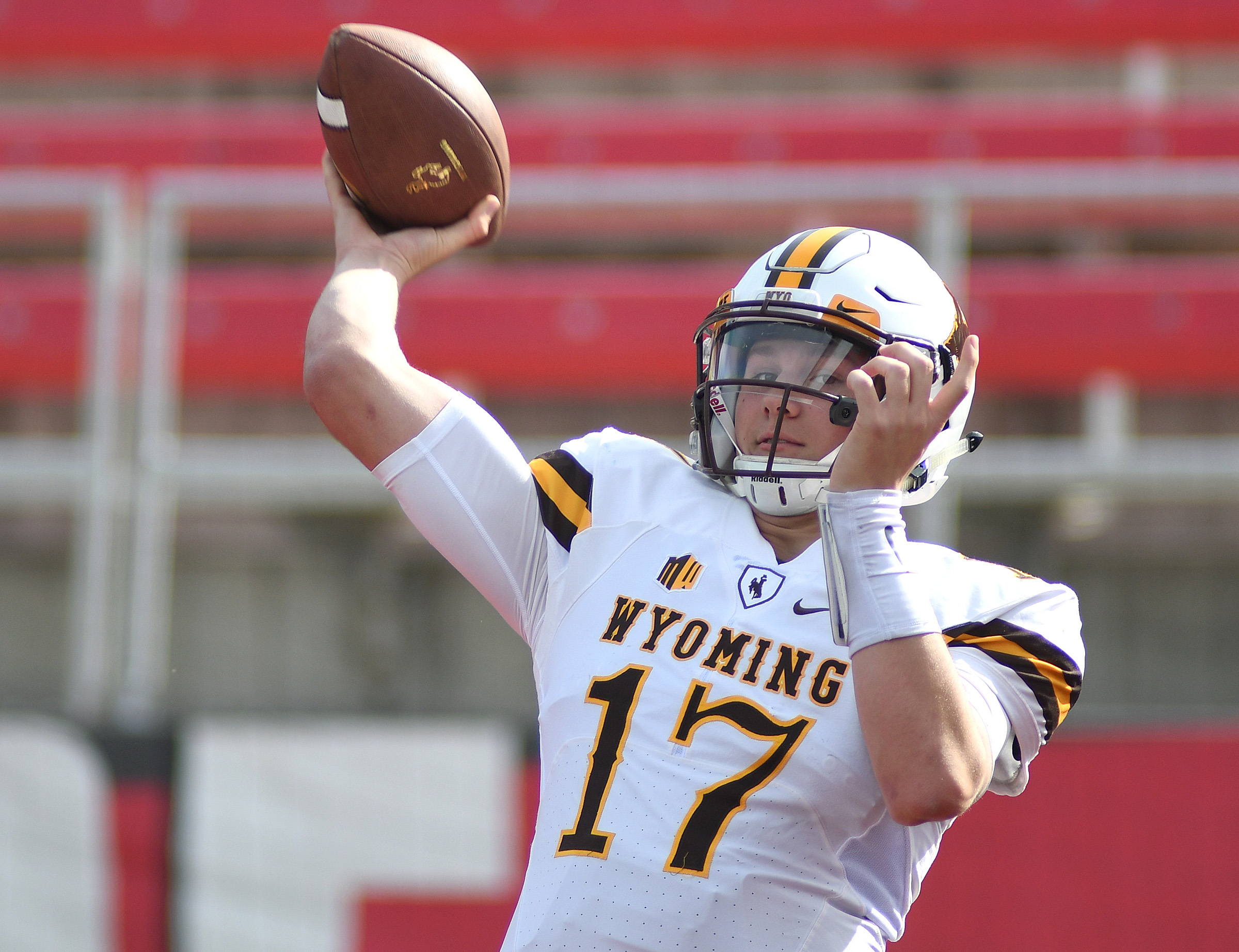 Final Thoughts
There are a lot of things to like about Josh Allen.
NFL teams will fall in love with his arm talent, his experience in a pro-style offense and his work ethic.
Allen didn't receive a single football scholarship coming out of high school, and instead had to go to junior college. While he did put up quality numbers leading Reedley College's offense it didn't do much to raise Allen's pedigree as a prospect. However, Allen ultimately did sign a letter of intent to attend the University of Wyoming for his second season of college football.
After missing the majority of his first season at Wyoming due to a broken collar bone Allen truly broke out in his redshirt second season with the Cowboys. Allen threw for 3,254 yards and 28 touchdowns in 13 games and began to receive serious national interest, with some pundits declaring him the top prospect in the 2018 draft class.
And when you start to evaluate his game tape it's not surprising why.
Josh Allen has impeccable arm talent. When watching him throw, it becomes abundantly clear that Josh can make any throw in the book, even while running for his life behind the line of scrimmage. Observers will routinely see Allen launching the ball 40+ yards in the air with a defender in his face, but to mixed results.
Allen only completed 56.2 percent of his passes in his college career thus far. If this trend continues through his redshirt junior season Josh will have the second worst accuracy of any top QB prospect since 2012, only ahead of Penn State's Christian Hackenberg and his 56.1 percent completion percentage.
Additionally, Allen has already thrown 15 interceptions in his college career. If this trend continues into his redshirt junior season Allen will have thrown 30 interceptions in his college career, tied for the third most of the players being profiled. When added to the 27 sacks he took in the 2016 season it becomes clear that Josh needs to make better decisions with the ball in his hand.
While he may not be the most accurate passer in college football, he does possess an eclectic set of skills that will enthrall coaches at the next level.
Unlike top NFL prospects like Mitch Trubisky, who took 98 percent of his snaps out of the shotgun, Allen has already spent two seasons in a pro-style offense. Josh's ability to operate an offense from under center, call a huddle and read opposing defenses will undoubtably balloon his draft stock passed any minor deficiencies scouts see on tape.
Josh Allen's gunslinger mentality will make him a polarizing prospect for some scouts, but there will be without a doubt teams who absolutely fall in love with his athleticism, arm strength and potential, and will view him as the savior their franchise is in desperate need of.
This article originally appeared on