Why Georgia Tech is still one of the Georgia Bulldogs biggest rivals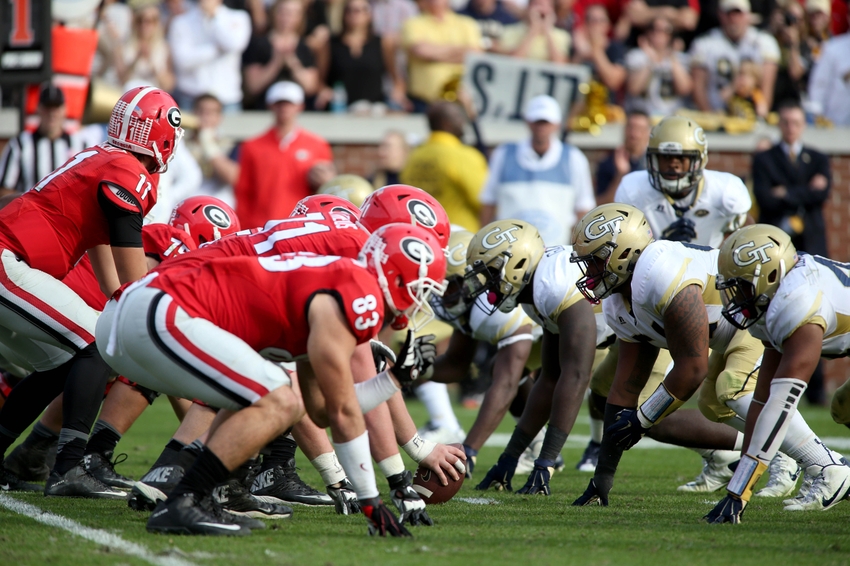 Clean, Old Fashioned Hate is this Saturday at noon. Both the Georgia Bulldogs and Georgia Tech Yellow Jackets enter the contest 7-4 and looking to end their seasons on a high note.
With a name like Clean, Old Fashioned Hate you expect a heated and entertaining rivalry. And for the most part, that's what you get out of games between Georgia and Georgia Tech.
But more often than not, the rivalry plays out the same way each year. Georgia comes in as the favorite, Georgia Tech comes in as the underdog. There's some exaggerated scuffle at midfield about 40 minutes before kickoff. Game starts and ends, and Georgia wins.
Lately, the games have been very good, nine of the last 12 were decided by 10 points or less. But Georgia is still 7-2 in those nine close games. Since the turn of the century, Georgia is 13-3 against the team that is supposed to its biggest rival. Georgia has a 25 game lead in the series and besides a few short streaks here and there, the last 50 years have been one-sided.
So why is the rivalry still important to Georgia?
This may be a cliché, but it's because they are in-state rivals. Most Georgia fans don't have to deal with other Florida, Auburn or Tennessee fans on a daily basis, but they probably have a few Tech fans in their life. Same is true for fans of the Yellow Jackets with their other rivals.
Bragging rights are so much more important to fans when they have plenty of people to brag to. Georgia fans love holding their 65-40-5 lead in the series over Tech fans. Georgia Tech fans love hounding Georgia fans for 364 days straight following their wins in the series.
Sure, the rivalry has been one-sided since 1964. Georgia is 39-13 since Vince Dooley took over as head coach. But prior to that, Georgia Tech led the series 27-26-5. Conference and National Championships were on the line in many games throughout the 1920, 30's and 40's.
Following Tech's dominant eight-game win streak in the 1950's, everything went downhill for Georgia Tech. They did win a national title in 1990, but Georgia responded with a seven-game win streak. Tech won three straight from 1998-2000, the first two in controversial fashion. But Georgia responded with another seven-game win streak.
But ultimately, two of those things mentioned is why Georgia Tech is still one of Georgia Bulldogs biggest rivals. The Yellow Jackets have the most recent National Championship, they even have the most recent conference championship.
They also own the last major record in the rivalry, their eight-game winning streak in the 1950's is a record Georgia wants to break. That makes Tech's wins in 1998 and 2008 the most devastating losses for Georgia in the rivalries recent history.
More from Dawn of the Dawg
Clean, Old Fashioned Hate is still a major rivalry for Georgia. Georgia Tech still up there with Florida and Auburn despite how one-sided the series is. Maybe one day Georgia will put the Jackets down for good. Win a few National Championships, go on a 10-game win streak, put 30 or 40 games between Georgia and Georgia Tech and that will happen.
But until then, there are still things Tech fans can hold over Georgia's head. They may be the little brother on the field, but they haven't been put down yet.
This article originally appeared on