Takeaways from Week 1: Houston's rise, Alabama's dominance & more
I'm not shocked that Houston took down Oklahoma. Tom Herman is that good of a coach and the Cougars have a pretty loaded roster, especially on the D-line. Their new stud true freshman DT Ed Oliver backed up his hype by notching seven tackles and two sacks against the Sooners. This UH front might prove to be the best D-line the Sooners face all season. Herman and OC Major Applewhite have also done a terrific job developing Greg Ward Jr., who went 9-11 for 147 yards on third downs against OU, converting eight first downs.
The other thing is Herman's style of offense is a tough match-up up for Mike Stoops' defense at Oklahoma.
Our Freak representative from UH also came up big, Brandon Wilson — he of the 40-inch vertical and 11-foot, 2-inch broad jump — doing his own version of the Kick Six to turn the momentum in the game. Again, he's another example of the athleticism up and down this Cougars roster.
Here's the big thing about Houston's rise: These guys are very well-coached. Beyond that, though, they're committed to beating anyone and they do have talent. Thinking about UH's win over OU, the first thought that came into my mind was being at the Cougars' 7 a.m. practice a few weeks ago in the disgusting humidity down there, where after taking two steps out of your rental car, you feel like you just got sprayed down by a hot can of OFF. Yet, watching them practice, UH went as hard and was as physical as any team I've observed in the past few years. Probably harder.
Now, some of their back-up QBs really, really struggled and I had some pause about the young receiving corps, but I really was blown away by how just hard they go. And Herman harps on that message in so many ways. For instance, when their young back-up RB Mulbah Car was struggling with some attention to detail stuff, which is hardly uncommon for a true freshman, Herman made a point of telling one of his assistants to make sure he had the kid re-watch their effort tape of former Ohio State star Ezekiel Elliott. It's a clip of one play after another of Elliott sprinting downfield in frenzied pursuit of blocking anyone on the other team. It goes on for what seems like five minutes.
These are the little things that help take teams to the next level in their development and Herman's proving a master at it, not just at game-planning and tutoring QBs.
I'm sticking to my take that the Cougars, with this win over OU, are a legit playoff threat. Obviously, they need to run the table, and it'd also help quite a bit if OU turns around and beats Ohio State — or goes at least 9-3 — and also if Louisville, a team that visits UH on a Thursday night in November, can prove to be a Top 25 team. For more on the Cougars' potential Playoff, check out the discussion we had on our Saturday night Facebook Live show.
RANDOM STUFF
Notre Dame's young defense often looked lost against Texas' young offense Sunday night in a 50-47 loss. They gave up a bunch of big plays to Shane Buechele over the top, and it could've been even worse had WR John Burt not dropped a likely TD on a perfect deep ball. They also struggled to match the physicality of Tyrone Swoopes, D'Onta Foreman and Chris Warren, especially considering it was behind a Texas O-line that is still in its infancy stages and started a true freshmen center and two sophomore tackles.
On the bright side for ND, QB DeShone Kizer looked terrific, displaying poise and presence and accuracy. I kept thinking if Brian Kelly couldn't decide that Kizer isn't his clear No. 1 then Malik Zaire must look fantastic in practice, because it seemed obvious on Monday in a road game who was the more polished and complete quarterback. Kizer accounted for six TDs in the game while Zaire was sent in to run the offense. His first series yielded a three-and-out. His other two series in the first half also led to ND punts.
The other big plus for the Irish was the emergence of sophomore Equanimeous St. Brown. He had five catches for 75 yards and two TDs. He had only one catch in all of 2015. I was tipped off about "EQ" last winter when I ran into Irish OC/QB coach Mike Sanford, who gushed about how dynamic the 6-5, 205-pounder is. He told me the young Californian was going to be special, and now I can see why. Expect him and Kizer to make a lot of big connections this year and next.
My thoughts on Texas' big night are here in my story from late Sunday.
Good to have you back, Nick Chubb. The Georgia star, who tops my early Heisman Top 5, went for 222 yards in the Dawgs' comeback win over UNC. Chubb averaged 9.6 yards on 16 first down carries. Every time he's gotten to play a full game in college, he's had a big game. EVERY TIME. No other RB can make that claim. Last year, his least productive game was his 16 carry, 120-yard game against ULM. And, as a freshman once he took over after Todd Gurley went down, Chubb went over 100 yards easily in every game.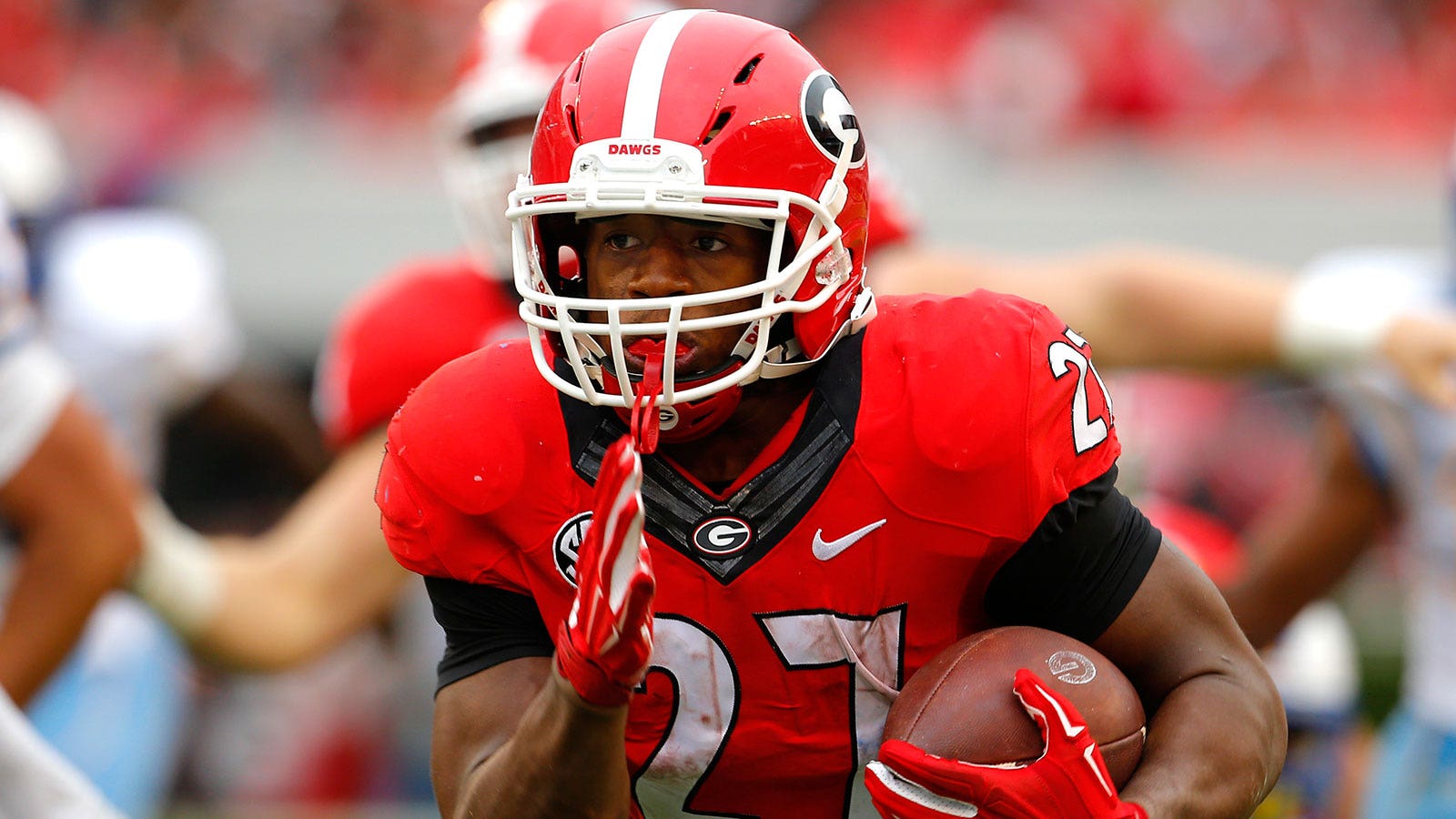 So many aspects of Alabama's dominance of USC stood out as the Tide blew the Trojans off the field. At one point after the end of the first quarter they had a stretch where they'd outgained USC 313-2. The stat though that may have been the most telling: JuJu Smith-Schuster, a player Nick Saban compared to NFL star Dez Bryant this week, was held to one catch for just nine yards by the Bama D. Ouch.
"His football IQ is off the charts," Dawson said. "He's great option route runner from the slot, and the first guy never tackles him."
Auburn's D looked very good against Deshaun Watson and company, but Gus Malzahn's three-QB derby looks like one big mess right now. They managed just 262 yards of offense against a totally rebuilt Clemson defense. The bright side: His Tigers get LSU in a few weeks and Les Miles' bunch looked awful in their loss to Wisconsin.
Two of the most powerful moments of opening week: Seeing James Conner score a touchdown and the gesture of Nebraska lining up with just 10 players on the field to honor late punter Sam Foltz. And the classy move by Fresno State coach Tim DeRuyter to decline the penalty.
The Big Sky has cranked out more than its share of bad ass QBs — two of the most recent later ended up playing for Oregon in Vernon Adams and Dakota Prukop. Die-hard football fans already know (hopefully) about Eastern Washington's superb WR Cooper Kupp, but time to learn the name Gage Gubrud. The 6-2, 195-pound sophomore EWU QB — playing behind an all new O-line — lit up Wazzu, throwing for 474 yards and rushing for 77 more with six total TDs in a 45-42 upset win over the Pac-12 team that won nine games last year. Oh, by the way, all Kupp did was catch 12 passes for 206 yards and three TDs.
ICYMI: How perfect was @HuskerFBNation's #SF27 tribute? https://t.co/JQiFN1ZFKj

— Nebraska On BTN (@NebraskaOnBTN) September 4, 2016
Remember the name Justin Crawford. He's a junior college RB from Georgia via NW Mississippi CC who made his debut for WVU Saturday and went for 101 rushing yards. When we visited Morgantown last week, the Mountaineers staff was raving about the 5-11, 195-pound speedster. WVU beat Texas, South Carolina and Mizzou to land him. Ryan Dorchester, the school's in-house recruiting coordinator has been at WVU for a dozen years and told me Friday that Crawford is the most talented back they've had since he's been there, saying the JC transfer is a combination of the speed of Steve Slaton with shiftiness of Charles Sims. Crawford is an interesting story, too. He's married with two kids and this summer worked at a local Taco Bell at nights.
QB Skyler Howard talked a lot about how determined Crawford is and how he's always talking about "I gotta get in that chicken box!"
Chicken box? Apparently, that's what Crawford calls the end zone.
I asked Dana Holgorsen and a few others at WVU where that term comes from. No one knew. So at practice Friday, Holgorsen brought Crawford over to me. His explanation: "It's a Georgia thing. And tomorrow, just be ready to tell the world about this."
On Saturday, Crawford made good on that, getting into the chicken box, sparking the Mountaineers to victory. And now, I'm following through on what he said.
Mizzou's double-digit loss at WVU was part of a really ugly opening week for the SEC. I was on the sidelines for the FS1 broadcast of the game and I thought one of the reasons for optimism for the Tigers was sophomore QB Drew Lock. The Tigers' O has incorporated some of the Baylor offensive scheme featuring receivers lined up so wide they're practically on the sidelines (Mizzou assistant Joe Jon Finley is a former BU staffer). However, the Tigers don't have anything close to the speed at receiver that the Bears do, and Lock is still very green. He had some moments against WVU, although the Tigers were hindered by a bunch of drops. The 6-4, 220-pounder went 23 of 51 for 280 yards as the Tigers kept battling.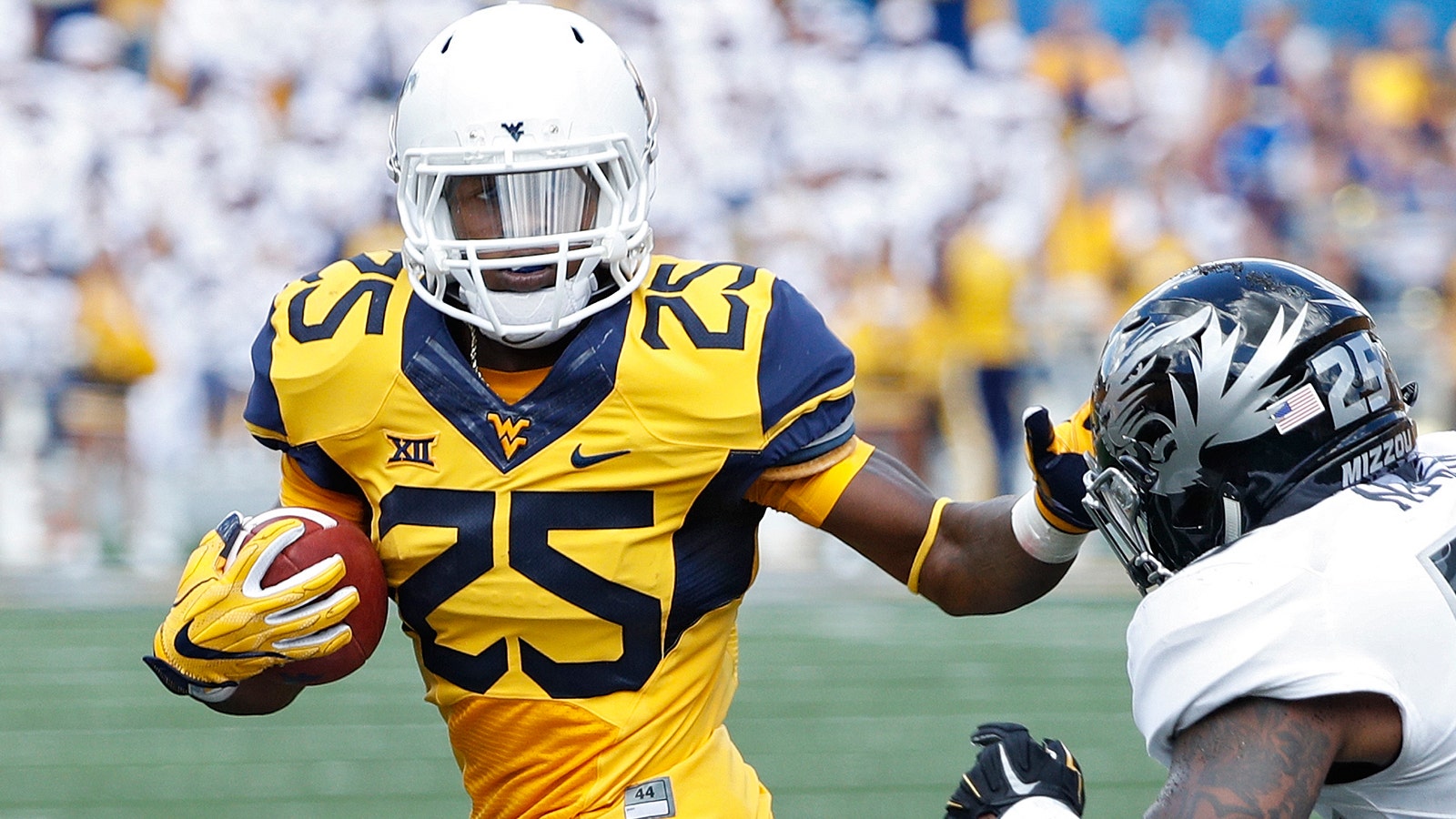 Lock was very, very shaky last season as a true freshman. He arrived in Columbia with a ton of fanfare. An Elite 11 QB, he also was a big-time basketball recruit, but because he spent so much time playing hoops and being on the AAU circuit, he didn't have as much time spent working on the nuances of the position as most touted quarterbacks his age do. To Lock's credit, he has embraced the challenge. Last winter over Christmas break, he spent 16 of his 30 days tightening up his mechanics with private quarterbacks coach Justin Hoover.
First-year head coach Barry Odom says new OC Josh Heupel, himself a former star QB at OU who almost won a Heisman, has worked wonders with him improving his footwork, pre-snap reads and pocket awareness. Heupel told me he drew some parallels to another protege of his — Sam Bradford — in terms of being a great all-around athlete who in high school wasn't solely focused on being a QB. Heupel also said, like Bradford, Lock has a very good understanding of spatial awareness and the athleticism to make throws from awkward positions.
"Drew's got such a high ceiling," Heupel said. "I believe he will play great (eventually)."
Hats off to Army beating Temple 28-13 at Temple Friday night. The Owls won 10 last year and Army lost 10.
"They were just knocking us off the ball, and we weren't able to knock them back," Temple coach Matt Rhule said after the game.
Stat of the Day: According to PreGame PhD, dating back to 2012, Tom Herman has been an underdog 10 times as an offensive coordinator at Ohio State and as head coach of Houston and his teams have won all 10 of those games outright.
Stat of the Day, Take II: Wisconsin snapped LSU's FBS record of a 52-game winning streak against non-conference opponents in the regular season.