Meet the college football coach who's taking the marijuana business by storm
Like many good football coaching stories, this one starts with beers. Lots and lots of beers. There might have been a strip club visit as well.
The 2000 event in Anaheim was my first trip to the American Football Coaches Association convention. Every January, thousands of coaches from all over the country attend the three-day convention held in a different city each year. They go to sit in on coaching clinics, re-connect with old buddies and network. Everyone appears jovial, although almost no one holds eye contact during conversations, since they always seem to be looking for someone else. I was there to work on a story about how guys break into the coaching business.
My idea was to write about one coach with connections and one without. The guy with connections was Shane Beamer, the son of Va. Tech head coach Frank Beamer. Shane was easy to find. He'd just finished his playing career as a long snapper and back-up wideout for the Hokies.
Finding the other guy required a bit more schmoozing among a hotel lobby littered with dudes, many looking like just retired D-linemen, tipping back bottles of Miller Lite.
I don't recall how, but after grabbing a few drinks from a bartender serving beers out of an ice tub, I ended up in a conversation with a couple of graduate assistants on Big 12 staffs. One from Texas. The other from Oklahoma State. We ended up going from one bar to the next.
There's no better training (than coaching) to be in for business.
Brian Yauger
The Longhorn GA was a former small-college wide receiver. He subsequently bounced around before going on to big things in coaching.
His name: Tom Herman. Last year, in his debut season, he led Houston to a 13-1 record and the No. 8 spot in the AP and coaches polls, the Cougars' highest finish in 36 years.
The other guy? Well, you've probably never heard of him, but he's gone on to big things, too. These days Brian Yauger is a titan in one of the hottest industries in Washington state — legal marijuana.
*****
Yauger actually did have coaching connections. He is a protege of current Buffalo Bills assistant head coach Rob Ryan — twin brother of Bills head coach Rex and son of coaching great Buddy. In 1996 Rob Ryan served as a defensive coordinator at Hutchinson Community College in Kansas. The Blue Dragons topped the nation that year in total defense, sacks and turnovers forced. The following season, Ryan was hired to run the defense at Oklahoma State and brought his father's famed "46" defense. One year later, Ryan brought Yauger with him as a graduate assistant.
"Yaugs was great," Ryan told me when I approached him and his twin brother in one of the sky-bridges at the NFL Combine in February. "I had to have him. He was a huge asset to us. He's smart, hard working and the players really respected him. He's an excellent teacher."
Yauger was an average high school defensive lineman at Austin's Westlake High, then spent a season at Southwest Texas State (now known as Texas State) playing for Dennis Franchione before transferring down to NAIA Hardin-Simmons. The scouting report on him: 6-foot, 240 pounds. Not very strong. One skill. A decent first three steps to rush the passer. He started two games his entire college career.
Before graduating, Yauger sent resumes to a bunch of college programs in hopes of landing a GA spot. A couple of days before Hutchinson was about to begin training camp in 1995, their defensive line coach unexpectedly bolted. They ended up calling Texas Tech to see if the Red Raiders had anyone looking for an entry-level coaching job. Tech, which had Yauger's resume on file, forwarded his information. Hutchinson hired Yauger site unseen.
After Hutchinson, Yauger was on staff two seasons at Oklahoma State. But after Ryan left Stillwater for the Patriots, Yauger couldn't get a full-time job as a position coach at OSU or any other FBS program after his grad assistant was up. Instead, the Texan wound up coaching in New York City, of all places, at Columbia as the Lions' linebackers coach, for a program that had won just one Ivy League game the previous season.
Living in Manhattan was cool. He had smart players, interesting boosters and a surprisingly hefty recruiting budget to travel the country and search for talent with the grades for the Ivies. He stayed tight with Ryan and once brought his girlfriend up to Boston for a football weekend. She dumped him on the drive home. Ryan's wife didn't paint the rosiest picture of life as a football wife.
I had to be willing to work from 5 a.m. to midnight to get this thing off the ground, and in football, you get used to those kinds of hours.
Brian Yauger
"She did not survive the Kristin lecture," Ryan said. "It takes a special woman to be with a coach, and I guess she wasn't special enough."
As much as he liked New York, Yauger wanted back in major college football, but knew that would only happen in the remote case that one of his old Oklahoma State buddies got a head coaching job. His connection to Ryan, an NFL lifer, wasn't going to help.
In 2002, after an 0-7 season in conference play, Columbia canned long-time head coach Ray Tellier, and Yauger was out at Columbia too after three seasons. Worse still, his coaching contacts were drying up. He got a job as a defensive coordinator in Sweden for the Arlanda Jets because Rob Ryan told him the head coach was a huge fan of the Ryan defense.
Yauger helped the team win the Swedish national championship but didn't stick around too long after getting a ring. He'd found work as the defensive coordinator at Division-II University of the South. One year later, he was leading the defense at D3 Wilmington College in Ohio. Yauger loved college coaching, but he just couldn't afford to keep doing so at a lower-division salary, making around $30,000 a year.
Lots of college coaches come and go from the ranks each year. The really famous ones — a scant few — become TV analysts. Many others find work in different aspects of the game, either in scouting, as high school coaches or in support roles that usually involve recruiting. Some just get out altogether, usually for something in sales.
Yauger, who'd never smoked a joint, wound up in weed.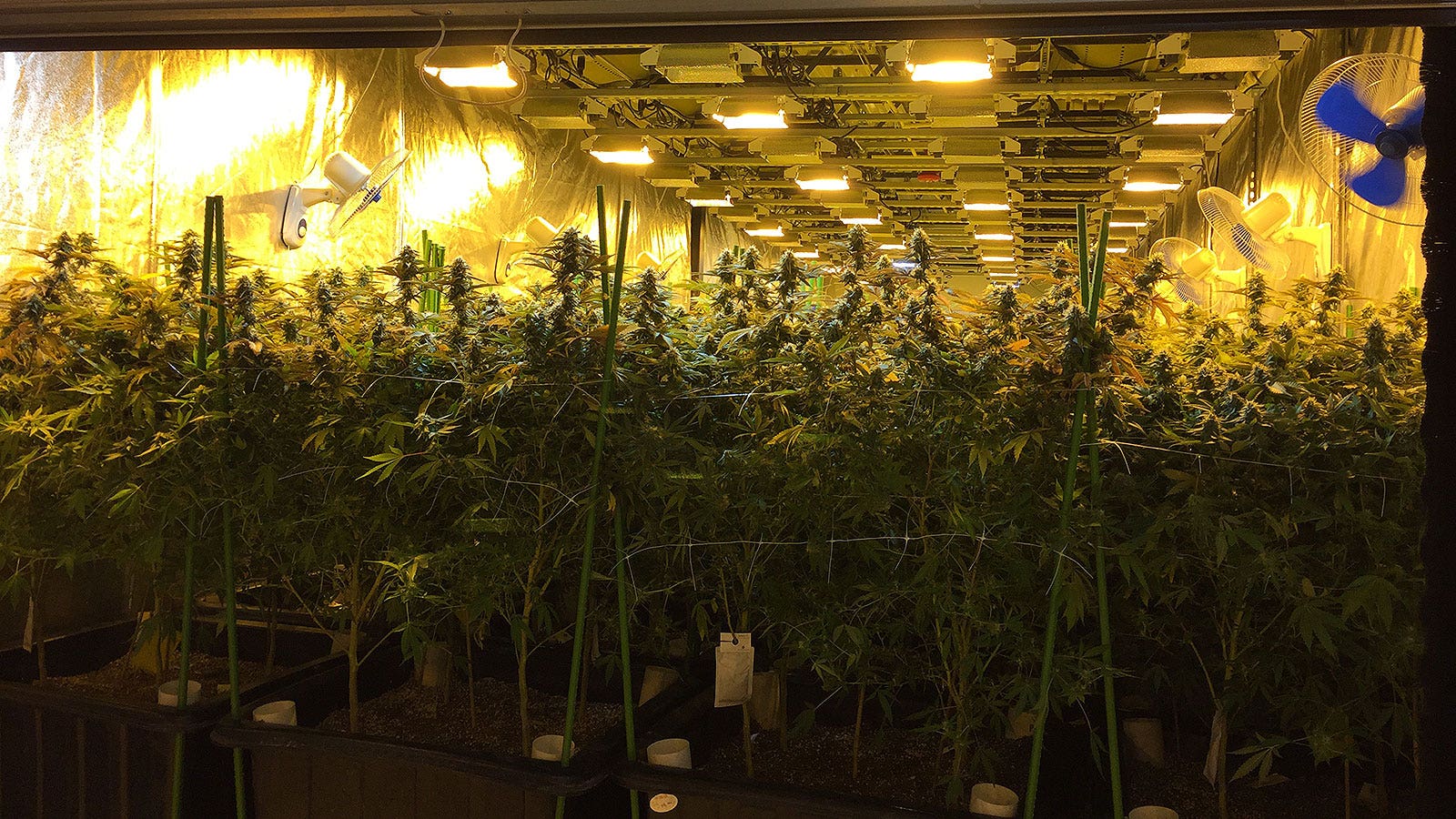 *****
In early April, Yauger picked me up at the Seattle airport in a brown CUV. He's put 25,000 miles on it in a little over a year. He used to drive a Ford F-150, but it was a bear to keep filling up. Plus, all the parking spots in Seattle were too small to park the truck, he says with a laugh. The radio is tuned to sports talk. That's about all he listens to. He tells me we're headed to the "Taj Mahal" of pot factories.
Northwest Cannabis Solutions has over 150 employees in a 67,000-square foot facility 60 miles southwest of the airport. Word is, the facility cost about $10 million to set up. Maybe more. (The owners wouldn't give us an exact number.) Before getting on the plane to travel to the Northwest, I checked out the company's website, which touts a "huge, state of the art growing facility, a cutting edge extraction lab and a world class edibles kitchen."
"Jerry, the guy who runs it, is awesome," Yauger tells me.
The vetting process was incredibly stringent and the laws were very strict because they didn't want it coming from cartels. It took me about a month just to figure out the logistics.
Brian Yauger
I hadn't seen Yauger in a few years. Last time was back in Austin, where the 44-year-old owned a green construction company called Cool Earth. It was doing about $650,000 a year in business. Then, in January of 2014, he got a call from an old high school buddy who had made a fortune in the early days of the information super highway. The guy made a heck of a pitch to come to Seattle to help him in the new marijuana business.
"It's the new internet," the guy told him. "It's the new place to be."
Even though Yauger knew nothing about pot, he shut down his construction business, packed all his clothes and his Golden Retriever and drove to the Pacific Northwest. His buddy had Yauger, the old defensive assistant, gathering intel on all aspects of the burgeoning marijuana industry so they could make smart investments.
"He was very big on engaging attorneys and guys who specialized in marijuana," Yauger said, "so, I'd sit in their offices asking questions — 'What are the laws? What are the barriers to entry? What are we allowed to do? What is the vetting process?'
"Turns out the vetting process was incredibly stringent and the laws were very strict because they didn't want it coming from cartels. It took me about a month just to figure out the logistics."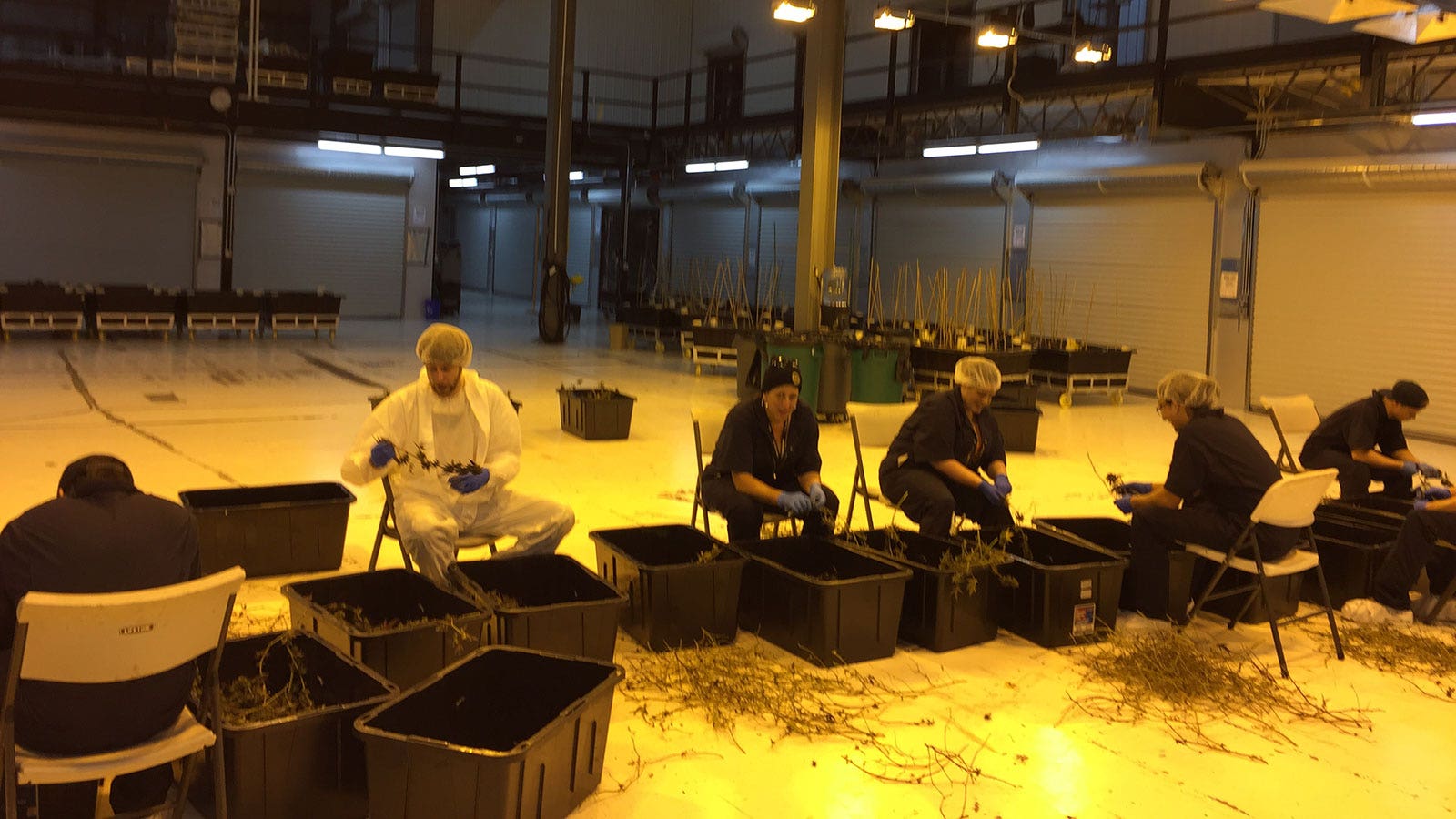 Yauger liked the digging, though. His deep dive into the world of marijuana reminded him of coaching. At least the part where in the offseason you'd go out on the road, visit other staffs and learn what they do — and why. After six months of research, Yauger realized it was a big misconception that people were making a fortune in the legalized marijuana business in Washington state.
"None of these guys are rolling in it," he said — no pun intended. "It's so regulated."
And, because it was so heavily regulated and taxed, his boss came to Yauger's apartment on New Year's Eve 2014. The guy was bailing on the pot business. There were too many hoops to jump through.
"I was floored," he said. "It felt like when you get fired in coaching. I was mad. I was sad. I just watched football for a couple of days, drank some beers, and then January 2, it was time to figure out what to do next."
Yauger already had a meeting set up for Jan. 3. He kept it. The meeting was with the CEO of another local Washington-based cannabis-growing company named Avitas. The name is the backwards spelling of sativa — one of the two different species of marijuana, the one that allegedly makes people more creative. The Avitas CEO and founder also has an interesting sports background. Adam Smith is a former executive at ESPN. His old title: VP of Global Digital Business Operations. Smith actually started Avitas as a side project in 2013, he said, about 16 months before leaving ESPN.
Even though marijuana is only legal in four states, the industry as a whole is projected to make $6.7 billion in total sales this year, and according to Fortune that number could swell to $22 billion by 2020.
Yauger told Smith his investment group had shut down, but that he wanted to stay in the industry. What Smith said next flipped Yauger's world upside down.
"You're the guy I call when I want to find out what's going on around the state (in the marijuana industry). If you can figure out a way to monetize that, you can have a good business."
This sounded like an interesting situation. Yauger had spent most of his adult life neck deep in information. Some of it was film study. A little was personnel scouting reports. But the biggest piece is all the data. In coaching, you literally surround yourself in it for the week leading up to the game. After all, every defensive staff room in the country has two or three grease boards covered with metrics about what the next opponent does on 3rd-and-1 and 3rd-and-medium and 3rd-and-10 and every other down and distance — out of every possible formation and personnel grouping. It's all analytics and predictive information. At the time, the marijuana industry in Washington state had no analytics.
Yauger mulled it over for a few days. He went to see the guy who owns the top-selling pot store in Seattle, Uncle Ike's Ian Eisenberg, and asked him if he'd pay for the analytics. Eisenberg said he would because it'd help his business make strategic decisions. Yauger took $4,600 from his severance and started a marijuana business intelligence company. Six weeks later, he launched a website that is now called FrontRunnerData.com. Six months later, it had hundreds of paying subscribers — at $99 a month — and was cash-flow positive.
Yauger's company sorts all of the unwieldy data the state makes public into an easy-to-navigate database. He's launched a second site, MJTicker.com, which relies on privately owned and proprietary data to give real-time tracking of the industry. The subscription part of his business, provides marijuana business intelligence, industry insights and competitive scouting to help set wholesale pricing; as well as allows companies on both sides of the process the ability to find out what products are hot. Northwest Cannabis Solutions is one of the heavyweights in the industry that subscribes. NWCS made $1.46 million last month. That's the kind of money that has lots of folks intrigued about the business. Even though marijuana is only legal in four states (Washington, Colorado, Oregon and Alaska) the industry as a whole is projected to make $6.7 billion in total sales this year, and according to Fortune that number could swell to $22 billion by 2020.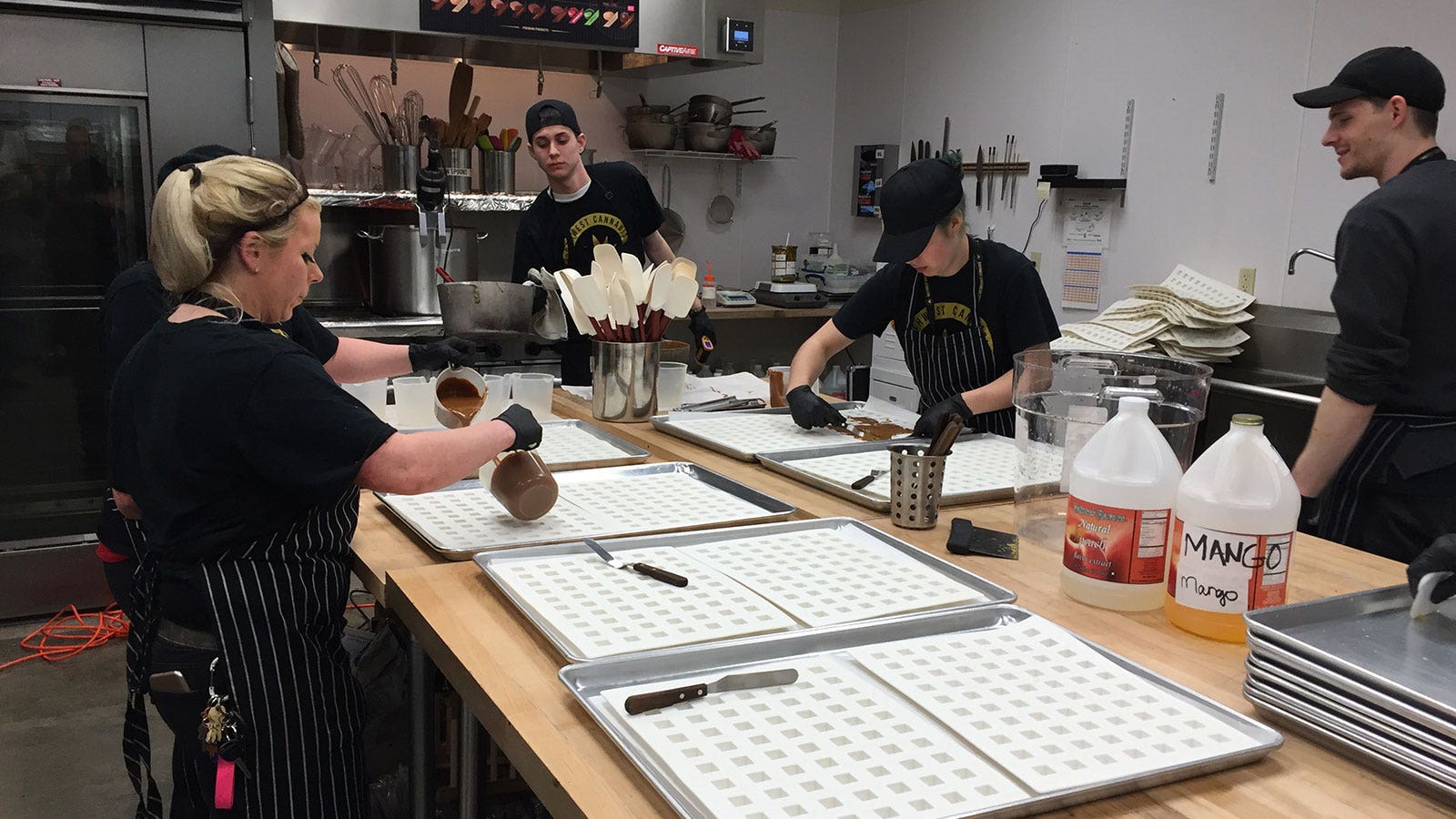 *****
As Yauger exits off I-5 and turns into what looks like an industrial park, we get to what used to be a Scholastic book depository. This nondescript structure is now the most prolific pot factory in the state. Yauger tells me to get my ID out as we approach the front of the building. A security camera — one of 280 on the premises — peers down. A woman behind a glass counter asks us to sign in. It feels like you're in the waiting area of a massage spa. Except for the glass case with neon lights on the right side of the room that displays many of the company's array of pot products. One other distinctive element: the overwhelming scent of weed. It will be everywhere for the rest of what proves to be a two-hour visit. Actually, it'll seize residence in my nose and go everywhere with me for the rest of this three-day trip to Seattle.
We met Yauger's contact at Northwest Cannabis Solutions, Jerry, the company's legal counsel. A 30-something self-admitted light pot smoker who says it makes him paranoid, Jerry gives us a tour after we slip on white coveralls. One of the biggest fears in any processing plant is allowing mites or any other pests near. The first big room we enter looks like an airplane hangar only with a ton of lights and a big flag of a marijuana leaf in the middle. Eight workers in hairnets and coveralls are seated alongside a row of large black cases filled with the uncut dried-out plant. Each has on a pair of surgical gloves and is trimming away.
In a different part of the building there are deep cells that each look like big garages where more weed is nurtured and grown in different stages. Each cell has a different strain. In another area is their kitchen, where a half-dozen workers in aprons are spreading out chocolate across baking pans. In one month, this place produced 1,400 pounds of marijuana. It also spends $85,000 each month on electricity. Such overhead is a big reason why the retailers in this business are taking home a lot more money than the growers.
Before we leave the facility, Yauger and Jerry try to arrange a night out to get beers. This part of the business also reminds Yauger of coaching. "It's like junior recruiting where you're trying to establish relationships," he says. "I like knowing the people in the industry, what they think and how we can help them."
I like knowing the people in the industry, what they think and how we can help them.
Brian Yauger
Yauger has learned that most of the people in the Washington marijuana industry are not part of that old "Dazed and Confused" crowd. Oh, there's still a few of those dudes in the business, but due to the way the state has structured the laws, it's created a unique dynamic. Instead, it's guys like Adam Smith, the old ESPN VP, who is now branching into Oregon. Smith's "grow guy" is literally a rocket scientist. Martin Tobias, founder of the Washington Cannibusiness Association, is a former Microsoft executive. Ian Eisenberg, who owns the busiest pot store in Seattle, was in the phone sex business. A lot of others in the state's pot industry came from the construction business, Yauger says. He thinks it's because they are used to pulling permits and having constant checklists — just like this business. He's also met more than his share of colorful characters from all the panels he's sat on in the past year, speaking probably once a week in one forum or another. Last month, he sat alongside former NBA All-Star Cliff Robinson discussing sports and cannabis on a panel hosted by the Marijuana Business Association. Robinson's weed business in Oregon is called Uncle Spliffy.
"I love the industry and the people in this industry," Yauger said. "Everybody in this industry loves this plant. They think it's magical."
He doesn't buy into that mystique. Yauger said he's used marijuana four or five times. "I got so couch-locked. I can function drunk. I can't function stoned."
It's probably less than five percent of the time, he says, where he'll be in a meeting with someone and he can smell they've been smoking: "That pisses me off because they end up forgetting half the meeting."
The guy who was once the sidekick of Rob Ryan now is teamed with a 35-year-old orthodox Jewish man, who invested a six-figure sum after getting to know Yauger and believing that his business filled a void in the market. "No one understood how their numbers worked," said Shmuel Tennenhaus, a former VP of marketing for Big Fish Games, a company that was sold in 2014 for $885 million.
Yauger says his coaching background has been a huge plus. "There's no better training to be in for business," he said. "You have to be able to adjust on the fly. Just like coaching football. I had to be willing to work from 5 a.m. to midnight to get this thing off the ground, and in football, you get used to those kinds of hours. The technology people are more about working 9-5 and they'll take no for an answer. In coaching, if you lose, it sucks for the night but the next day, you gotta get onto the next thing. You can't dwell on it. A lot of these guys, if they lose a contract, they'll go in the tank."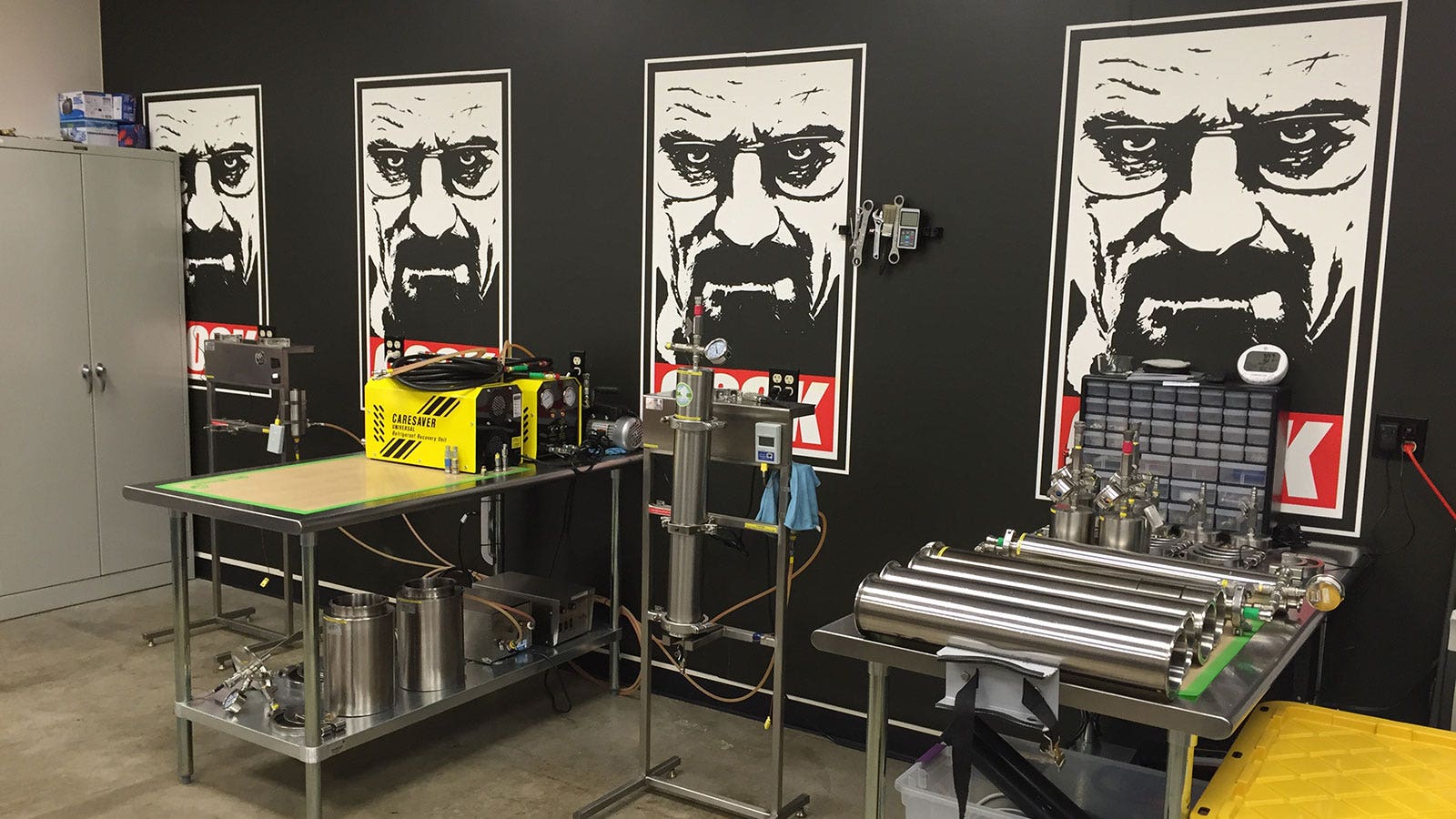 *****
Yauger is pleased to say that things are coming full circle. FrontRunner now has six employees. This summer, Rex Ryan's son Payton is going to be a graduate assistant for Yauger in his business.
In February, when he attended Seattle's CannaCon, the world's largest cannabis trade show, it was quite a difference from a year earlier when he was just there to hand out cards. This time, people were stopping him constantly. "It reminded me of being at the (AFCA) convention where you'd walk 20 steps and then stop to talk to somebody for 20 minutes and then stop to talk to someone else another 20 steps later."
He also ran into an older British man who founded an analytics company in a different state. Yauger introduced himself. The man, a Harvard MBA, said he knew who Yauger was and then told him that in their field, his company is generally the only player.
Everybody in this industry loves this plant. They think it's magical.
Brian Yauger
Yauger said with a smile, "Well, then you'll probably crush us like a bug."
"We might," the man replied with a stone face.
Yauger would've loved to tell the guy off. Lord knows he wanted to. Instead, he just smiled and told him to have a nice day.
He also realized he'd just seen a scouting report on his business, another data point to absorb.
"I needed to start raising money faster to scale more quickly," Yauger said. He'd need to keep up with the Joneses. "Because there were about to be more Joneses moving to town."