Jim Harbaugh's satellite camp jerseys, ranked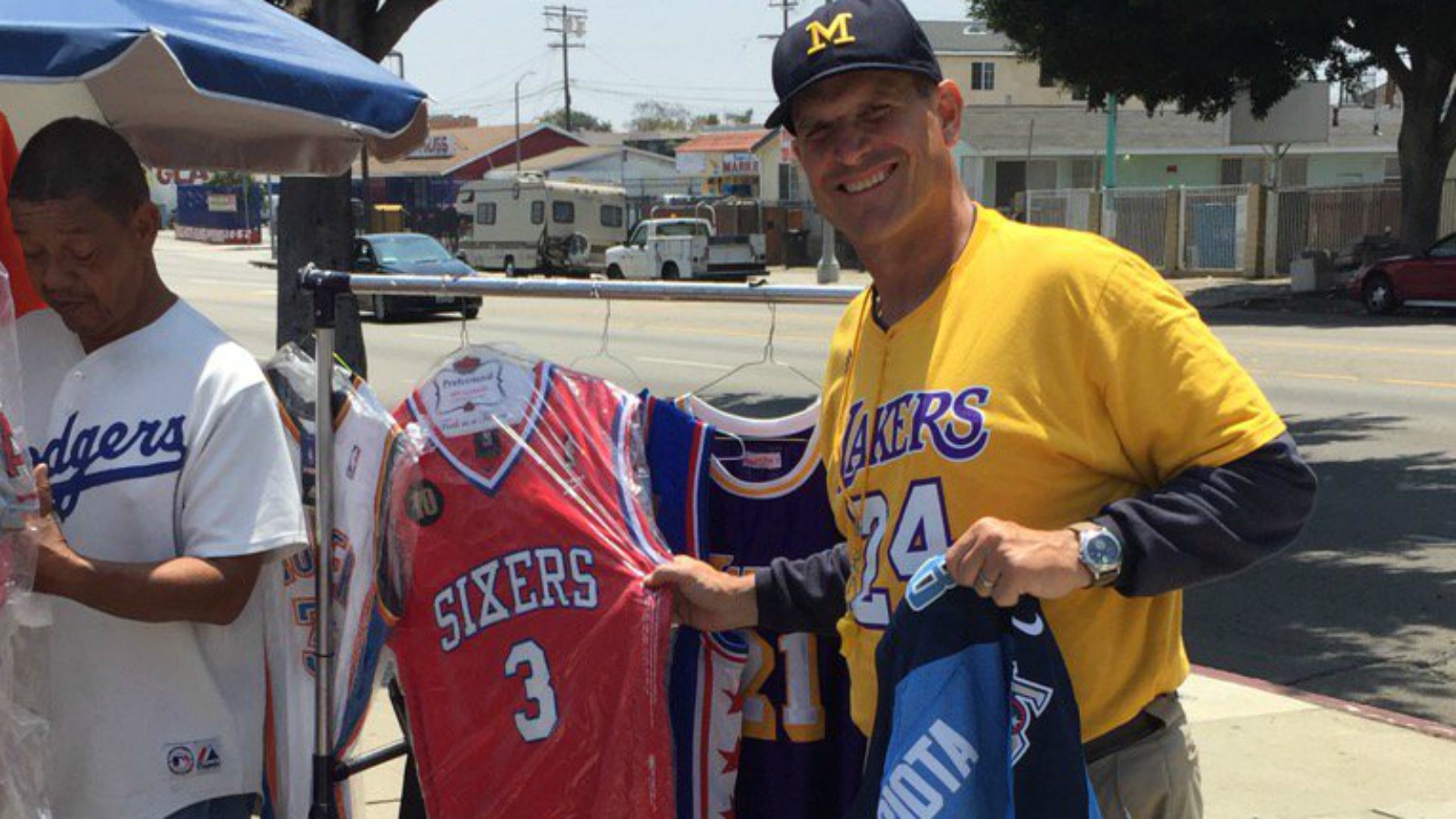 The long national nightmare is over: Michigan coach Jim Harbaugh's satellite camp tour has officially come to an end. After four weeks, 20-some odd camps and endless arguments over the tour's merits, there will thankfully, never again be any mention of satellite camps going forward.
Until next year, anyway.
While parts of the country spent the last couple of months in an uproar about the camps themselves, let's not forget what the whole tour was really about: No, not helping kids reach their football dreams. We're talking about seeing Harbaugh in as many weird, obscure local jerseys as humanly possible.
That's right: One of the great by-products of the Michigan coach's tour was the daily excitement that came with logging onto social media sites and wondering, "Whose jersey will Harbaugh wear today?"
This new American pastime may be over, but the pictures still live on. So let's rank Jim Harbaugh's satellite-camp jerseys:
Sure, Harbaugh could have honored other local Atlanta legends like Matt Ryan, Dominique Wilkins or that one really good player the Thrashers had that one year, but it really is fitting that Harbaugh spent his time in Atlanta showing respect to not only the greatest player the Braves have ever had, but one of the greatest to ever play the game, period.
Jim Harbaugh, U-M, Hank Aaron, Kirby Smart & Scott Steiner all in Atlanta today. PHOTOS -> https://t.co/IP2MKftZZ9 pic.twitter.com/1BQ47D6dLn

— Melanie Maxwell (@MelanieMaxwell) June 2, 2016
Harbaugh gets an extra shout-out during this Atlanta stop after getting caught on camera introducing himself to new Georgia coach Kirby Smart as simply "Harbaugh."
Admittedly, I didn't even realize that Harbaugh wore a Stockton jersey (or even held a camp in Utah) until I started researching this article. But once I found out, well, it changed my life forever.
Jim Harbaugh introduced himself to Kirby Smart by saying: "Kirby, how you doing? Harbaugh." pic.twitter.com/Sk3mTk5nWg

— Justin Felder (@Justin_FOX5) June 2, 2016
After all, who is more synonymous with Utah than Stockton (OK, except maybe Karl Malone)? And who's more random in general? Seriously, when's the last time you even thought of John Stockton in a meaningful way before this very mention? I'd guess at least a decade.
Michigan's Jim Harbaugh wears John Stockton jersey to All-Poly camp (h/t 📸: @AllPolySports): https://t.co/ekk1AI64xL pic.twitter.com/YSGxJS7sX0

— Deseret News Sports (@desnewssports) June 17, 2016
It's incredible, and the only way it could have possibly been made any better is if Harbaugh had thrown some short shorts over his khakis.
Speaking of which, coach, if you're reading: Why didn't you throw some short shorts over your khakis?
This feels totally random: The University of South Florida coach? Until, that is, you realize that Harbaugh once helped his father recruit Taggart to Western Kentucky, and even served as best man at Taggart's wedding. No, for real. That actually happened.
Turns out Taggart was in Harbaugh's wedding as well. These guys are close. So what better way to honor that friendship than by wearing his jersey at a local camp?
The answer is "nothing."
Jim Harbaugh putting on a Willie Taggart USF jersey pic.twitter.com/NI6cVABSPc

— Josh Newberg (@joshnewberg247) June 4, 2016
Anyone think it's a coincidence that Harbaugh wore Luck's jersey at an Indiana satellite camp, and a few weeks later Luck signs the biggest contract in NFL history?
Me neither. That's simply the Harbaugh effect.
Guess we know where Harbaugh stands on the Kaepernick vs. Blaine Gabbert QB battle heading into 49ers camp.
Not only did Harbaugh honor his former 49ers quarterback (Kaepernick), but also the man he ran out of San Francisco to make room for Kaepernick.
#Michigan coach & former #Colts QB Jim Harbaugh wearing Andrew Luck shirt here at satellite camp at Bishop Chatard pic.twitter.com/CwYRaH2FK8

— Steve Wiltfong (@SWiltfong247) June 1, 2016
Say what you want about Harbaugh, but the man doesn't pick favorites.
An obvious choice, sure. But shout-out for going with the Kobe sleeved t-shirt, as opposed to the jersey.
The move totally caught us off-guard, which is of course exactly what Jim Harbaugh wanted.
Harbaugh wearing Kaepernick in Sacramento today. pic.twitter.com/WbIV3XCZs3

— Isaiah Hole (@isaiahhole) June 23, 2016
The man always keeps us on our toes!
Credit Harbaugh here. With a camp in Virginia, he could have gone with a more obvious selection, like Ralph Sampson or Tiki Barber. But instead, Harbaugh decided to throw it back to A.I., who grew up in nearby Hampton.
The jersey of choice for Jim Harbaugh in Kansas City at the Midwest Elite Camp? Chiefs' quarterback Alex Smith. pic.twitter.com/JkBZwGYTT3

— Jeremy Crabtree (@jeremycrabtree) June 15, 2016
The only way this jersey choice could have been better? If Harbaugh had instead gone crazy old-school and donned the Allen Iverson throwback Bethel High School threads.
The final camp stop might have been the most appropriate, as Mariota is a local legend in Hawaii.
Bonus points to Harbaugh, considering that Mariota played for Oregon, his biggest rival at Stanford.
Jim Harbaugh is repping Kobe Bryant at the LA camp this morning. pic.twitter.com/GoOEneOQ5E

— Isaiah Hole (@isaiahhole) June 25, 2016
(Does this mean he'll wear an Ezekiel Elliott jersey next year in Dallas?)
Lieber attended the University of South Alabama before his 14-season career as an All-Star MLB pitcher. How can you not give Harbaugh an A+ for creativity here?
Cal Ripken was baseball's iron man, and Harbaugh is college football's satellite camp iron man.
It only makes sense.
Jim Harbaugh Rocks Allen Iverson Jersey to Football Camp (Photos) https://t.co/T6rsrBpxSi pic.twitter.com/QWirLdTtKk

— FootBasket.com (@FootBasket) June 5, 2016
Yes, Harbaugh made a mid-camp jersey change in Baltimore to throw on Ray Lewis' old No. 52. And yes, we're going to let you fill in your own Ray Lewis jokes here.
The best part of this decision? Harbaugh explained his choice of Watt's jersey in Houston by simply stating, "He's kind of the man in H-Town."
True enough.
#Michigan Head Coach @CoachJim4UM launches #Wolverines #PacificSwarmTour at Mariota's alma mater of Saint Louis pic.twitter.com/QhDoFH3DiR

— Rob DeMello (@RobDeMelloKHON) June 26, 2016
An obvious choice since "The Captain" and Harbaugh are basically besties; Jeter has attended both Michigan games and the school's signing day event since iron man Jim Harbaugh was hired two years ago.
How soon until Ayesha Curry tweets at me, claiming this ranking is rigged?
Too soon?
One former Michigan quarterback showing respect for another Michigan quarterback, nothing to hate on here (this is where I'd add in a fist-pump emoji if our software allowed).
Jim Harbaugh has changed into a Jon Lieber Cubs jersey for 2nd half of camp. Lieber played at South Alabama. pic.twitter.com/44ODBw46zD

— Creg Stephenson (@CregStephenson) June 7, 2016
More fist pumps.
Harbaugh claims he wore Jones' jersey because he wanted to draft the former Alabama wide receiver back in 2011.
Jim Harbaugh goes with the Cal Ripken jersey at a satellite camp today in Baltimore. pic.twitter.com/GuBd95bDtd

— Jon Solomon (@JonSolomonCBS) June 6, 2016
But we all know the real reason he wore it: To troll Nick Saban.
Stylish, classic choice by Harbaugh.
I only wish he'd thrown on the matching Sean Payton visor to add to the effect.
Wardrobe change. Jim Harbaugh is on to the Ray Lewis jersey. pic.twitter.com/tC9ODu40Sq

— Jon Solomon (@JonSolomonCBS) June 6, 2016
Sure, the nation may have expected Harbaugh to rock either a Dirk Nowitzki or Tony Romo jersey. But, Jim Harbaugh never does what anyone expects him to.
Like with Texas Rangers pitcher Holland's jersey. Bonus points for picking a totally obscure member of a team that no one in America knows anything about.
Jim Harbaugh on why he wore a JJ Watt jersey: "He's kind of the man in H-Town." pic.twitter.com/0KcqD6OlKy

— Sam Khan Jr. (@skhanjr) June 14, 2016
The more important question here: What are the chances that Harbaugh had to custom order this jersey before he went on tour? I'm guessing like 98 percent.
Another one that was DEFINITELY specially ordered.
Shout out to Harbaugh for showing respect to Thomas, his former player at Stanford.
Michigan head coach Jim Harbaugh donning the Derek Jeter jersey today. pic.twitter.com/33QslIGpM5

— Matt Schneidman (@matt_schneidman) June 9, 2016
And who said this whole tour was strictly about drumming up attention?
Derek Jeter, Tom Brady to headline Jim Harbaugh's Michigan signing day event https://t.co/etxNFEOb8T pic.twitter.com/Qqx36u1J02

— Derek Jeter (@DerekJeterFC) February 2, 2016
Better look of Harbaugh in the Steph jersey. pic.twitter.com/NKYbFSeKbj

— Isaiah Hole (@isaiahhole) June 24, 2016
Always great to see Coach Harbaugh ! Go blue 〽️〽️ pic.twitter.com/RqpajLTNME

— Chase Lasater (@ChaseLasater) June 4, 2016
Harbaugh wears Harding star Mario Manningham jersey today pic.twitter.com/aRQ52ZbCoC

— Bill Bender (@BillBender92) June 9, 2016
Jim Harbaugh & South Alabama @CoachJoeyJones at South Alabama camp. pic.twitter.com/lPeYi12n8b

— Creg Stephenson (@CregStephenson) June 7, 2016
Jim Harbaugh wears Archie Manning jersey in Mississippi https://t.co/L7jZqMxxZY pic.twitter.com/cCgFJpuiWF

— Phil Hecken (@PhilHecken) June 8, 2016
Jim Harbaugh rockin the Derek Holland jersey here in Dallas. #GoBlue #FirstPlaceTexasRangers #DutchOven pic.twitter.com/CRB9yhuxln

— Gabe Brooks (@gabrieldbrooks) June 14, 2016
And the answer is… Delanie Walker pic.twitter.com/NxN1QiNifZ

— Tom Kreager (@Kreager) June 14, 2016
@Kreager I thought he might rock the justin hunter jersey 🙈

— jason (@jgarner63077) June 14, 2016
Mid-camp jersey change for Harbaugh. Now donning Dolphins' DB Michael Thomas, a former player of his @ Stanford pic.twitter.com/YSN05ummEJ

— Sam Khan Jr. (@skhanjr) June 13, 2016