Why Arkansas' shocking upset of TCU should put fear into the SEC
For as entertaining as the Bret Bielema era has been at Arkansas, for all the reality TV shows, and public misquotes about "hopping on his wife," there has been one sad reality: Bielema's teams haven't been all that good in September.
There was a 3-4 start in 2014. A stunning loss to Toledo last year. A public de-pantsing by Kliff Kingsbury a week after that. And it also raised another question entering 2016: As good as the Hogs have been late in the season in previous years, imagine if they could capture some of that magic early? Imagine if they played well enough in September to have something meaningful to play for in November?
To some it sounded like crazy talk, then on Saturday, the Razorbacks proved it was anything but. They proved they can win in September and did it in the most emphatic way possible — a wild 41-38 double-overtime victory over TCU.
This game was absolutely everything that we love about college football and everything you could want from a high-pressure, high-stakes game, especially early in the season.
Arkansas grabbed a lead and was cruising into the fourth quarter. TCU battled back from a 20-7 deficit to take a 28-20 lead. Then, the Razorbacks, presumed dead, came back to tie things up with about a minute to go. TCU drove for a score at the end of regulation, only to have Arkansas — using a creative special teams' decision — block the kick to force overtime. And the Razorbacks prevailed in double-OT on an Austin Allen game-winning score.
There's no other way to put it: This game … was… bonkers. More importantly for Arkansas, this victory was monstrous. Not just because the Razorbacks picked up a win on the road as a heavy underdog, but because of how they did it.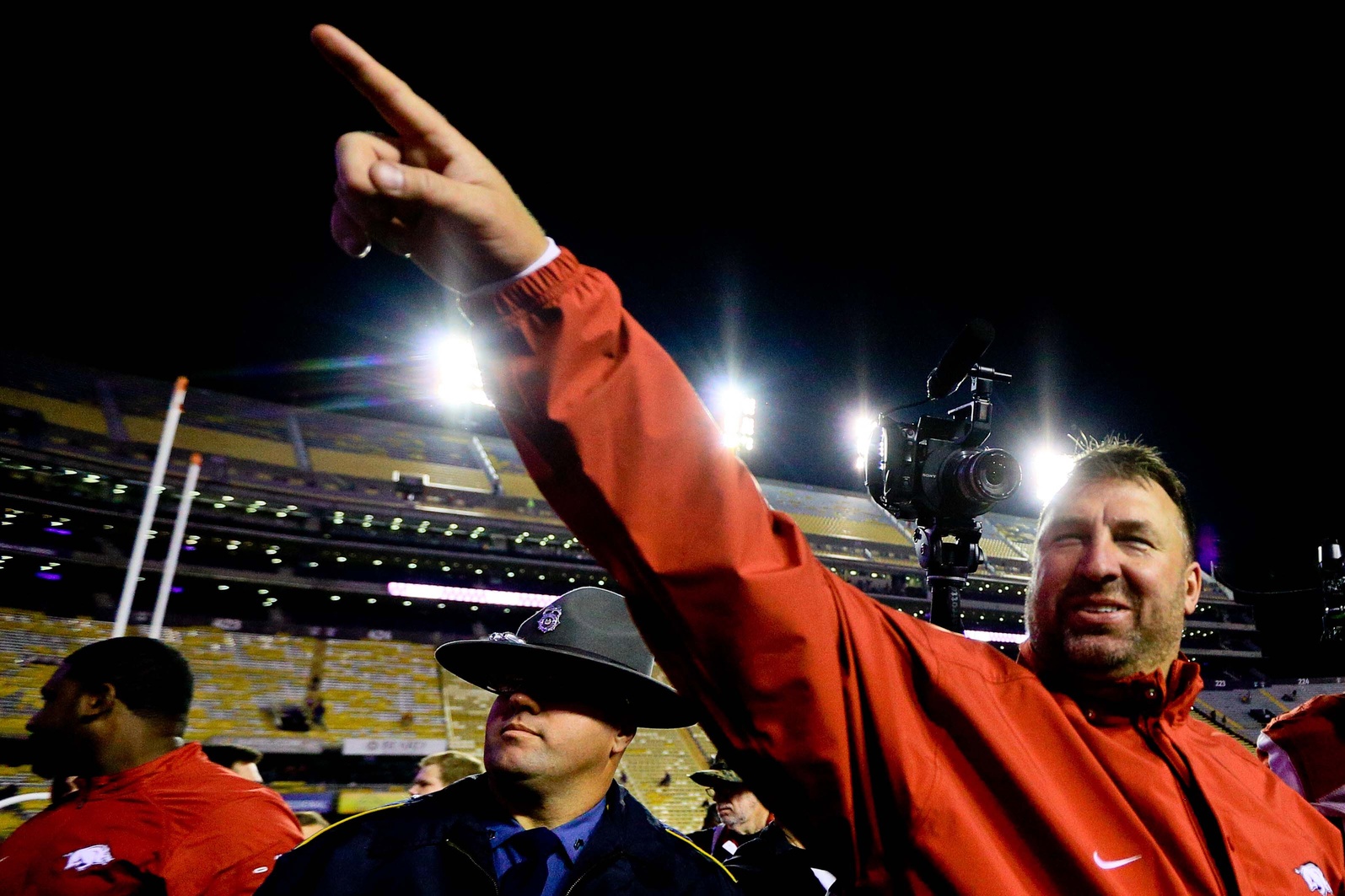 Despite all of the mental miscues that happened late, Arkansas dominated early. The Razorbacks went on a couple lengthy drives to open the game, which resulted in field goals, and then used another meaty drive to get a touchdown to start the second half. That might not seem like a big deal but given the way this offense has struggled the last two years, it is. Remember, this is a team that scored 12 points against Toledo last September, and 24 a week later against Texas Tech. (The same Texas Tech team which finished 125th nationally in scoring defense, allowing nearly 44 points per game.) Against TCU though, Arkansas looked like as if it were mid-season form from nearly the first snap. The Razorbacks weren't perfect. But no one is this time of year.
More than that though, you know why Arkansas fans have to be ecstatic? They actually won the game! That's not sarcastic or facetious. But given the way they've played the last few years early, and the way they've been unable to close out games like this, it's no small feat.
Remember, this is the same team which — despite losing those games to Toledo and Texas Tech last year — had a chance to beat Texas A&M at Jerry's World, before blowing an eight-point, fourth-quarter lead and losing in overtime. The Razorbacks blew a late lead against A&M — led, ironically by Kenny Hill — a year before. Even if this win wasn't pretty, it was significant. The Razorbacks in fact got the lead, fell behind, and somehow were able to pull out the win.
And with the win, it also brings up a different point: Why not throw Arkansas in that small group behind Alabama in the SEC? If the Tide somehow falter, why shouldn't we mention Arkansas in the same breath as Tennessee, Georgia, LSU or Texas A&M? Who has a better win than the Razorbacks so far?
It also raises another interesting question: If Arkansas is this good in September, how good could it be in November? Don't forget, this is a team that has beaten Ole Miss the last two years, costing the Rebels an SEC West title last season. It's a team that has beaten LSU twice in a row as well, nearly helping cost Les Miles his job last year.
Maybe it's too early to start talking the big-picture stuff, but for the first time in a long time, we're talking about Arkansas in September, and it's not a bad thing.
Aaron Torres covers college football for Fox Sports. Follow him on Twitter @Aaron_Torres, Facebook or ATorres00@gmail.com.