Alabama-Miss. State: Prescott must have game of his life to beat Tide
After the Alabama-LSU game, many media members and pundits talked about how "ugly" the game was. The game, aside from the hordes of fans in Death Valley, was seemingly uneventful, boring even, given it was a contest with huge implications. After watching the game a second time, I realized that perhaps many of them missed the beauty in that game: defense.
Nick Saban said it best afterwards: "That's a tough and physical game. That's old-fashioned ball."
In an era where we've grown accustomed to seeing, and even expecting, pretty uniforms in up-tempo, spread offensive schemes lighting up scoreboards in high-scoring affairs, it's understandable that a game featuring two teams stalemating each other to a score of 13-13 by the end of regulation could be seen as boring or ugly. But no matter how much the game evolves, we can't forget to recognize and appreciate classic examples of beastly defensive performances.
Alabama against LSU last week was one of those times.
Alabama's defense gave up 183 yards on the ground to the Tigers. While that may seem like a lot, it's actually an impressive feat. Holding this 2014 version of LSU's offense, that had only started to hit its stride in its previous three games, to 183 yards rushing is as impressive as holding a one-dimensional running force like Georgia Tech or Navy to that number of yards on the ground. Only nine FBS teams had thrown the ball less than LSU heading into last week's game. They are a one-dimensional powerhouse that had rushed for an average of 254 yards in their previous three games against Florida, Kentucky and Ole Miss.
To put Alabama's defensive performance in that game into a broader context, look to the yards per rush on 56 carries as opposed to LSU's 183 total rushing yards. 'Bama held LSU to an average of 3.3 yards per rush, a number that would rank 16th in the nation. Alabama contained LSU's strength and destroyed its passing game, too, allowing only eight completions on 26 attempts for an average of 2.9 yards per completion. LSU's total offensive output on the night was 259 yards. That's less than the Tide's season average of 275 total yards allowed per game, which ranks fourth in the nation.
It was a snapshot into why No. 1 Mississippi State's undefeated season will most likely end in Tuscaloosa this week against the fifth-ranked Tide. Alabama has proven to have one of the most dominant defenses in the nation this season, and it all ties back to the defensive line.
Let's look at what makes the Tide so tough and why for the Bulldogs to have any shot at all of beating 'Bama, Dak Prescott will need to play the game of his life.
THE DOMINANCE OF ALABAMA'S D-LINE
In 2013, Alabama's defense had only 22 sacks in 13 games and allowed 3.3 yards per rush. In 2014, through nine games, the defense already has racked up more sacks (23) than last season and is ranked fifth in the nation allowing only 2.8 yards per rush.
That impressive improvement is a direct result of the stellar work by the defensive front. The type of dirty work that players like Jarran Reed, Brandon Ivory and A'Shawn Robinson do in the trenches is often overlooked. It's not flashy and may not make fans stand up out of their seats, but it's the foundation for dominant defensive performances.
Reed had a monster game against LSU with 15 tackles, while Ivory added eight and Robinson notched seven. Against the Tigers' mammoth offensive line (averages 316 pounds across the board) — which had been on a roll getting push and opening running lanes — Alabama's defensive line put on a clinic.
When a dominant defensive front can make a team one-dimensional, it's devastating for the opponent. There are two ways Alabama does this.
1) Technique and talent in the trenches
Mississippi State's ability to run between the tackles with Josh Robinson and on designed quarterback runs with Dak Prescott is key to their offense. Without that ability, they're unable to thrive off the play-action pass.
Here's an example that is a microcosm of how physically imposing and well-coached 'Bama is in the trenches and why Mississippi State will likely struggle to run the ball between the tackles.
In the first photo, you'll see Ivory lined up and ready to enter a one-on-one confrontation with LSU senior center Elliott Porter. Take note of the line of scrimmage denoted by the black line on the field.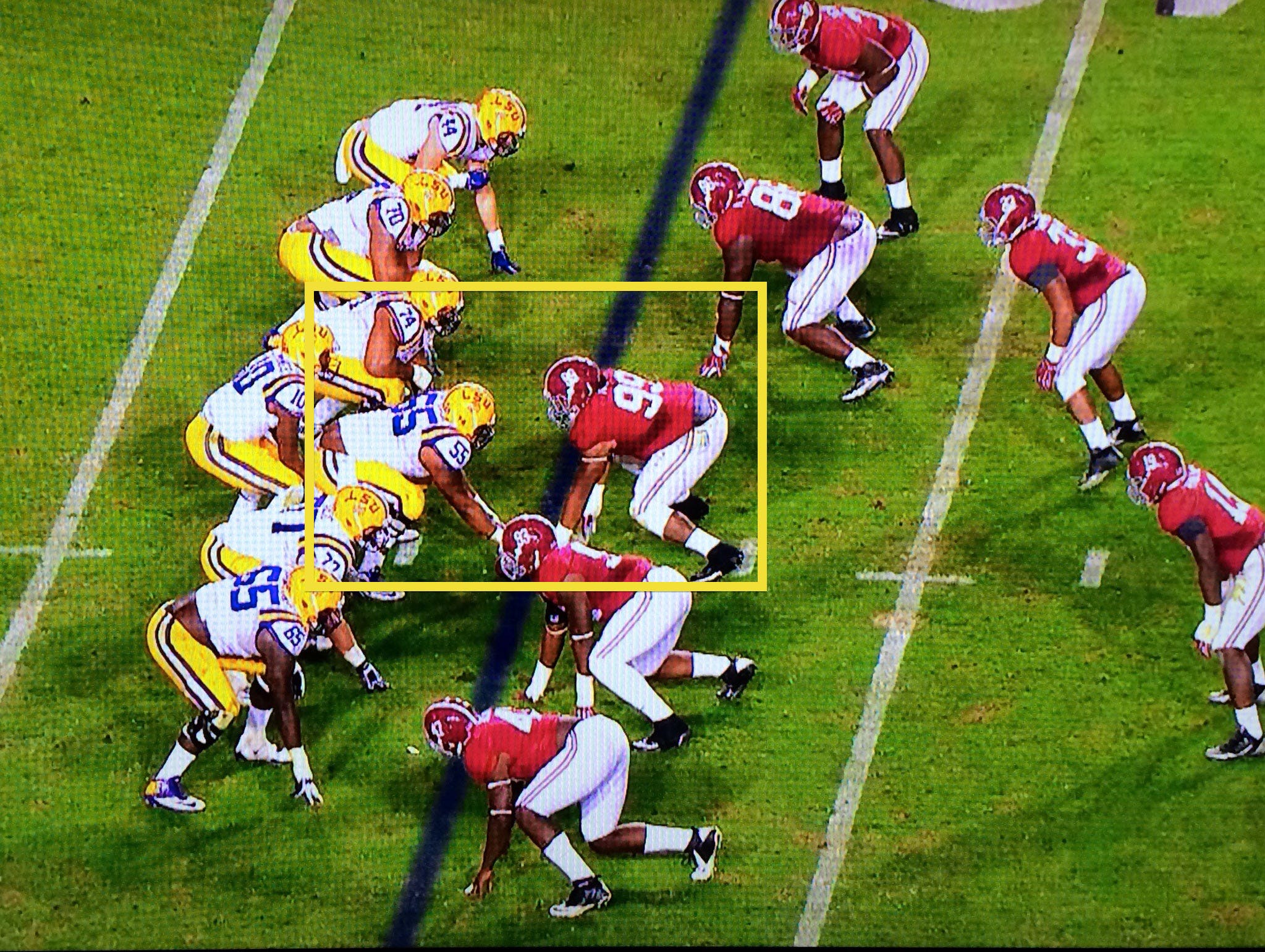 In the next photo, you'll see the two-gap technique being executed with precision. Notice that Ivory gets his hands on the inside of Porter's — key for controlling your opponent. Also note that he has his arms fully extended and essentially bench-pressed the 300-pound center into the backfield. The full extension allows him to "show color" in the gap to his right by peeking his head there and then throw or shed the blocker to make a play in the gap to his left as well.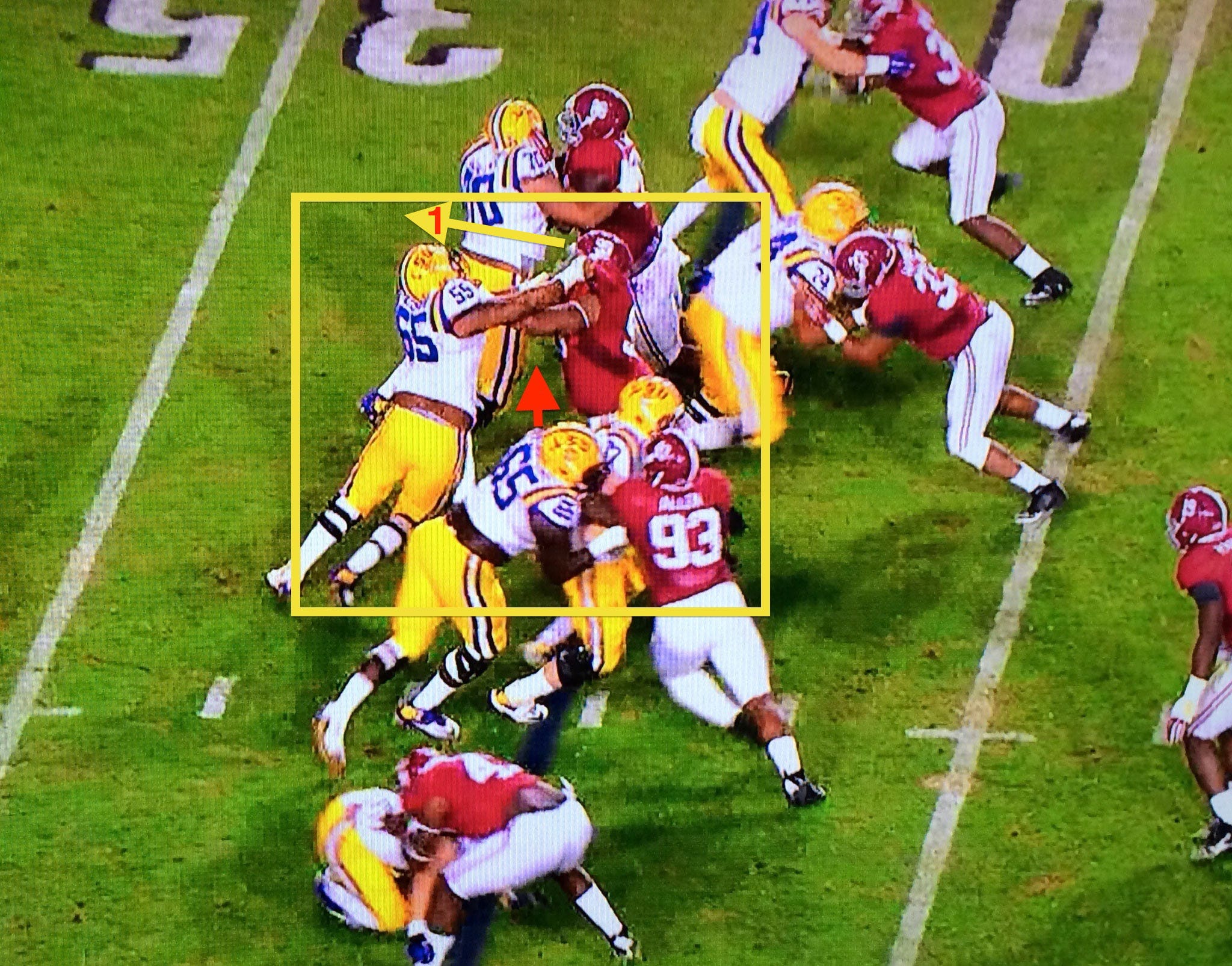 In this last photo, you can see that Ivory essentially controlled and conquered two gaps along LSU's front. When a defensive line plays with this type of dynamism and technique in the trenches, it makes for a long day for the offensive front.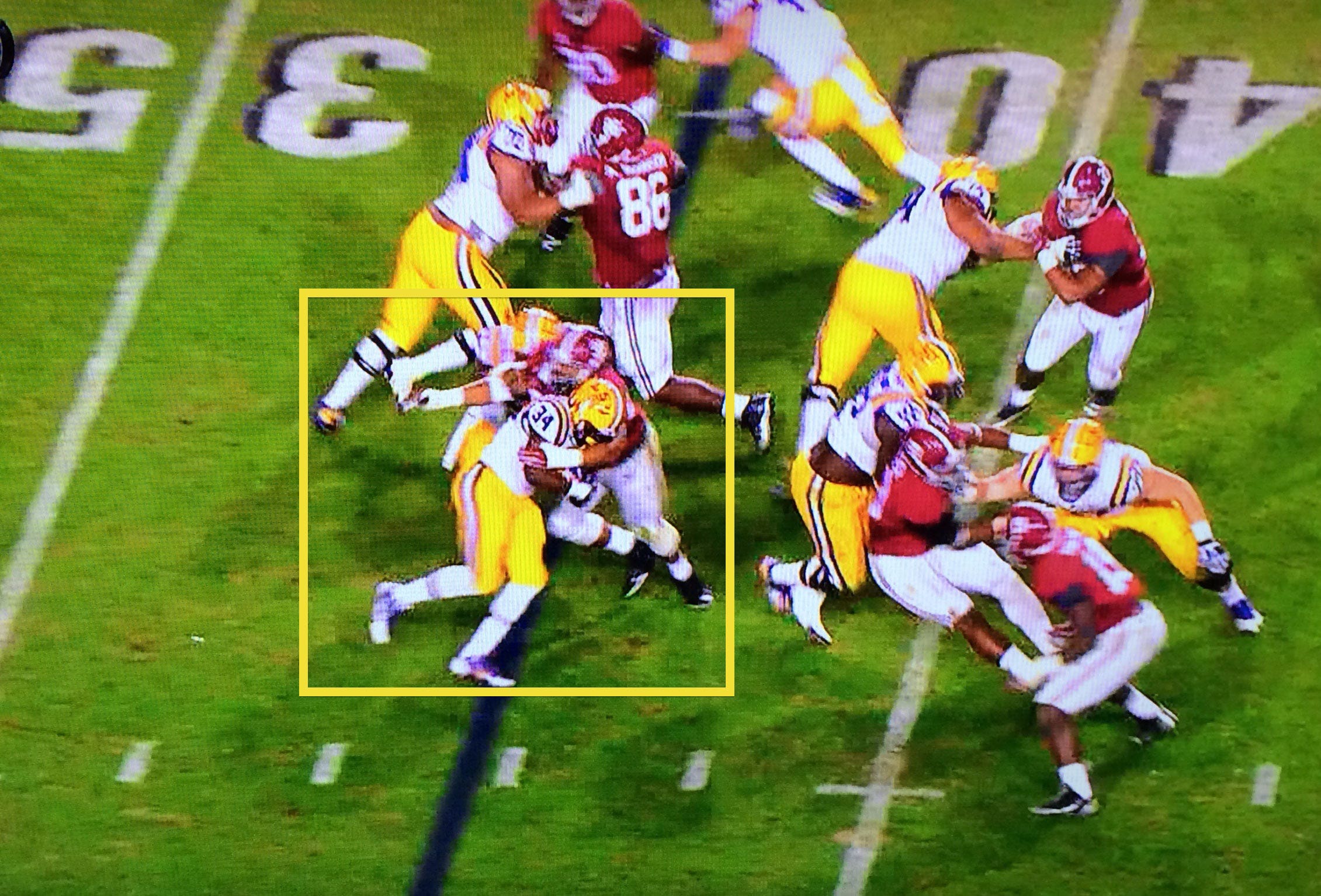 Linebackers Reggie Ragland (13 tackles vs. LSU) and his wingman Trey DePriest are outstanding, too, but they shine because they are playing behind the type of defensive tackle play that every linebacker dreams about. Dominant defensive linemen are difference-makers who either make tackles at the line of scrimmage when offenses try to block them one-on-one, or they draw a double-team, which allows the linebackers to run freely and unblocked, stacking up tackles.
Alabama's defensive linemen will have to play with great technique in the trenches to take away one facet of Mississippi State's run game. Robinson and Prescott will gain some yardage on the ground between the tackles, but they'll have to earn every yard — nothing will come easily.
2) Discipline on the edges
Another reason Alabama's defense has posted impressive numbers so far is because it plays disciplined football. Through film study, you find it's a rare occurrence for an offense to gain big yardage on a run play due to a missed assignment or bad run fit by the defensive front. The Tide have allowed only 19 rushes for more than 10 yards in 2014.
The Tide's discipline, especially on the edges, will create problems for the other facet of Mississippi State's run game: off-tackle runs from Prescott on the zone read and receivers or backs on jet sweeps.
Bama DC Kirby Smart isn't dumb, so look for him to use the same type of defensive game plan he used to slow Cam Newton and Auburn on the ground in 2010. The Tide held the Tigers (Michael Dyer and Co.) to 2.6 yards per carry in that game, and they punished Newton as he gained only 39 yards and a 1.8-yard average rushing.
The Tide will not be in their base 3-4 defense for much of the game, as the Bulldogs run a spread scheme similar to what Newton flourished in at Auburn. That means it will be key for the defensive ends to be disciplined on the edges on every down to keep Prescott corralled.
Here's a look at the Tide's defense against Newton in 2010. In the first photo you'll see the Tide had to move away from three down linemen, flanked by two outside linebackers, against this type of formation that you'll see Mississippi State use often on Saturday.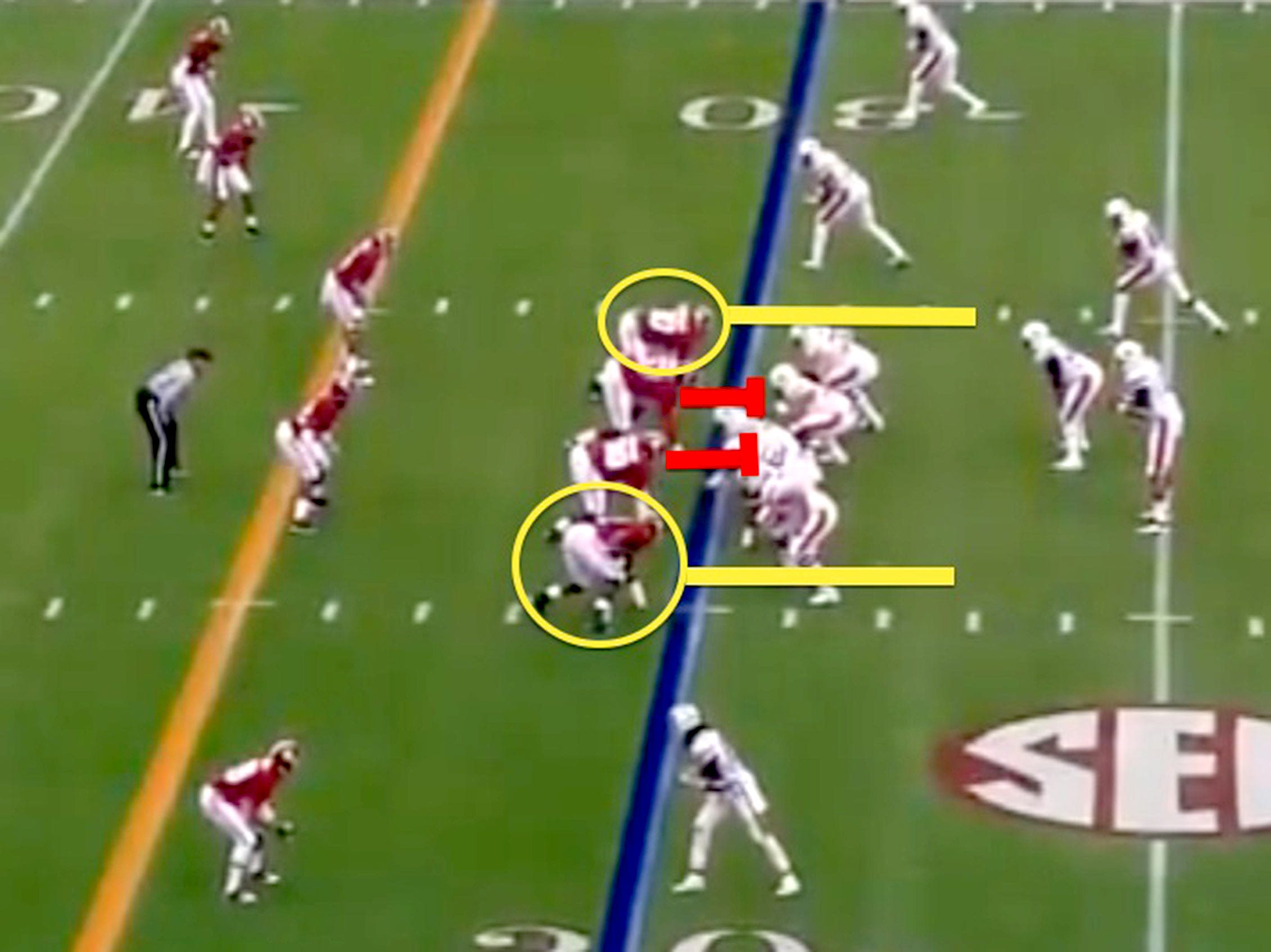 You can see the ends are taught to "climb" to get across the line of scrimmage and "set the edge." The two interior defensive linemen are taught to "take up two" — meaning that one of them can attract a double-team, which will protect the linebacker behind them.
In the next photo, note how disciplined Alabama's ends play here, as Newton is unable to run to the edge of the defense. Also, note how Alabama has a linebacker who is completely unblocked to add into the run fit because of how stout the defensive linemen are playing and holding their ground.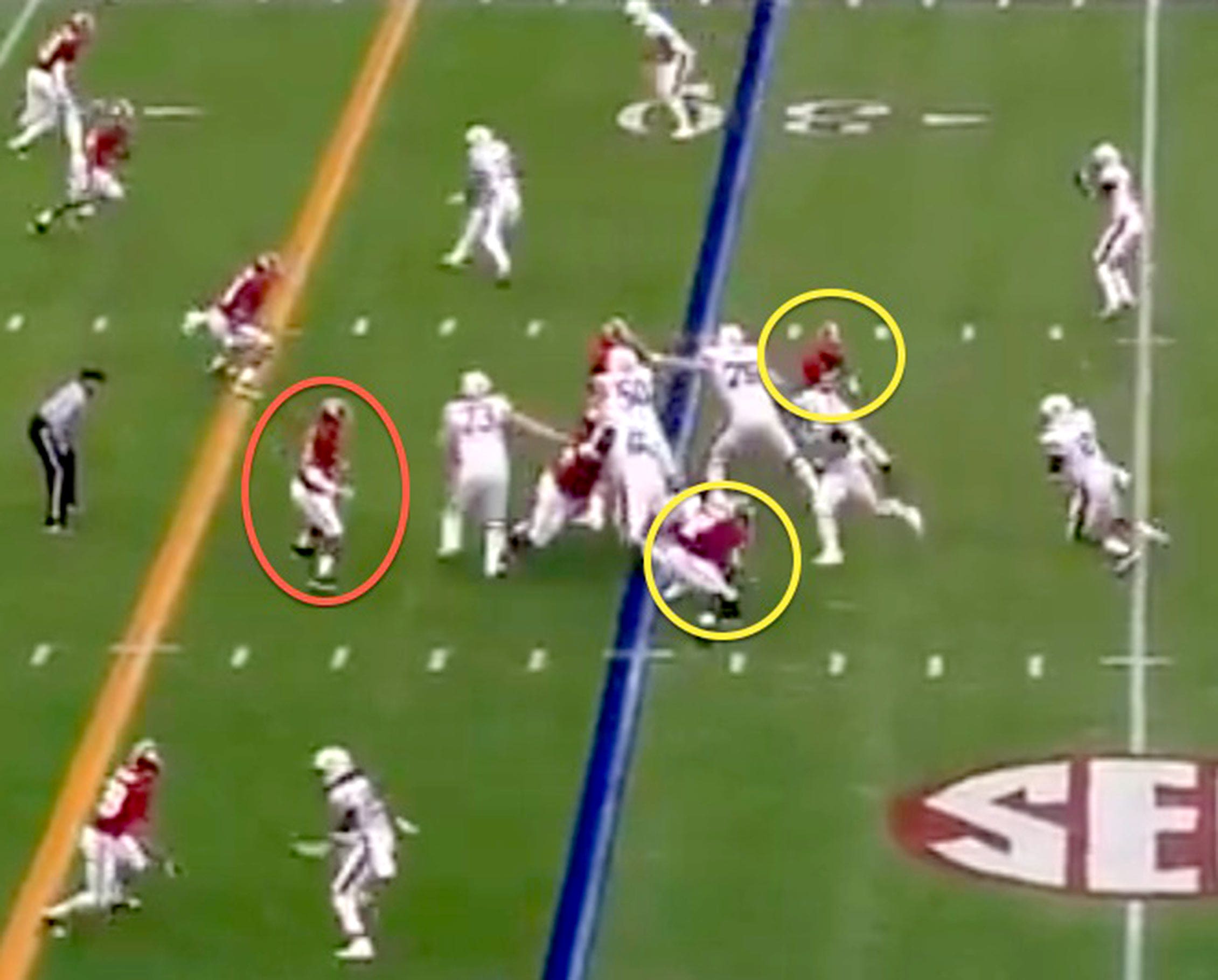 Mississippi State has 29 rushing touchdowns this season, including 11 from Heisman hopeful Dak Prescott, but Alabama's defense has allowed only two all season. That leads the nation, with the next closest at five (Utah). If the Tide's D-line puts on another performance like they did against one of the best offensive lines in the SEC last week, Mississippi State is in serious trouble.
Smart wants nothing more than to make the Bulldogs one-dimensional in this game, and he'll likely get his wish. Look for the Bulldogs to be forced to rely on Prescott's arm to move the ball — especially when he spots one-on-one matchups against press coverage. Remember, that's how LSU scored its only touchdown of the game last week: a 14-yard pass to Malachi Dupree against press coverage from Bama's Cyrus Jones.
Prescott has been at his best this season when he's hit back-shoulder fades and back-shoulder stop routes against press coverage, so look for him to attempt those types of passes often. But remember, Prescott has struggled lately to connect on those throws with the accuracy he showed earlier in the season.
Alabama's well-coached defensive backs will not give Prescott a large target radius, so if Prescott is going to keep his team's undefeated dream season and his Heisman hopes alive, he'll have to have the game of his life through the air.
Coy Wire played college football at Stanford before a nine-year NFL career in Buffalo and Atlanta. He's currently a college football analyst for FOX Sports 1 and writes for FOXSports.com. Follow him on Twitter @CoyWire.