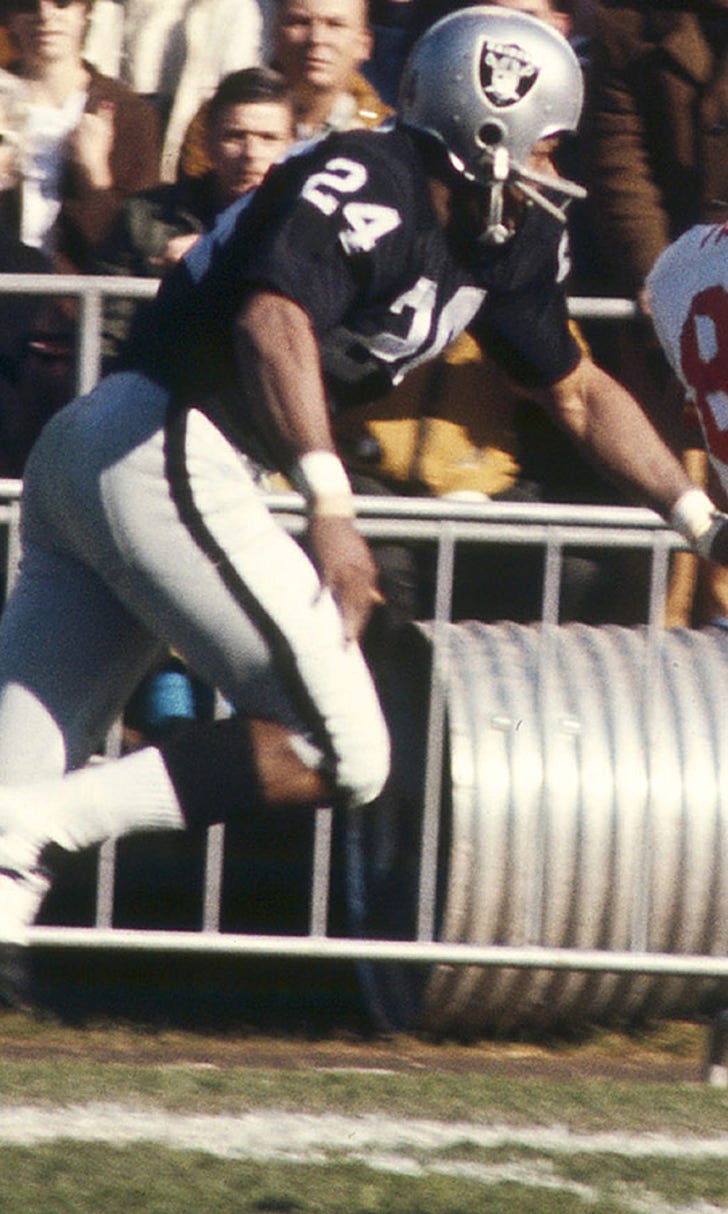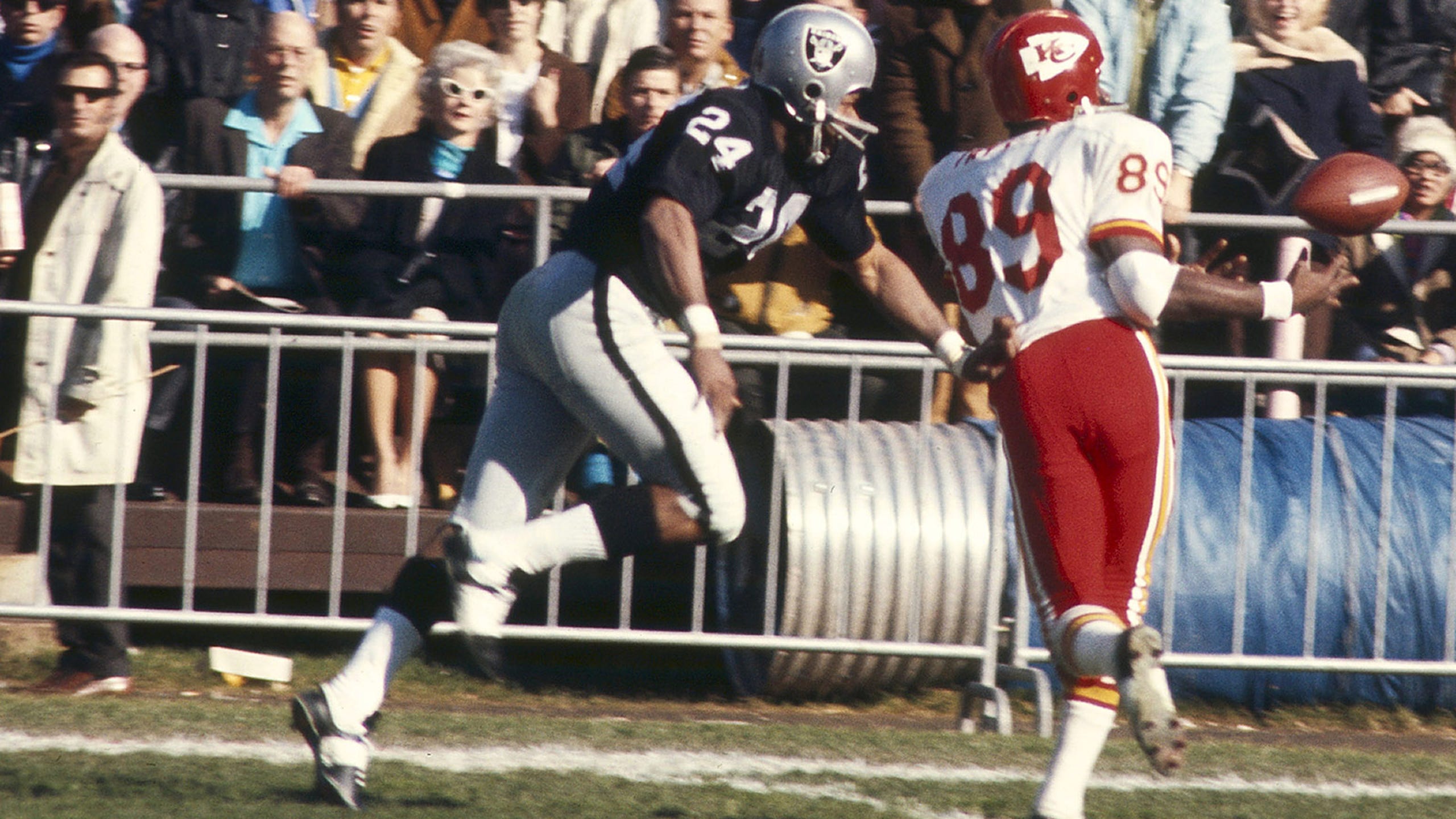 Will Shields is great, but a spot in Canton for ex-Chiefs WR Otis Taylor is long overdue
BY foxsports • February 6, 2015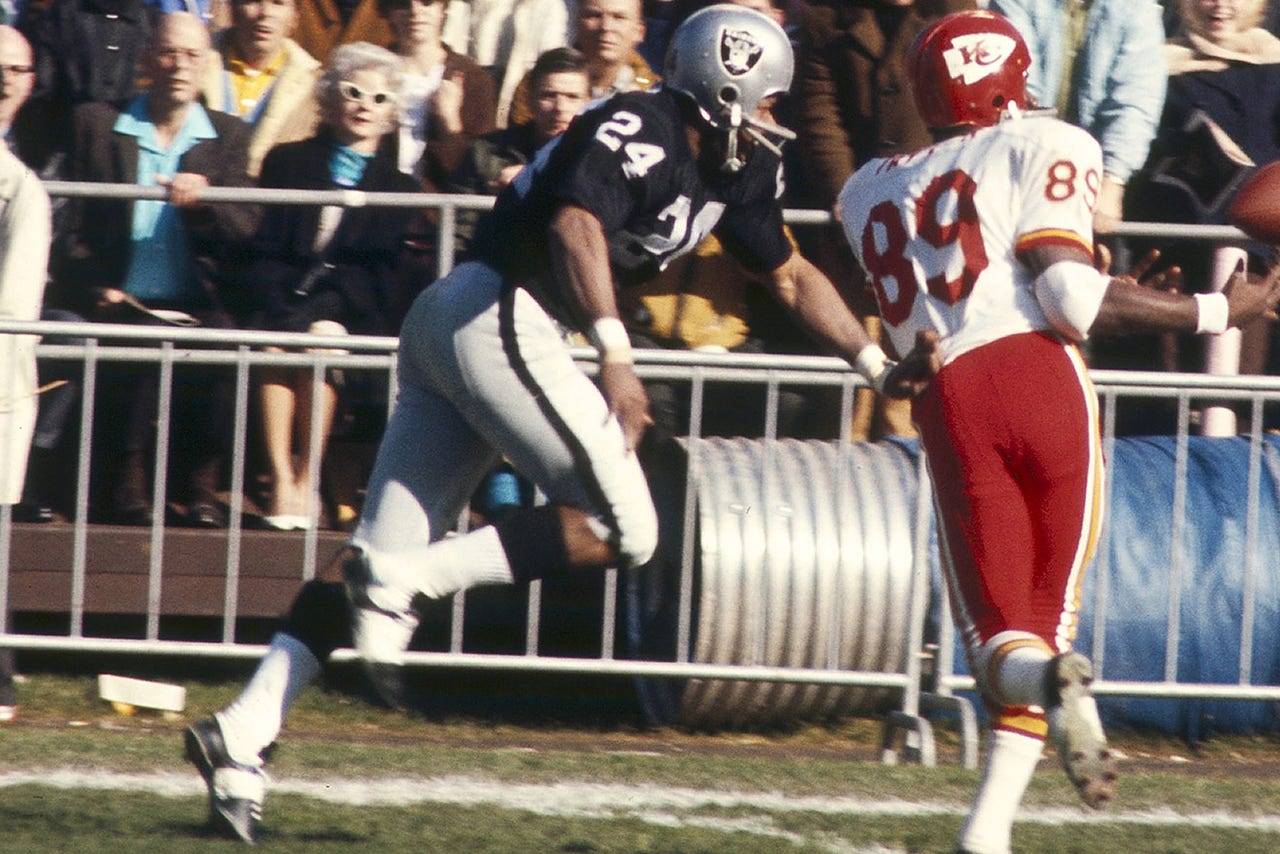 KANSAS CITY, Mo. -- Before there was Megatron, before there was T.O., there was Otis.
No. 89 ran a sub-4.5 40-yard dash, high-stepping with the gait of an angry antelope. Otis Taylor had bedsprings for soles, a pair of ice cream scoops for hands, a dancer's grace and a 6-foot-3, 215-pound frame of pure macho. Tackling Otis was like trying to wrap up on a Lincoln Continental after the Continental had a running start.
"If Otis Taylor were playing today," chuckles Lemar Parrish, the former NFL cornerback who tried to keep pace with the Lincoln, back in the day, "he definitely would have 100-some catches every year.
"There's no way you could stop him, because he's big, he's strong, he's fast. Great hands. Great moves. Otis possessed all the qualities of the greatest wide receivers."
The Pro Football Hall of Fame Selection Committee righted an old wrong last weekend in Phoenix, finally opening Canton's doors to ex-Kansas City Chiefs guard Will Shields, a Pro Bowl selection 12 times -- and first-team All-Pro two times -- in a 14-year career than spanned from 1993 through 2006. About bloody time.
Now: What about Otis?
"Probably the most feared guy in our league," former Chiefs safety Johnny Robinson says of Taylor, his teammate from 1965-71.
Of all the offensive stars of The Great Stram Dynasty, only quarterback Len Dawson is enshrined in pro football's hall. This remains a source of consternation to Dawson, who made magic behind guard Ed Budde, a seven-time Pro Bowler, and handed off to the likes of Mike Garrett and Warren McVea. Yet Otis was the No. 1 target, the No. 1 game-breaker, a three-time Pro Bowler and two-time first-team All-Pro in Kansas City.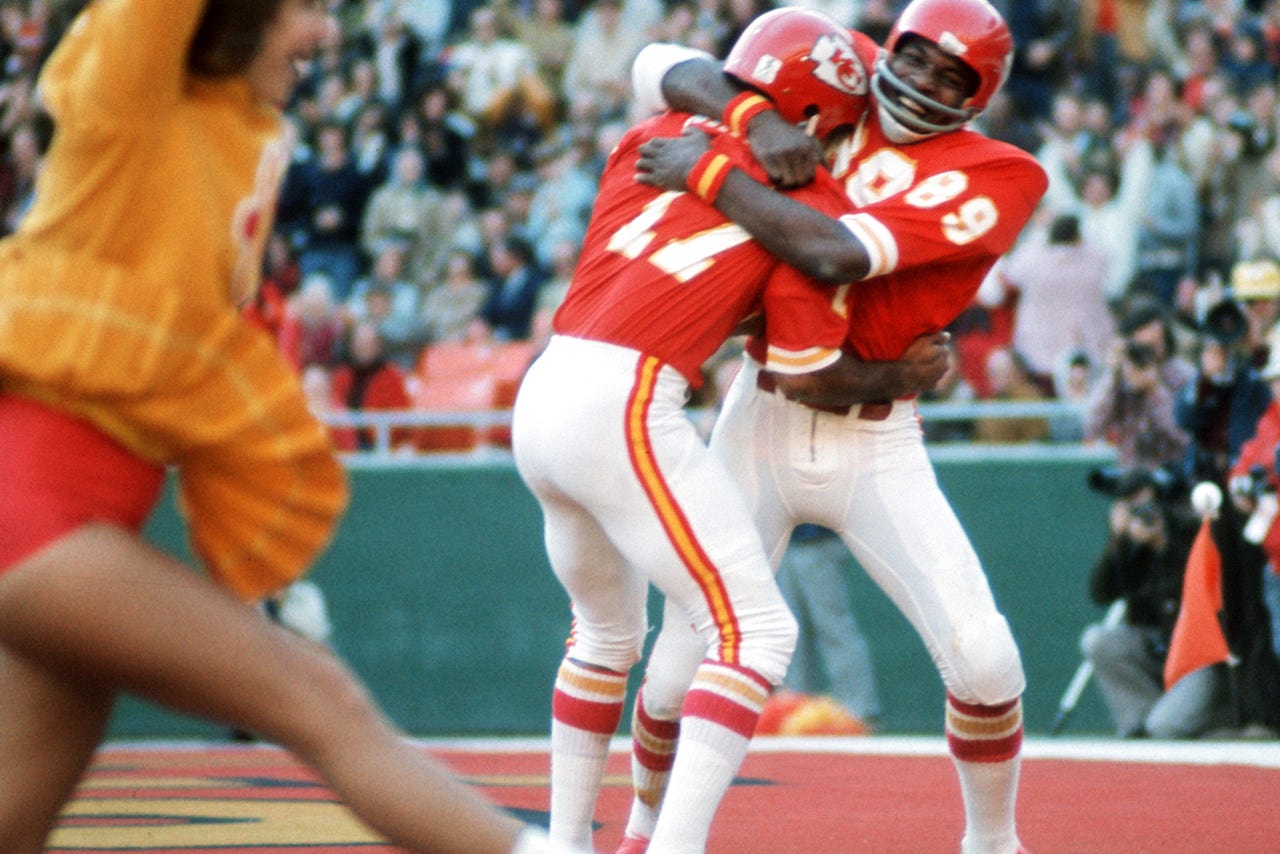 Taylor celebrates with teammate Elmo Wright in a 1973 game.
Don't ask us. Ask them.
Go on. Ask the guys who were there. Ask his peers.
"Being one of the best cornerbacks to play the game and I never wanted to play against Otis," offers Parrish, an eight-time Pro Bowler and one of the best boundary defenders of the 1970s. "Because I was nervous that that was someone that could beat me anytime. And even if I was on my A game, there was always that possibility of him beating anybody."
And beating 'em like a drum. Over 10-plus healthy seasons, from 1965 through an injury-marred 1975, the former Prairie View A&M star, one of the most famous AFL gets in the great talent wars with the NFL during the mid-1960s, averaged at least 15 yards per catch in nine of them.
In only four of those seasons -- in an era of 14-game campaigns, heavy contact and borderline mugging by defensive backs -- did Taylor catch fewer than five touchdown passes. He posted 100-yard receiving games in 19 of his first 119 career games, or one every 6.3 contests. The physically comparable Terrell Owens, playing a more spread-out, wide-open, offensive-friendly era, would rack up 24 such games in his first 119 contests, or one every five tilts.
"There's no telling what would've happened to his (statistics) if people couldn't put their hands on him five yards down the field," Robinson says of Taylor. "I don't think anybody would've been able to handle Otis.
"The defensive backs would've had to double him to do something, and that's (often) what they did do. You never knew what opposing teams were doing, but I guarantee you, they were afraid of Otis."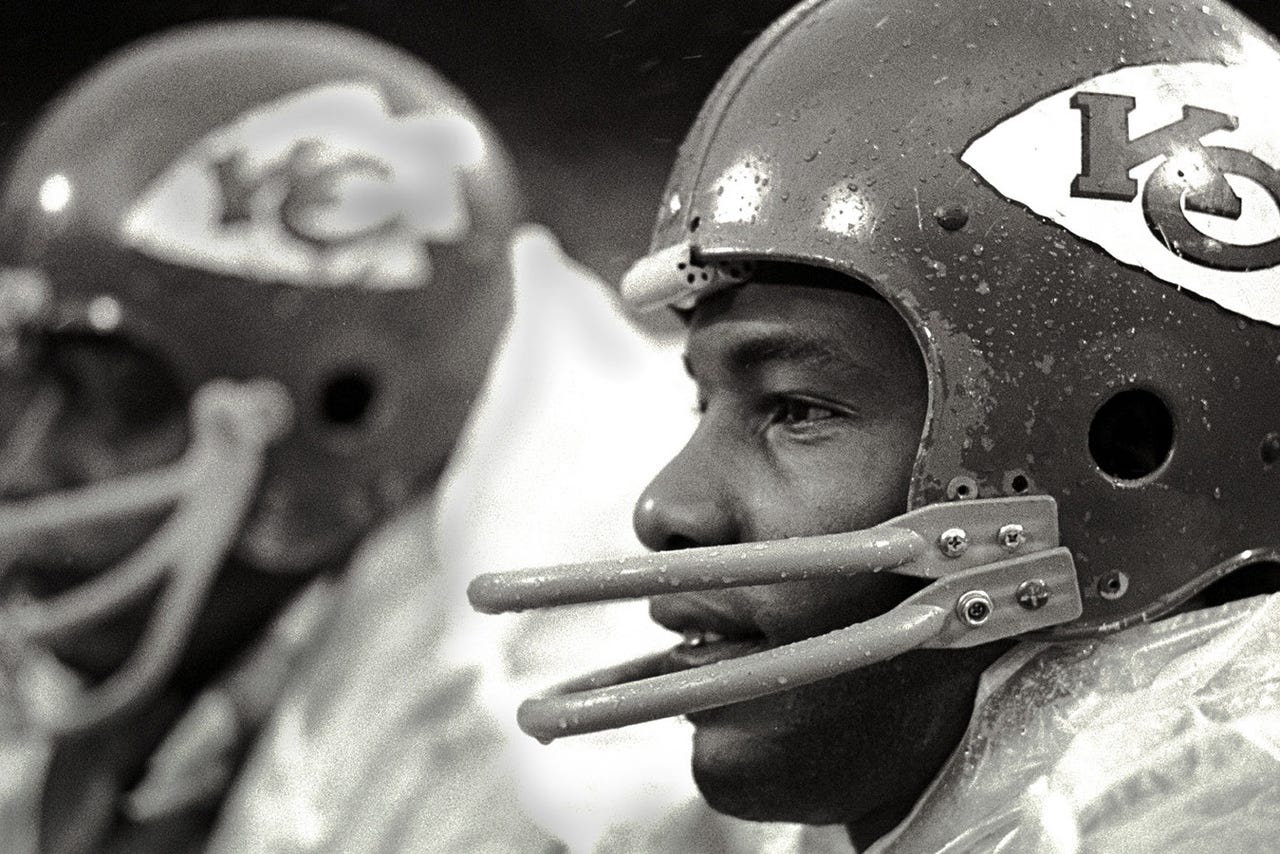 Taylor made it to the final five voting for Senior Committee consideration in 2009.
Don't ask us. Ask them.
Ask the guys who had to try and cover him, one on one, who had to try to survive on Otis Island.
Most couldn't. It's Taylor who has the Chiefs' all-time Super Bowl play, still one of the event's signature moments, even some 45 winters after the fact. There's No. 89 at New Orleans, taking a short toss from Dawson in Super Bowl IV, brushing off Minnesota defensive back Earsell Mackbee near the sideline, then racing up the boundary to paydirt, shaking off Karl Kassulke and cutting into the end zone for a 46-yard touchdown.
"Even in his last days, he was fearsome -- nobody wanted to play against him," says Parrish, a rookie in 1970, entering the NFL while Taylor was the gold standard, the apex. "He was big and strong, he was agile, mobile. Plus, he was a student of the game. He knew how to set you up."
The major arguments against Taylor's candidacy are old grudges. Committee members still tend to doubt the veracity of offensive numbers put up by AFL stars prior to the 1970 merger. And yet there's No. 89, piling up an NFL-best 1,110 receiving yards in 1971 and averaging a league-high 79.3 receiving yards per game.
There's the "volume" thing, too: Taylor's 410 career receptions rank just 200th all-time in NFL annals; his 7,306 receiving yards rank 108th; his 57 receiving touchdowns are 86th. Among the major career signposts, in only one -- yards per catch (17.8) -- does he sit among the NFL top 40 (34th).
Still, the numbers aren't far off those posted by Pittsburgh Hall of Famer Lynn Swann, who entered the league in 1974 as Taylor's star was descending. The ex-USC standout recorded 336 catches, 5,462 receiving yards and 51 touchdown receptions over nine seasons.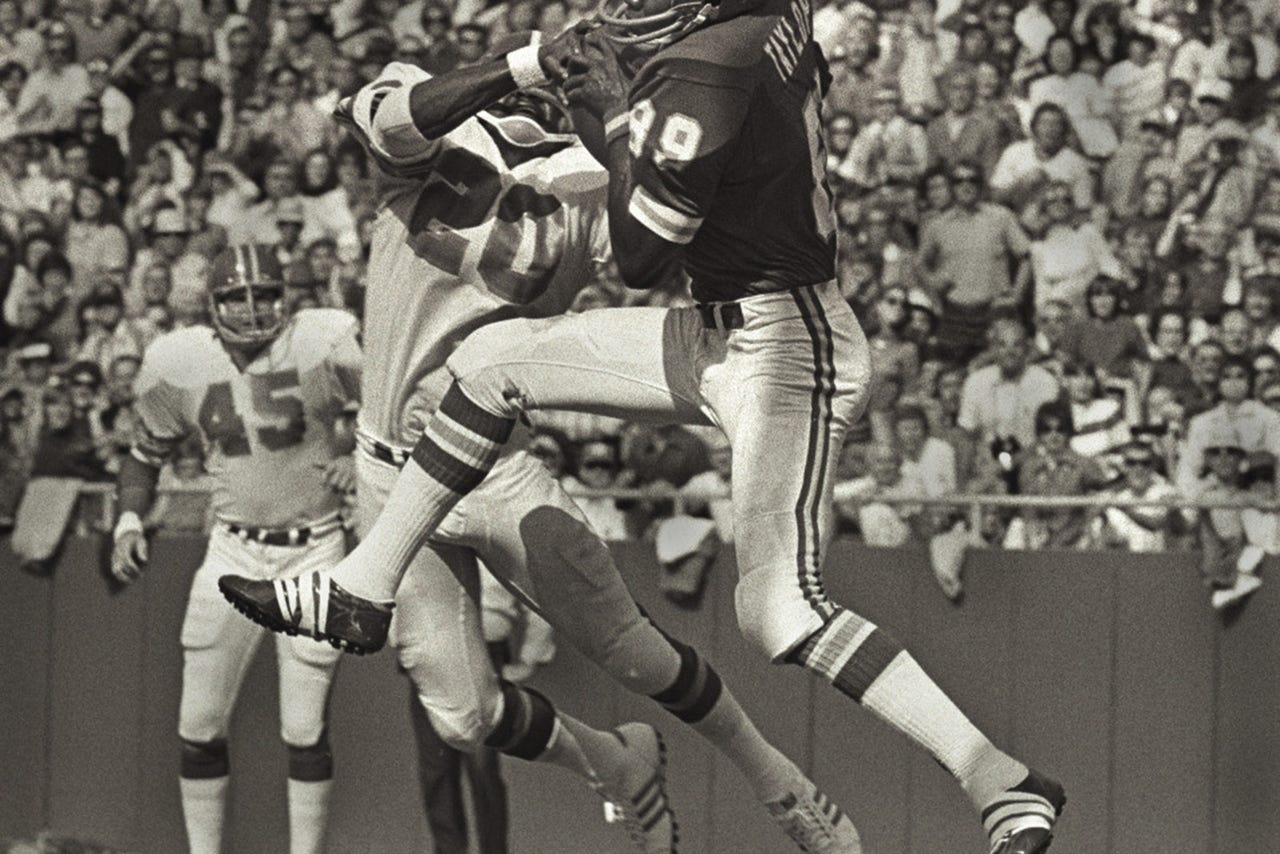 Taylor ranks 34th all-time in yards per catch (17.8).

Swann had John Stallworth raising hell on the other side of the field; Otis had Frank Pitts. Moreover, Taylor's career was over three years before the NFL changed the bump-and-run rule in 1978 to allow receivers more freedom downfield.
"I don't know what the criteria is," Parrish sniffs. "They got this all wrong. Otis Taylor is one of the greatest receivers that has ever been. I'll tell you what, those guys are just doing it all wrong about the Hall of Fame. Otis Taylor should be in the Hall of Fame. In fact, he should have been in (at the first opportunity)."
He wasn't. Taylor made it to the final five voting for Senior Committee consideration in 2009, but the line at the entrance keeps getting more crowded by the year. The most recent reports from those who played with No. 89, now 72 and battling Parkinson's and dementia, have sounded more grim than hopeful.
The man deserves better.
So does the legacy.
"He gave me a move that I had never seen before," Parrish recalls. "I attacked the post route, so obviously, he took me to a post (look) so hard, I had to go. And he just gets me (on) the post corner, and shook my shoes off. He didn't score, but I tell you what, he gave me some moves that game that I was glad when that game was over. It was ridiculous.
"I tell you, the man was good. And no Taylor in the Hall of Fame, it's a disgrace."
Don't ask us. Ask them.
You can follow Sean Keeler on Twitter at @SeanKeeler or email him at seanmkeeler@gmail.com.
---
---