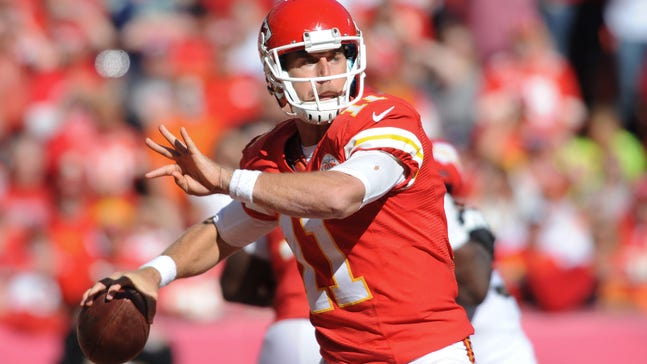 To win trade, Chiefs must keep Alex Smith or flip him into a QB replacement
Published
May. 14, 2014 3:59 p.m. ET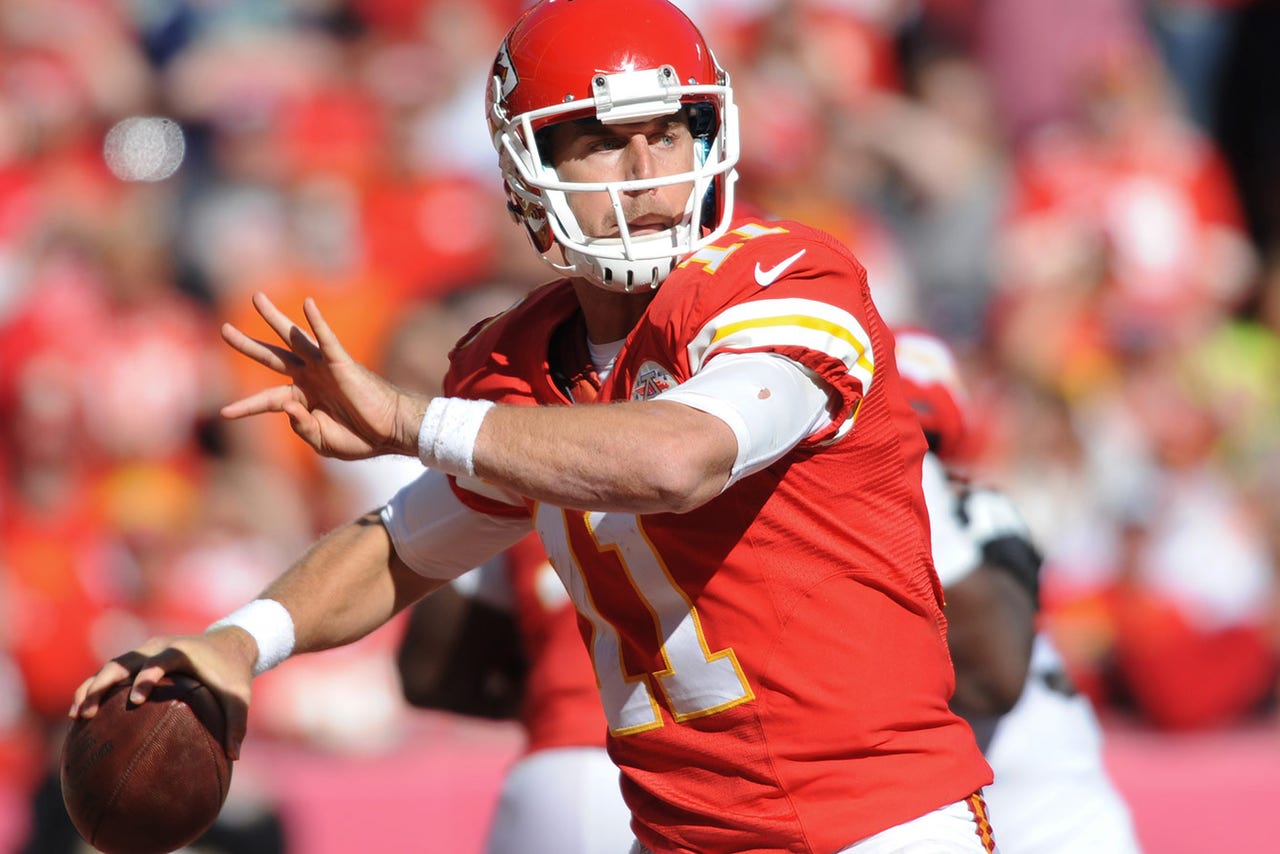 KANSAS CITY, Mo. -- It wasn't Mike Lynn selling the farm in Minnesota for Herschel Walker, but ... the headlines. Cripes, those headlines.
Niners turn Alex Smith trade into five players
And ...
49ers' Alex Smith trade actually an 8-for-5 deal
And ...
The Alex Smith deal: The trade that keeps on giving for 49ers
And ...
Donald Sterling: Even I wouldn't have given away that freaking much for Alex Smith
OK, we made that last one up.
But the point still stands. The Kansas City Chiefs in March 2013 sent a second-round pick in 2013 and a conditional pick in 2014 to the Niners for Smith, then languishing on the San Francisco bench, a good quarterback without a starting gig.
When Smith pretty much picked up in 2013 where he left off midway through 2012 -- before a concussion and KaepMania derailed the train -- the Chiefs won 11 games, and San Fran's conditional pick turned into another second-rounder.
When the smoke cleared on last weekend's draft, the Niners ultimately had flipped Smith into five players: defensive lineman Tank Carradine (Round 2, 2013), linebacker Corey Lemonier (Round 3, 2013), running back Carlos Hyde (Round 2, 2014), linebacker Chris Borland (Round 3, 2014) and wideout Stevie Johnson (trade from Buffalo for a 2015 fourth-rounder).
To recap: An insurance defensive end with upside, an insurance pass rusher, a potential starting tailback, a scrappy middle linebacker with upside and a starting wide receiver.
With the exception of Hyde, the Chiefs could have found a use -- and a good use, too -- for every single one of those players. Which is why you also saw these headlines: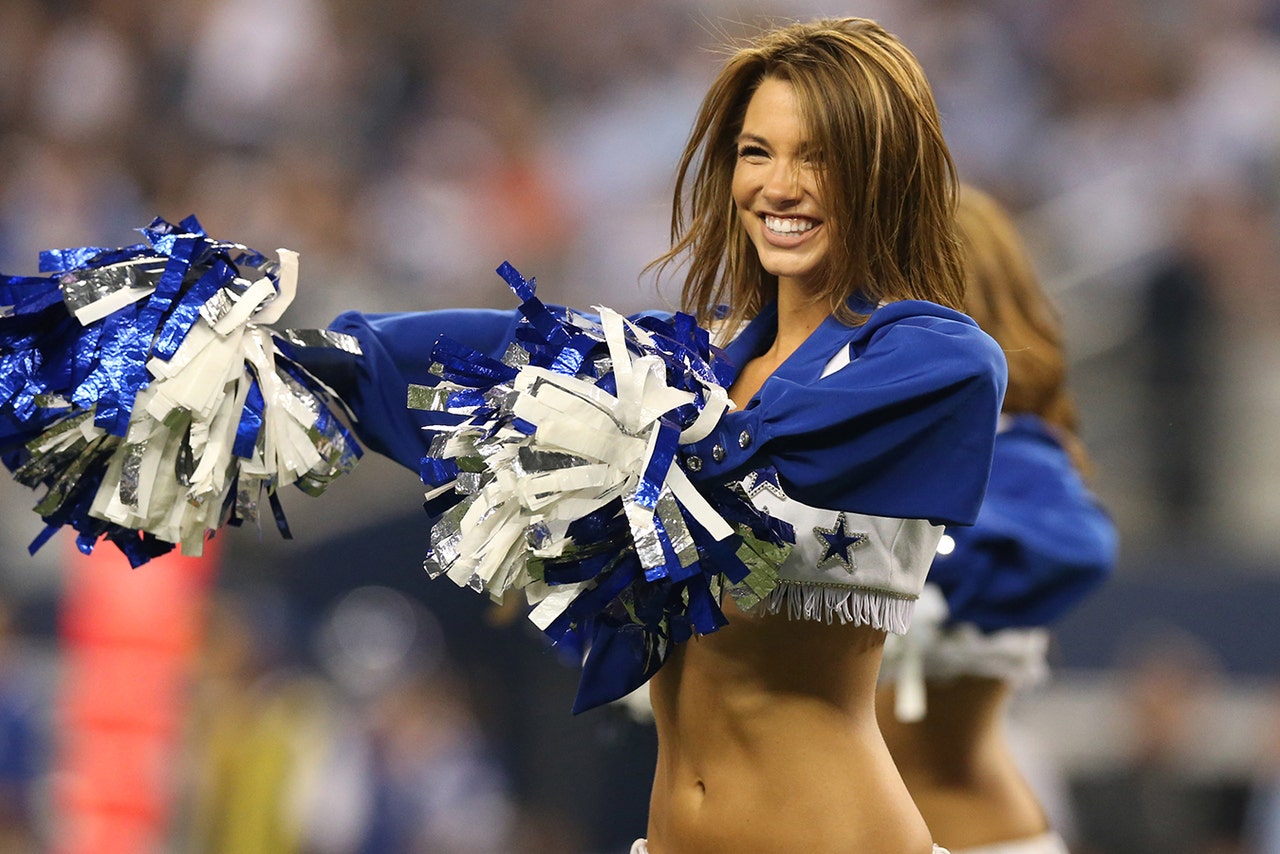 NFL CHEERLEADERS: Check out our gallery of sideline shots from around the league.
Final results of Alex Smith trade a windfall for 49ers
The Alex Smith Trade Worked Out Perfectly For The 49ers
It doesn't get the juice of RGIII-Rams or the mother of all NFL fleeces, Walker to the Vikings in 1989, the swap that set up the last great Dallas Cowboys dynasty. But the Smith trade helped the second-best team in the loop get deeper and better, all for the price of a backup who, barring something crazy, was rarely going to see the field in the Bay.
Still, no matter how the national pundits snicker, it was a good trade for the Chiefs, short-term. Period. With 23 touchdown passes and a single-season record for rushing yards by a quarterback in his first season in Kansas City, Smith proved -- at least initially -- that he was worth it.
In his last 40 regular-season starts, Smith is 30-9-1. Over his last two full seasons ('11 and '13), he's averaged a 12.5 rating in approximate value, according to Pro-Football-Reference.com -- the same value as Pittsburgh's Ben Roethlisberger and Baltimore's Joe Flacco and better than Chicago's Jay Cutler (10.0) and Carson Palmer (10.5 with the Raiders and Cardinals) over that same stretch.
Elite? No. But hardly middling, either.
Long-term, it could be the right trade for the Chiefs, too -- if, if, IF they can get another two or three solid seasons out of No. 11, whose contract is due to expire after this season. Or, if they would somehow flip Smith into something that brings them another good or franchise-level talent under center.
Value and volume are great, and hats off to Niners general manager Trent Baalke. But this is the NFL, and in today's NFL, if we learned anything from The Scott Pioli Era, it's that while volume -- the "Right 53" -- is great, quarterback and coach are Priorities 1 and 2.
Getting one wrong is bad.
Whiffing on both is 2-14.
We saw that up close. No one wants to see it again.
Given a choice, you'd rather have the Chiefs led by Smith and Andy Reid with a few question marks at other positions than a talented, deep roster dependent on Matt Cassel and Romeo Crennel to steer them out of trouble.
Saw that up close, too. No, thanks.
More often than not, you go as your quarterback and coach go. A strong, elite defense with an elite secondary comes right after that. The Seahawks have it right. The Niners have it right. The Broncos and Pats have it right, or close enough.
The spin in some media circles is that the Niners swapped a backup quarterback for five solid young players, and oh, you silly Chieftains. But that misses some of the context, too. They didn't have to live through The Great Dumpster Fire of 2012. New Chiefs general manager John Dorsey needed the nuclear option. He needed to blow up the quarterbacking spot and start over, for his sake, and ours.
Whatever history's niggles with Reid, and they're deserved, he remains among the top 10 or top 12 NFL whistle-blowers still kicking.
The man also knows signal-callers. Reid knows he's got a good one. Maybe not a great one, but a good one. One he would be wise to keep, at least through 2016, considering what he gave up in exchange.
Because the headlines aren't going away. Yahoo Eurosport UK won't stop telling people across the world that:
49ers got a fairly incredible haul in the Alex Smith trade
And Dorsey will get fairly incredible hell if he can't find a way to make the Chiefs' side of the swap stand up.
You can follow Sean Keeler on Twitter at @seankeeler or email him at seanmkeeler@gmail.com.
---
---