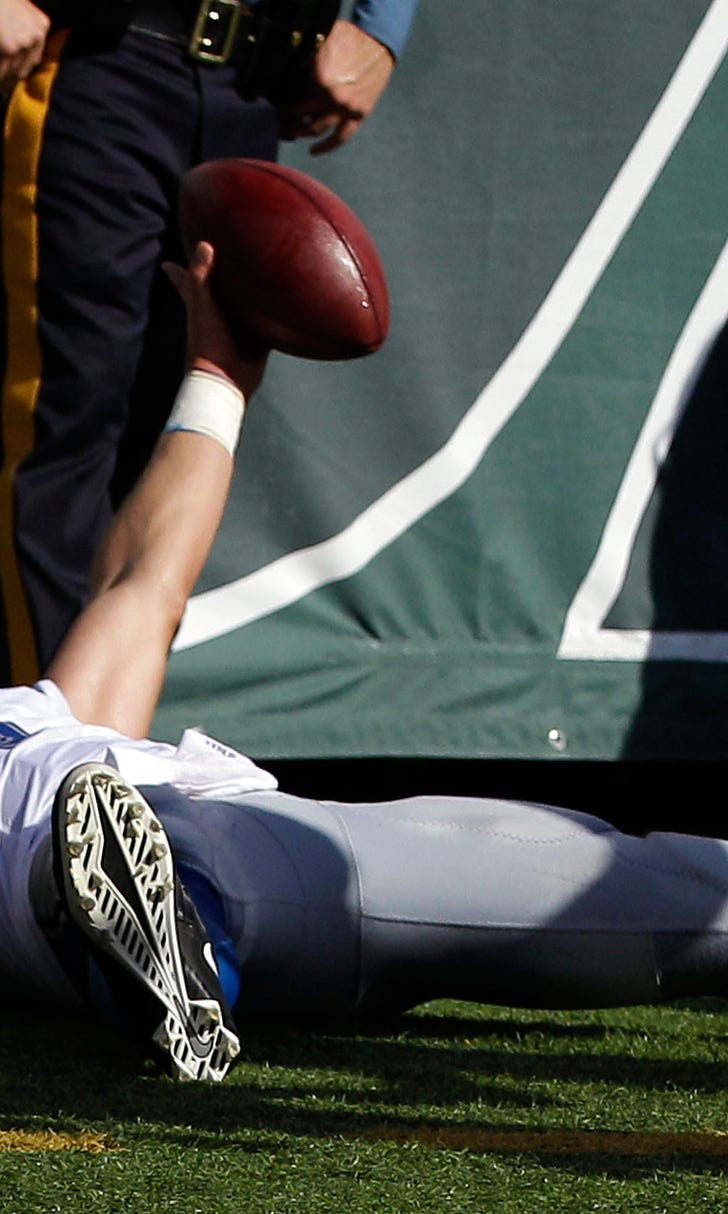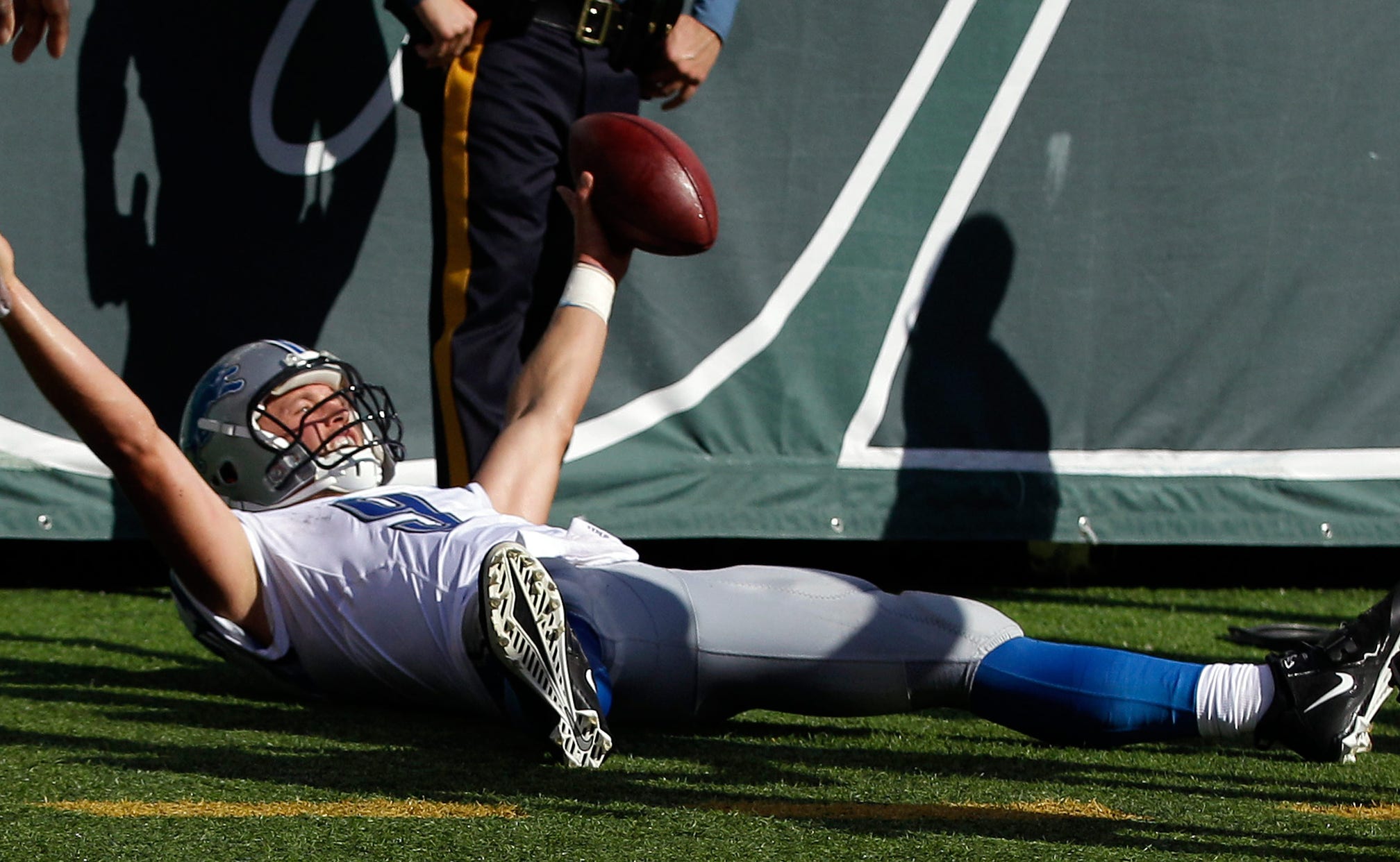 Signature drive gives Lions confidence, cushion for victory over Jets
BY foxsports • September 28, 2014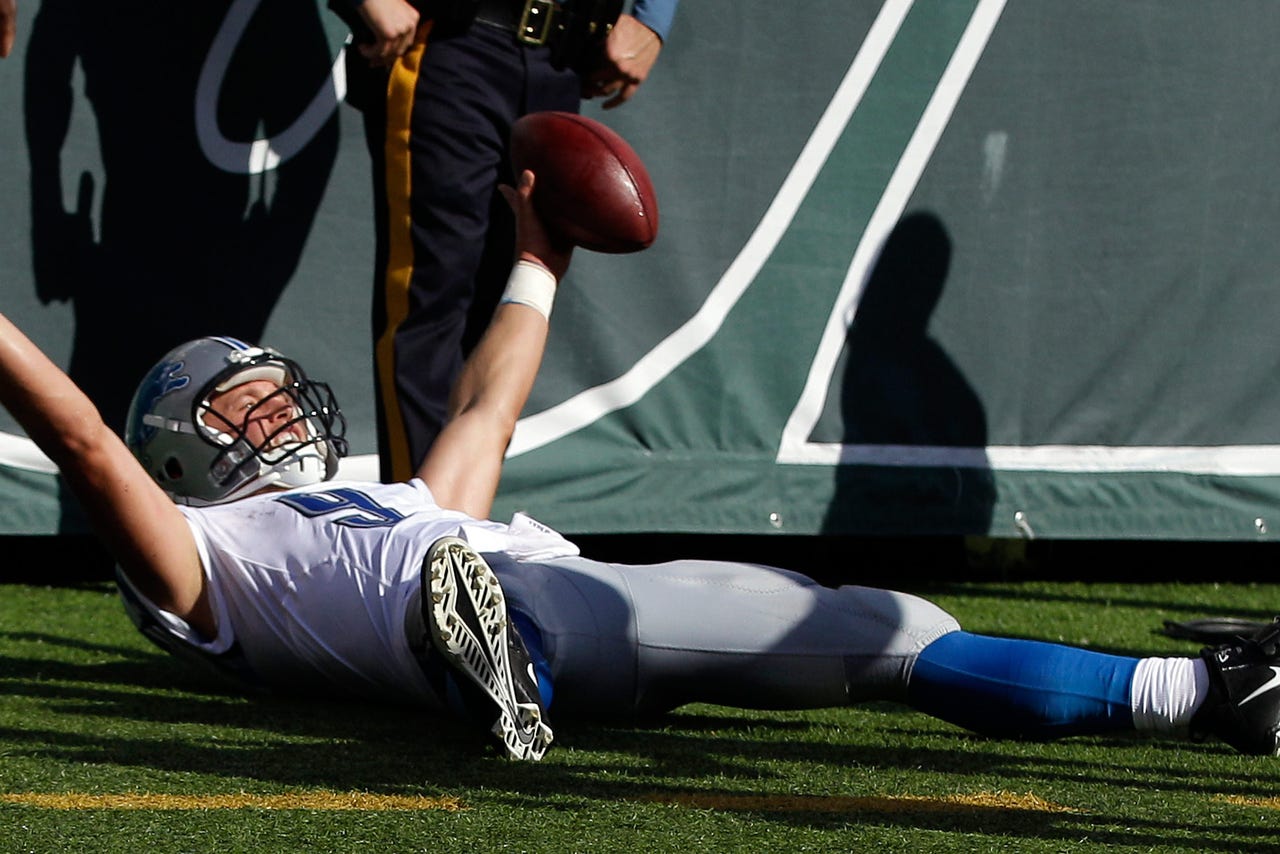 An ankle injury had turned Calvin Johnson into mostly a decoy all afternoon for the Detroit Lions. The New York Jets had just scored to cut the lead to seven points and were immediately threatening for more with the Lions backed up deep in their own territory.
It had that familiar Lions collapse written all over it, but this time turned out to be different. The Lions responded by finishing off a 90-yard, 14-play touchdown drive to regain control while keeping the ball for more than 7 1/2 minutes.
That signature drive gave the Lions the cushion -- and confidence -- they needed for a 24-17 victory over the Jets Sunday afternoon at MetLife Stadium in East Rutherford, N.J.
"It's tough to win at home, let alone on the road," Lions coach Jim Caldwell said during his post-game radio interview. "Our guys did a nice job, didn't turn the ball over, did a great job in third-down conversions. We had a lot of good things. Our defense did a great job of smothering them, particularly early. They had five three-and-outs in a row. That's difficult to do."
The Lions (3-1) moved into sole possession of first place in the NFC North, a game ahead of the Chicago Bears (2-2) and Green Bay Packers (2-2).
Detroit's schedule sets up nicely for a possible 5-1 start with the Buffalo Bills -- and former Lions coach Jim Schwartz, now the Bills' defensive coordinator -- coming to Ford Field next Sunday, followed by a road game against the Minnesota Vikings.
With Johnson (two catches for 12 yards) far from himself physically, quarterback Matthew Stafford and receiver Golden Tate combined to help take the game over offensively against the Jets. Stafford, despite being under heavy pressure from a strong pass-rush at times, completed 24-of-34 passes for 293 yards and two touchdowns with no interceptions. He also ran for a 1-yard touchdown.
Tate, meanwhile, picked up the slack with Johnson limited by his injury. Tate, the team's top offseason free-agent addition, had eight catches for 116 yards.
Stafford and Tate connected for an 11-yard gain on third-and-10 from the Lions' 10-yard line when it appeared the Jets had all the momentum going in their favor after scoring in the middle of the third quarter.
Running back Reggie Bush then fought for first down on a third-and-9 situation after catching a screen pass before a 21-yard completion to Ryan Broyles, his first catch of the season, converted another crucial third down on the memorable drive that culminated with Stafford's keeper for a 24-10 lead early in the fourth quarter.
If any of those third-down conversions had failed, it might have been a different ending.
"We knew going into the game Calvin wasn't going to be 100 percent," Stafford, who threw second-quarter touchdown passes of 59 yards to Jeremy Ross and 16 yards to Eric Ebron, said during the post-game radio show. "Some guys were going to have to step up and make plays. Guys all across the board did. We had guys filling in at a bunch of different positions.
"Golden, obviously, took the brunt of the load there and ran with it. It was awesome. He was great early, great late, making plays that we knew he could make."
The Lions' defense got two takeaways in the fourth quarter -- an interception by cornerback Darius Slay and a fumble forced by James Ihedigbo, in his Detroit debut, on a safety blitz -- to help make the lead stand up.
The Jets did score with nearly seven minutes remaining to turn it into a one-score game, but they went three-and-out on their next possession before the Lions ran out the clock.
Bush finished the game as the Lions' only available running back besides than fullback Jed Collins. The other backups -- Joique Bell (head), Theo Riddick (hamstring) and Montell Owens (hamstring) -- were out with injuries.
"He was the only one left," Caldwell said. "It was dire straits there for a little bit."
But thanks to a nice move on one run by Bush, along with a bootleg by Stafford, the Lions were able to run the ball late to help close out the game.
"That's three wins this year that we got to kneel on the ball at the end of the game," Stafford said. "That's a fun feeling."
Especially on a day when you've proven you can actually move the ball -- and, better yet, win on the road -- without the star receiver.
EXTRA POINTS
--- Alex Henery tied his career-long with a 51-yard field goal in his first attempt as a Lion to tie the score 3-3. He then badly missed a 52-yard attempt, wide right, in the fourth quarter.
Henery, in his fourth NFL season, was signed last Monday to replace rookie Nate Freese, who got released after making just three of his first seven attempts.
--- Stafford's career average of 287 passing yards per game entering Sunday was the most by any quarterback in NFL history, according to the FOX telecaset.
---
---