Royals don't bemoan Butler's switch from DH to PH in SF
BY foxsports • October 23, 2014
KANSAS CITY, Mo. — After all the debate and controversy during early September when Royals slugger Billy Butler was suddenly benched, he finally got his job back with a little over a week left in the regular season. And he has held onto his job every game since, a total of 18 consecutive starts, including the playoffs.
But that streak will come to an end Friday when the Royals visit San Francisco for Game 3 of the World Series — through no fault of Butler's, of course. The teams now will play by National League rules.
Butler will be relegated to pinch-hit duty for the next three games — though he could start Game 5 at first base if manager Ned Yost opts to play the right-handed slugger instead of Eric Hosmer vs. possible San Francisco lefty starter Madison Bumgarner.
"It's not a disappointment at all," Butler said. "It's just the different rules. I'll be prepared for whatever the team needs, and hopefully, I'll come up in a big situation and contribute in a way.
"A lot of times in the National League you empty out your bench, obviously, more than you do in the American League. So the bench plays a vital part, and whoever has the better and deeper bench, I think is going to make a difference. I plan on helping."
Yost said he looks forward to the National League style of play.
"I don't really look at it as an advantage or disadvantage," Yost said. "But I think that in the National League rules to have a bat like Billy Butler's on the bench coming in a situation, it could be the fourth inning, it could be the fifth inning or the sixth inning with guys in scoring position — that could be the difference in the game, having him."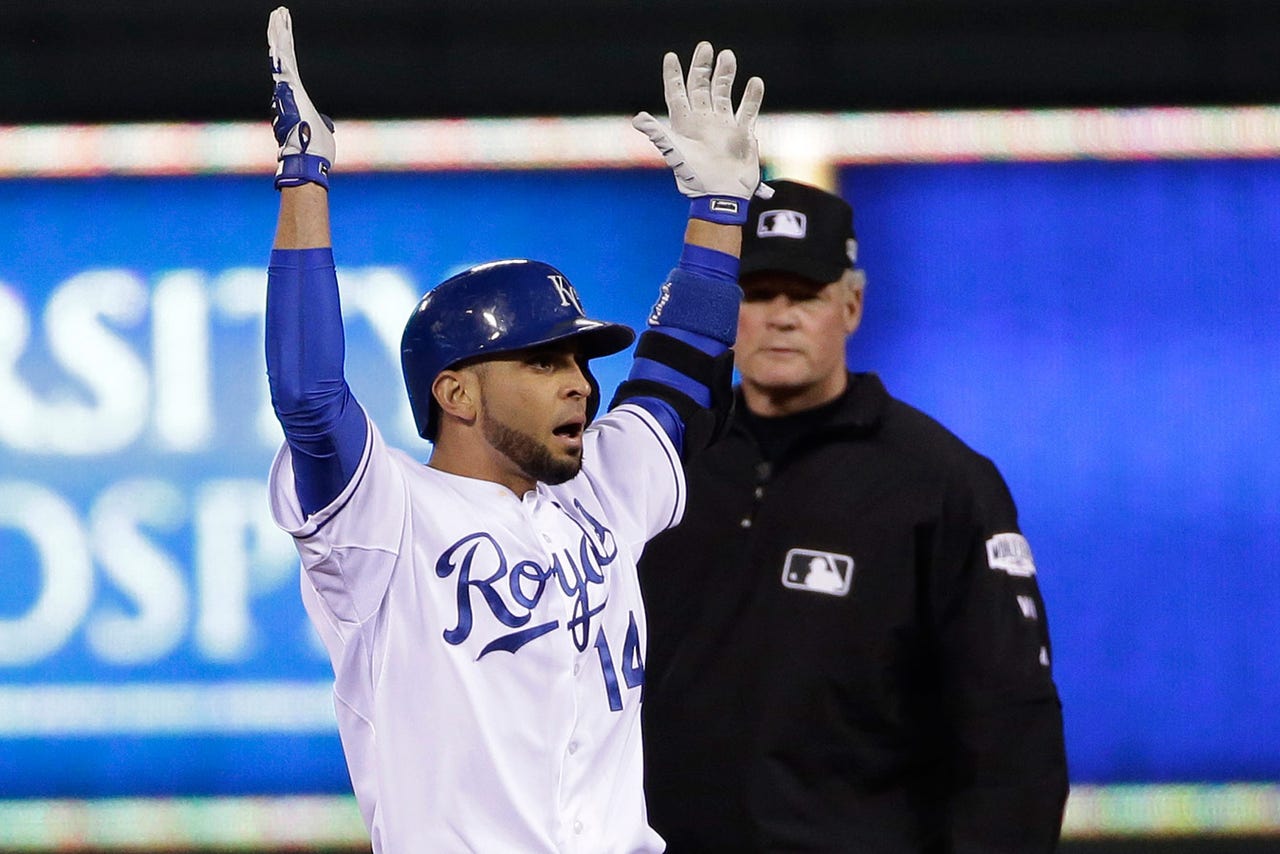 Check out these images from the Royals' 7-2 win over the Giants in Game 2.
Butler prides himself in being a hitter always ready to come into the game. Over his career he is 11 for 36 (.306) pinch hitting with a .432 on-base percentage.
This year, Butler is 4 for 6 as a pinch hitter, including a monster two-run home run at Kauffman Stadium on July 25 that turned out to be the game-winner against Cleveland. That ball traveled 433 feet and nearly hit the Royals Hall of Fame building.
Butler also hit a memorable home run off then-Cardinals closer Jason Motte in 2012, a ninth-inning blast that tied the score and allowed the Royals to win in extra innings.
"I've had pretty good success in my career as a pinch hitter," Butler said. "My job every day as the DH is basically like four pinch-€'hits. I basically treat it as that.
"Granted, if you have one pinch-hit that day, you have to wait a little bit longer for your next one. But usually, it's in a big situation. Usually, it's in a situation where it can decide the outcome of the game.
"And if it doesn't work out, which pinch-€'hitting odds aren't in your favor, you've just got to go up there and try to put a good at-bat together. And you just have to have a short memory and look for your next opportunity."
You can follow Jeffrey Flanagan on Twitter at @jflanagankc or email him at jeffreyflanagan6@gmail.com.
---
---