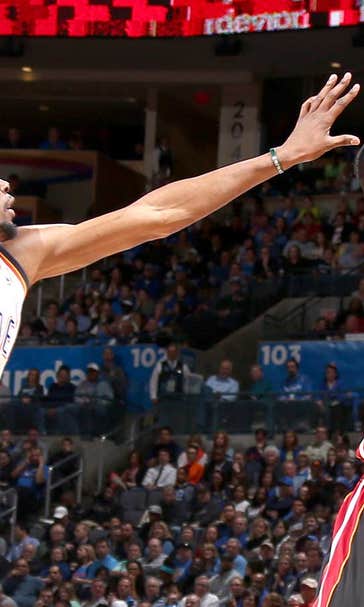 Memorable years: LeBron James' top performances with the Heat
July 11, 2014

Presenting LeBron James' greatest Miami Heat performances:
Oklahoma City threw everything but the kitchen sink at James, but he just brushed off all-comers to dazzle across the board. Sure, Kevin Durant outscored LeBron by a point, but the Heat won the game and the NBA title a few months later.
A missed layup on a breakaway was all that separated James from perfection on this winter's night in Miami. The shooting effort almost took away from the fact he was just a couple of rebounds and assists away from a triple-double.
Down 2-1 in the series, James took over to ensure the Heat would not head home down two games. He finished one rebound short of his career high in the win, the first of three straight that would take team to next round.
After scoring just 15 points on 7-of-21 shooting in Game 3, a 36-point loss, James bounced back in a big way two days later. While the Heat would lose Game 5, they would take care of business at home and claim their second straight NBA title in seven games.
James came into this game not having topped 25 points in six straight contests, five of those ending up in losses to playoff contenders. A game against his former team was the cure for James' funk as he shot nearly 74 percent from the floor.
James scored 50 points or more eight times for the Cavaliers, and it took him 47 contests to get over the half-century mark for the first time with the Heat. He missed a triple-double by only a pair of assists.
The Heat came into this game down 3-2 in the series after losing three straight games to the Celtics. James had 30 at the half to show he meant business and continued to pour it on as Miami pulled away late.
After a 14-point loss to Brooklyn in Game 3, the Heat had to respond in defending champion fashion. James came a point away from his first 50-point playoff haul, and then Miami won Game 5 two nights later to clinch the series.
LeBron had scored 30-plus in five of six games coming into this contest, so his game was clearly in good shape, but no one expected this. His haul set personal records for points, field goals made and field goals attempted, and tied his best total field goals from behind the arc. Were you watching, Mr. Jordan?
Down 3-2 in the series, the Heat came home needing back-to-back wins to avoid handing their title over to the Spurs. James picked up a triple-double in an overtime Game 6 win, and then did this in Game 7, including hitting a key late jumper, one that many never thought he'd be clutch enough to sink.
---
---