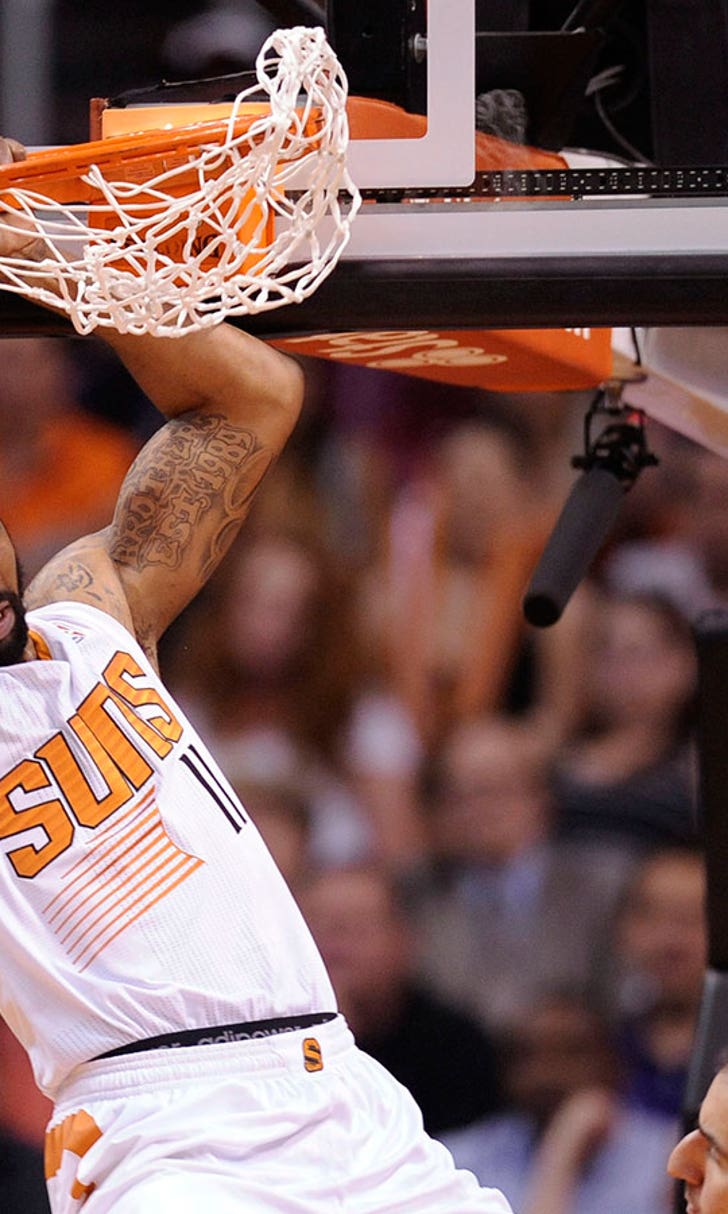 Markieff Morris studied Rodman to lift game
BY foxsports • October 3, 2014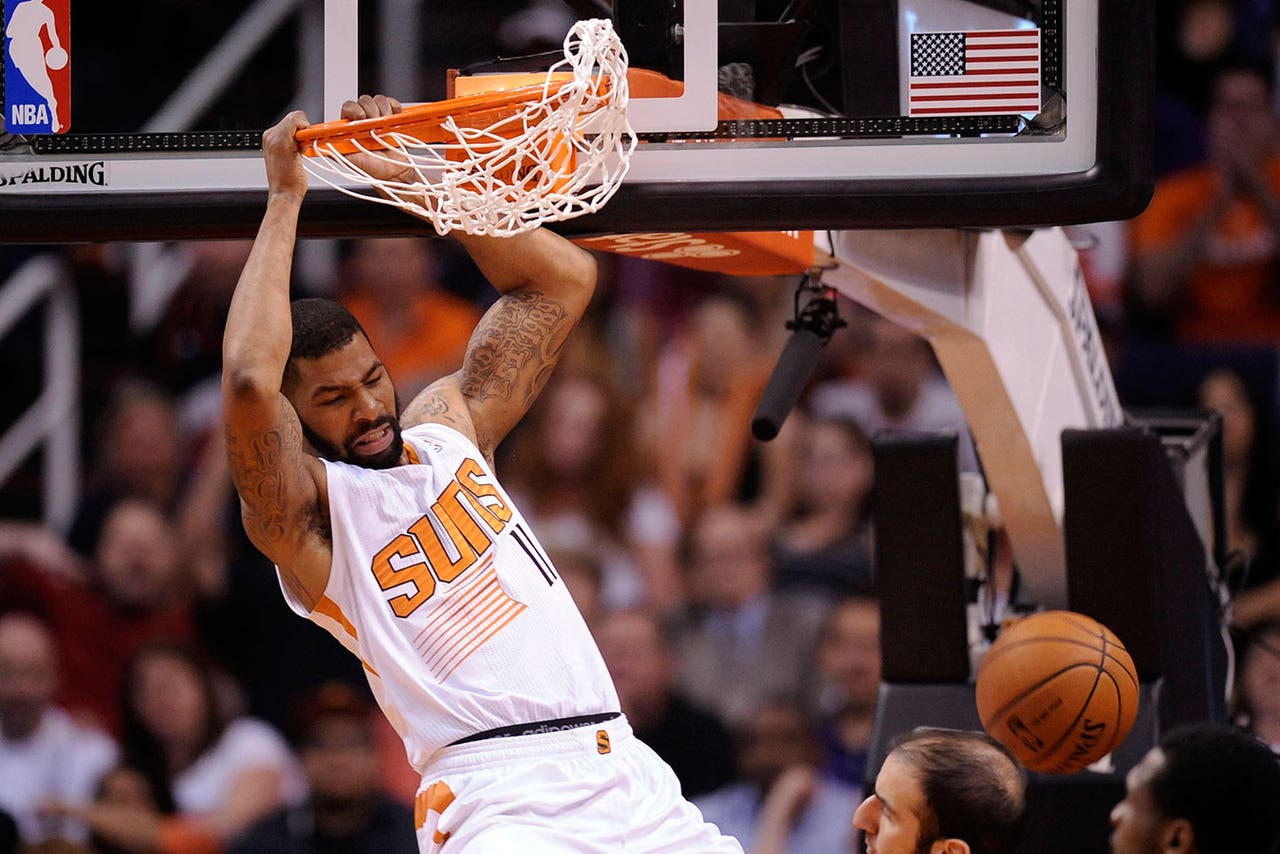 Until an explanation arrives, the appropriate reflex may fall somewhere between disturbing and disappointing.
That's how most of us might respond when faced with the revelation Markieff Morris spent part of his summer studying the almost-straight-to-video performances of Dennis Rodman.
But the Suns power forward -- who made this Rodman-related admission to FOX Sports Arizona during a media-day cornering -- wasn't exactly mesmerized by the likes of movie classics such as "Double Team," "Simon Sez" or the unforgettable "Cutaway."
No, Morris simply was attempting to further his defensive chops while studying the classic NBA maneuvers Rodman used before an unseemly foray into the thespian arts.
"I watched a lot of film of Dennis Rodman and how active he was on the defensive end," Markieff, the slightly older of the Suns' Morris twins, said a few hours after he and brother Marcus signed contract four-year extensions. "He was able to be put on any player on the floor. ... I want to be like that."
OK, we all can comfortably exhale, convinced Markieff isn't scheming to die his hair at irregular intervals or show up for work accessorized in a feather boa. But we may require a bit of convincing to imagine him demonstrating Rodman-esque defensive versatility or relentless rebounding.
The Suns probably would settle if Markieff operated a bit messier for opposing post players and showed up on time in rotation/help situations. It certainly doesn't hurt the Markieff -- listed at 6-feet-10 and 245 pounds -- understands where upgrades are required. Much of his self-awareness was developed because he didn't limit his video study to the work of Rodman.
"I spent a lot of time just watching myself from last year," Morris said, "and learned that I have to keep myself in tune to the game.
"Sometimes I fall asleep (on defense) and turn it off. I'm just focusing on staying in tune to the game, staying in my defensive stance."
It's refreshing that a very important Phoenix player spent at least part of his offseason attempting to help the Suns upgrade last season's defensive-efficiency rank of 15. We also should point out Markieff isn't exactly satisfied with becoming "a better two-way player."
Although his scoring average jumped from 8.2 to 13.8 last season -- assisted by field goal percentage hike from 40.7 to 48.6 -- Morris also physically and mentally worked on doing better things with the basketball.
"I just want to be more efficient than I was last year," he said. "The focus is on my field goal efficiency and being more efficient with my shots. I want to shoot more 3s, do more things off the dribble."
And this is where it could get interesting. Most witnesses to the Suns' unexpected rise last season were impressed by Markieff's seeming spike in self-awareness as a key component in this improvement. A frequently discussed difference was his selectivity to fire from beyond the 3-point line.
Upon his arrival in Phoenix as the 13th pick in the 2011 draft, Morris -- who was expected to provide much-needed grit on the interior -- spent a lot of time unloading from the great beyond. He was surprisingly successful early (19 for 39 over the first two months), but a bit rough (24 of 85 the last three months) the rest of the way.
Last season's 3-point accuracy was the worst of his three seasons, but the selective use of this bomb -- combined with his improvement elsewhere -- kept Markieff on the floor when games were on the line.
But Morris says expansion of his range and responsibilities -- especially now that he's expected to replace departed floor-spacer Channing Frye in the starting lineup -- comes with the coaching staff's blessing.
"Definitely," Markieff said. "We emphasized that a lot during the offseason. Gotta shoot more 3s. I shot 'em a lot one year, but I've got to get back to 2 or 3 a game, in that range. But I don't want to get out of control with it."
Finding that balance between aggressively confident and reckless is crucial in becoming an elite player. We're not sure how close Markieff eventually will compare to the league's best, but he did show evidence of top-tier play last season.
Three of his 20-points-plus salvos occurred during one early-season week that was saluted with a Western Conference Player of the Week distinction. Markieff scored at least 20 points on 18 occasions last season, with 12 of those happening against eventual playoff teams. Seven of those teams were from the Western Conference.
Morris was especially nasty against the San Antonio Spurs, giving the future champs an average of 19 points in those four games, and making a ridiculous 69 percent of his shots from the field.
With a fortified backcourt and expected improvement from their two young centers, the Suns are all set to make an even stronger push for their first playoff ticket since 2010. A continued uprising from Markieff Morris could help make that happen.
"I think we can be as good as last year, or even better," he said. "It depends on us."
---
---