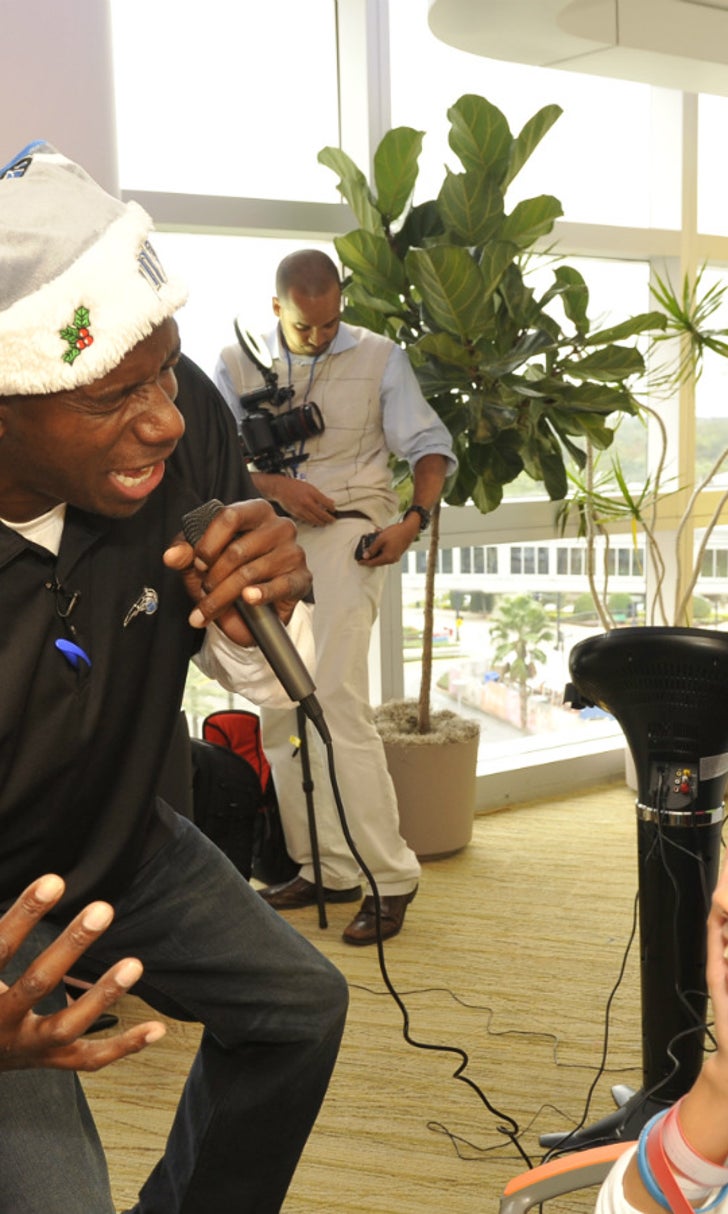 Magic deliver big smiles to kids at Florida Hospital for Children
BY foxsports • December 9, 2014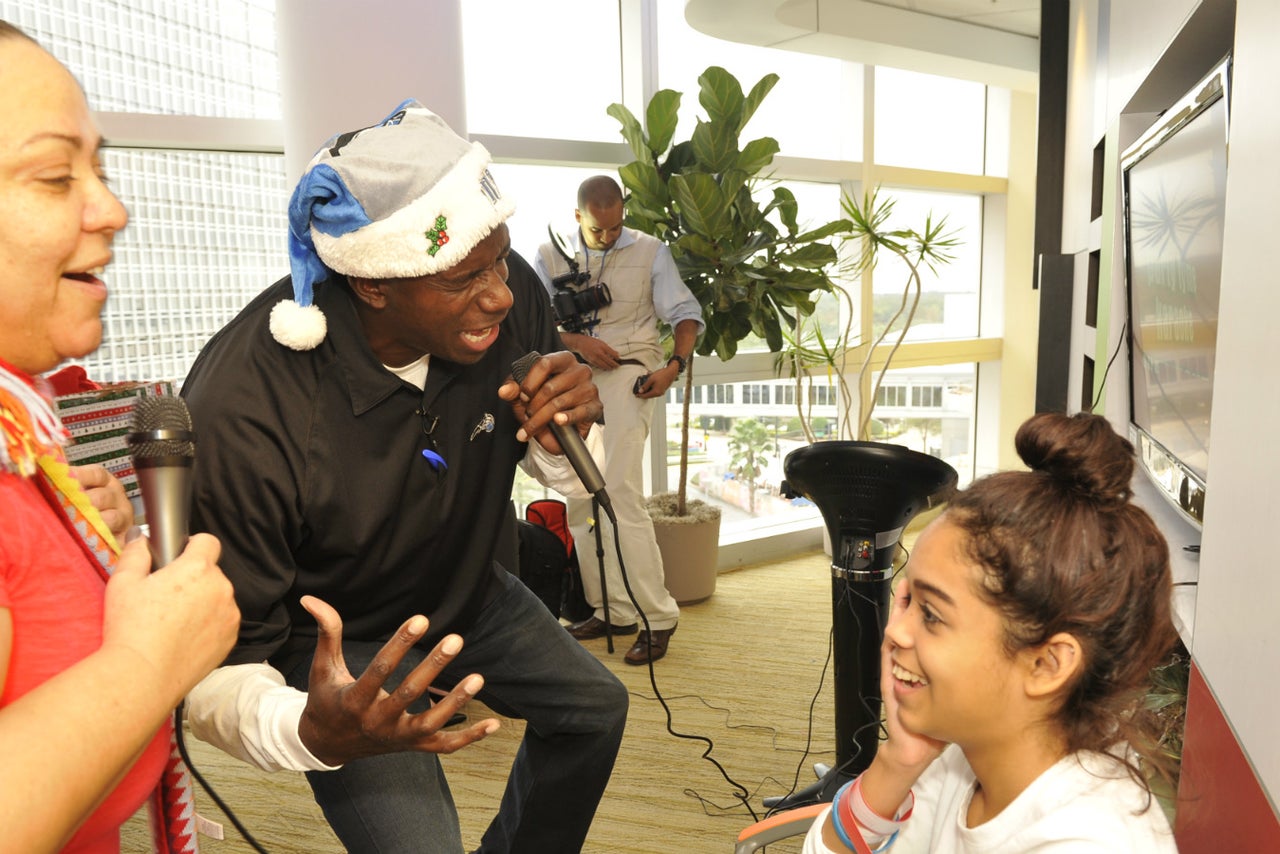 ORLANDO -- Clutching an Orlando Magic mini-basketball and listening to Community Ambassador Bo Outlaw playfully butcher a karaoke version of "Santa Claus is Coming to Town," 16-year-old Tia Lindsey was able to briefly forget about the pain in her body and crack a smile.
Seeing that scene from afar and enjoying the fact that her daughter was smiling brought a great sense of relief to Tia's mother, Kimberly Towe.
"That is the first time I've seen a smile on her face. It's just been really rough because she's been in so much pain," Kimberly said of Tia. "So to see her smile, it's amazing. She's still my child, whether she's 6 or 16. And to see these other kids out here and having people be so compassionate around them, it's just awesome."
For approximately a year, Tia -- a sophomore at Harmony High School in St. Cloud -- has been battling abdominal pain brought on by appendicitis, urinary and kidney troubles and ovarian cysts. She arrived at Florida Hospital for Children on Sunday night and a visit by the Orlando Magic on Monday went a long way in helping to brighten her day.
In what has become one of the best traditions of the holiday season, a Magic traveling party that included Community Ambassadors Nick Anderson and Outlaw, the Magic Dancers and STUFF the mascot visited with dozens of sick children at Florida Hospital for Children on Monday. Anderson, one of the most popular players in franchise history, posed for pictures and signed autographs, while Outlaw used his booming voice for several renditions of karaoke with the kids, parents and hospital employees. The group also went from room to room to pass out presents and play games with children -- some of whom have had to spend weeks and months in the hospital because of various illnesses.
"When you see these kids fighting what they are going through, it means a lot to them just to have the nurses or people like us to come in and just say, 'Hello!'" said Anderson, the first-ever draft pick in Magic history. "To be able to hand them a stocking, a toy or a basketball, it's special and it's heartfelt. I feel for them being at such an early age in life and to have an illness that is stopping you from progressing and doing things that their friends are doing, it's heartbreaking. For me, if I can just put a smile on their face, it lights my heart up."
Several hearts and faces also lit up when they got to make arts and crafts projects with many of the members of the Magic Dancers squad. Emmy, a fifth-year veteran of the squad, worked with two children to design bedazzled paper ornaments. Emmy has taken part in the Florida Hospital event for years and she takes great pride in being able to bring smiles to the children's faces by spending time with them.
"We get to come in help them out and brighten their day and surprise them, but they brighten our day," Emmy said. "Their attitudes are awesome. Their smiles and their ability to have a great time despite the circumstances they are going through, it's really special. And their parents have been here day-in and day-out too, so it's nice to just come and do crafts with them and spend a fun day here."
David Cassidy, Florida Hospital's assistant director of marketing, praised the Magic for their commitment to making a difference in the community. He said the partnership with the Magic and Florida Hospital has allowed the two parties to work together to bring some added joy to patients and their families during the holidays. And Cassidy added that the power of smiles aids in the healing and rehabilitation process.
"When the Orlando Magic appear, the hardships that the children are experiencing just kind of melts away," Cassidy said. "It elevates their spirits and changes and transforms their experience here at the hospital. And it just excites them and having the Magic is so helpful to the hospital experience."
Towe had been at an event years before and had gotten to meet Outlaw -- a Magic player from 1997-02 and 2005-08 -- and she fell in love with his bubbly personality and his self-deprecating humor. Added Towe: "Bo is so wonderful and kind and funny. He's really good for (the Magic's) reputation."
Outlaw said it brings joy to his heart to make children smile, especially ones who are in battling illnesses during hospital stays. Outlaw used his deep and powerful voice to sing songs on Monday to make those around him feel joy.
"The time that we're here, the kids get to have some fun, do arts and crafts and play video games and I'm just up there messing up the karaoke pretty bad," Outlaw joked. "The kids are enjoying it and that's what it's all about. With the time that we're here, we just want to let them know that we appreciate them and we support what they are going through. Hopefully we can just brighten up their day and have some fun."
---
---