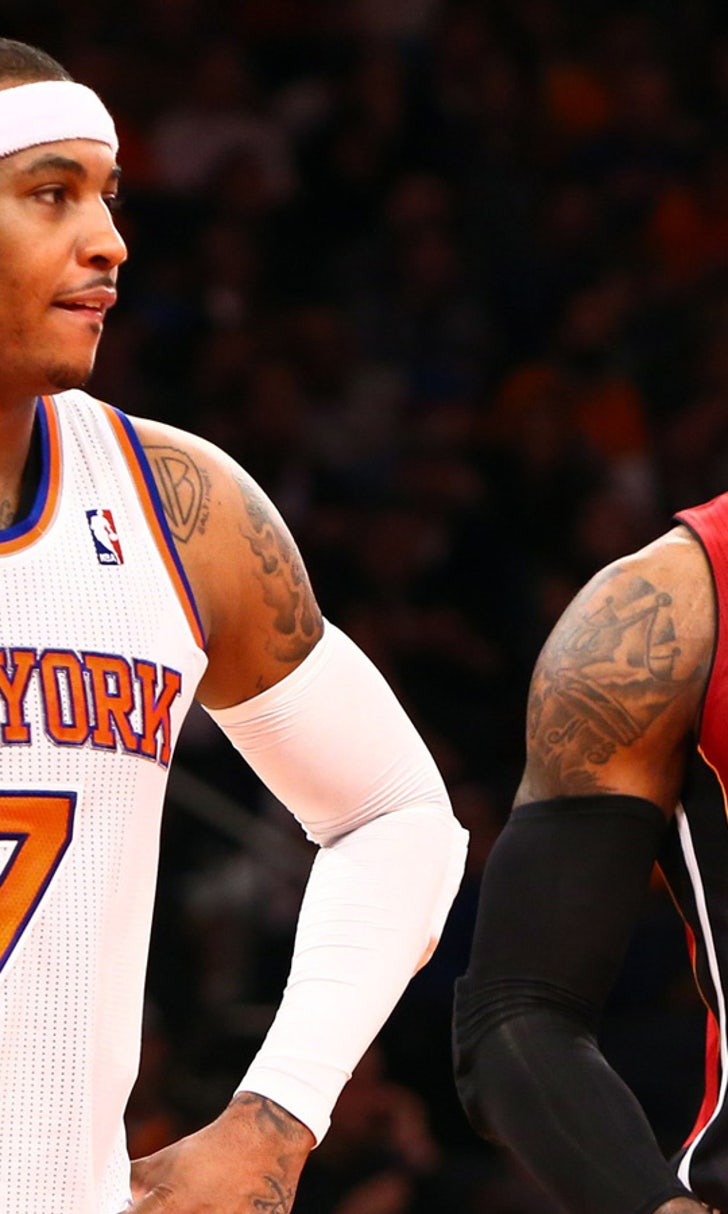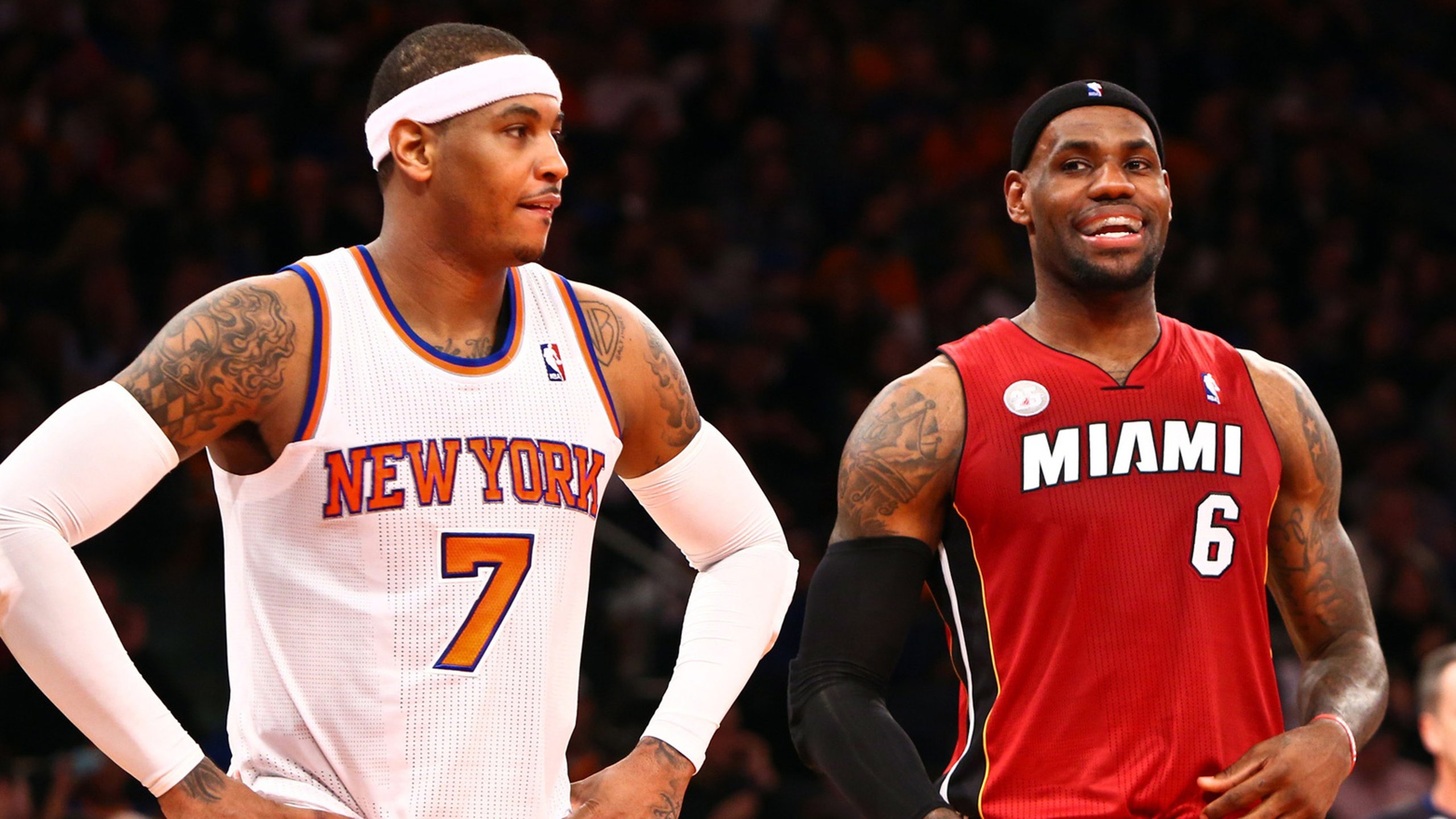 LeBron James, Dwyane Wade impressed by Carmelo's 62 points
BY foxsports • January 25, 2014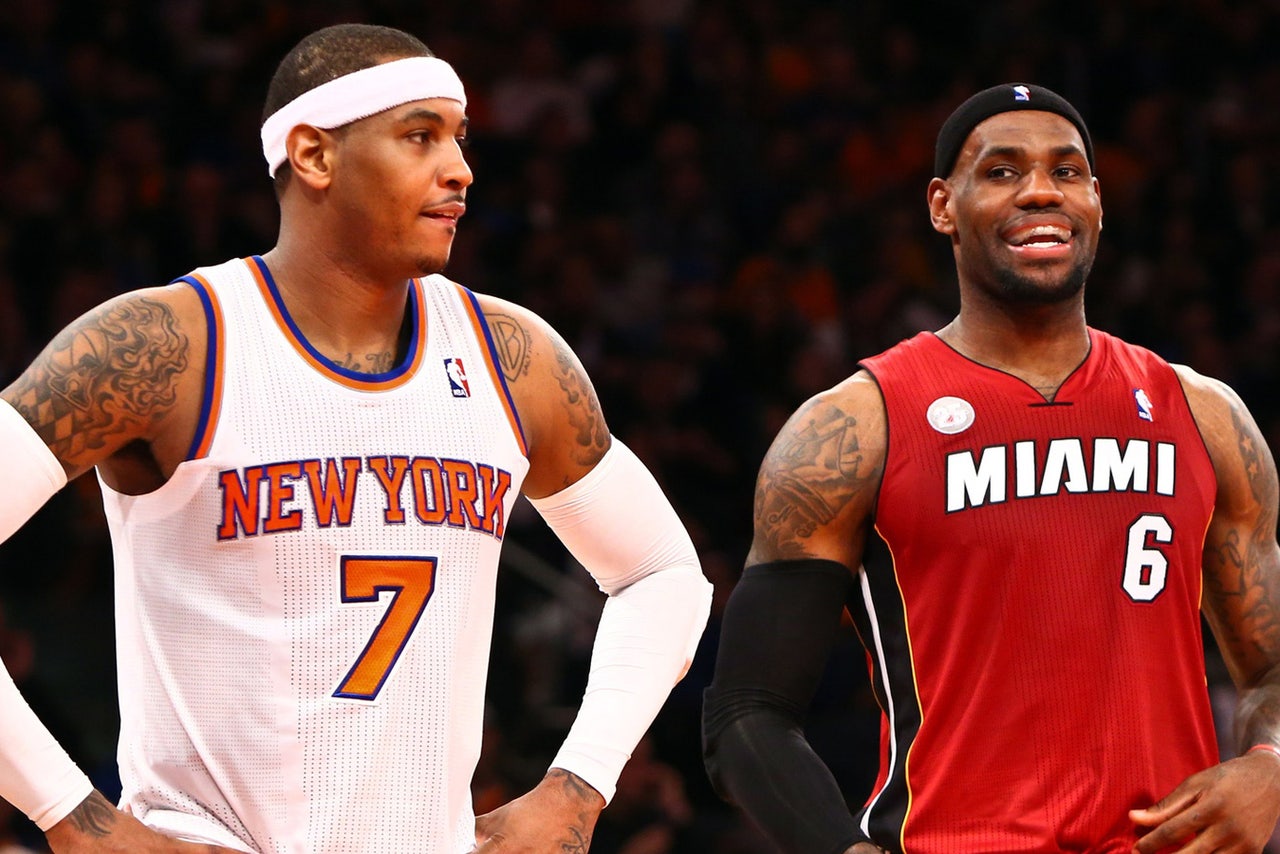 MIAMI -- LeBron James was checking NBA boxscores while at a Friday night social event with several Miami Heat teammates when something jumped out at him -- Carmelo Anthony's 62-point performance.
''I saw he had 50 points with eight minutes to go in the third (quarter), so I sent out a tweet then saying, 'Is that true? I can't believe it!' '' James said following Saturday's morning practice.
''At the end of the fourth, I tweeted to (New York Knicks coach) Mike Woodson and told him to leave him in because I wanted to see him get 75.''
Anthony's scoring total against the Charlotte Bobcats outdid James' career-high by six points. The King had 56 at Toronto on March 20, 2005.
''I think it was an unbelievable performance,'' James said of Anthony's effort. ''Obviously, he's one of the greatest scorers ever to play this game and he's one of the best players we have in our game. There's only a few guys that can get in a zone like that and he's one of them.''
Also one such player, James was asked how much he would like to replicate Anthony output: 23-of-35 shooting, 6 of 11 from beyond the arc and 10 of 10 from the foul line.
''I would like to, we'll see what happens,'' James said. ''You go into a game saying you want to have a night like that every night but it doesn't work.
''Certain guys are born to score and to just score. If I ever felt like that, and my teammates were like, 'Listen, stop passing the ball and just shoot, please. If you pass the ball we're going to find you,' then I'll have to take the challenge.''
Dwyane Wade, who scored a career-high 55 points against New York on April 12, 2009, also was impressed by Melo's evening.
''I've seen highlights. I saw one double-team,'' Wade said with a smile. ''It's phenomenal, man. Carmelo's obviously one of the best scorers in our game. To be on a roll like that, it's impossible to stop him.
''We're all fans of the game, and especially when it's not on you, you enjoy it as a fan.''
You can follow Charlie McCarthy on Twitter @mccarthy_chas or email him at mac1763@bellsouth.net.
---
---