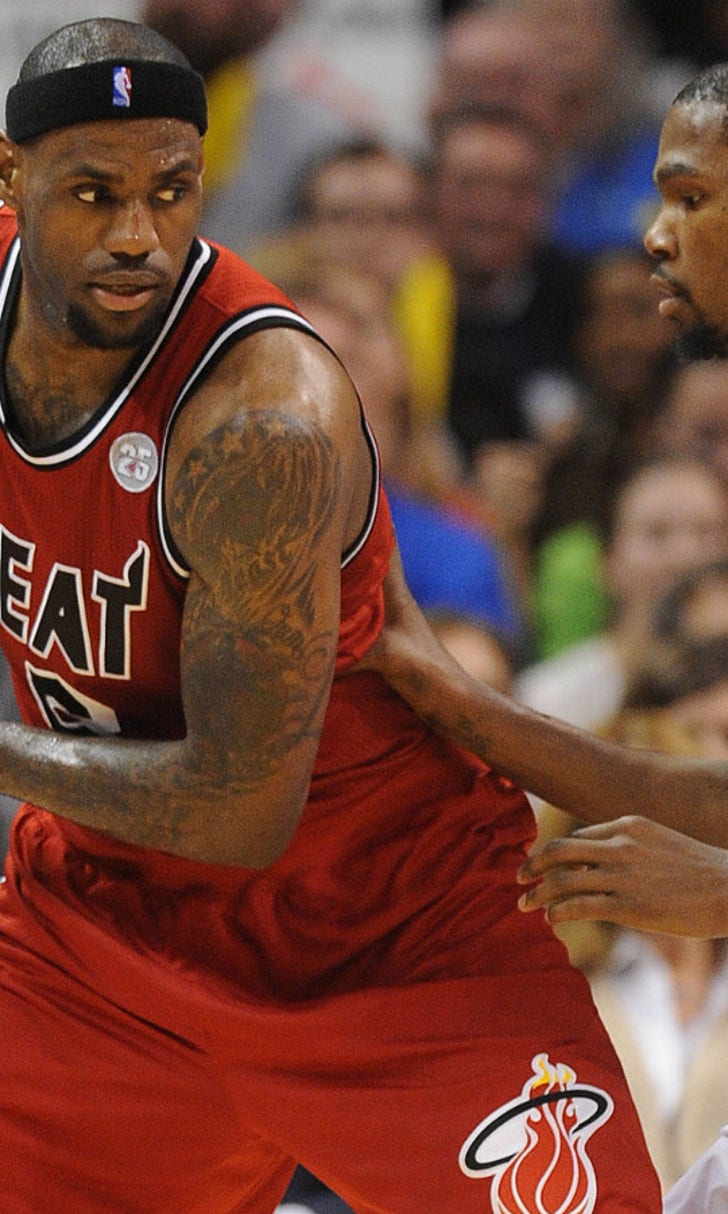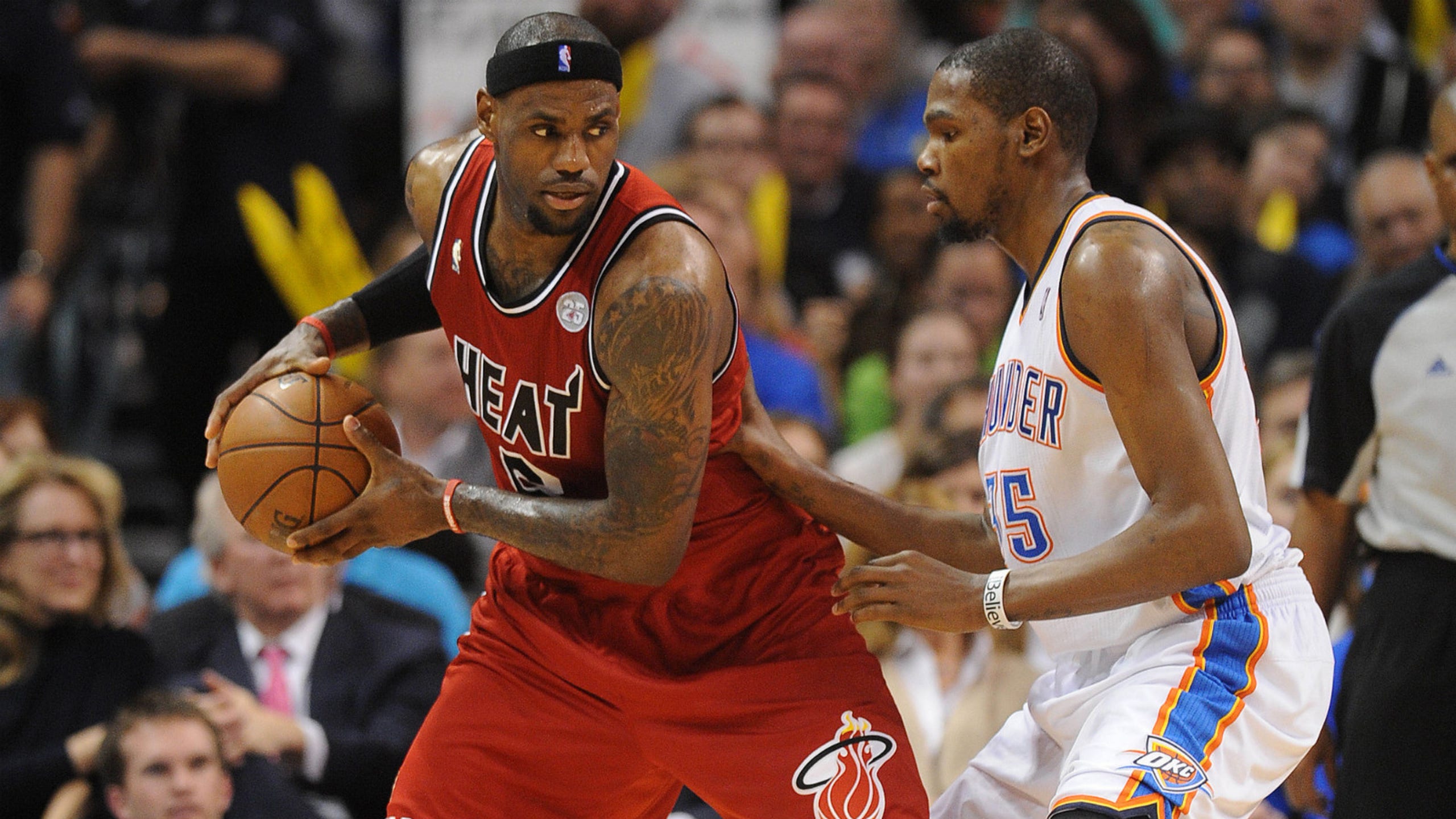 LeBron James downplays MVP talk with Kevin Durant in town
BY foxsports • January 28, 2014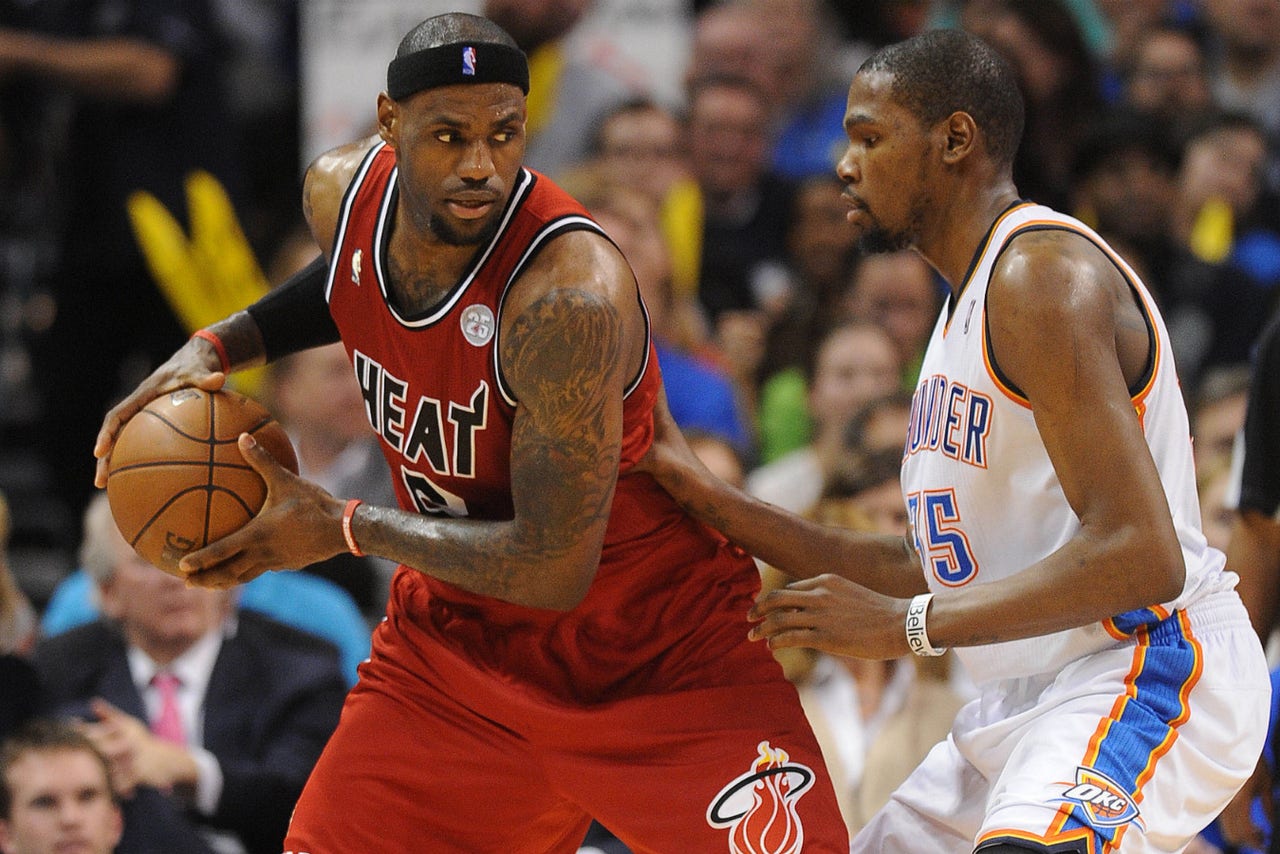 MIAMI -- Miami Heat vs. Oklahoma City Thunder. LeBron James vs. Kevin Durant. Four-time league MVP vs. a leading MVP contender.
Just how high will the MVP race rank for King James when Durant and the Thunder visit Miami on Wednesday night?
"It doesn't rank too much," James said following Tuesday's morning practice at AmericanAirlines Arena. "It's a great accomplishment and I thank my teammates every time I get a chance to be part of that.
"But like I said, I love being the MVP of our team. If it results in me being MVP of the league from among your peers, it's a great achievement."
James has been league MVP four of the past five years -- two with Cleveland, two with Miami. This season, he is averaging 26.0 points, 6.9 rebounds and 6.5 assists.
Durant, meanwhile, is making his own strong case for the honor by averaging 31.3 points, 7.8 rebounds and 5.2 assists for Western Conference-leading Oklahoma City (36-10). He'll arrive in Miami having scored 30 or more points in 11 consecutive games.
James described his relationship with Durant as "really good" and "I've always loved to see him succeed."
Perhaps, but not on Wednesday night.
As the player likely to defend the Thunder forward much of the game, James embraced the challenge of trying to end the scoring streak.
"Oh yeah, it's a challenge. It's not secondary it's first-dary," said James, adding that doing so wouldn't be easy.
"Absolutely. He's one of the toughest coverages. It's between him and (Carmelo Anthony) for me individually. It's a game within a game. You want to win, but you also want to try to do your part in who you're going against."
Durant's 30-point streak is the longest in the NBA since Tracy McGrady's 14-game stretch in 2003. James produced a 10-game streak in 2006.
"It's very impressive, but it's not surprising," James said. "He's a great scorer and he shoots a great percentage as well. He can do a little of everything. He can make his free throws, he makes 3s and makes pull-ups. He can get to the rims, transition … he gets a little bit of everything."
Or as Heat coach Erik Spoelstra said: "He's a shotmaker. When you can go into the tool bag like he can, and come up with any tool to create a shot, it makes it very tough, very challenging."
A challenge James relishes.
"I like going against the best," he said, "and K.D.'s definitely up there."
Watching video often is a big part of James' preparation for any opponent, though the viewing might not prove as helpful in this case.
"When you're in a zone like he's in, it don't matter how much film you watch, you just try to make it tough on him," James said. "He's going to make shots. He's going to make contested shots. When you're playing great defense on him, you just can't get down about it.
"Defense is great, but better offense beats better defense any day."
The Heat (32-12) have won the first three games -- Boston, Los Angeles Lakers, San Antonio -- of a four-game homestead. Defeating the Thunder would be a sweet sweep for a team that had returned home following a 2-4 road trip.
While many viewers Wednesday night will have NBA MVP on their brains, James said he won't be among them.
"It's an unbelievable award and I'm happy to have been part of it a few times, but I'll never change my game," he said. "I am who I am. I score, I rebound, I pass, I defend. If that results in me having individual awards, so be it. If not, it don't really matter to me."
Heat teammate Dwyane Wade said those words weren't just Kingspeak.
"I've never felt, since he's been here, that LeBron's ever been focused on the MVP race," Wade said. "I think he understands his ability, and when he steps on the court, he's the MVP candidate.
"He can possibly challenge to win it every year -- I think he understands he has that ability."
You can follow Charlie McCarthy on Twitter @mccarthy_chas or email him at mac1763@bellsouth.net.
---
---