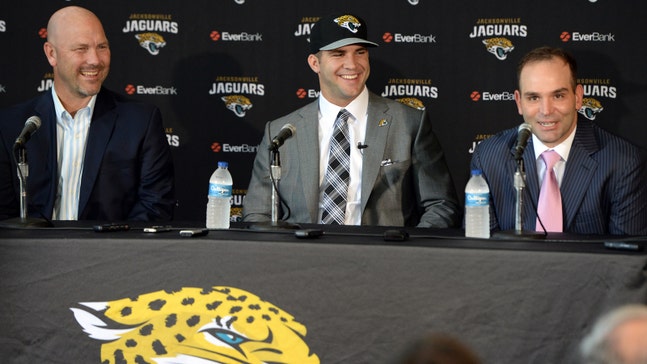 Jaguars have development plan for new QB Blake Bortles
Published
May. 9, 2014 5:03 p.m. ET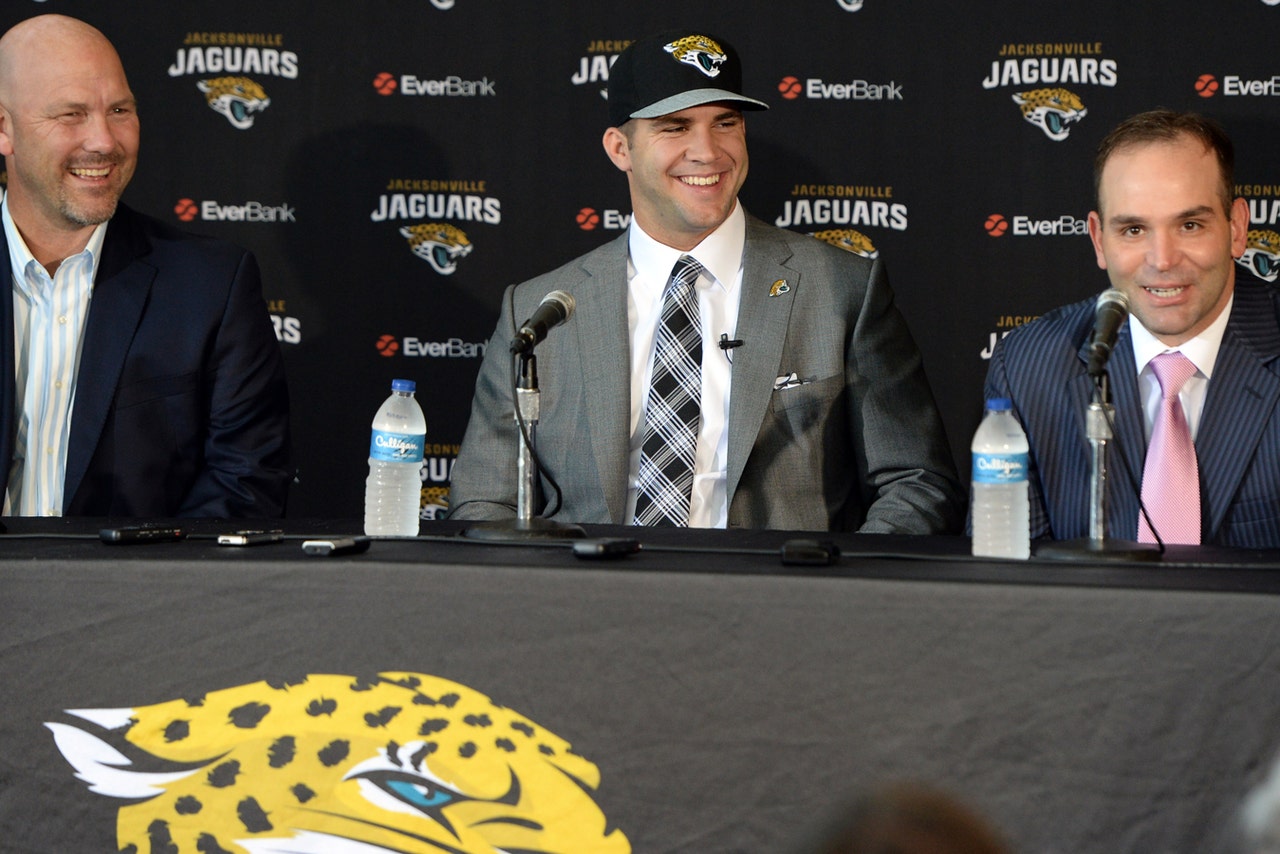 JACKSONVILLE, Fla. -- Growing up outside Orlando, Blake Bortles remembers attending a few Jacksonville Jaguars games with his family while in elementary school.
The Jaguars were all but unbeatable in 1999 -- with the exception of one team: the Tennessee Titans. All three of their losses, including in the AFC hampionship game, were to a team quarterbacked by Steve McNair, who had started only six games during his first two seasons after being the No. 3 pick in the 1995 NFL draft.
After shocking creators of mock drafts everywhere Thursday night by taking Bortles third overall, it's clear that the Jaguars envision a similar career arc for the player whose passing and decision-making helped elevate UCF to national prominence last year. Unlike Matt Ryan, who had been the last quarterback to be drafted at that spot when he was taken by the Atlanta Falcons in 2008, Bortles won't be installed as a starter right away.
"We want to be here and build this thing for the long haul," Jaguars offensive coordinator Jedd Fisch said Friday. "And we don't feel like he needs to be thrown into the fire."
Chad Henne, who started the final 11 games of 2013 when the Jaguars went 4-12, will again be in charge of the offense barring an injury when they open next season. When the Cleveland Browns come to town in October, Johnny Manziel stands a far greater chance of starting for them than Bortles does of starting for the Jaguars.
He's fine with that.
"If you have the right mindset about it, I think you'll be all right," Bortles said. "Obviously you're going to practice and prepare as if you're going to be a starter."
"We definitely have a plan, I'll say that," Jaguars coach Gus Bradley said. "It was something that we thoroughly discussed before entering this process."
Bortles, who threw for 3,581 yards and 25 touchdowns as a junior as UCF went 12-1 in a season capped by a victory in the Fiesta Bowl, is only the third quarterback the Jaguars have taken in the first round. Their two previous selections, Blaine Gabbert in 2011 and Byron Leftwich in 2003, lasted a total of seven seasons and had a combined record of 29-42 as starters.
But from the NFL combine in February through his UCF pro day workout in March and a visit to the Jaguars in April, Bortles was able to establish a connection with everyone he met in the organization.
"Every time I met with coach Bradley and everybody here, I left thinking, 'That was awesome,' " he said. "I felt that this was the best place, this was the place where I wanted to be."
General manager Dave Caldwell tried his best to disguise his interest in Bortles leading up to the draft, as the Jaguars dropped hints that they were looking at players at other positions. Bortles wound up being the only quarterback taken among the first 20 picks.
"It's not like we were trying to fool anybody," Caldwell said. "With the information I had, with the people picking in front of us and some of the teams picking behind us, I didn't want to alter any of their decisions."
"We're looking for guys that are really competitive, reliable, tough and smart," Bradley said. "And we had check marks by all of that with Blake."
Although his official height is listed at 6-foot-3, two inches shorter than what he was measured at in college, Bortles has the size and physical style which has drawn comparisons to Ben Roethlisberger, who has won two Super Bowls with the Pittsburgh Steelers. But he thinks of himself as more similar to Andrew Luck of the Indianapolis Colts, the No. 1 pick in 2012.
"I'm kind of an Andrew Luck type, just able to extend plays and do some unorthodox things for a big guy," Bortles said.
"The great thing about Blake is his athleticism and his ability to keep plays alive," Caldwell said.
Unlike Luck, Bortles was not a quarterback from the moment he began playing. He started out as a linebacker, and even after coming to UCF, there was talk about possibly moving him to tight end.
"I enjoy contact," he said. "That's why I started playing football. And I kind of grew, and it (playing quarterback) was the only thing I could do being weirdly tall and skinny at a young age."
The Jaguars still have areas they need to address on offense with some of the 10 picks they have in the draft's final six rounds. Other than Cecil Shorts III, whom Bortles met while training in California earlier this year, they remain thin at wide receiver.
But they believe they have their quarterback of the future.
"I don't want to set his bar too high, and I don't want to set it too low," Caldwell said. "I just want him to be the best he can be and let people start making comparisons to Blake Bortles."
You can follow Ken Hornack on Twitter @HornackFSFla or email him at khornack32176@gmail.com.
---
---