Darlington Nagbe steps forward for USMNT, Timbers
BY Kyle McCarthy • November 21, 2015
Timing is everything for Darlington Nagbe. Every dribble, every pass and every slicing foray reinforces the maxim. Nagbe thrives by pulling everything together at the right moment. It is an economy of motion and a management of rhythm wielded by players in the upper echelons of the game.
Nagbe boasts those qualities, but he receives the odd contribution from external forces, too. The entrenched Portland Timbers midfielder, 25, is in the midst of one of the most consistently influential passages in his career. His uptick in production coincides with his first few months as a United States citizen. And it is why he now finds himself firmly in the U.S. national team picture as his Timbers prepare to kick off the Western Conference final against FC Dallas on Sunday (live, 7:30p.m. ET, FS1, FOX Sports GO, FOX Deportes).
Even at the most critical juncture of his career, Nagbe appreciates the importance of the interlude between pursuit and success. It isn't easy to push off a dream until the paperwork comes through. Even if the timing is just right when it finally arrives.
"I think so, especially when you know something like this is waiting at the end," Nagbe said after making his U.S. national team debut in the 6-1 victory over St. Vincent and the Grenadines last Friday. "It's definitely a tough wait. I wasn't too sure when it was going to happen. I knew it was going to happen sooner or later. That was the hardest part of it. But I'm excited I'm here."
U.S. goalkeeper Tim Howard captured Nagbe in one word as he pondered Nagbe's contributions after the 0-0 draw against Trinidad and Tobago on Tuesday. Howard called his new teammate shifty. And he meant it in the most flattering way possible.
"I hate to overhype him, but America doesn't really produce a lot of those shifty players that can get their foot on the ball and make people miss," Howard said after Nagbe made his second U.S. appearance as a substitute. "It's not always spectacular, but just a little shift here or there to unbalance the defense. I like him a lot. I think he has a lot of potential and I think he's a good kid."
Nagbe -- the Liberian-born son of former Liberia captain Joe Nagbe and a former Hermann Trophy winner under current Timbers coach Caleb Porter at Akron -- is shifty. He plays angles well. He torments defenders with his movement and his technique on and off the ball. He wields the possession efficiently (his 89 percent passing accuracy ranked him second among MLS regulars this season, according to Opta statistics) in a quest to facilitate his teammates, even if he isn't usually the one playing the incisive ball through.
Those qualities do not always translate to success in MLS, though. It is not a cerebral league by nature. The emphasis on pace and strength can obscure or overwhelm the deft qualities in a player.
It took a while for Nagbe and Porter to devise the right way to deploy those particular talents. Porter shuffled Nagbe through a variety of formations, locations and positions on the field in a bid to facilitate his growth and find the best way to translate his skills. Nagbe operated deftly when he obtained possession and occasionally tipped the balance in matches, but he too often posed little threat to the opposition. He found himself under increasing scrutiny last season as his evident talent failed to yield the expected end product.
Porter kept the faith and worked with Nagbe to find a solution. It finally arrived in the waning stages of this season as Porter shifted away from the more direct, pragmatic approach employed for much of the year and trusted his Timbers to keep the ball instead. Nagbe sparkled in the final couple of weeks as part of a midfield triangle designed to give him more control over the proceedings.
"More touches on the ball," Nagbe said as he explained the impact of the changes. "I've been trying to assert myself a little bit more, which I have a hard time doing sometimes because of my personality. I had to be more assertive trying to go and find the ball than I had in the past."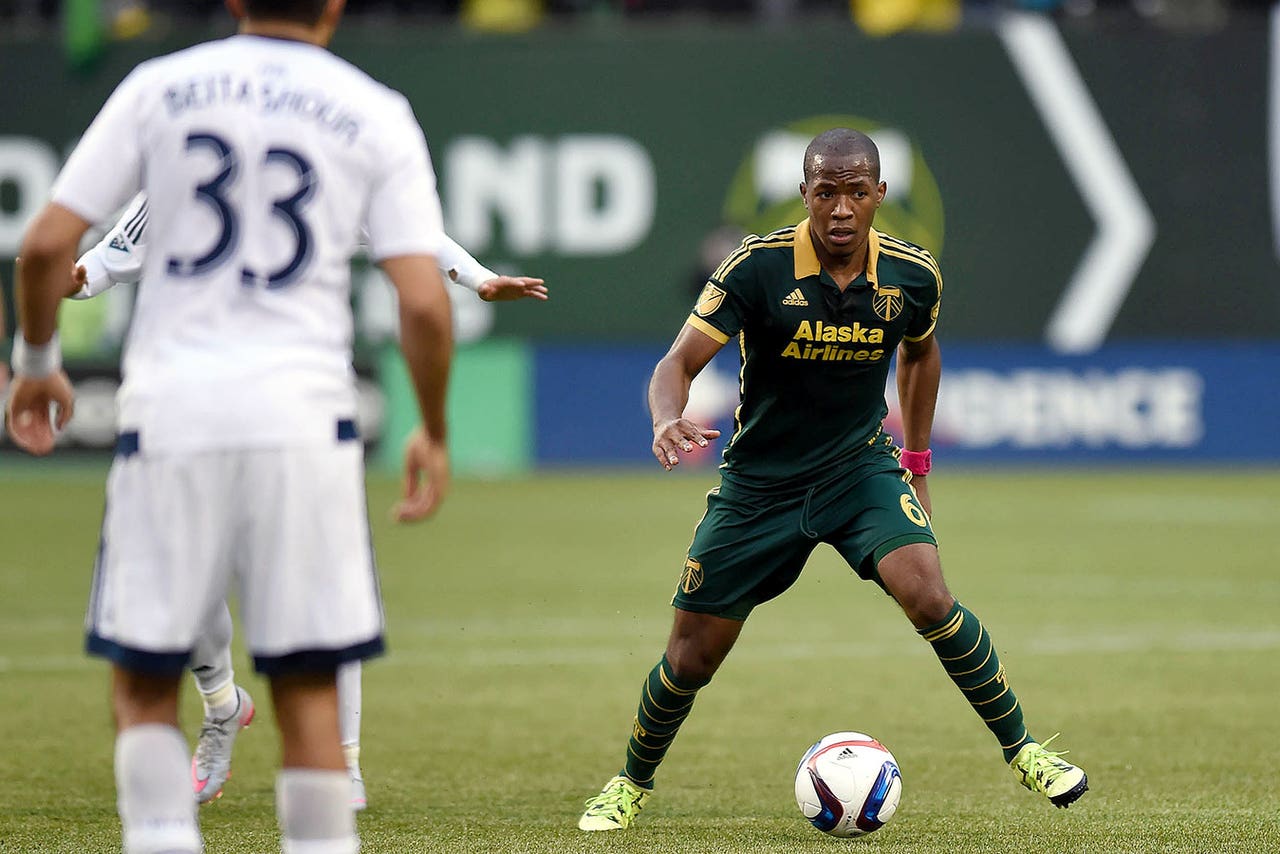 Portland midfielder Darlington Nagbe scored three goals in two matches after Timbers coach Caleb Porter moved him into a central midfield triangle.
From a broader lens, the transition to international soccer suits Nagbe because he can play to his strengths. He isn't expected to stamp his imprint on the game, per se. Others fulfill that role in the U.S. team right now. He is simply expected to move things along as he does so effortlessly and spur the sort of movement necessary to improve the team in possession.
"I think with Darlington Nagbe, you saw in both games now that we found a player that knows how to play, knows how to take care of the ball and is very comfortable in either direction on the ball," U.S. coach Jurgen Klinsmann said. "It's nice to see. It gives us a bit more of a flow in the game because he simply connects the passes and that gave it a bit more life."
The description fits Nagbe neatly: He stands out because he connects so well. Those are the qualities instilled in him from an early age. Those are the strengths that make him such an important part of the Timbers' MLS Cup quest. And they are the traits that ensure he arrives at the right moment again and again.
---
---