Chip Kelly's methods restore the faith in Philly
BY foxsports • October 22, 2014
TEMPE, Ariz. -- Philadelphia fans do angst as well as any fans in pro sports -- raw, crass, passionate, loud, D-batteries-in-your-face angst.
Other cities have suffered through worse pro sports histories than Philadelphia, but the vocal nature of Philly fans, the size of the metropolitan area (sixth largest in the nation) and the pervasiveness of media present enormous challenges for the local sports teams that have played a role in one defining statistic.
Philadelphia's pro teams have won just one title since 1983 -- the Phillies' 2008 World Series title. The 76ers last won the NBA title in 1983. The Flyers last won the Stanley Cup in 1975 and the Eagles, well, they haven't won a Super Bowl. Their last NFL championship came in 1960, six years before the AFL/NFL merger.
Is Chip Kelly the coach to change all that?
"When he first got here, you could just tell that we were going to win games immediately because of the way he works and things he asks from his players and the type of attitude," Eagles running back LeSean McCoy said via conference call on Wednesday. "As a coach, what you do and how you act reflects on the players. The tree moves down from him to the coaches, to the players, and that's what we do."
When Kelly arrived on the scene to replace fired Andy Reid before the 2013 season, there were immediate questions about his ability to translate his success as a college coach at Oregon to the NFL. Many a head coach had failed in that venture, minus the tool of recruiting.
But Kelly wasted no time turning the Eagles around. In Reid's final season, Philadelphia went 4-12. In Kelly's first season, the Eagles went 10-6 with Nick Foles at quarterback and won the NFC East. This season, they're 5-1 heading into a Sunday matchup with the 5-1 Cardinals at University of Phoenix Stadium.
"You can't argue with the success he's had at both places," said Cardinals rookie safety Deone Bucannon, who faced off against Kelly's Oregon teams regularly at Washington State. "I know they whipped us pretty good, but he's winning in the NFL, too."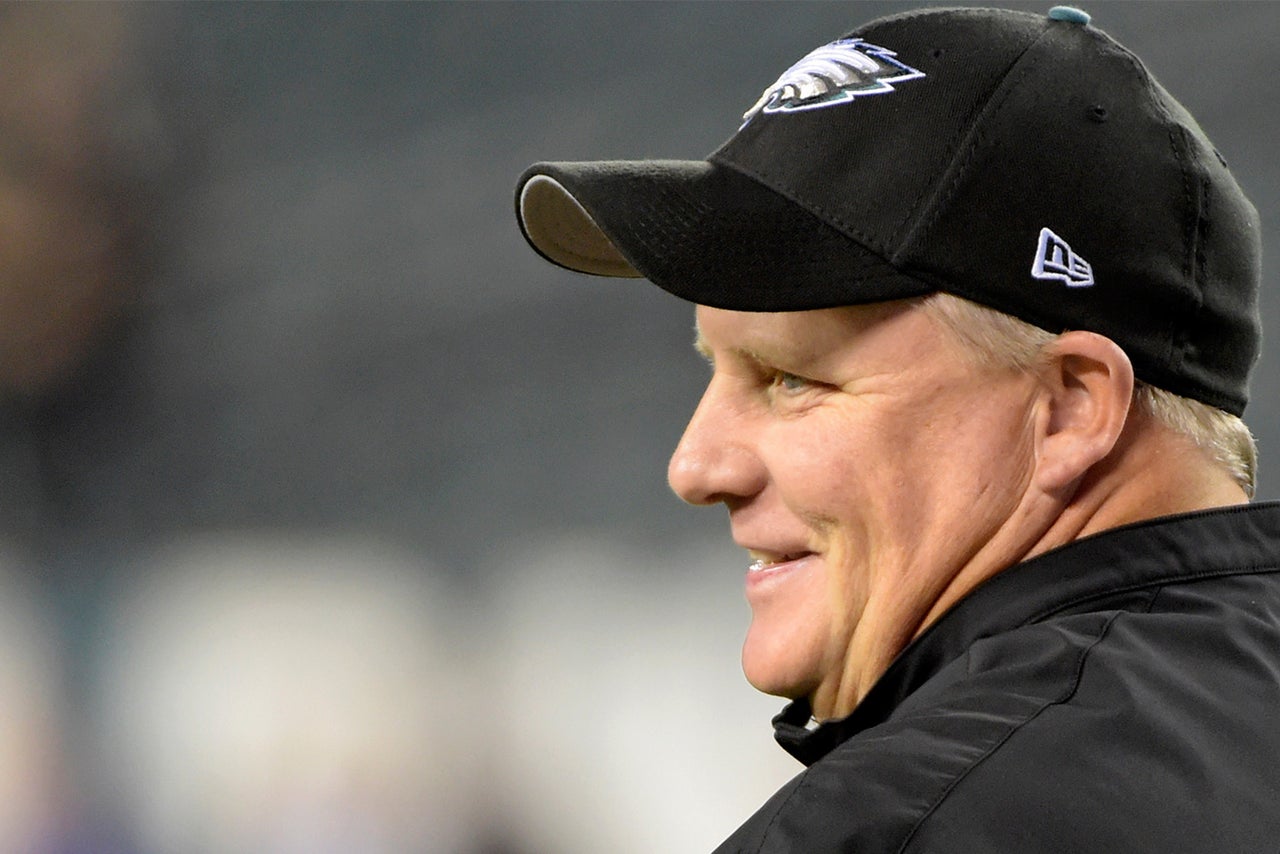 Chip Kelly is 15-7 since take over as coach of the Eagles.
Kelly's calling card is his up-tempo offense. But Philadelphia's record is all the more remarkable when you consider the injuries that the team has endured. 
All-Pro left guard Evan Mathis has been out of action since suffering a MCL sprain during the team's Week 1 game against the Jacksonville Jaguars, and starting center Jason Kelce is out with a sports hernia injury. Tackle Allen Barbre had season-ending surgery on his ankle, and tackle Lane Johnson was suspended four games for violating the NFL's policy on performance-enhancing substances.
"There's no one that's 100 percent healthy, and that's just part of the game," Kelly said. "We all have to make adjustments."
Kelly has had to compensate for another issue, however. His team has 14 turnovers this season, one off the NFL high of 15 by the Washington Redskins. Philadelphia is minus-5 in turnover margin, the fifth-worst mark in the NFL.
"There is not a common thread, unfortunately," Kelly said. "If there was, you could correct it and say 'hey, we can do this to fix that.' 
"They've come in different manners. We obviously can't continue to turn the ball over and expect to be successful."
To date, the Eagles have relied on their league-best special teams and some key scores from their defense, which ranks 24th in yards per game (380.8) but is tied for 12th in points per game (22).
Philadelphia has a touchdown apiece from punt returner Darren Sproles and kick returner Chris Polk and two blocked punts for touchdowns. The defense has reached the end zone three times, twice off fumble recoveries and once on a pick-6 by safety Malcolm Jenkins.
"There are a lot of different factors into creating a real team, not just offense," Kelly said.
Kelly scoffs at the notion that Philadelphia has accomplished anything so early in the season. But the Eagles, Cardinals and Cowboys are the only one-loss teams left in the NFC, and that has Philly fans dreaming in their own special way.
"Philly fans, they're probably the most unique next to Raiders fans," said Cardinals head coach Bruce Arians, who coached at Temple University in Philadelphia 1983-88. "They travel well, they throw snowballs at Santa Claus and all that good stuff.
"Oh, God, I love Philadelphia."
Follow Craig Morgan on Twitter
---
---