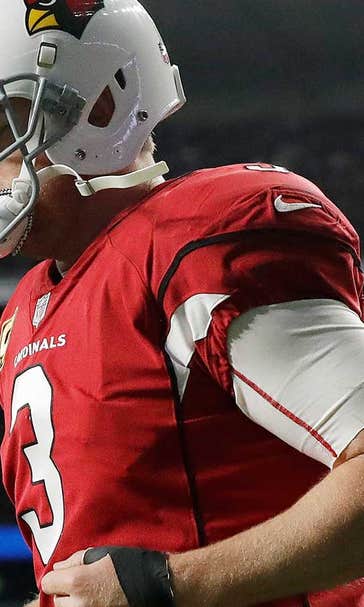 Cardinals preparing for life without Carson Palmer
October 23, 2017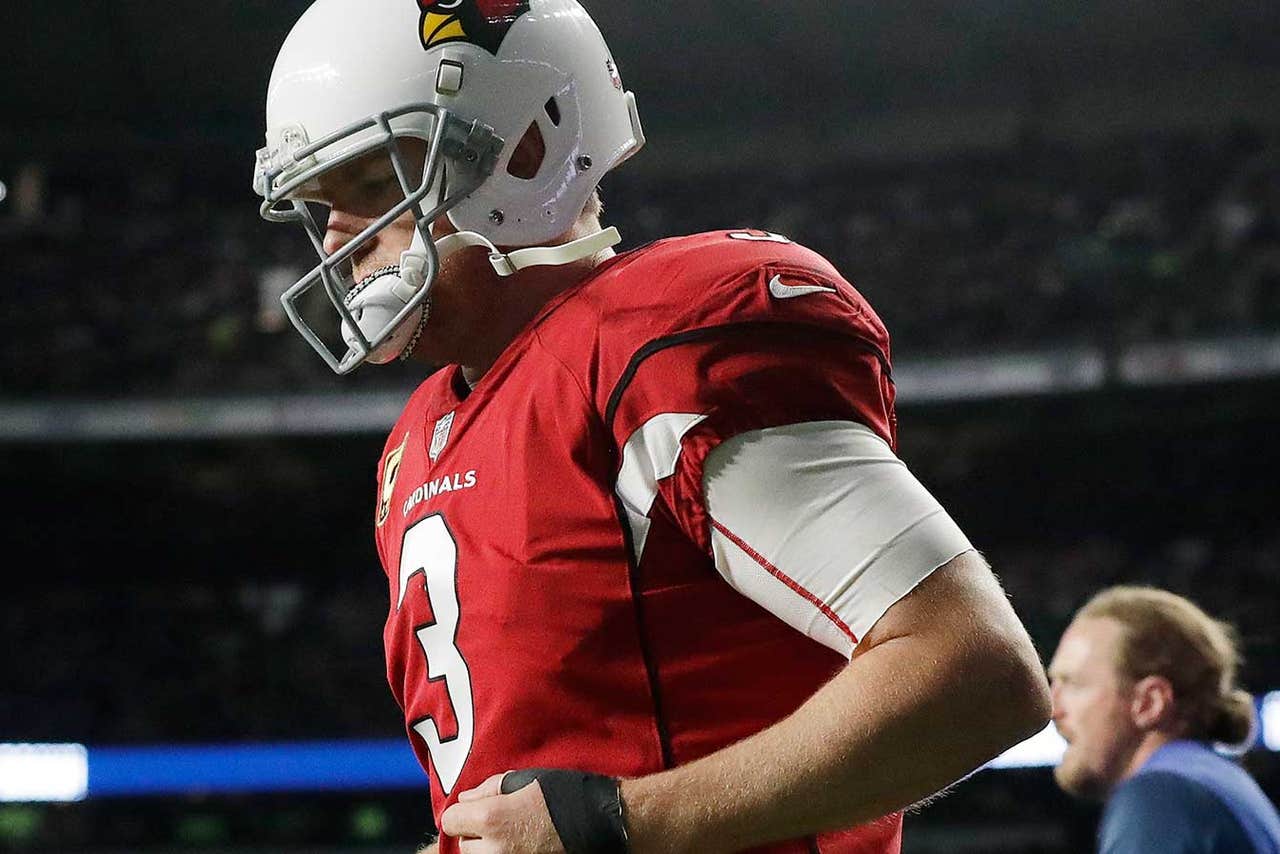 TEMPE, Ariz. -- The Arizona Cardinals went to London hoping to put an uneven start to the season behind them and pull into a tie for the NFC West lead.

The trip abroad did not go as planned.

The Cardinals (3-4) were not only overmatched by the Los Angeles Rams in a 33-0 beatdown on Sunday, they may have lost quarterback Carson Palmer for the season.

Palmer broke his left arm in the first half Sunday and is expected to have surgery. He is projected to be out eight weeks, which would put him in danger of missing the rest of the season.

Palmer is the fourth Cardinals player to go down with a broken left arm, joining running backs David Johnson and T.J. Logan, and long snapper Aaron Brewer.

"It sucks because you know you've got a good football team that you're excited about," Cardinals coach Bruce Arians said Monday. "We went through a really tough camp injury-free and now we've got four broken left arms. It's kind of crazy. But nobody's going to throw a pity party for Green Bay and no one's going to throw one for us."

Palmer was injured late in the second quarter when he was hit by Rams linebacker Alec Ogletree on a deep ball attempt. Palmer was intercepted on the play and walked off the field holding his left arm.

Arians said Palmer will get a second opinion and is hoping to return sooner than the initial prognosis, possibly in the four-to-six week range.

https://twitter.com/AZCardinals/status/922598520309260288

Palmer is 37 and contemplated retirement last year before deciding to return for a 14th NFL season -- fifth with the Cardinals -- so there's a possibility Sunday's game could have been his last if he doesn't return this season.

"That's a real gut punch to lose your best offensive player, your quarterback," receiver Larry Fitzgerald said. "There's no really positive way to sum it up, honestly. You say you have to go forward and you have to do things, but we all know that's a tough pill to swallow for us."

Regardless if there is an expedited timetable for Palmer's return, the Cardinals will be without him for more than a month, leaving them in the hands of veteran backup Drew Stanton.

Stanton is 6-3 as a starter since being signed as Palmer's backup in 2013, though he's had some uneven performances. He threw an interception late in the first half against the Rams to set up a field goal and finished the game 5 for 14 for 62 yards.

Stanton has a career completion percentage of 52.7 percent and has 20 interceptions with 14 touchdowns.

"Drew will bounce back, get a whole lot better when he has more practice time," Arians said. "It's nice to have an extra day's work. He literally had no reps last week with our offense, so we will get that straightened out."

Stanton was good enough in preseason camp to hold off 28-year-old Blaine Gabbert, who was signed during the offseason.

Gabbert is athletic, younger than Stanton and good enough in camp that Arians decided to keep three quarterbacks for the first time during his tenure in the desert. Arians reiterated his statement Sunday that Stanton is the next man up.

"I saw a really good athlete who has a tremendous arm," Arians said of Gabbert's fall camp. "It's just a matter of continuing to learn this system."

Palmer's injury put the Cardinals in a bind, but it was not the only issue on Sunday.

A week earlier, Arizona's offense was rejuvenated by the arrival of Adrian Peterson in a trade with New Orleans. Running hard through big holes provided by the offensive line, Peterson ran for 134 yards and a pair of touchdowns in a victory over Tampa Bay.

The Rams sealed him up in London, clogging lanes and preventing him from breaking off big runs. Peterson finished with 21 yards on 11 carries, becoming mostly an afterthought as the Rams continued to build on the lead.

"It was hit or miss," Arians said. "It was Adrian a little bit, a guy here or there and that's a good front."

Now Palmer is gone, at least for the foreseeable future, and the Cardinals will need to find a way to adjust.
---
---