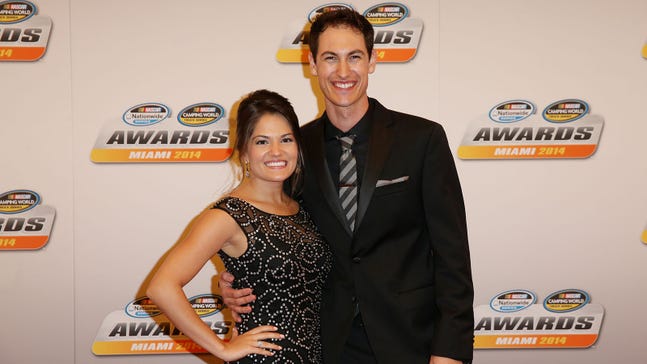 Best of Bake: DeLana Harvick gives Joey Logano's wife a funny gift
Updated
Mar. 4, 2020 4:20 p.m. ET

(Note: As 2015 comes to an end, we're looking back at some of the top Shake and Bake stories of the year. The following was originally published on Jan. 16.)
The Harvicks and the Loganos have not always been on the best of terms. 
In the closing laps of the Gillette Fusion ProGlide 500 at Pocono Raceway in 2010, Kevin Harvick and Joey Logano were battling hard for the fifth spot when the 2014 Sprint Cup Series champion gave a nudge and sent the young driver sliding up the track before spinning out. Denny Hamlin would go on to win the race, but the real fireworks took place on pit road when Logano, urged on by his father, confronted Harvick and his crew. 
The tempers boiled over into Logano's post-race interview, where he said of Harvick, "It's probably not his fault. His wife wears the firesuit in the family and tells him what to do." 
Now that nearly five years have passed on the incident, Logano and the Harvicks have been able to move on from the incident and look back at it and laugh. 
During the offseason, Logano married girlfriend Brittany Baca, prompting DeLana to send a little congratulatory package to the newlyweds. 
Enclosed in the package was a Harvick T-shirt reading, "I wear the firesuit in this family" with a note that welcomed Brittany to the NASCAR wives club.
---
---