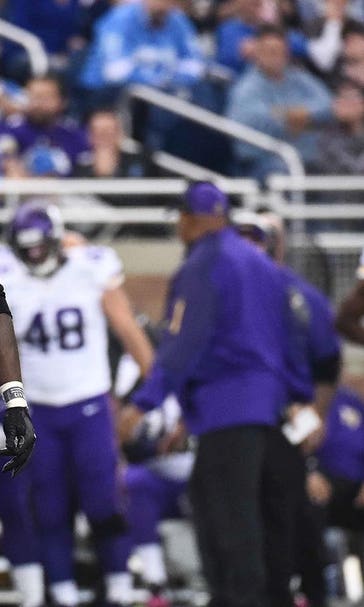 Adrian's options: Which teams could still sign Peterson?
March 16, 2017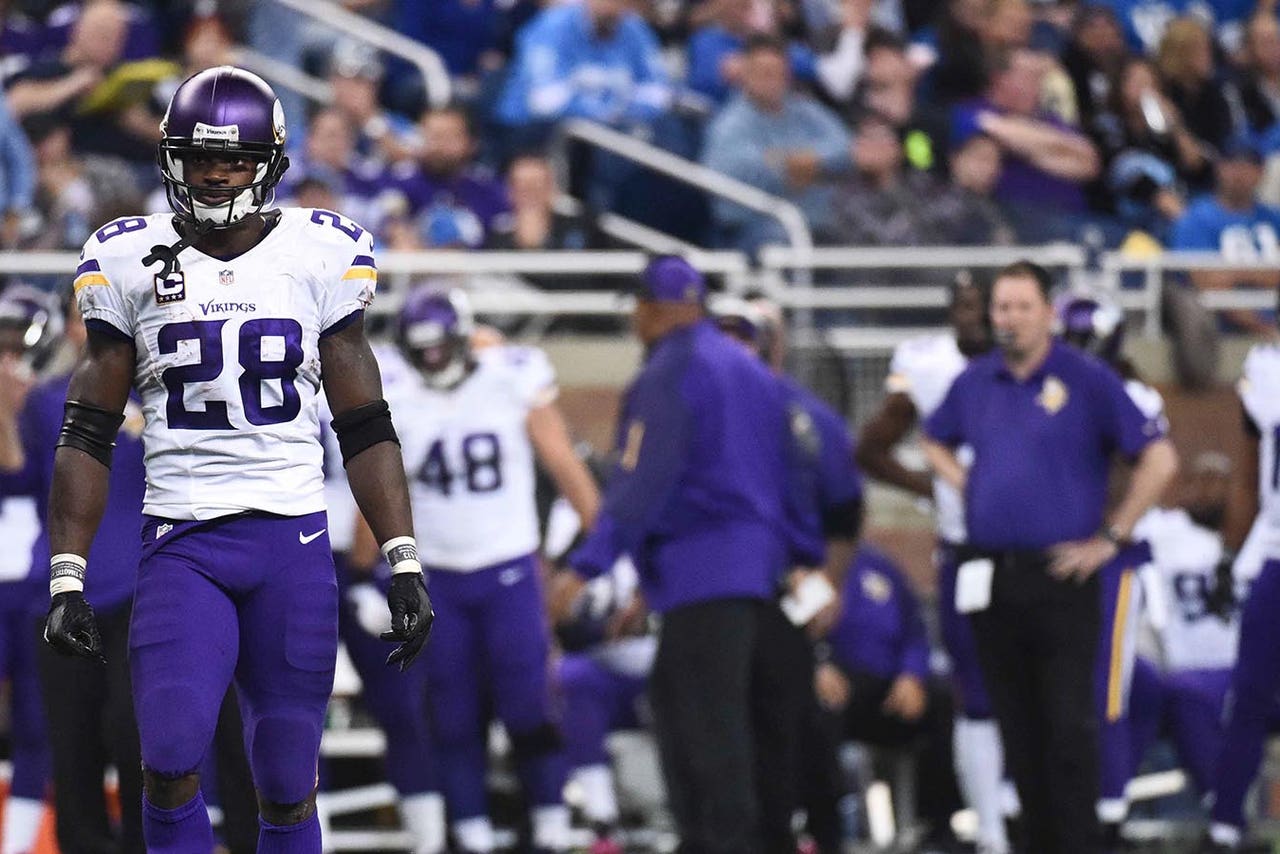 With running back Latavius Murray signing with Minnesota, Vikings general manager Rick Spielman confirmed the obvious Thursday: "Adrian (Peterson) will move on elsewhere.

But where, exactly?

There don't seem to be many options out there for Peterson.

Either because a team doesn't need a running back, a team runs out of the shotgun (Adrian's favorite offense!) or is low on cash.

We're here to try to sort things out for Peterson as best we can, taking a team-by-team look at each possibility. All we can say is … good luck. This is not going to be a fun job search for Peterson.



AFC EAST

Bills: LeSean McCoy averaged 5.4 yards per carry on 234 attempts last year. Mike Gillislee averaged 5.7 yards on 101 attempts. They're not going anywhere.

Dolphins: Last season Jay Ajayi became just the fourth player ever to rush for at least 200 yards in back-to-back games. He added a third in Week 16. Third-round pick Kenyan Drake is also on the roster.

Patriots: New England's running back shopping is probably at an end. Recently signed Rex Burkhead will join Super Bowl hero James White and Dion Lewis in New England's backfield.

Jets: Matt Forte and Bilal Powell formed a respectable tandem for rebuilding New York last season. Another veteran back probably isn't the answer.

 

AFC NORTH

Ravens: Former Chargers pass-catching back Danny Woodhead joins Terrance West, who surprised in his first full season in Baltimore. Lorenzo Taliaferro is still around as well, while talented youngster Kenneth Dixon remains the likely future of the position in Baltimore despite his four-game suspension.

Bengals: Jeremy Hill and Giovani Bernard are complimentary backs in an offense that runs through wide receiver A.J. Green.

Browns: Isaiah Crowell broke out last season, and Duke Johnson filled in admirably as a pass-catcher. Cleveland isn't the contender that Peterson is looking for, but with a rebuilt offensive line and enough cash to take on Broke Osweiler's contract, they're one of the few teams that could accommodate Peterson financially.

 

AFC SOUTH

Texans: Cutting Lamar Miller is a nonstarter after Houston handed him a four-year, $26 million last year. He was serviceable last season, and should improve if the Texans can find a way to get their passing game going next season.

Colts: Frank Gore is somehow still churning out yards 1,000-yard seasons at 33 and Indianapolis just signed Robert Turbin to an extension.

Jaguars: T.J. Yeldon and Chris Ivory haven't set the league on fire, but Jacksonville's offense is a poor fit for a runner like Peterson. According to Football Outsider, the Jaguars run 55.5 percent of their plays out of the shotgun, not Peterson's preferred scheme (nor is he all that successful running out of it).

Titans: DeMarco Murray turned things around in Tennessee last season, and sophomore Derrick Henry is waiting in the wings.

 

AFC WEST

Broncos: C.J. Anderson, Devontae Booker, Kapri Bibbs and Juwan Thompson are all competent or better. Denver has other needs.

Chiefs: Spencer Ware and Characandrick West have excelled in Jamaal Charles' absence over the last two seasons. C.J. Spiller is also in the mix.

Chargers: Melvin Gordon was a touchdown machine last season. Pass.

Raiders: Oakland would be a fantastic fit were it not for that nagging shotgun issue. And sitting Peterson for 50.1 percent of your plays isn't going to fly. The only running backs on the roster are Taiwan Jones, DeAndre Washington and Jalen Richard, but changing Derek Carr's offense to accommodate an aging running back isn't a winning strategy.

 

NFC EAST

Cowboys: Jerry Jones is just wealthy/wacky enough to do it, but "Zeke" is here to stay after winning the NFL rushing title last season.

Giants: New York could definitely use an upgrade at the position after Paul Perkins and Shane Vereen rushed for 614 yards combined last season. The Giants run just 20.3 percent of their plays out of the shotgun, the fewest in the NFL. However, the Giants are a bit cash-strapped with just under $6 million to spend, according to OverTheCap.com, and that includes roughly $5 million needed to pay draft picks.

Eagles: Philadelphia is expected to release Ryan Mathews to free up some cap space after signing Alshon Jeffery. Scatback Darren Sproles and sophomore Wendell Smallwood return, and Peterson would be a poor scheme fit for a team that runs the shotgun 47.5 percent of the time.

Redskins: Robert "Fat Rob" Kelley, Chris Thompson and Mat Jones formed an effective committee last year.

 

NFC NORTH


Bears: Rebuilding teams don't sign championship-chasing running backs, and Chicago seems set regardless with Jordan Howard, Jeremy Langford and Ka'Deem Carey around. Howard seized the starting job last year, rushing for 1,313 yards and six touchdowns.

Lions: Ameer Abdullah, Theo Riddick and Zach Zenner are all under 26 and performed well last year. There's also that ever-present shotgun issue. This time it's 51.3 percent.

Packers: Green Bay would seem like a solid fit had converted wide receiver Ty Montgomery not broken out as a running back last season. Their offense runs through Aaron Rodgers, and Rodgers uses the shotgun 52 percent of the time.

Vikings: The door for a return is now closed as Murray is their guy. He's cheaper, younger and with just 543 carries under his belt still has plenty of tread left on his tires.

 

NFC SOUTH

Falcons: Devonta Freeman and Tevin Coleman are one of the league's most terrifying combos. They averaged a combined 4.6 yards per carry last season and caught plenty of passes too.

Panthers: Veteran Jonathan Stewart is still around, while they just re-signed Fozzy Whittaker and Cameron Artis-Payne. They also play out of the shotgun exactly half the time.

Saints: They have the cap space, while Mark Ingram and Daniel Lasco are the only Saints running backs under contract.

Bucs: Doug Martin is in the second year of a five-year extension and carries a $7 million cap hit. He's out of rehab, and Tampa Bay just re-signed Jacquizz Rodgers and Charles Sims too.

 

NFC WEST

Cardinals: Like Elliott, David Johnson is among the league's most exciting young running backs and does everything that Peterson (at 30) can do. They also just re-signed backup Andre Ellington.

Rams: Todd Gurley suffered a setback in 2016 as L.A.'s offense stumbled, but remains a high-end option going forward.

49ers: Carlos Hyde is a strong, although injury-prone, option in the backfield. New head coach Kyle Shanahan used the shotgun just over 30 percent of the time in 2016 as offensive coordinator in Atlanta, so that works in Peterson's favor.

Seahawks: Peterson met with Seattle, but Eddie Lacy signed Tuesday, joining a crowded backfield that already includes Thomas Rawls and C.J. Prosise.
---
---