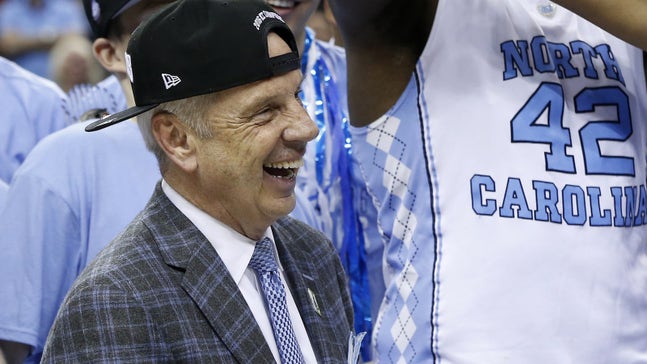 68 Reasons To Be Excited About the NCAA Tournament
Updated
Mar. 5, 2020 1:27 a.m. EST

Ah yes, it's March, that glorious time of year where you pretend that you've been watching college basketball for the last four months... only to look at your bracket, shake your head and mutter stuff like "Stony Brook? Isn't that where I took my kids fishing the other day?"
No it's not, and if the NCAA Tournament crept up on you, well, no need to worry, that's why we're here.
We can't help you fill out your bracket, tell you which 12 seed is going to beat a 5, or why the hell Kentucky was given a four-seed, when everyone in America (and many in Canada as well) know they deserve better than that. But what we can do is get you fired up for the big dance.... by giving you 68 reasons to be excited about the NCAA Tournament.
1. Charles Barkley on the touch screen: Yes, the selection show was brutal, and yes it went like an hour-and-a-half too long, but you know what? Who cares, because it gave us Charles Barkley on the touch screen... which wasn't just fun, but arguably the single greatest moment of television in 2016.
It also raises the question: Can we get Charles working the touch screen before, during and after every game this tournament? I'm pretty sure that would be more entertaining than any of the games themselves.
2. John Calipari: Who absolutely went berserk on ESPN Sunday night, and who was absolutely correct with everything he said.
Honestly, I hope Kentucky stays in the tournament as long as possible... if only because who's more entertaining than Calipari?  
3. Jim Boeheim: Who followed up the Calipari interview Sunday with his own interview, which will go down as the single most boring four minutes in the history of television. Hey coach, your team just back-doored their way into the Big Dance, can we get a little bit of excitement? Please?
4. Speaking of Calipari's rant: I know he was joking, but how awesome would it be if the NCAA Tournament actually did have a regional in Anchorage? I mean, that's got to be better than Spokane, right?
5. This picture of Roy Williams: Which will go down as the second greatest mid-life crisis ever, behind that one time my dad opened a SnapChat account. 
6. Houston: Indisputably the worst city in America to host a major sporting event, yet has its second Final Four in five years. Tell me again why every Final Four isn't in New Orleans? Like honestly, has anyone ever complained about going to New Orleans too much?  
7. Utah's Jakob Poeltl: Who is easily my favorite 7'0 Austrian in this year's Big Dance.
8. Noted NCAA Tournament "choker" Bill Self: Fun fact: Did you know that Self actually has more tournament wins (26) over the last nine years than noted "coaching genius" Mike Krzyzewski does (20)? But hey, let's not let the facts get in the way of a good story, right?  
Speaking of Coach K, how about...
9. The Duke Blue Devils: Who somehow ended up with a No. 4 seed, despite the fact that, umm, their resume says that they absolutely, positively didn't warrant it. Nope, nothing suspicious to see here, folks. Let's move on.
10. A potential Cal-Maryland matchup in the second round: I have no idea if it will happen, but if it does, it will be an absolute bloodbath.
Same with...
11. A potential Indiana-Kentucky matchup in the second round: Which might turn into a literal bloodbath. As in, someone might actually get hurt in the stands. Do you have any idea how much these two fan-bases hate each other?
Same with...
12. A potential Texas-Texas A&M matchup in Round 2: My God, do you have no shame selection committee? If Kentucky-Indiana might lead to fights in the stands, this one could be the start of another Civil War.
13. The city of Des Moines: Which I would argue was the biggest winner of Selection Sunday... after getting Kansas, UConn, Kentucky and Indiana all sent to their sub-region. Honestly, that's got to be the single greatest thing that's ever happened to Des Moines, right? Is there even a close second?  
14. The Seton Hall Pirates: Who became everyone's "dark horse to make a deep tournament run" so quickly, that they seem destined to lose in the first round to Gonzaga.
15. Fresno State: Who is in the tournament for the first time since Jerry Tarkanian was their coach... which led me to wonder, could you imagine Tarkanian coaching in the Twitter era? TMZ would have to set up a satellite office in Fresno just to keep up with everything that was going on out there.  
16. The Yale Bulldogs: Who are in their first NCAA Tournament in 54 years... and who will produce roughly 54,000 "Revenge of the Nerds" headlines if they somehow upset Baylor in Round 1.  
17. Mike Brey's beard: Which I would argue was America's single greatest natural resource since oil was discovered in Alaska. I mean it truly was glorious. Right up until he shaved it the other day.
To which I ask: Coach, what were you thinking?  You looked spectacular, like a young Dos Equis guy!  It's not too late to bring the beard back for the tournament!
18. Jamal Murray's bow-and-arrow: Which might go down as the single greatest sports celebration since "The Dirty Bird."
19. Tyler Ulis: Who gives every 5'9 guy in America hope that maybe there is more for us in life than just being accountants and unfunny internet sportswriters. Forget the fact that I'm 30 and not very athletic. Maybe I too can make it to the NBA someday.
20. The Iowa State Cyclones: Who lost Fred Hoiberg in the off-season, and lost their identity somewhere around mid-season. Put those two things together and it raises an interesting question: Was this the rare instance where both coach and team would be better off if they'd stuck together?
21. Denzel Valentine: Who has no more than six games left in his college career. There's no joke to make here, I'm just sad to see him go.  
Same with...
22. Buddy Hield: Who has the worst hair, the prettiest jump shot, and the greatest buzzer beater in the history of college that didn't count. By the way, how great is this picture from the other night?  
23. Kris Dunn: Who could have gone to the NBA after last season and been a late first round draft pick, but who instead decided to come back to school for another year, and now will likely end up as a Top 5 pick. In the process he also proved that the answer isn't always to run to the NBA as soon as possible.
24. Florida Gulf Coast: Who returns to the tournament for the first time since their "Dunk City" days, and who just might pull off another Cinderell --- ok, who are we kidding? They're going to get smoked by North Carolina in Round 1.
25. Andy Enfield: Who coached Florida Gulf Coast in their last NCAA Tournament run, and who is back in the Big Dance with USC, and who has a team that just might... ok, who are we kidding? They're going to get smoked by North Carolina in Round 2.
26. The East Region of Doom: Two days ago, I thought North Carolina, Xavier, West Virginia, Indiana and Kentucky were all amongst a handful of teams that could make the Final Four... at least until the bracket was released, and they all ended up in the same region. Once again, Sunday was a really banner evening for the committee.
27. Gary Payton II: Who has gotten Oregon State into the NCAA Tournament for the first time since 1990, when the Beavers were led by... you guessed it, his father Gary Payton!
One, that's a really cool story.
And two, I'm genuinely excited for the Beavers next tournament run in 2039, when they're led by Gary Payton III.
28. The Middle Tennessee Blue Raiders: Who are coached by a man named "Kermit."
And to quote Forrest Gump, "That's all I have to say about that."
29. The Vanderbilt Commodores: Who probably shouldn't be in the tournament, got in, and are now starting to get hype as a team that could potentially make a real run... which means they'll almost certainly lose to Wichita State by 30 in the play-in game. Kevin Stallings really is the gift that keeps on giving, isn't he?
30. Frank Haith: Who has avoided punishment in about six different NCAA investigations, and somehow backdoored Tulsa into the tournament this March. Honestly, this guy must have been Mother Teresa in another life, because he has more lives than a cat.
31. The Monmouth Hawks: Who... oh wait, never mind. They're not in the tournament, because apparently wins over USC, Notre Dame, Georgetown and UCLA weren't good enough for the committee. Cool. Gotcha. Again, nothing to see here.
32. Wayne Selden's uncle: I don't care who wins the tournament. This guy has been the breakout star of March. 
33. Wayne Selden himself: First he sat behind Andrew Wiggins for a year. Then he sat behind Kelly Oubre for another year. But rather than complaining, or transferring, or leaving for the NBA before he was ready, he just busted his butt and kept getting better. How can you not root for a guy like that?  
34. Grayson Allen: Who proves that even in 2016, and even when the Blue Devils are lousy, it's still, always ok to hate Duke.
35. South Dakota State: Who I know absolutely nothing about, but honestly, how can you not root for a team nicknamed the Jackrabbits?
Same with...
36. Cal-State Bakersfield: Which is known as the "Roadrunners."
Honestly, isn't March great?
37. Indiana senior Yogi Ferrell: Who seems like he broke into college basketball right around the same time as Isaiah Thomas did at Indiana, yet who I'm going to somehow miss when he's gone next season. In a year where everyone wants to talk about Hield, Dunn and Valentine, this guy has quietly been as good as any of them.
38. UConn's Jalen Adams: Who I would argue, given the circumstances, threw in the single craziest shot in college basketball the history the other day.
If he misses it, UConn is probably out of the tournament. Admit it Kansas fans, you're kind of a little bit terrified of the Huskies, aren't you?
---
---