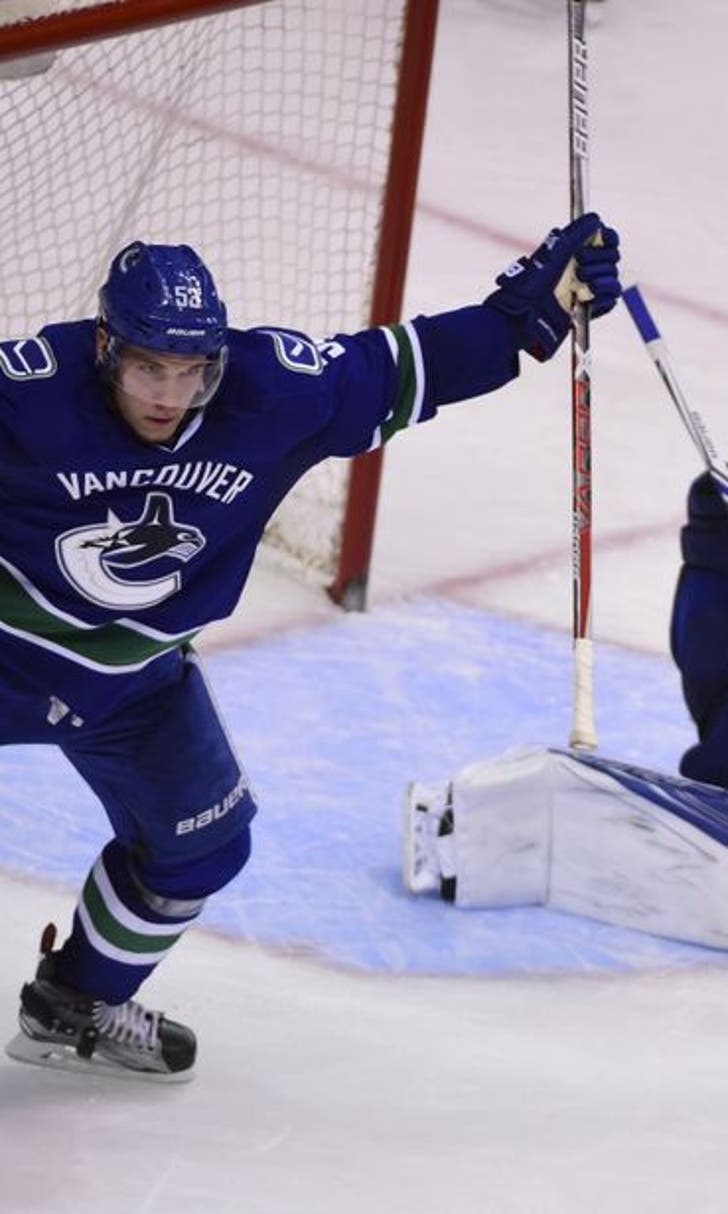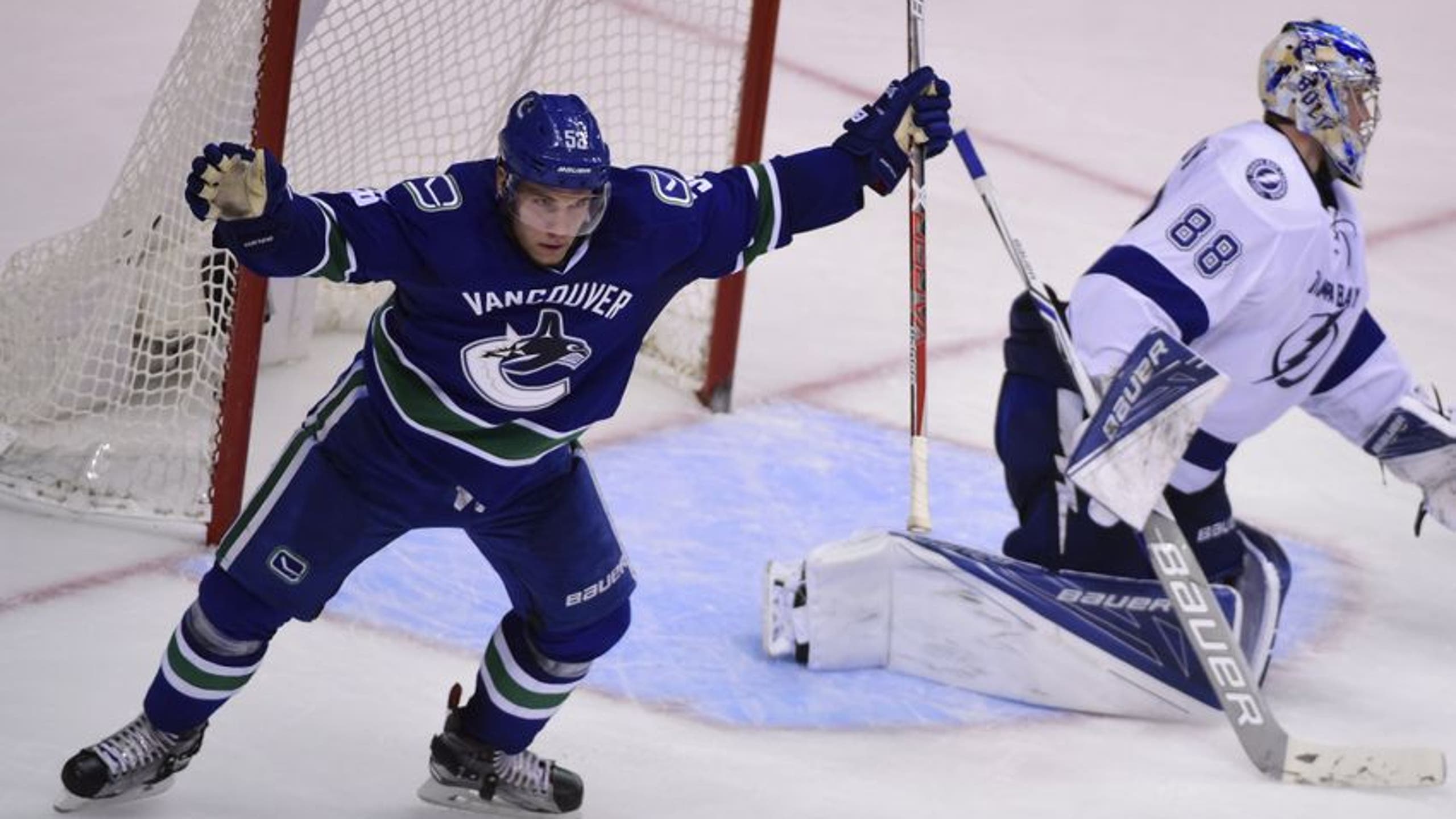 Vancouver Canucks: 3 Numbers Which Must Improve in 2017
BY Fansided and Jeff Godley/FanSided via The Canuck Way • December 31, 2016
Dec 16, 2016; Vancouver, British Columbia, CAN; Vancouver Canucks forward Bo Horvat (53) celebrates his goal against Tampa Bay Lightning goaltender Andrei Vasilevskiy (88) during the third period at Rogers Arena. The Vancouver Canucks won 4-2. Mandatory Credit: Anne-Marie Sorvin-USA TODAY Sports
After enduring a difficult 2016, here are three things the Vancouver Canucks have to turn around if they want a better 2017.
2016 was a tough year for the Vancouver Canucks,
Tonight, the team will play their 81st game of this calendar year. Of the previous 80, they have only won 32. Only the Arizona Coyotes and Toronto Maple Leafs have fewer wins in the last 363 days.
But a new year brings the hope of better times ahead. The Canucks are currently six points behind the Dallas Stars for the final wild card spot in the West. On paper, making up that difference should be doable.
In practice, though, it's a lot harder than it sounds. A team that is four points out of a playoff spot on Nov. 1 almost never makes it in.
Six points out on Dec. 30? To make up that much ground, the Canucks will need a big turnaround. No more alternating wins and losses — they need to open the new year with a lengthy winning streak.
Since the Canucks have the league's third-worst record in 2016, it's no surprise that there are other numbers which are not flattering. Here are three numbers they need to improve right away in order to enjoy a happy new year.
Dec 20, 2015; Sunrise, FL, USA; Vancouver Canucks goalie Jacob Markstrom (25) replaces goalie Ryan Miller (30) who left the game with an injury during a shootout against the Florida Panthers at BB&T center. The Panthers won 4-3 . Mandatory Credit: Robert Mayer-USA TODAY Sports
Goals Against
This is hardly rocket science, but the first thing the Vancouver Canucks need to do is stop allowing so many goals.
More from The Canuck Way
Since Jan. 1st, the Canucks have let in 241 goals. That is the fifth most in the league, pending the outcome of tonight's game. Over 80 games played, that works out to just over three goals against per game.
Spotting their opponents three goals makes it tough to win.
Obviously, improving this number starts with the goaltenders. Both Jacob Markstrom and Ryan Miller have below-average save percentages of .909 and .908, respectively.
Markstrom, though, is trending in the right direction. In his last five games, he has had a save percentage above .920 three times. Once, he finished with a .917, which is just above league average.
His one bad game came when he replaced Miller in Carolina — a game which everyone in Vancouver would like to forget.
The Canucks older goalie has played a couple of stinkers in his last five games. But, he is coming off two excellent showings against the Kings and Ducks. Both goalies seem to be hitting their stride, just in time to ring in the new year.
Beyond the goaltenders, though, the defense also needs to improve. Injuries have certainly played a part in the Canucks allowing so many goals. Losing Chris Tanev and Alexander Edler to injury at the same time hurt this team. But both of their top two defensemen are back now, so they need to find a way to start limiting chances for their opponents.
That, and continued improvement from both goaltenders, should help the Canucks stay in a lot more games.
Dec 8, 2016; Tampa, FL, USA; Vancouver Canucks center Brandon Sutter (20) shoots the puck against the Tampa Bay Lightning during the second period at Amalie Arena. Mandatory Credit: Kim Klement-USA TODAY Sports
Shots For
Once the Canucks allow fewer goals, the next step is to start scoring more.
Prior to tonight's game, Vancouver only scored 181 goals in the year 2016. Part of the reason for this is how few shots they took. Only the New Jersey Devils got fewer pucks to the net this year.
The Canucks are comfortably in second-last in this category. In third-last are the Colorado Avalanche, who have 60 more shots despite playing one game fewer.
There are many factors which could affect these low shot totals. Coaching certainly plays a role here. Willie Desjardins has the Canucks playing a tighter, defensive style which prevents them from getting as many pucks to the net.
He also likes to balance out his lines and roll through them at even strength. This means that players who don't shoot a lot, such as Derek Dorsett and Jack Skille, play similar amounts of even strength time to players who do, such as Daniel Sedin and Loui Eriksson.
Another problem is the roster. Vancouver does have several players not named Sedin who can score. Eriksson, Brandon Sutter, Bo Horvat and Sven Baertschi all have 20-goal potential.
But who carries the puck and sets up these players to shoot? Outside of the Sedins, the Canucks lack many playmakers. Without them, the team has a hard time gaining the zone and setting up scoring chances.
Want your voice heard? Join the The Canuck Way team!
As a result, players like Eriksson and Baertschi get fewer chances to shoot, and have to settle for lower quality chances.
The result? Fewer shots, and fewer goals.
This problem may not be solved in the short-term. It will probably take offseason moves and more draft picks. One way or another, the Canucks need more playmaking talent in their lineup.
Until they get it, they need to find a way to get more pucks toward the goal. Otherwise, the new year will be no better than the old.
Dec 10, 2016; Sunrise, FL, USA; Vancouver Canucks defenseman Troy Stecher (51) celebrates his goal with teammates during the third period against the Florida Panthers at BB&T Center. The Panthers won 4-2. Mandatory Credit: Steve Mitchell-USA TODAY Sports
Power Play Goals
Back in the Canucks heyday of 2010-12, when they were winning President's Trophies and the like, they had a not-so-secret weapon: their power play was the best in the business.
From Jan. 1, 2010 through Dec. 31, 2012, nobody scored more power play goals than Vancouver.
Times have changed. Since Jan. 1, 2016, they have the fewest power play goals of anyone. The Anaheim Ducks have more than double that number, with 69.
Even if nothing changed at even-strength, if the Canucks power play was anywhere near the top five it would mean scoring 20-30 more goals.
On too many nights this past year, the power play has not only failed to score, it has failed to gain the Canucks any momentum. One way or another, the Canucks often finished a power play in a worse position than when it began.
Whether it means a different style or different personnel, the Canucks need to make their power play great again.
There are two players who should be able to help: Troy Stecher and Loui Eriksson.
The power play has two big problems: the players pass the puck around the outside for too long, and they don't try enough shots from the point.
Enter Stecher. In the month of December, only Daniel Sedin has more shots than the rookie defenseman. While the Sedins use subterfuge to set up a perfect pass, Stecher has a different method: shoot. Then shoot some more. Shoot from everywhere.
Problem is, Stecher still could shoot more than he does. Unfortunately, he is often left with his stick in the air, calling for a pass to the point, while his teammates skate in circles in the corner.
As long as teams know that the Canucks won't attempt shots from the point, they can collapse to the front of the goal and easily shut down the Sedins on the power play. Activating Stecher not only gets the team more shots (see "Shots For" on the previous page), it will open up more space for Sedin magic.
I don't care how many Stecher shots it takes – keep getting him the puck and let him keep firing.
Also, there is Eriksson. Early in the season it was clear the Sedin-Sedin-Eriksson line wasn't clicking, and so the free agent winger was taken off the top line.
However, since then he has also been removed from the first power play unit. That's just a little unfair, especially considering Sutter is still there.
Eriksson has power play goals in two straight games, while playing on the second unit. Since the Sedin unit is struggling lately, this is the perfect time to re-unite the Swedish trio. Who knows, they may rediscover some of their World Cup magic.
The Canucks could certainly use that magic heading into a new year.
In 2016, the Canucks allowed too many goals, did not shoot enough and did not convert enough on the power play.
If they can correct these things, 2017 could be the start of a new and better chapter for the Vancouver Canucks
---
---