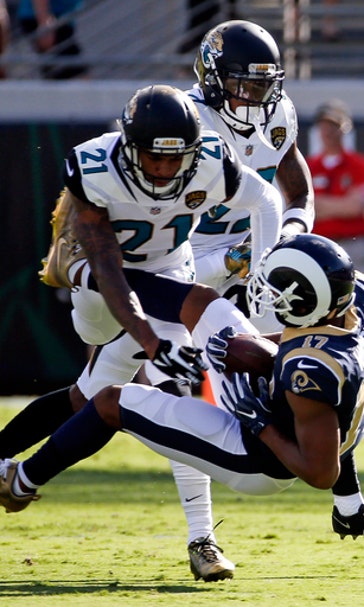 Woods heads to London looking for 1st TD catch of season
October 18, 2017

JACKSONVILLE, Fla. (AP) Robert Woods has one missing statistic this season: A touchdown.
Woods leads the Los Angeles Rams in catches (22) and receiving yards (322), but he's still looking to get the ball in the end zone.
''It's just a matter of time,'' Woods said Wednesday in Jacksonville, where the Rams (4-2) are spending a few days before traveling to London.
''We've been in the red zone a lot, and as long as we get there and end up scoring, I don't mind at all. Our passing game is working well right now. We're getting the ball downfield, and that's what's important.''
Woods has been close to scoring. He actually did against Dallas two weeks ago, but the touchdown was nullified because of a penalty.
Coach Sean McVay is convinced Woods will get one soon, especially considering the work he's putting in on the field and in the meeting room.
''He's going to continue to make the most of his opportunities,'' McVay said. ''We'd like to get him into the end zone, but it's a matter of us scoring points as an offense.
''Robert has been productive week-in and week-out and has been one of the examples in the receiving room. It's only a matter of time until he does get into the end zone and continuing to produce there.''
Woods is in his first season with the Rams after spending four years in Buffalo. He signed a five-year deal with Los Angeles that included $15 million guaranteed.
The opportunity to play in McVay's receiver-friendly offense and teaming with quarterback Jared Goff were high on Woods' priority list.
''Jared and I have been connecting on point downfield so far,'' Woods said. ''We've just got to keep it going.''
Woods and the Rams will travel to London following practice Thursday and face NFC West rival Arizona on Sunday. It will be Woods' second trip to London. He went with the Bills two years ago when they lost to Jacksonville 34-31. Woods scored that day, one of his 12 TD receptions with Buffalo.
He'd like to get back to the end zone again. Goff is confident it will happen soon - maybe even in London.
''I think he leads us in catches yet doesn't have any touchdowns,'' Goff said. ''Sometimes that's the way the game works. Obviously you want to get him in the end zone and reward guys like that, but I don't think he's too upset about it. He sees that we're winning and he's happy about that.''
---
For more NFL coverage: http://www.pro32.ap.org and http://www.twitter.com/AP-NFL
---
---