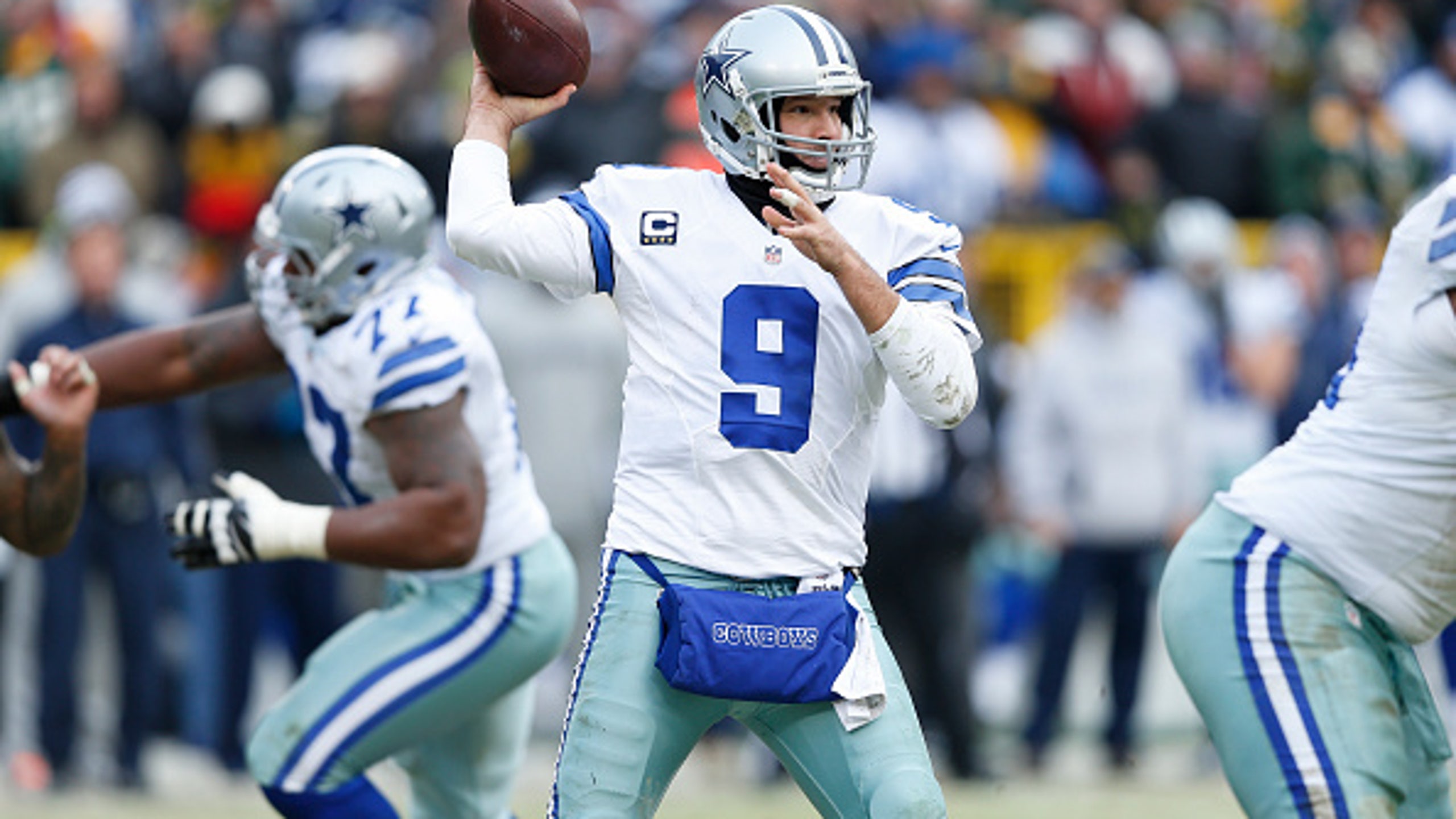 Will Tony Romo have a better year than he did in 2014?
BY foxsports • June 1, 2015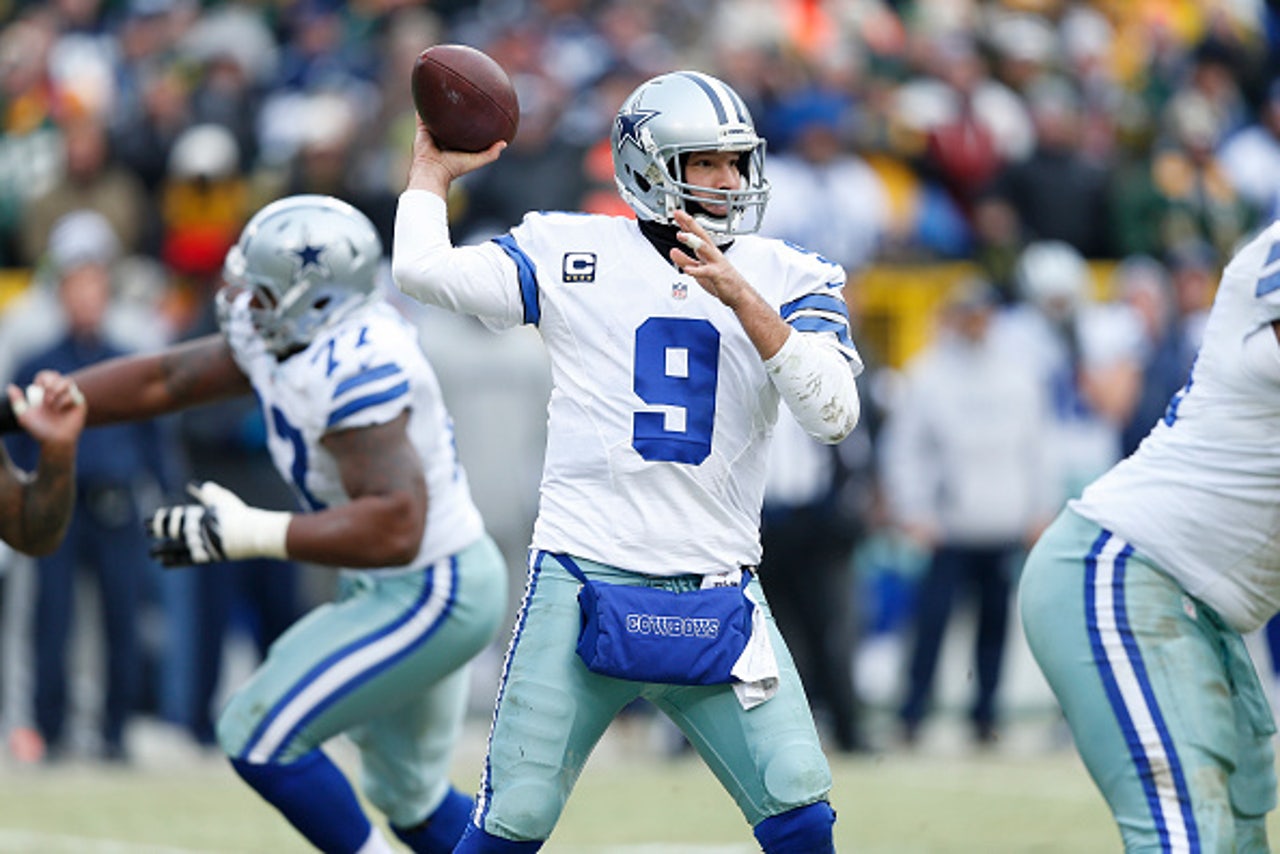 By George Rodriguez
This article is all about Tony Romo, what he did during the 2014 NFL season, and what he should be able to do in 2015 with this current line-up, but we should probably start with how the offensive unit lost one of their best assets in former #29 DeMarco Murray. We can absolutely all agree that Murray had by far one of the best seasons for a running back in at least ten years save for maybe that beast of a player in the backfield for Minnesota. Murray had a calendar year to say the least and won the 2014 rushing title, but what did he do the years prior? Yes, he paved the way for the entire offense to stay about as consistent as they've been in years past, but he didn't single-handedly ground & pound the entire league all by himself. So let's just get that out of the way right off the bat. This current offensive unit for the Cowboys should have a better all-around year in 2015 because of all the other guys that didn't leave to Pennsylvania.
Yes, they lost the 2014 rushing champion in DeMarco Murray but they didn't lose that Pro-Bowl offensive line. In all actuality, they'll probably come out of the 2015 off-season with an even better offensive line than they had last year. Can you comprehend what kind of statement that last sentence creates? An offensive line that has already been compared to the "Great Wall" of the '90s for the Dallas Cowboys, and it will possibly be the best offensive line in the National Football League in 2015 and beyond from the looks of it. These guys are ready and willing for another great year, and should be able to give this offensive unit at least another 1,000 yard rusher regardless of the name of that starting running back. This running game will most certainly help Tony Romo in the passing game as long as the coaches find a way to keep a consistent enough balance from game-to-game.
Tony Romo has already talked to the media after this week's Organized Team Activities and said, "It's a new team, we've got to start over"! I'm sure he knows they won't have to start over with the receivers he's had on the team for the last couple of years. We also heard that Dez Bryant came to Valley Ranch just to support his team and then actually participated on the practice field, so can all fans understand how that is such a positive thing for the entire team in general? Bryant is definitely a great player and it seems he's becoming an even greater teammate by showing the other guys that he's willing to do whatever it takes to keep the team chemistry intact regardless of the fact that he's disappointed with the business aspect of it all. Terrance Williams had a great 2014 season with 37 receptions and 621 yards as Bryant's counterpart and will only get better as opposing defense's team-up to try and stop #88 from killing them with his yards after a catch.
To say that Romo and Jason Witten have been best buddies on the field for the last couple of years is definitely an understatement as they have definitely helped each other out in crucial times when the team needed it most. They don't call Witten "Romo's Safety Blanket" for nothing and I certainly don't see that ending anytime soon barring any serious injury to either player. This offense also has a guy named Cole Beasley "aka BEASTley" that just keep grinding every year and getting better and better as that typical slot receiver guy who just seems to keep finding a way to elude tacklers almost every time he touches the ball.
We also have to mention that Romo's actually got a clean bill of health gearing up for the 2015 Training Camp which is something that hasn't been the case for the last couple of years. His body is rested and he's been able to get some good practices going with this past week's OTAs, and even Cowboys chief operating officer Stephen Jones has been interviewed as feeling very optimistic for their starting quarterback and what he can do in the 2015 season. So from the looks of it, Romo is ready and will have a solid foundation to have an even better year than he had in 2014 where he featured a league-best completion percentage (69.9) and passer rating (113.2) along with 34 touchdowns with only 9 interceptions. Get ready for a great year Cowboys fans because Romo & Co. are coming on strong and will be hungry for a longer run in the playoffs in 2015. Stay ready Cowboys Nation!
More from cover32:
---
---