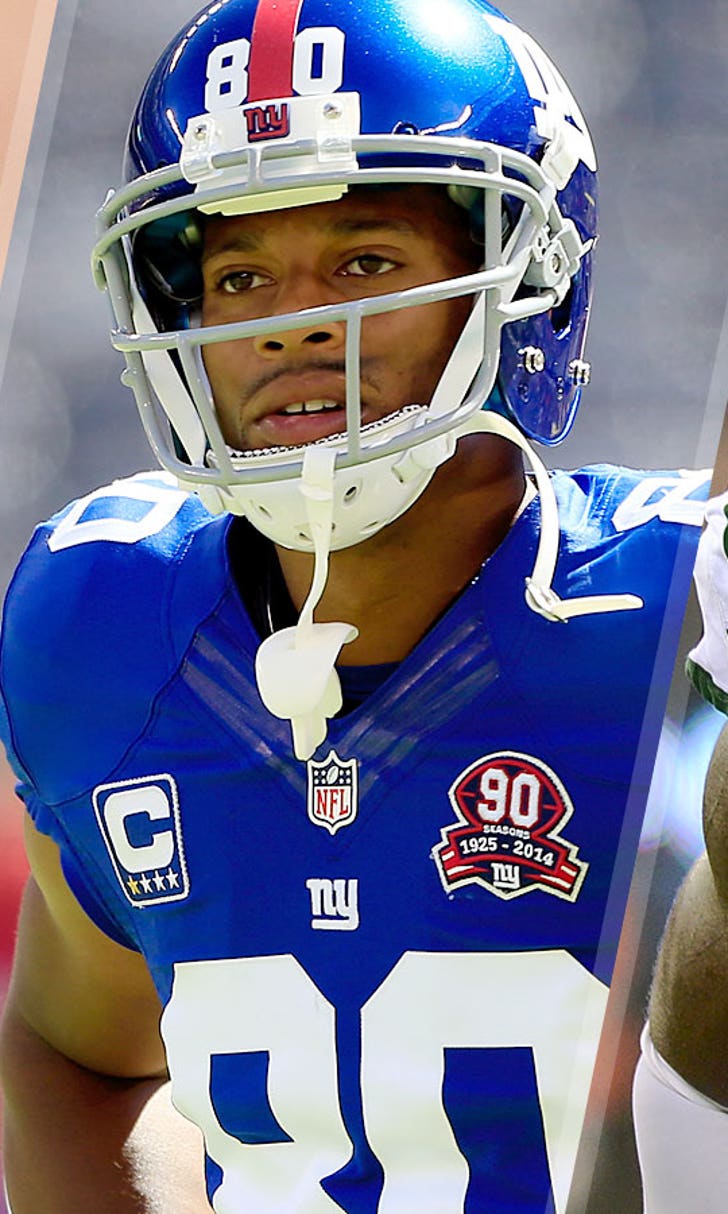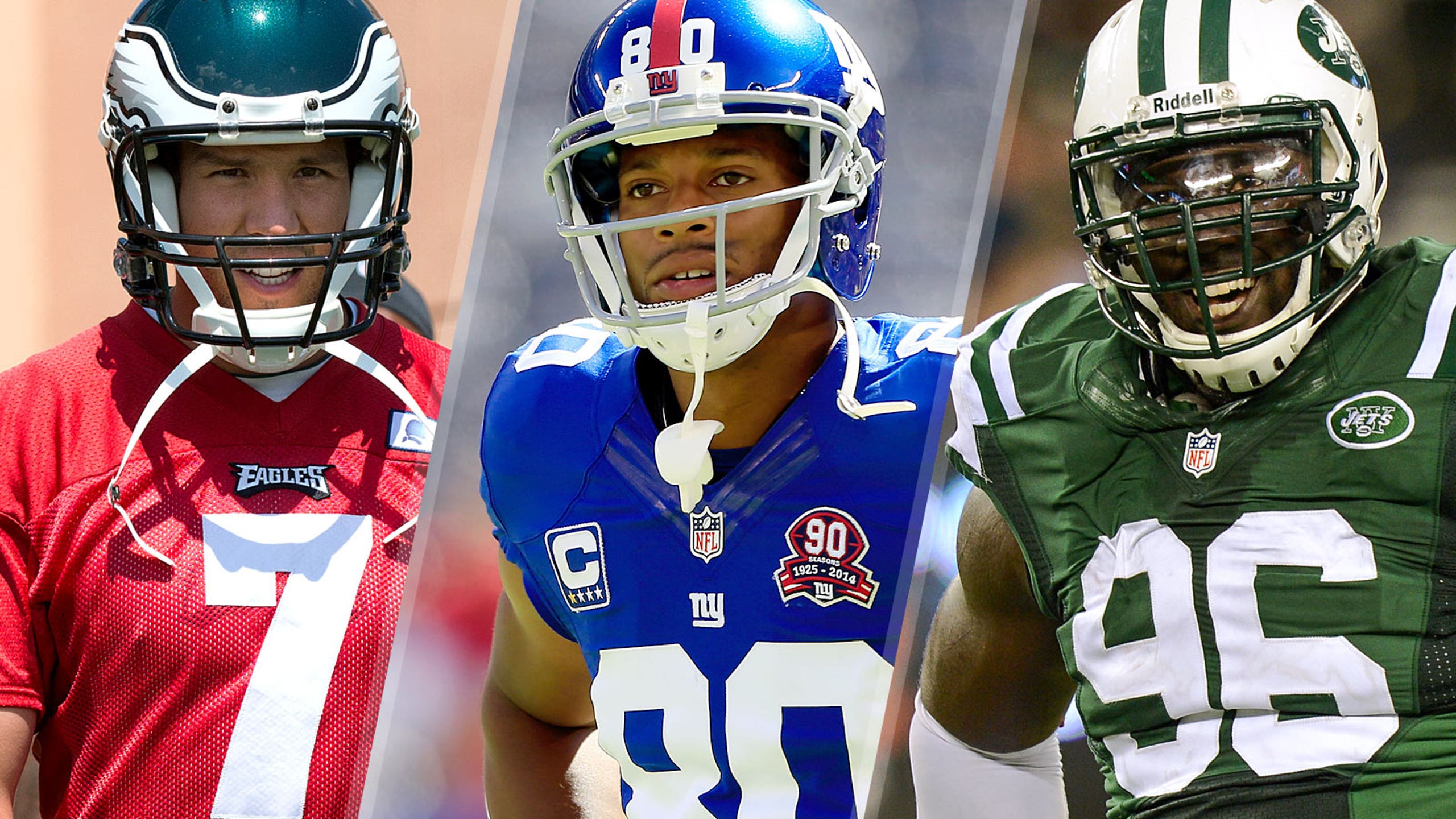 What we know about each NFL team after minicamps
BY Alex Marvez • June 20, 2015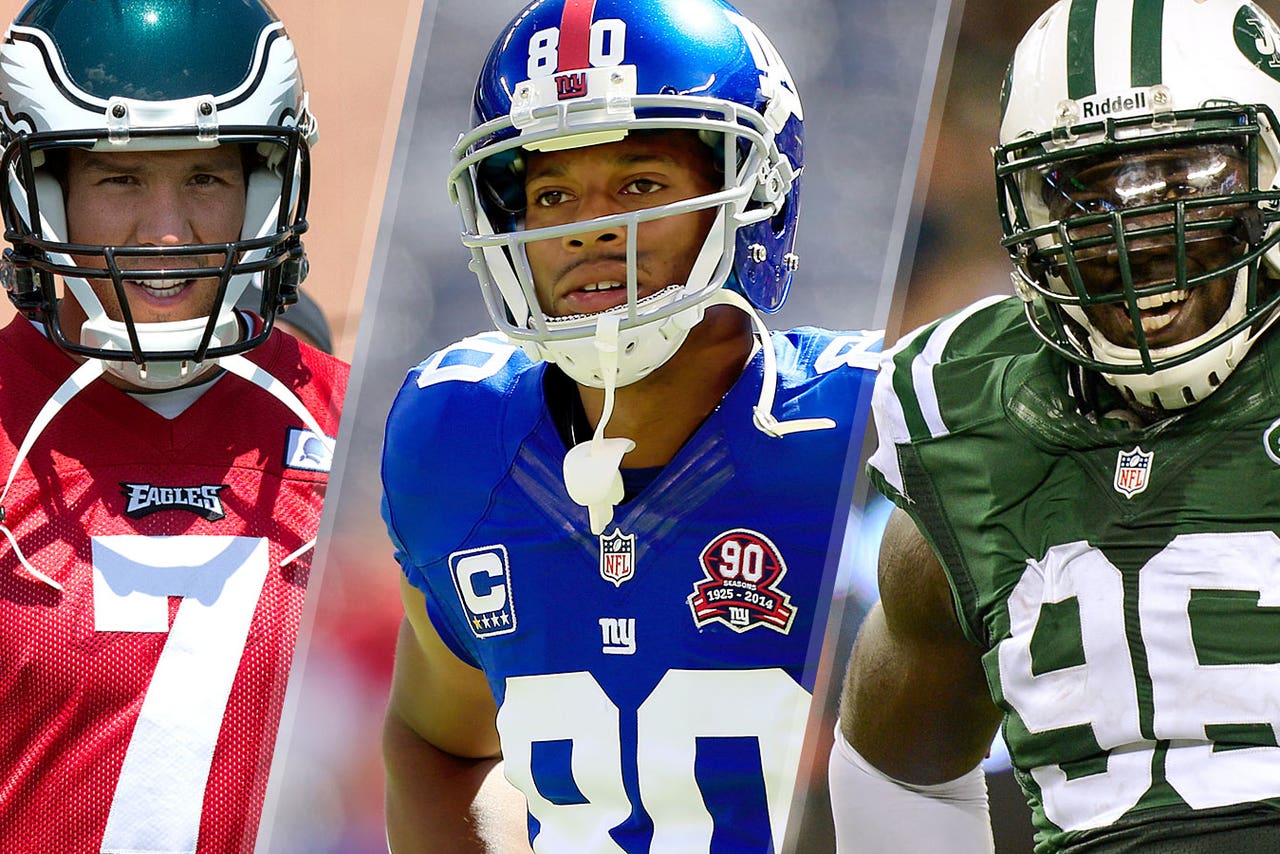 After 10 weeks of weight-lifting, meetings and on-field practices in offseason programs, NFL players can officially enjoy the summer before reporting to training camp in late July/early August.
So, here is one thought about what we learned from each team now that minicamps have concluded.
AFC SOUTH
Tennessee: Titans players love the addition of Dick LeBeau as defensive coordinator.
No slight to the talented Ray Horton, who held the position last year and remains on staff. But with LeBeau possessing more than 50 years of NFL knowledge as a player and coach, the Titans I have spoken with are thrilled with what Pittsburgh's former DC has brought to Music City USA. One example: Tight end Delanie Walker told Mark Dominik and me on SiriusXM that Tennessee's defense has provided a far greater challenge in offseason practices with more complex coverage and pass-rush schemes.
Houston: The quarterbacking job is Brian Hoyer's to lose.
Head coach Bill O'Brien told Texans media earlier this week that he was looking for the "most consistent guy" to become his starter. All signs point toward Hoyer being that QB heading into training camp based upon offseason reports from practices open to the media.
Indianapolis: Free safety Mike Adams could be even better at age 34 than he was during last season's Pro Bowl campaign.
Appearing on SiriusXM NFL Radio with co-host Mark Dominik and me, Adams said that he feels far more comfortable in Mike Manusky's defensive system than last year when he wasn't signed by the Colts until after their offseason program had ended. That confidence has allowed Adams to become more assertive on the field and as a locker-room leader. Adams did say he is continuing to work on developing better chemistry and communication with strong safety Dwight Lowery, who was added by the Colts in April as a free agent.
Jacksonville: Allen Robinson is the front-runner to become the Jaguars' No. 1 wide receiver.
Of the three Jaguars rookie receivers who caught 37 or more passes last season, Robinson has shown the most offseason potential of being quarterback Blake Bortles' top WR target in 2015. Head coach Gus Bradley told Jaguars media the challenge for Robinson is "to play angry where he's competing to get the ball, competing in all his routes ... He's got a 40-plus (inch) vertical jump. We want to be able to throw it up to him and I know he's going to come down with the ball. When you do that in training camp (and) we've got the pads on, you want to see that part of him."
NFC SOUTH
Atlanta: Dan Quinn's fingerprints are all over the club's secondary before having his first Falcons training camp as head coach.
Trying to duplicate the success he enjoyed overseeing the "Legion of Boom" as Seattle's defensive coordinator, Quinn has already changed the positions of two Falcons defensive backs. First, Dezmen Southward has moved from safety. Listed at 6-foot-2 and 210 pounds, Southward has the size and physicality that Quinn wants in an outside cornerback. Quinn also believes Southward's speed and coverage skills are good enough to man the position. Another mid-round 2014 draft pick has gone the other route. Ricardo Allen is now playing free safety where he has shown the type of ball-hawking skills that give him a chance of besting free-agent pickup Charles Godfrey for a starting spot during training camp. An improved secondary would bolster the play of the front seven -- and vice-versa -- on a defense that has the NFL's lowest sack total over the past two seasons.
Carolina: Panthers general manager Dave Gettleman has earned the benefit of the doubt but he will be deservedly second-guessed if Michael Oher and Daryl Williams aren't able to effectively man the left and right tackle spots.
After the Baltimore Ravens let him walk in the 2014 offseason, Oher became one of last year's biggest free agent busts with Tennessee at right tackle because of performance and injury. He was released by the Titans in February just one season into a four-year, $20 million contract that paid him $6 million in 2014. Gettleman, though, told SiriusXM NFL Radio co-host Bill Polian and me that he believes Oher can again become a quality left tackle in Carolina's offensive system playing under a different coaching style (John Matsko handles those positional duties for the Panthers). As for right tackle, a 2015 fourth-round pick -- Oklahoma's Daryl Williams -- took snaps with the first-team offense during minicamp. Journeyman Mike Remmers would be the fall-back option. While all of this may be unnerving for Panthers fans, a wait-and-see approach should be taken. Gettleman has made unpopular moves before -- like the 2014 release of wide receiver Steve Smith -- yet the Panthers have proven talented enough to make the playoffs for both of his seasons as GM.
Tampa Bay: Wide receiver Mike Evans should be even more dangerous in his second NFL season.
Coming off a 12-touchdown, 1,051-yard rookie campaign, Evans has spent his offseason watching video of standout Atlanta Falcons wide receivers Julio Jones and Roddy White to help learn new offensive coordinator Dirk Koetter's system. White told Polian and me on SiriusXM NFL Radio that he has played predominantly as the 'X' receiver on the left side of the line of scrimmage this offseason rather than the opposing 'Z' spot he manned as a rookie. This should lead to more deep-ball opportunities than in 2014. "I like playing 'X' more," Evans said. "It leaves me on an island with one-on-one matchups and stuff like that."
New Orleans: I'm still not feeling good about how the Saints will replace Jimmy Graham's production at tight end.
Expecting even 80 catches combined from replacements Josh Hill and Benjamin Watson might be unrealistic. It's also obvious the Saints are still in the market for another tight end by recently hosting Jermaine Gresham (Cincinnati) on a free-agent visit and, according to ESPN, unsuccessfully placing a waiver claim on Tampa Bay's Tim Wright. Three more of the team's top six pass-catchers from 2014 -- Kenny Stills (Miami), Pierre Thomas (unsigned) and Travaris Cadet (New Orleans) are now elsewhere as well. The Saints need other targets like Brandin Cooks, C.J. Spiller and Marques Colston to pick up the slack for quarterback Drew Brees.
NFC EAST
Dallas: I'm expecting a happy ending to the Dez Bryant contract squabble.
While his agents probably weren't thrilled, it spoke volumes about Bryant's desire to reach a long-term deal with the Cowboys that he attended minicamp Thursday to speak directly with team owner Jerry Jones one day after expressing his dissatisfaction with talks on Twitter. With Bryant designated as their franchise player, Dallas has until July 15 to reach agreement with Bryant on a multiyear contract. Otherwise, Bryant will be playing under a one-year, $12.8 million tender and no further negotiations can take place until the start of the 2016 offseason. One of the few winners in the Bryant-Cowboys standout is Devin Street. He has received Bryant's starting reps during practice and is poised to make a much bigger impact than in a two-catch rookie season.
Washington: Shuffling wide receivers may help Robert Griffin III get back on track.
The Redskins have flopped starters DeSean Jackson and Pierre Garcon. Jackson is now playing at the 'X' spot, a move designed to take better advantage of his game-breaking speed. Garcon was switched to 'Z,' a position ideally suited for his skills in the short and intermediate passing game. Garcon's production plummeted by 45 catches to 68 grabs in his first season playing 'X' in head coach Jay Gruden's offense. Mind you, neither change will make a huge difference if quarterback Robert Griffin III and the offensive line fail to improve from dreadful 2014 showings.
New York Giants: There is actually some good news regarding an injured player.
Tom Coughlin's charges have taken a beating the past two years and the Giants were snake-bit once again in May when left tackle Will Beatty suffered a torn pectoral muscle that is expected to sideline him until at least midseason. That's what made Coughlin's recent revelation regarding the status of wide receiver Victor Cruz so refreshing to hear. Coughlin said that Cruz, who tore his patella tendon last October, is expected to open training camp on the regular 90-man roster rather than the physically unable to perform list. Cruz's return should further boost a passing game that still flourished in 2014 thanks to rookie sensation and fellow wide receiver Odell Beckham Jr.
Philadelphia: It's still wait-and-see for quarterback Sam Bradford.
Bradford, who suffered his second torn anterior cruciate ligament in as many years last August, still wasn't participating in 11-on-11 drills during last week's minicamp. At this time of year and considering his injury history, it's wise for Bradford and the Eagles to hold off until he's absolutely, positively ready to go. Bradford, though, will have to catch up during training camp in mastering a new offense.
AFC EAST
New England: The Patriots are well-prepared to weather the loss of running backs Shane Vereen (New York Giants) and Stevan Ridley (New York Jets).
The contributions Vereen and Ridley made the past three years were noteworthy. Vereen was a reliable multipurpose back who had 11 receptions in New England's Super Bowl XLIX win over Seattle. And although he had fumbling issues, Ridley still rushed for 20 touchdowns in less than 2½ seasons before landing on injured reserve last October with a knee injury. But just like with BenJarvus Green-Ellis in the 2012 offseason, the Patriots had no problem letting Vereen and Ridley bolt via free agency with cheaper replacements in the fold. James White and/or Travaris Cadet appear capable of filling Vereen's pass-catching role out of the backfield. The Patriots also have the bruising LeGarrette Blount, the shifty Dion Lewis, special-teams standout Brandon Bolden, the forgotten Jonas Gray and Tyler Gaffney -- a 2014 sixth-round pick by Carolina who was claimed off waivers last summer despite a knee injury -- vying for roster spots as well.
Miami: The Dolphins can breathe a lot easier about who will be the starting cornerback opposite Brent Grimes.
Jamar Taylor, a 2013 second-round pick who contributed little during his first two injury-plagued seasons, has grabbed control of the spot with a strong offseason. Another boost for the secondary: Strong safety Louis Delmas is well ahead of schedule in his rehabilitation from a late-season knee injury in 2014. The biggest remaining concern for the Dolphins is an offensive line that remains shaky at both guard spots and is awaiting the return of stud left tackle Branden Albert (knee).
Buffalo: There is no clear front-runner to start at quarterback entering training camp.
The competition remains too close to call between Matt Cassel and Tyrod Taylor, but that's largely because neither has looked good enough consistently to create distance from the other. E.J. Manuel is likely to enter training camp in a third-string role. Especially unfortunate for the Bills is the fact that Manuel's work ethic or attitude can't be blamed for his failure to develop as a 2013 first-round pick. It's just obvious Buffalo over-drafted a QB who will have to hold off a challenge from offseason waiver-wire pickup Matt Simms to keep his roster spot.
New York Jets: How much is Muhammad Wilkerson worth?
Jets teammate Sheldon Richardson believes Wilkerson is worth a $100 million contract extension. Setting aside that bias, the deal recently signed by Saints defensive end Cameron Jordan (six years for $62 million with $33.5 million guaranteed) is probably closer to Wilkerson's value than the one inked in 2014 by Houston's J.J. Watt (eight years for $109 million with $51.8 million guaranteed). Middle ground will probably be reached at some point, but Wilkerson isn't coming from a position of strength with one year remaining on his rookie contract and the Jets holding a franchise tag that can be used to keep him in the fold for 2016.
NFC North
Green Bay: If the offseason is an indication, no squad has a better trio of wide receivers than Jordy Nelson, Randall Cobb and Davante Adams.
Nelson and Cobb are already established as two of the NFL's best. It's Adams' rapid development following a 38-catch rookie showing that has the Packers so excited. Quarterback Aaron Rodgers and head coach Mike McCarthy have gushed about Adams' work in the offseason. "If you want a clear illustration and example of a first-year player taking a jump in his second year, you just saw it here the last four weeks," McCarthy told Packers media at the conclusion of minicamp. "I think Davante has done a great job in the strength and conditioning (program). He's been really, really good in practice throughout this deal. If you wanted me to pick an MVP or an All-Star (of the offseason), he would definitely be atop the list."
Minnesota: The offseason couldn't have gone any better.
The return of star running back Adrian Peterson isn't the only reason for optimism in the Twin Cities. The Vikings have kept just about every key player from 2014 in the fold and boosted their deep passing game by acquiring wide receiver Mike Wallace – a player Minnesota greatly coveted two seasons ago – in a trade with Miami. How far the Vikings get will depend largely on the development of quarterback Teddy Bridgewater after an impressive rookie season.
Detroit: Ameer Abdullah could be the answer to Detroit's long-standing rushing woes.
The Lions have fielded only one 1,000-yard rusher in the past decade and that came when Reggie Bush barely reached the mark with 1,006 yards in 2013. Projecting how well rookie running backs will perform from offseason workouts without pads is dangerous, but early indications are that Abdullah could be pushing starter Joique Bell for snaps. Upgrades to the offensive line also indicate Detroit has made a renewed commitment to its ground game. Mounting a successful rushing attack will take some of the heat off a defense with plenty of questions surrounding its front four following the offseason departure of Ndamukong Suh to Miami.
Chicago: Wide receiver Alshon Jeffrey could have Demaryius Thomas-like production in Adam Gase's new offensive system.
Jeffrey has averaged 87 catches the past two seasons but could see that impressive total rise even higher now that Gase has left the Broncos for Chicago. Although the Bears chose West Virginia wideout Kevin White with the No. 7 overall pick in this year's draft, Jeffrey is Chicago's clear No. 1 receiver following the offseason trade of Brandon Marshall to the New York Jets. "He makes big plays for us, he knows the offense, he's a big target," quarterback Jay Cutler recently told Bears media. "He wants to become the No. 1 everyday out here and he's taking the proper steps." Even more motivation for Jeffrey – he's in the final year of his rookie contract.
AFC North
Cincinnati: The only thing stopping the Bengals is the Bengals themselves.
This is the vibe being espoused this offseason by players from a richly talented team that has suffered four consecutive playoff losses. The message is on point. A roster oozing with talent and depth is getting a further boost by the return of wide receiver Marvin Jones and tight end Tyler Eifert. The next step in getting over the hump? According to left tackle Andrew Whitworth, it's playing with more swagger. "We need some of that ability to have a confidence in us that says, 'You know what? It doesn't matter who you are or where you're from or how good the football team is we're playing. We're really good, too, and we're going to bring it and you better stop it,'" Whitworth told ESPN. "We need a little of that attitude." The Bengals also need more consistency out of quarterback Andy Dalton for a postseason run.
Cleveland: Here's hoping Johnny Manziel actually means what he says this time.
We've heard Manziel say he was changed before and gotten fooled so I take his recent mea culpa to Browns media with a grain of salt. But after a stint in rehabilitation and a humbling rookie season, Manziel sounded like he had finally gained some self-awareness and recognized he needed to make major lifestyle changes to salvage his NFL career. But even if he's true to his word and the negative aspects of his "Johnny Football" persona are gone for good, it was obvious after last year's playing debacle that Manziel needs a lot more work before becoming a viable starting option.
Baltimore: Most of the media is sleeping on the Ravens.
This is a mistake. Baltimore had every chance to advance into the AFC title game against Indianapolis until squandering a 14-point lead in the second half of a second-round loss to New England. While the Patriots and Colts are the AFC teams generating the most Super Bowl buzz, the Ravens have quietly put together a nice offseason. While there were three notable veteran departures – wide receiver Torrey Smith (San Francisco), linebacker Pernell McPhee (Chicago) and defensive lineman Haloti Ngata (traded to Detroit) – Baltimore should be able to weather their absence. Running back Justin Forsett was re-signed after a 1,266-yard rushing season and the first two draft picks (wide receiver Breshad Perriman and tight end Maxx Williams) will have every chance for immediate playing time. If the Ravens can land a playoff spot coming out of the rugged AFC North – a feat John Harbaugh has accomplished in six of his seven seasons as head coach -- this is potentially a very dangerous squad based upon experience and the way quarterback Joe Flacco usually heats up in the postseason.
Pittsburgh: The Steelers have healthy competition for the left starting outside linebacker spot opposite James Harrison.
Based upon offseason workouts, there is no reason Bud Dupree can't immediately push veteran Arthur Moats and 2013 first-round pick Jarvis Jones for a starting spot or snaps as a designated pass rusher. Regardless of who is on the field, the Steelers must do a better job of affecting the quarterback. Pittsburgh's 33 sacks last season marked the franchise's lowest total since 1988.
NFC West
It appears Wilson and the Seahawks are still far apart on a new deal, especially now that Carolina quarterback Cam Newton has raised the bar with a $67 million payout in the first three years of his new pact. But rather than complain publicly like some of his peers seeking more dough, Wilson has said and done all the right things even though he may feel differently in private. Wilson has tried to diffuse controversy by claiming he is fine with playing out the final year of his rookie contract despite his $1.5 million base salary being far below what a QB of his stature should be paid. Wilson also wisely protected himself against a career-ending injury in 2015 by reportedly taking out an insurance policy. Having that piece of mind should help Wilson concentrate solely on the top on-field goal for him and the Seahawks: Rebounding from the disastrous Second-and-Dumb loss to New England in Super Bowl 49.
St. Louis: Rams linebacker Alex Ogletree promises he won't make the same mistake twice.
Ogletree got so out of shape last summer that he needed the first two months of the 2014 regular season to start excelling on defense once again. To prevent a repeat, Ogletree told Dominik and me on SiriusXM NFL Radio he is spending most of the next six weeks in the St. Louis area so he can continue working out at team headquarters. If he follows through with those plans and remains committed to his conditioning, Ogletree should be primed for a breakout season playing behind the NFL's deepest and most talented defensive line.
Arizona: Carson Palmer is set to avoid another post-ACL hangover.
The first time Palmer suffered a torn anterior cruciate ligament in 2005, it took him some time to regain full confidence standing in the pocket. That experience and medical advances accelerating his recovery have helped Palmer already start to put last November's knee injury far behind him. Palmer returned to 11-on-11 drills at minicamp looking just as sharp as before he got hurt.
San Francisco: Not all is gloom and doom for the 49ers.
There were some bright spots at minicamp in what was an otherwise depressing offseason. Wide receiver Torrey Smith looks poised to become the deep threat San Francisco was seeking when signing the ex-Baltimore Ravens burner to a five-year, $40 million contract with $22 million guaranteed. NaVorro Bowman, one of the NFL's top inside linebackers before suffering a gruesome knee injury in the 2014 NFC Championship game, is set to return after missing all of last season to rehabilitate. And tight end Vernon Davis should become a factor in the offense once again after catching only 26 passes in 14 games last season.
AFC West
Denver: The Broncos have found the nose guard needed to anchor the front of their new 3-4 defense.
It's Sylvester Williams, the 2013 first-round pick who has produced scant impact plays in his first two seasons. Williams has benefitted from the scheme change as well as the chance to work with renowned defensive line coach Bill Kollar, who joined the Broncos after being allowed to leave his Houston Texans contract. "Sly has been exceptional," Broncos defensive coordinator Wade Phillips said. "I think he's really taken over the nose guard position."
San Diego: The Chargers have all the tools needed to resume the ground-and-pound offensive style that led to a nice 2013 playoff run.
It isn't just the first-round selection of Wisconsin running back Melvin Gordon and return of versatile backfield threat Danny Woodhead that inspires such optimism. The Chargers will be fielding a mammoth offensive line ideal for mashing defenses after swiping 6-foot-7, 320-pound left guard Orlando Franklin away from Denver to place alongside the re-signed King Dunlap, who is the league's tallest left tackle at 6-foot-9 and 330 pounds. The free-agent signing of ex-St. Louis right tackle Joe Barksdale (6-foot-5, 326 pounds) also gives San Diego the option of moving the uber-talented D.J. Fluker (6-foot-5, 339 pounds) to right guard in place of Johnny Troutman (6-foot-4, 330 pounds). The runt of the group is center Chris Watt, who is still among the NFL's biggest centers at 6-foot-3 and 310 pounds.
Oakland: Amari Cooper has looked great so far but still may not lead rookie wide receivers in catches.
While Cooper is quickly justifying Oakland's decision to make him the first wideout drafted with the No. 4 overall selection, the Raiders have one of the NFL's most suspect receiver corps otherwise. That could lead to Cooper being a frequent target of double-teams. Oakland hopes that the returning Rod Streater (season-ending foot injury in 2014), newcomer Michael Crabtree (San Francisco) and a castoff from another team like Kenbrell Thompkins or Andre Holmes steps up to help carry the load.
Kansas City: The move of De'Anthony Thomas from running back to wide receiver is intriguing.
Thomas saw plenty of action aligned in the slot during his rookie season but not nearly as much press coverage and defensive wrinkles he will now see when getting snaps split on the outside. Even if it takes Thomas some time to get antiquated to being an all-around receiver, the move could pay long-term dividends. Thomas and two newcomers – free-agent signing Jeremy Maclin (Philadelphia) and third-round pick Chris Conley – have greatly upgraded the speed of a receiver unit that failed to score a touchdown in 2014.
---
---