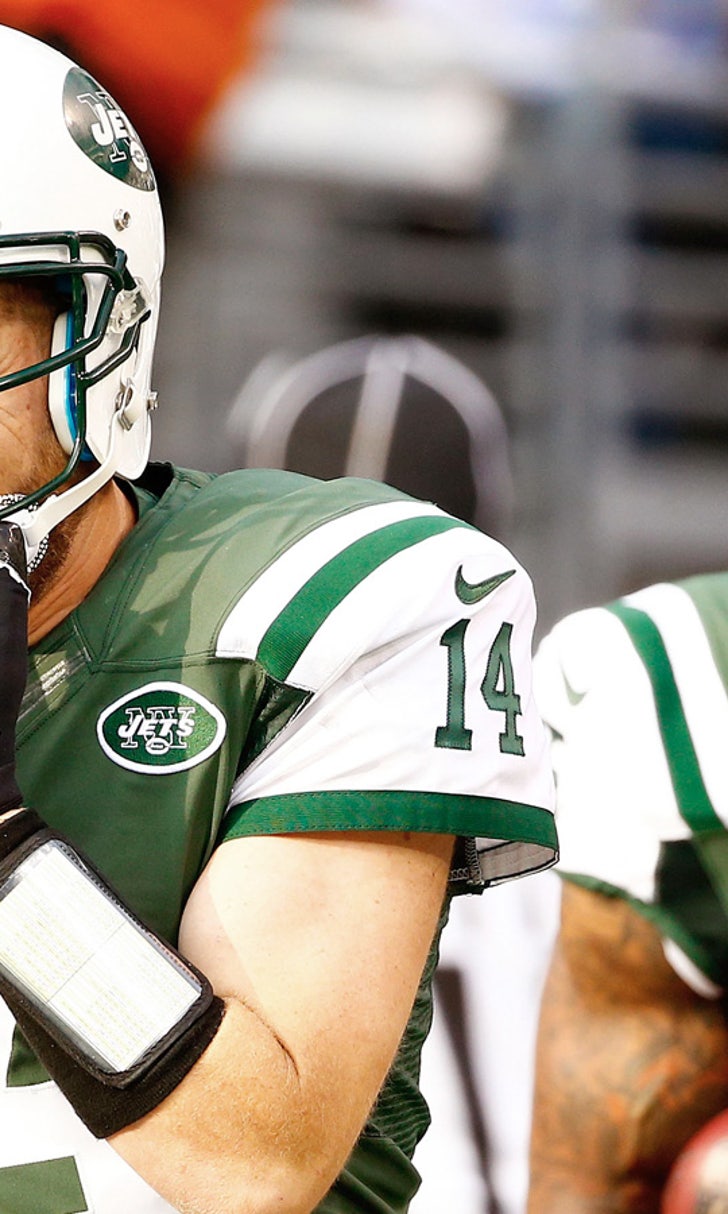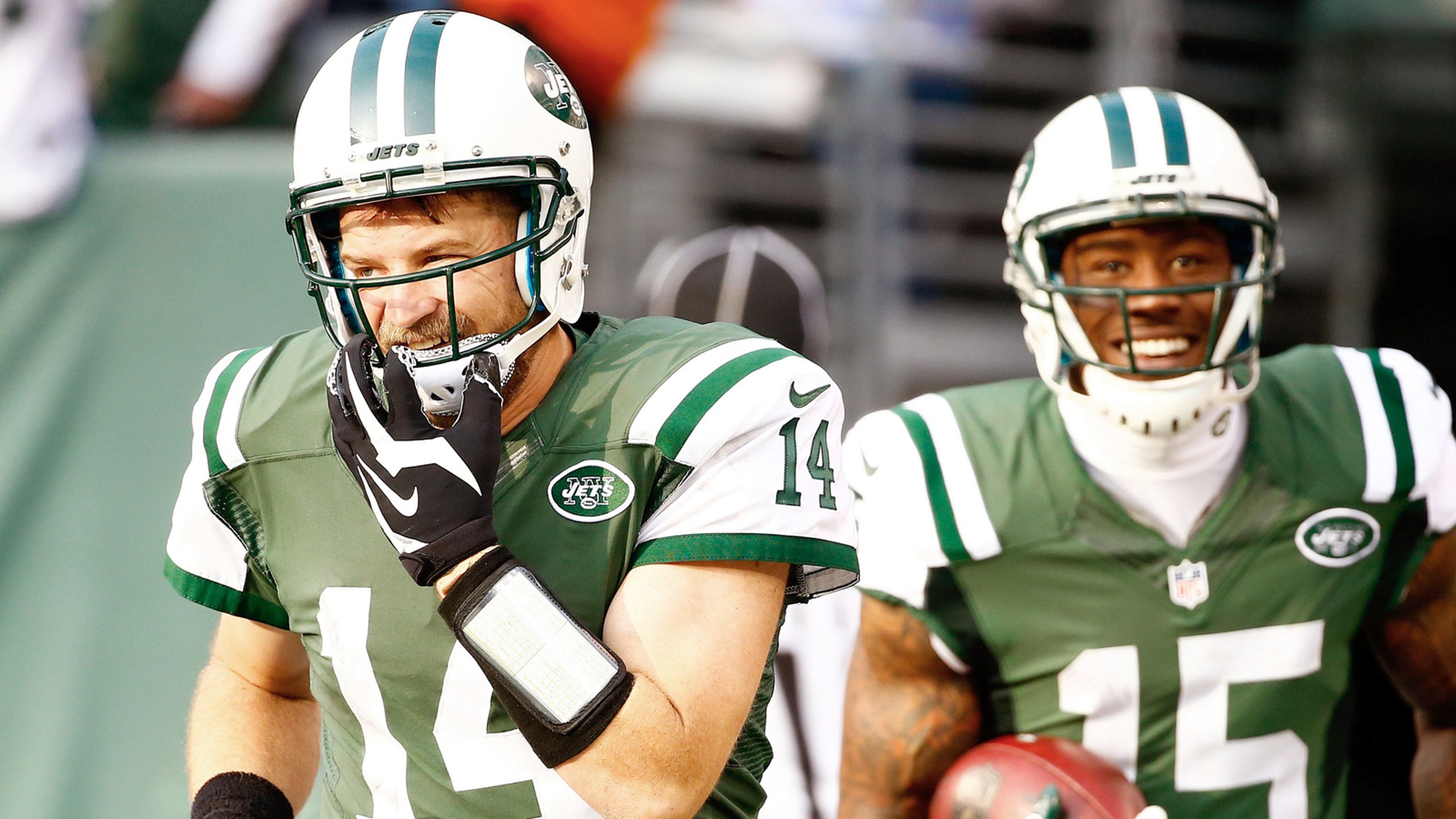 Week 17 Cheat Sheet: Fitzpatrick has helped turn the Jets around
BY Peter Schrager • December 31, 2015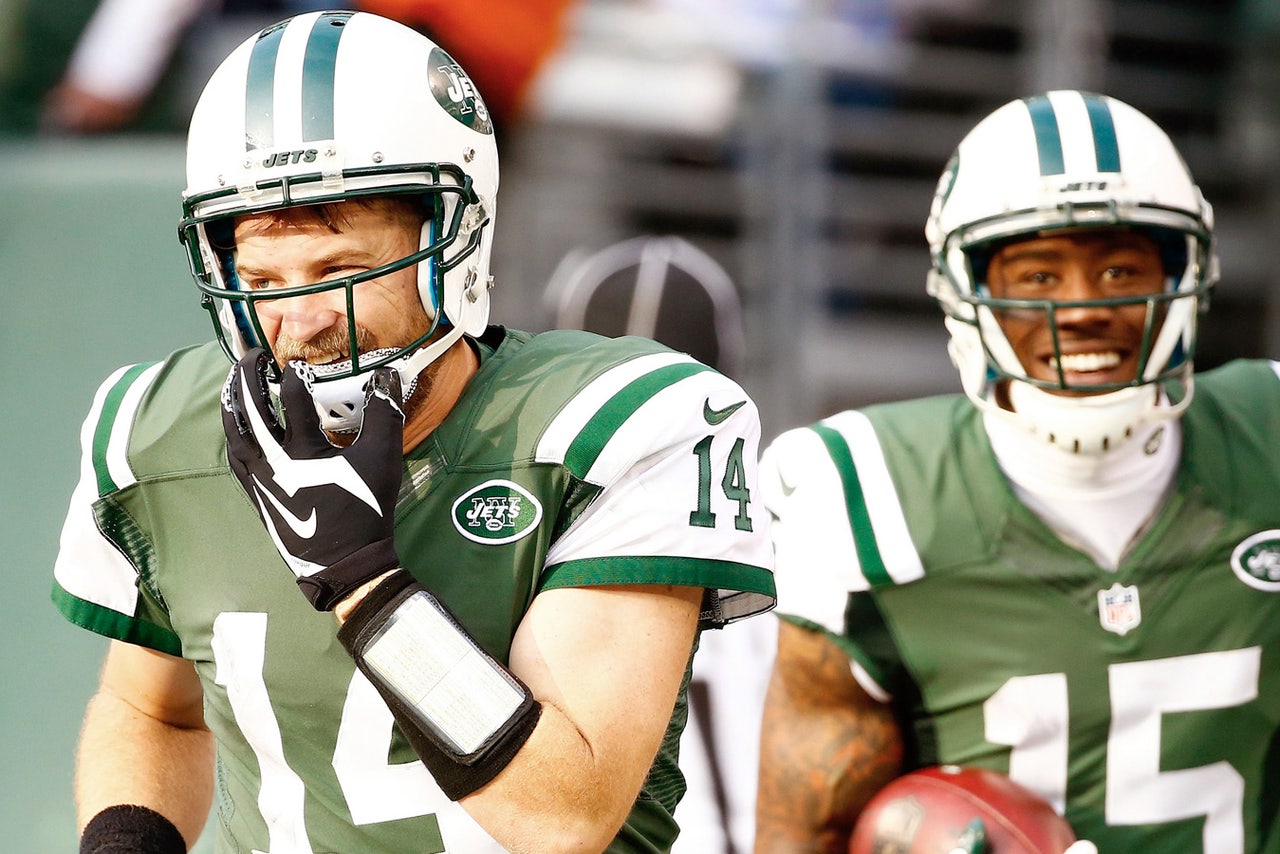 Jets fans were ready for it.
Like delays on the Long Island Railroad or closures on the Brooklyn Queens Expressway, the inevitable Jets December letdown was expected. It was coming. First, it was supposed to happen against the Giants. Nope. Instead, the Jets came back from being down two scores late to pull that one out against their crosstown rivals.
Instead of the inevitable Giants Super Bowl run kickstarted by a win over the Jets, Gang Green put Big Blue's postseason hopes to sleep. Then, the Titans. Oh, Jets fans circled it. A classic Jets letdown game in which a running quarterback torches them for 150 yards on the ground and 300 yards through the air. Nope. Marcus Mariota was held in check and the Titans didn't show up. Blowout.
Then came the Cowboys on a Saturday night. The Jets started slow, hung in there, got over early struggles, and came out the victors. Eight days later the Jets outplayed and beat the rival Patriots. They're now just one win from the playoffs and on every step of the way in this journey, they've done the exact opposite of what seasoned, hardened, pessimistic Jets fans have expected. And unlike in heartbreaking December seasons past, they even got some help from another team, with the injury-ravaged Ravens playing for pride and beating the Steelers in Baltimore last Sunday.
Jets fans can taste it. Ryan Fitzpatrick and Brandon Marshall -- two guys who have combined for 20 NFL seasons with zero playoff appearances -- have to taste it, too. But this would be too easy to have the Dolphins or Colts or even those Ravens on the schedule this weekend.
It's a win and in, and amazingly, it's Rex Ryan standing in their way.
Before we make this another Rex Ryan Revenge game, or in this case Rex Ryan Revenge Game 2015 Part II, why don't we take a different stance? And focus on Ryan Fitzpatrick. Remember, Fitzpatrick signed a six-year, $59 million contract with the Bills in 2011. They cut him two years later. He was a vagabond before landing in New York, suiting up for a host of NFL teams, on a carousel as wild as his beard. Resist the Rex angle this weekend. It's been done. Go the other way.
"It'll be the first time that I've been back there in a different jersey, playing in front of those fans," Fitzpatrick said this week. "I mean, it's got some extra meaning to me, just because I was there for four years, and the fans were so great to me and my family. There's a little bit of extra meaning there, but I don't think there needs to be with just the significance and importance of this game in terms of what's at stake for us."
It's the right thing to say, but Ryan Fitzpatrick's a competitor. This one would be extra sweet.
Any other year, the Jets would lose this game. They'd stub their toe and out of the gate and get in their own way.
I've watched this team all season. This isn't a typical Jets team.
***
Cheat Sheet Trivia Question of the Week: Julio Jones is the second player in NFL history to have at least 125 catches and 1,700 receiving yards in the same season. Who is the other?
Week 16 Record: 9-7
Overall Season Record: 122-119
New Orleans Saints at Atlanta Falcons: I'll be on the sidelines for this FOX broadcast and am looking at Julio Jones and the number 243. Going up against a historically bad defense on Sunday, Jones needs 243 receiving yards to break Calvin Johnson's single-season receiving yard record of 1,964 set in 2012. Crazy? Well, his career high is 258 yards in a game and the Saints didn't exactly have an answer for him the first time they played this year (93 yards). There will be a lot of noise about this potentially being Sean Payton's last game as the Saints coach. He hasn't told his players that yet. I'm not sure there's going to be much "Win one for the Gipper" here. But I do expect a shootout.
The Pick: Falcons 41, Saints 33
New York Jets at Buffalo Bills: One Bills player called this the team's Super Bowl. Richie Incognito called it a playoff game. As much as they may want this, the Bills are facing a steamrolling locomotive on Sunday. Cam Newton is my MVP. Carson Palmer is my No. 2. Ryan Fitzpatrick might be No. 3. What he's done for the Jets can't be overstated. He needs to finish the deal. If he does, a playoff berth, a big contract and Jets legendary status wait in the wings. Go get it, Harvard boy.
The Pick: Jets 27, Bills 16
Detroit Lions at Chicago Bears: Jay Cutler quarterbacked nearly a perfect game last week against the Buccaneers, resisting throwing anything deep or risky, and just taking what the Tampa 2 defense gave him all afternoon long. The Bears offense has been decimated by injuries, there's no deep threat, and the offensive line has been hit or miss from Week 1. And yet, Cutler's having a career year. He finishes with another strong effort and the team's seventh win of the season.
The Pick: Bears 26, Lions 23
Baltimore Ravens at Cincinnati Bengals: The Ravens won their Super Bowl last week, potentially ruining the rival Steelers' season with a sweep of the team every pundit said was "the team no one wants to face in the playoffs." It was a heck of an effort from a team down to its fourth and fifth guys on the depth chart at certain positions. Ryan Mallett, three weeks after being picked up off the street, can beat the Steelers. I don't think he can beat the Bengals.
The Pick: Bengals 30, Ravens 17
Pittsburgh Steelers at Cleveland Browns: He's likely out Sunday with a concussion, so there's great speculation that we've seen Johnny Manziel's last game in a Browns uniform. I simply don't buy it. Head coach Mike Pettine and GM Ray Farmer may not be with Cleveland next year, but I think Manziel is. Give the guy a few playmakers, a full offseason where he's clearly the starter, and a shot to thrive. The last thing Browns fans need to see is Manziel starting a playoff game for the Dallas Cowboys in a few years. Let him play out his contract in Cleveland. Austin Davis is a good kid and puts the work in, but I just don't see him topping Pittsburgh in a Steelers' must win.
The Pick: Steelers 24, Browns 13
Washington Redskins at Dallas Cowboys: For all the jokes we've had about the NFC East this season, the Redskins are going to storm into the playoffs with a winning record and as one of the hotter offenses in the NFC. Not enough can be said for the job that coaching staff has done this season. From Jay Gruden steering the ship after a summer of controversy to offensive coordinator Sean McVay getting the most out of a host of playmakers, to the defense showing up week after week despite a group of anonymous defensive backs suiting up each Sunday. The Redskins might not win the Super Bowl this year, but they have been one heck of a story. The Cowboys? They have been something, alright.  
The Pick: Redskins 24, Cowboys 14
Jacksonville Jaguars at Houston Texans: If you can figure out the Jaguars week to week, good luck. I do know that every time I've picked them to win this season, they've lost. And every time I've picked them to lose, they've put up 500 yards of offense and 40 points. That's a mere exaggeration, but just as you expect them to zig, they zag. Everyone's got the Texans winning here. I'll take the Jaguars. Only two quarterbacks have more than 35 passing touchdowns this year. Blake Bortles and some bum named Brady. Houston has no reason to lose this one on paper, but if we've learned anything from the division this season, it's that it isn't decided on paper.
The Pick: Jaguars 27, Texans 20
Tennessee Titans at Indianapolis Colts: Chuck Pagano is one of the most beloved coaches in football. Even if it's Stephen Morris, Josh Freeman, Ryan Lindley ... or your Uncle Larry starting at quarterback on Sunday, I think his Colts find a way to win what will most likely be his last game.
The Pick: Colts 21, Titans 10
New England Patriots at Miami Dolphins: Unlike the Ravens a week ago, I don't see the Dolphins rallying to knock off their heavily favored division rivals. The Patriots, unfortunately, need to win this one to preserve home-field advantage, meaning they have to go with their starters. The injuries have piled up and they're literally limping into the playoffs. Not good. The home field will matter all the more this year.
The Pick: Patriots 31, Dolphins 13
Philadelphia Eagles at New York Giants: If this is Tom Coughlin's last game as head coach of the Giants, you'd like to think the team goes out there and gives it their all. Whether Coughlin acknowledges it or not, look for the Giants fans -- though often criticized, actually quite classy -- to give him a standing ovation in the fourth quarter. The Eagles are on to 2016. They need a new coach, a new philosophy, and there's suddenly a giant question mark at who their QB will be (Sam Bradford is a free agent; Chip Kelly traded a second-round pick and Nick Foles to bring him in). Giants win.
The Pick: Giants 27, Eagles 13
Seattle Seahawks at Arizona Cardinals: It's the game of the week, and I just don't see this Cardinals team losing. The way they are playing? That might mean from here on out. They're loaded on all three units, they've got a quarterback and a coach who aren't afraid to defy convention and take shots downfield, and the defense is a turnover factory. Dwight Freeney had three sacks last week. Dwight Freeney! He was out of football the first six weeks of the season. I know Carson Palmer's still yet to win a playoff game, but I consider all of these past few big nationally televised contests big ones. And he's been the best player on the field in all of them. That continues Sunday.
The Pick: Cardinals 34, Seahawks 20
Tampa Bay Buccaneers at Carolina Panthers: Tampa Bay has one of the best rookie classes the league has seen in recent years with Jameis Winston, Donovan Smith, Ali Marpet, Kwon Alexander, and Adam Humphries all playing major roles this season. But after winning three in a row and improving to 6-6, they've lost their last three games, and are now looking at yet another top 10 pick. Carolina got their loss out of the way and shouldn't have a problem taking care of business and clinching home field through the NFC on Sunday. Doug Martin, a free agent at the end of the season, gets bottled up and finishes second in the league in rushing.
The Pick: Panthers 30, Buccaneers 16
San Diego Chargers at Denver Broncos: Doesn't this feel like one of those games Philip Rivers comes out and just tosses a bunch of no-names on his back and shatters the hearts and dreams of thousands of Broncos fans? I know Denver's gotten the best of Rivers time and time again over the years, but this one feels like he's going to make it interesting until the end. This could be Mike McCoy's last game with the Chargers and Eric Weddle's too. Expect a dandy. I have Denver winning, but in another overtime thriller.
The Pick: Broncos 23, Chargers 20 OT
Oakland Raiders at Kansas City Chiefs: The Chiefs are downright rolling. Alex Smith is quietly having the best year of his career by a country mile, Andy Reid is my NFL Coach of the Year pick, and the defense continues to dominate. The Chiefs may not win their division, but they'll strike the fear in the AFC South winner's hearts and then give whoever's waiting for them in the Divisional Round an absolute battle. Tough to pick against Kansas City at this point. Either on Sunday or in the playoffs.
The Pick: Chiefs 33, Raiders 17
St. Louis Rams at San Francisco 49ers: Todd Gurley's still in this Rookie of the Year race with Jameis Winston and he could steal the award from the No. 1 overall pick with a big afternoon on Sunday. I'd expect that and a whole lot more from St. Louis, who despite losing five straight in the middle of their season, have rattled off three in a row to wrap the year. Make it four and another 8-8 season for Jeff Fisher, his 15th non-winning season in his 21 years of being an NFL head coach.
The Pick: Rams 23, 49ers 17
Minnesota Vikings at Green Bay Packers: The last time the Packers played the Vikings, Minnesota's players spent the week wearing shirts that read "Beat Green Bay" on them. They didn't. They were embarrassed at home and the Vikings hype train derailed at that college stadium Minnesota calls home. But the Packers look wounded, beaten down and downright beatable. I saw Jay Cutler come into Green Bay and beat the Packers on Thanksgiving this year. I saw Detroit do it a few weeks earlier. I think Minnesota, underdogs and rightfully so based on their earlier meeting, sends the Packers on the road next weekend, here. Yes, I have the Packers losing all three of their Lambeau Field games against division opponents this season. Jordy Nelson, you my friend, are missed.
The Pick: Vikings 30, Packers 24
Playoff Matchups based on these outcomes:
AFC
1. New England
2. Denver
3. Cincinnati vs. 6. New York Jets
4. Houston vs. 5. Kansas City
NFC
1. Carolina
2. Arizona
3. Minnesota vs. 6. Seattle
4. Washington vs. 5. Green Bay
Reader Email of the Week:
Peter,
Fell into a YouTube wormhole of old Barry Sanders clips on Christmas Day. I suggest you do it. Unreal player and his moves are just insane.
Greg,
Hazlet, New Jersey
Greg,
There are few things I love more than 90 minutes lost to YouTube. Sometimes it's old Conan O'Brien skits from his early years on NBC. Other times it's music videos from the 1980s. But last month or so, my buddy Meltzer sent me this random Pat Summerall / John Madden clip from a 1996 game on FOX. And I was sucked in by the Madden/Summerall YouTube vacuum. Tremendous. Block out three hours. You'll have a blast. "Didn't you coach Burt Reynolds?"
Cheat Sheet Trivia Answer of the Week: Marvin Harrison (143 receptions, 1,722 yards in 2002)
---
---