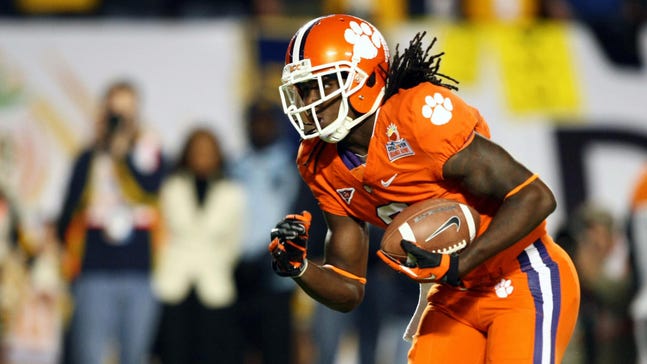 Watkins says Lions have expressed 'great interest' in him
Updated
Mar. 5, 2020 1:49 a.m. ET

NEW YORK -- Sammy Watkins made four pre-draft visits: to the St. Louis Rams, Jacksonville Jaguars, Buffalo Bills and Detroit Lions. 
The first two make perfect sense, as those teams are picking second and third, respectively. The Bills at No. 9 and the Lions one slot behind Buffalo will have to be aggressive to slide up if they plan on nabbing the Clemson wide receiver.
Watkins believes Detroit, in particular, is legitimately pondering such a play.
"Yeah, they've been telling me they would make that move," Watkins told FOX Sports on Tuesday afternoon in the Sean John Gifting and Style Suite, hours after arriving in Manhattan in advance of Thursday's draft. "You really don't know. They could just be telling you lies for all I know, but they showed they have great interest in me. I met the team (vice chairman Bill Ford Jr.), the GM (Martin Mayhew), just about everybody. So it's like kind of serious."
It would make obvious sense for the Lions to pair Watkins with Calvin Johnson and Golden Tate, along with tight end Brandon Pettigrew, to form a formidable group of targets for quarterback Matthew Stafford. The obvious problem is getting high enough in the order to get him.
What would it take to do so? Well, last year, the Miami Dolphins had to part with only a second-round pick to move from No. 12 overall to the Raiders' spot at No. 3. Mayhew would surely sign up for that deal now if he were guaranteed to get Watkins.
However, that trade last year was made possible by a desperate Oakland staff looking to compile picks. Plus, last year's draft class wasn't nearly as top-heavy as this year's group, so figure the price will be higher. And the fact the Bills are also showing interest in sliding up could create a bidding war.
The battle for Watkins could start as soon as No. 2, with the Rams interested in moving back for the right price. Sources have told FOX Sports that St. Louis has made it clear to teams for a few months now they're looking to trade back from the second spot.
As it stands now, the Rams, Jaguars (third overall), Cleveland Browns (fourth) and Raiders (fifth) are all likely destinations for Watkins if everybody stays put. All of those teams could use him, too, though he sounds awfully fond of Detroit, where he'd play alongside a "big guy" in Johnson.
"He's the best receiver in the game the last two or three years," Watkins said. "It would definitely help both of us with coverages. I would probably help him out just as well as he'd help me, and I would just learn from him. I mean, he's the best wide receiver in the game right now."
And if he had to be a No. 1 immediately?
"If I'm in that position, I think I can hold my weight down," Watkins said, "but if I can go to the Rams or Detroit Lions, I would rather be that No. 2 or No. 3 and I could start playing myself into the team instead of going there and trying to be a superhero."
---
---