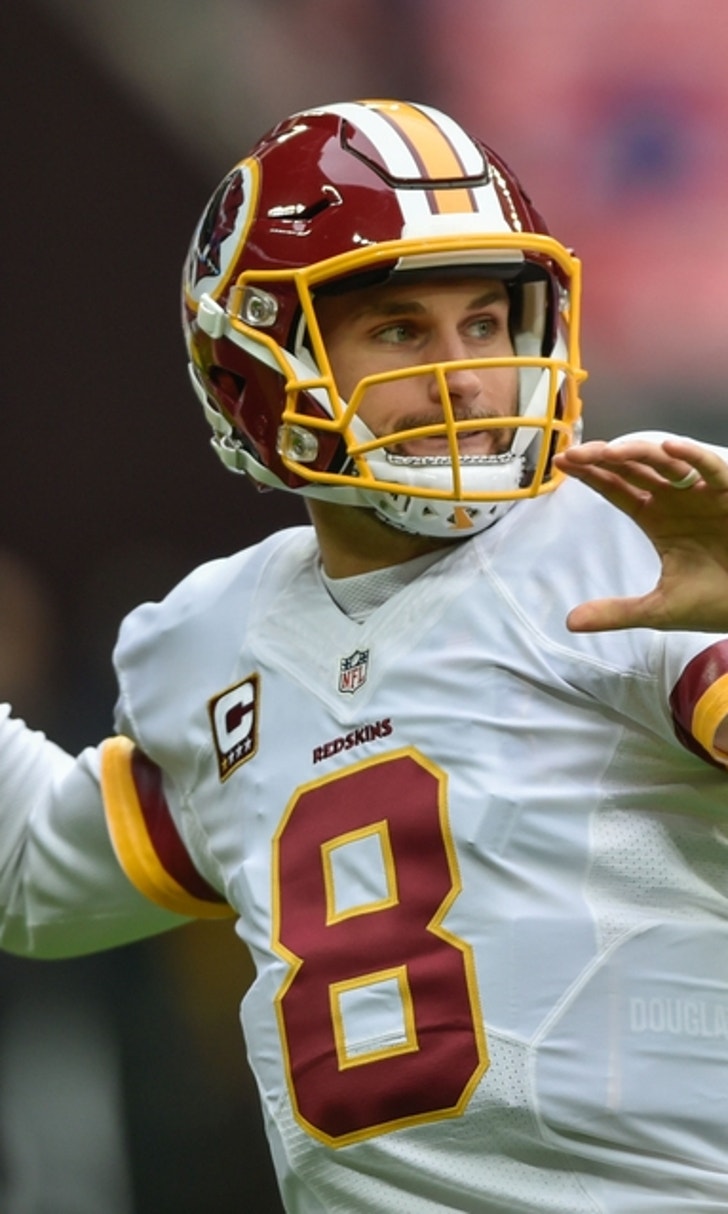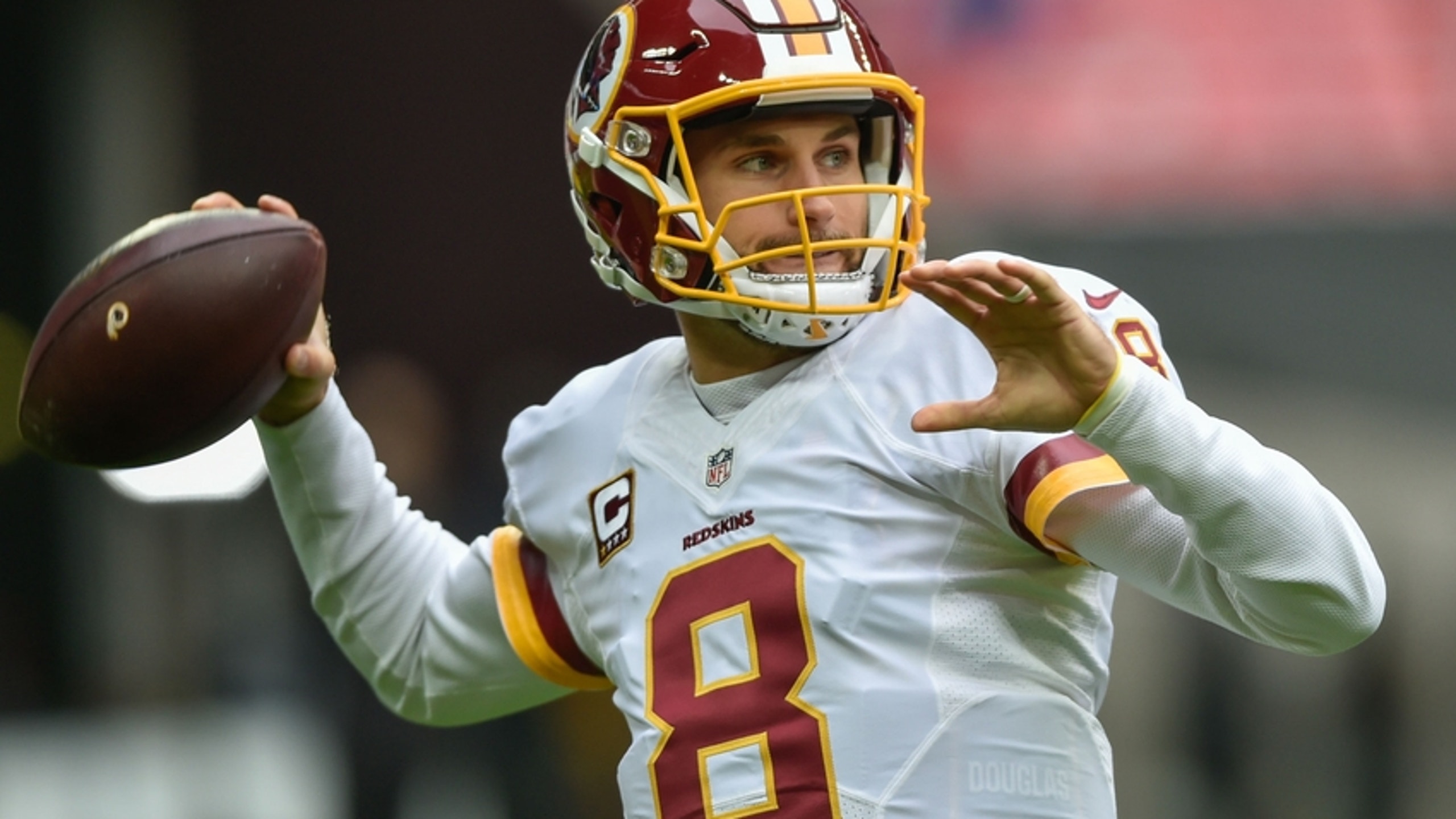 Washington Redskins Should Sign Kirk Cousins Instead Of Tagging Him Again
BY Fansided and Desmond Lee/FanSided via Riggo's Rag • December 17, 2016
Oct 30, 2016; London, ENG; Washington Redskins quarterback Kirk Cousins (8) warms up before the game between the Cincinnati Bengals and the Washington Redskins at Wembley Stadium. Mandatory Credit: Steve Flynn-USA TODAY Sports
Kirk Cousins has performed extremely well in 2016, and the Redskins should just go ahead and sign him to a long term deal. It would be better than tagging him a second time.
Kirk Cousins has proven a lot of doubters wrong this season. His torrid production in 2016 has silenced critics questioning whether he represented the long-term solution as the Redskins franchise quarterback. This inexorable march to a second consecutive franchise-setting year has earned him a payday worthy of a top-tier signal caller he's become. But agreeing on what that payday is may prove to be as elusive this offseason as it was last year.
This vexing question has fueled a torrent of speculation as to whether the team will offer him a long-term deal or yet another franchise tag. However, on the surface it appears that signing Cousins to a long term deal will be in the best interest of both parties, when it is all said and done.
Dec 11, 2016; Philadelphia, PA, USA; Washington Redskins quarterback Kirk Cousins (8) after the game against the Philadelphia Eagles at Lincoln Financial Field. Washington defeated Philadelphia 27-22. Mandatory Credit: James Lang-USA TODAY Sports
Tagging Cousins Last Year Involved Considerations That Don't Apply This Year
In making this decision, the team should realize that the tag this time around makes little sense for a number of reasons. Because it doesn't, the team's only realistic choice is to start bargaining for a long-term deal with him this offseason. Last year, the team could justify use of the tag, citing the necessity for reasonable risk management. The Redskins simply wanted to make sure that Cousins could, in 2016, replicate his production in the last 10 games of the 2015 season. Cousins has clearly accomplished that – and more. And the upshot of his dramatic surge in production in 2016 is starkly clear. It means that the Redskins can't play by the same bargaining rules this upcoming year.
Indeed, Cousins is no longer the unknown commodity whose worth fans and pundits debated over the past several months. The team can't therefore defend tagging him again to guard against the vagaries of a quarterback with a spotty track record. And the Redskins should remember that, while Cousins happily signed his franchise tender in February, the journey to that point wasn't without consternation on his part. Many people, in fact, would use a different word to describe how Cousins felt earlier this year: disrespect.
Last season, the team reportedly offered him a $16 million AAV take-it-or-leave it deal (per Mike Garofalo). Cousins decided to bet on himself and play on a $19.95 million franchise tag. Not soon after signing that tender, the Houston Texans inked Brock Osweiler to a four-year, $72 million deal. This clearly didn't go unnoticed by Cousins, whose far superior NFL pedigree would've commanded a far richer deal had Osweiler's deal been negotiated before the Redskins tagged him.
Osweiler's deal now informs Cousins perspective in negotiating a new deal. If Osweiler was worth $18 million a year, Cousins should expect a deal far in excess of $20 million AAV. If the Redskins balk at offering him that contract and tag him again, they would risk reprising the indignity that Cousins faced in his prior round of contract talks. In particular, it would signal another season where Cousins faces a prove-it year when he, in fact, acquitted himself convincingly this season. Adding to this is the fact that he'd assume all the risk – again – in playing under another tag.
Oct 16, 2016; Landover, MD, USA; Washington Redskins quarterback Kirk Cousins (8) throws the ball against the Philadelphia Eagles in the fourth quarter at FedEx Field. The Redskins won 27-20. Mandatory Credit: Geoff Burke-USA TODAY Sports
If The Redskins Use The Tag On Cousins This Year, He May Not Sign It And Play The Market
If that happens, how will Cousins respond to another franchise tender? Cousins, who'd justifiably feel disrespected, could refuse to sign it and seek offers from numerous suitors flush with a vast reservoir of cap space. These prospective employers wouldn't think twice of floating market-busting offers borne out of their desperate quest for a franchise quarterback. Cleveland, for instance, is projected to have, per SB Nation's Alfie Crow, $116 million in 2017 cap space. Armed with a sprawling cache of (high) draft picks, it's not beyond reason they'd part with two first rounders and offer Cousins a deal in excess of $25 million AAV.
More from Riggo's Rag
The other consideration at play would be how Cousins plays the market this year. In 2015, Cousins may have sold himself very short by signing his tag immediately. If he waited until other quarterbacks like Osweiler and Andrew Luck struck their deals, he might've had a better metric in which to gauge a long-term contract himself. This year, Derek Carr and Matthew Stafford, though not free agents, are expected to field offers for blockbuster extensions. If Cousins waits until those deals are finalized, he could very well bolster his stock that much more.
While these scenarios are hypothetical, the Redskins would be well-advised to get ahead of all of this. It's unknown, at this time, what Cousins is looking for in a new deal. But Joel Corry, a former NFL agent, opined that the contract Luck signed this past June would approximate the going-market for a Cousins deal (per Bryan Frantz of CBS).
That was a five-year, $122 million contract  with a $32 million signing bonus according to Overthecap.com. This breaks down to a $25 million AAV with $47 million in guarantees. Despite the initial sticker shock of these numbers, a Luck-type of deal benefits Cousins but the Redskins as well.
Nov 8, 2015; Indianapolis, IN, USA; Indianapolis Colts quarterback Andrew Luck (12) throws a pass against the Denver Broncos at Lucas Oil Stadium. Mandatory Credit: Brian Spurlock-USA TODAY Sports
An Andrew Luck Deal Would Benefit Both Sides
For the team, the cap numbers for the first two years are $18.4 million and $19.4 million, according to Overthecap.com. These, of course, are lower than the $19.95 million franchise tag Cousins is playing for this year. After those years, the Redskins can cut Cousins without taking a net cap hit. While the team would absorb a $19.2 million dead money charge in 2019, it still would be able to clear $5.2 million in cap space. This provides it an "exit ramp" to part ways with Cousins should the need arise. More importantly, it locks down its franchise quarterback for the next several years to come.
These numbers also work well in terms of their percentage on the team's cap. In 2016, Cousins franchise tag represented 12.3 percent of the Redskins cap space (based on Overthecap.com's numbers). Under Luck's deal, Cousins cap percentages would actually decrease in those years. In particular, Cousins' cap figures for 2017 and 2018 would be 10.8 percent and 10.9 percent. Tagging him in 2017, however, would take up 14.11 percent of the team's cap space. This would also result in a loss of about $5.6 million in absolute dollars, money which the Redskins direly need to upgrade multiple positions on their defense.
On Cousins' end, the Redskins would pay him $57 million in the first two years of his contract. This would be the financial security – and respect – he's always sought. It would include $19 million in salary, $6 million as a second-year roster bonus, and a $32 million signing bonus. This $57 million cash outlay would, coincidentally, mirror almost exactly what he'd be getting in franchise tags during that time. (The franchise tag for 2017 would be $24 million and $34 million for 2018.) And it's precisely the reason that militates against tagging him this season.
Jan 3, 2016; Arlington, TX, USA; Washington Redskins defensive end Chris Baker (92) celebrates during the game against the Dallas Cowboys at AT&T Stadium. The Redskins defeat the Cowboys 34-23. Mandatory Credit: Jerome Miron-USA TODAY Sports
Take Chris Baker's Advice: "Pay That Man"
Late last February, Chris Baker famously advised the Redskins to "pay that man" (per CSN Midatlantic). That "man", of course, was Kirk Cousins.  And Baker's message was clear: make Cousins the team's franchise quarterback for the next several seasons.
While Baker may not have known it, the simplicity of his advice belied the eminent wisdom in it. A tag is a short-term fix that kicks the can down the road for another year. This simply makes no sense when the team now knows it has its franchise quarterback. This is doubly true when the caponomics of a tag work well against the team's economic interests.
Whatever merits of the tag may have been in 2015, it clearly doesn't work this year. It's therefore time to give Cousins the respect he deserves.
And it's also time to "pay that man."
---
---